Mark Craven dims the lights and kicks back with this cinematic, easy-to-use UST beamer. Read our BENQ V7050i Review.
info
Laser-based 4K HDR ultra-short-throw projector
BenQ's top UST model, replacing last year's V6000 series
Optoma LinemaX P2;
Epson EH-LS500
Launched in June to capitalise on the summer we're all meant to have spent watching sports, BenQ's V7050i (or V7000i if you grab the white version) is the projector corp's latest UST model, and an update on 2020's V6000/6050. Promising quick-fire installation, bigscreen entertainment and integrated smarts, it's desperate to relegate your flatscreen TV to runner-up status. But does it succeed?
Not much has changed physically from last year to now. Like its forebear, the V7050i manages to turn its rectangular cabinet into something approaching a work of art. There's a stylish cloth grille on its front fascia, funky- looking ventilation along both sides, and an automatic sunroof that, when the PJ is powered up, glides back to reveal the lens installation underneath. Power down and it returns to its original position, limiting the potential for damage from curious kids and rampaging pets.
There haven't been many changes under the hood either. Once again, the projector uses a laser light source (rated lifespan: 20,000 hours) in conjunction with a single-chip DLP system that uses mirror-flipping technology to claim 4K status. This means it's not a native 4K model, but if you want one of those in UST form, you'll need to budget considerably more than the ticket here.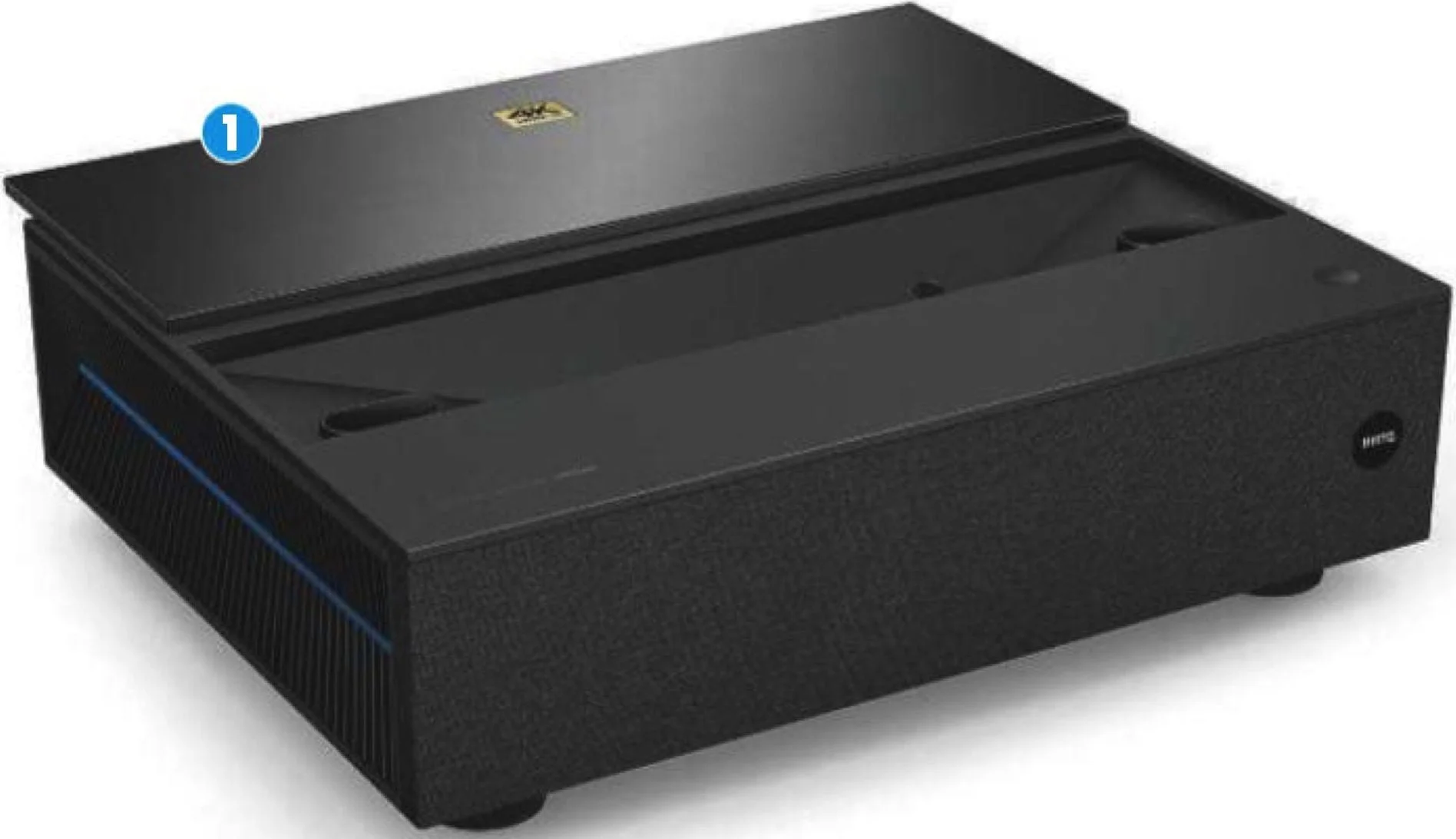 As before, there's the promise of a wide colour presentation (BenQ rates the V7050i's colour handling at 98 per cent of DCI-P3), and HDR format support remains pegged to HDR10 and HLG.
Browse the PJ's specifications and a couple of key differences stand out, however. Firstly, while the V6050 claimed a 3,000 Lumens output and corresponding pinch-of-salt 3,000,000:1 contrast ratio, this successor model has had its light dimmed. Brightness is now rated at 2,500 Lumens and claimed contrast is 2,500,000:1.
Secondly, Filmmaker Mode has been added, giving you a one-touch preset that should deliver the cinematic goods.
7Review earns Amazon affiliate commissions from qualifying purchases. You can support the site directly via Paypal donations ☕. Thank you!
See also TOP 15 projectors
A final key development is the integration of the Android TV smart OS. This means BenQ's projector is more readily comparable to a modern flatscreen, even coming with Google Assistant voice interaction.
BenQ's implementation of its new smart skill is a little clunky, however. The V7050i's Android OS comes via a supplied HDMI dongle, powered from one of the PJ's US ports. This dongle has to be put in HDMI 1, leaving you with only HDMI 2 for an external source. This isn't great if you want to connect both a Blu-ray player and games console or set-top box, for example.
The video app selection isn't quite what you might expect either. Disney* and Prime Video are pre-loaded (the latter gets its own key on the PJ's handset) and the Google Play store will let you add the likes of MUBI, BT Sport, ITV Hub and My5. For Netflix and BBC!Player, however, you'll need to stream via Chromecast from another device.
As with other BenQ smart PJs, there's also the Fam!Land app, which opens the door to a colourful, graphically rich portal of child-friendly video content. Everything appears to come from YouTube, and I ended up watching a German dub of Blaze and the Monster Machines. You're probably better off just downloading the YouTube Kids app.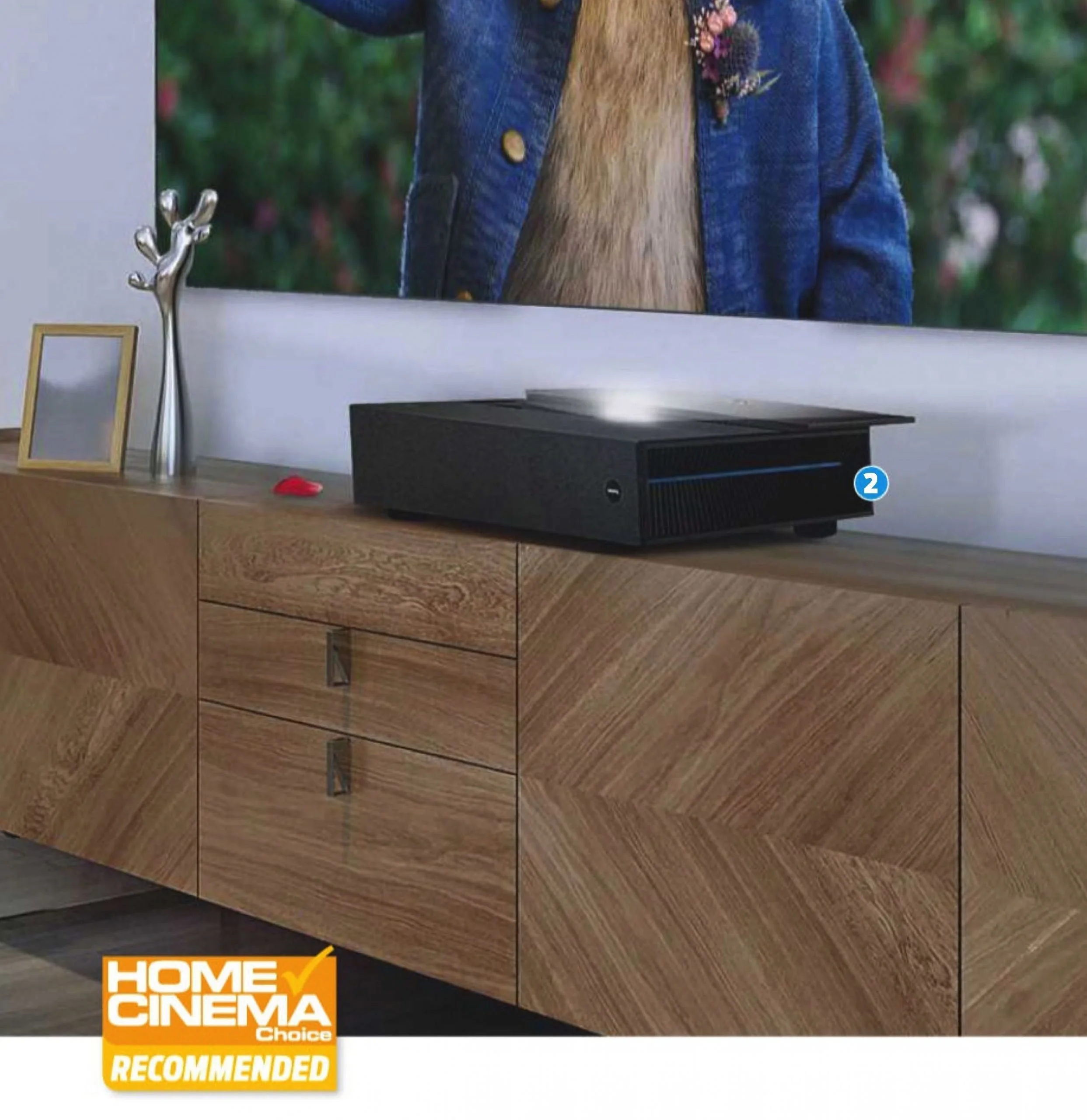 Picture setup is handled by manual focus and vertical keystone correction, with a high-contrast grid pattern to help you snap images into shape. There's also Auto Keystone, but I found this brought less than optimal results.
'BenQ's colour tuning is this PJ's standout trait. The opening sequence of La La Land looks brilliantly vibrant'
Screwable feet also help align the picture, plus measuring bars that pull out from the rear of the PJ's cabinet. Extend them til you reach the lOOin mark, position them flush to your wall, and you'll get a lOOin picture.
There's much I like about the V7050i's performance, but also areas where it could be improved. That reduction in brightness is both a strength and a weakness.
As previously found on the V6050, the brand's colour tuning is this PJ's standout trait. The opening sequence of La La Land (4K BD), with its riot of different-coloured cars and red, yellow, blue and green shades in the characters' clothing, looks brilliantly vibrant, with perhaps just a bit too much uniformity across its presentation of rich reds.
Naturally, there's less colour volume with SDR material, but it still feels well balanced and naturalistic. Django Unchained on 1080p Blu-ray showcases realistic flesh tone nuances. It also blows up great, with an image that's packed with texture and sharpness.
With SDR content, the projector offers a selection of viewing options, including the aforementioned Filmmaker Mode. There are subtle and not so subtle differences between them all. For instance, all bar Filmmaker Mode activate BenQ's Pixel Enhance feature (also accessible in the CinemaMaster menu in the PJ's advanced settings), and this can easily result in stressed-looking edges and an unpleasant grittiness. Colour temperature, gamma and sharpness settings also vary wildly between the Bright, Bright Cinema and DCI-P3 presets.
My preference for viewing in low light quickly became Filmmaker Mode. Here, the BenQ really impressed. The crispness of the landscapes, buildings and faces in Django Unchained reveal this pixel-shifter doesn't need additional help from its Pixel sharpening and sharpness tools to show you a good time.
However, throw open the curtains for some daytime TV viewing and Bright Cinema is the best option, perhaps the only one able to battle with healthy ambient light. Unfortunately, it also overemphasises colours and flattens skin tone subtlety, so you'll want to tweak it, and its increased brightness highlights the PJ's less-than- stellar black level response, particularly if you push the preset even brighter as you seek to boost image pop.
In fact, regardless of preset or whether you're viewing HDR or SDR, the projector has a tendency towards greyish blacks, and this low baseline for its contrast means it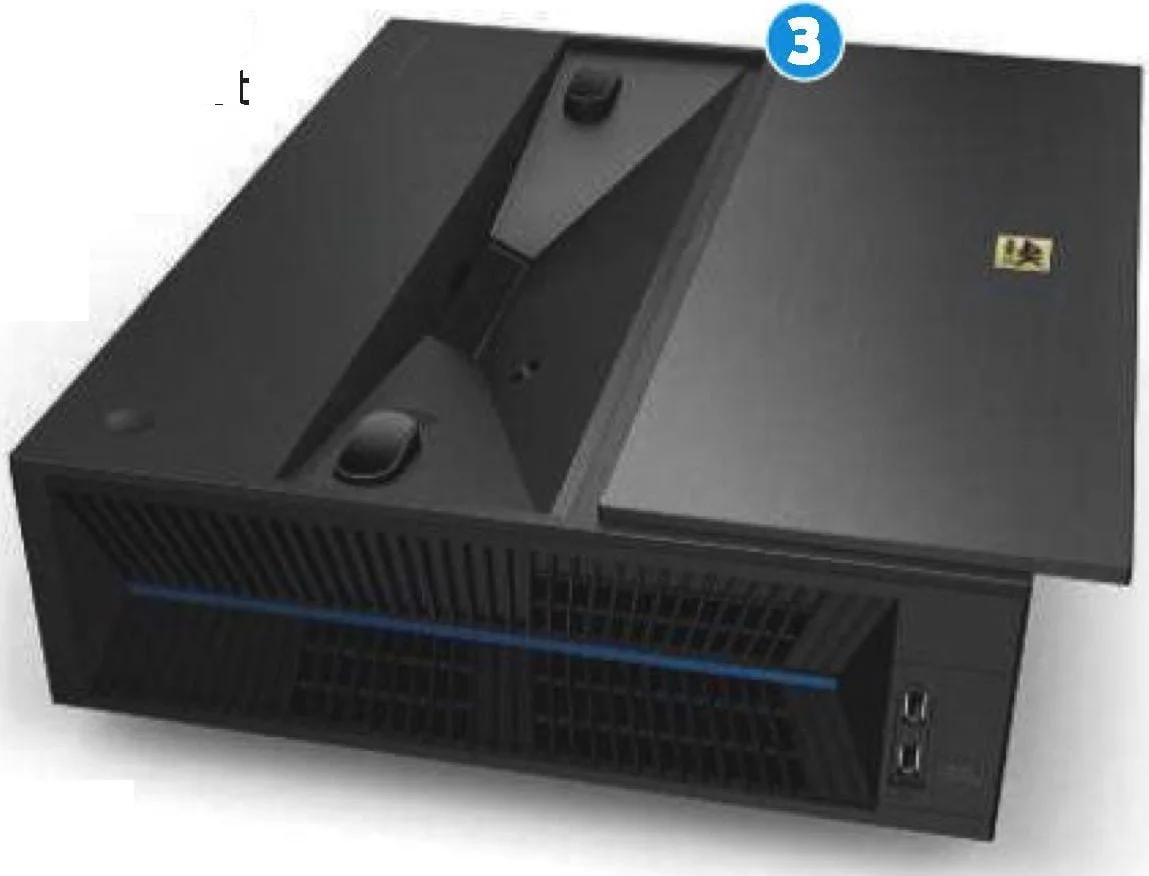 3D
No
4K
Yes. 3,840 x 2,160 via Texas Instruments DLP mirror technology
HDD
Yes. HDR10; HLG
CONNECTIONS
HDD: Yes. HDR10; HLG CONNECTIONS: 2 x HDMI inputs; optical digital audio output;
RS232-C; 3 x USB (one with powered output) BRIGHTNESS (CLAIMED): 2,500
BRIGHTNESS (CLAIMED)
2,500 Lumens
CONTRAST (CLAIMED)
2,500,000:1
ZOOM
N/A
DIMENSIONS
500(w) x 157(h) x 388(d)mm
WEIGHT
10kg
FEATURES
Laser light engine
single-chip DLP projection with ultra-short-throw lens
Android TV OS via supplied HDMI dongle
2 x 5W built-in sound system with user EQ
20,000-hour claimed lamp life
claimed 98% DCI-P3 colour space
motorized lens cover; eye protection sensor; Filmmaker Mode; CinemaMaster image adjustments; vertical keystone correction (manual/auto) struggles with some sequences. There's precious little shadow detail in the woodland scenes in Chapter 2 of Django Unchained, as horses and slaves emerge from a murky, homogenous darkness, and in the La La Land sequence where Mia and Seb take a night-time stroll back to their cars, the impressive HDR impact of the moonlight reflections and street lights doesn't get a solid, deep black to playoff against.
At other times, however, the V7050i looks sumptuous with 4K HDR sources. There's a five- step adjustment for HDR brightness. The top level is uncomfortable, as it oversaturates, but the minimum setting, in a light controlled environment, really pings. The interiors of Mia's apartment in La La Land feel warm, contrasty and lifelike, with distinct light sources and plump colours. Swap to the insanely colourful and detailed underwater battle sequence in Aquaman (4K BD), and this BenQ laps it up.
It would seem that BenQ has deliberately dialled down the picture punch of its LIST flagship to deliver a more cinematic image overall. This means that for the daytime bigscreen viewing it comes up wanting for anything but the most uncritical of viewing. Conversely, with light levels manged this projector triumphs, and Filmmaker Mode proves to be a brilliant new addition. Stylish, smart and easy to set up, it's definitely one to shortlist
Recommended
BENQ V7050i Review
Not the light-cannon you might expect, lenQ's new LIST beamer does its best work in a darkened room. Images can beguile, and the addition of Android TV is a boon.
Add your review
Best BENQ V7050i prices in the US ?

$

2,494.89
5 used from $1,699.00
6 new from $2,494.89
in stock

Best BENQ V7050i prices in the UK ?

£

4,529.72
2 new from £4,529.72
in stock

MORE DEALS

See also TOP 15 projectors