UHD Blu-ray deck's multi-HDR support, awesome build quality and premium performance dazzles Steve May
The DP-UB9000 is an Ultra HD Blu-ray player of few compromises and many pleasures. The most ambitious disc spinner so far to emerge from Panasonic, this high-end deck is unique in offering both Dolby Vision and HDR10+ dynamic metadata support, alongside HDR10 and HLG. And that's just the tip of an iceberg of functionality.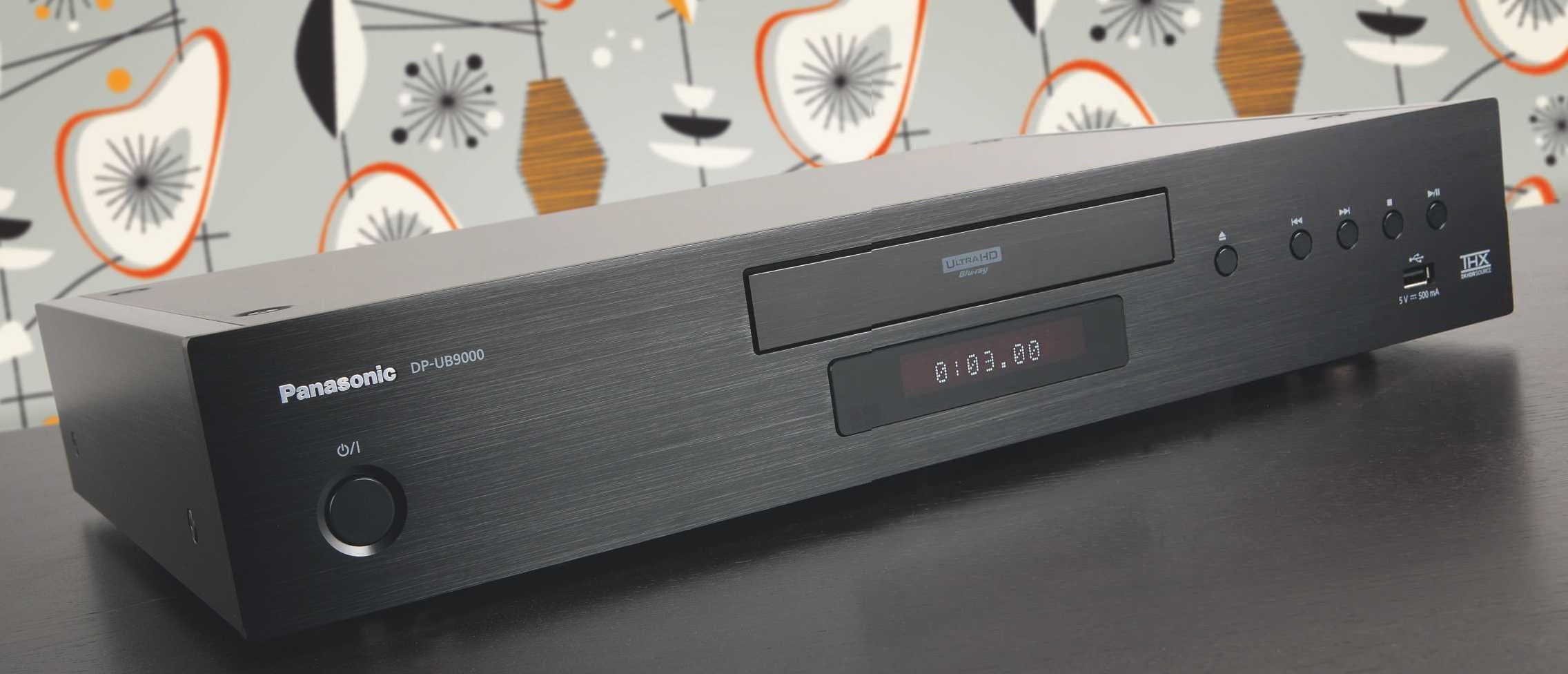 My first thought when unboxing was that someone had bungled the retail price. The UB9000 looks considerably posher than you might expect for the sub-£1K tag. Attention to detail is awe-inspiring.
A two-layer steel construction means the deck is reassuringly weighty. There's no simple chassis sleeve here. The double-layer top plate and aluminium side plate are separately bolted, and the base of the chassis, also dual-layer, consists of 1.2mm and 1.6mm sheets. If there's anything inside, it's not getting out.
Corners are rolled and smooth. A hairline finish on the front panel lends the player a minimalistic, upmarket demeanour. Four substantial isolating feet have anti-slip pads. Once down, it stays planted.
Connections are generous, too. In addition to two HDMI outputs (one for audio only), there are two USB ports (one a fast v3.0), optical and coaxial digital audio outputs, stereo analogue phonos and a full 7.1-channel output, plus balanced XLR stereo connectors. Ethernet is provided to support internal Wi-Fi.
7Review earns Amazon affiliate commissions from qualifying purchases. You can support the site directly via Paypal donations ☕. Thank you!
See also TOP 15 Blu-ray Disc Players
Powered up, it's clear there's been a minor cosmetic upgrade to the user interface (it's a little cleaner), but the navigation is unchanged from the rest of the Panasonic BD fleet. There are buttons for Videos, Music, Photos, Home Network, Network Service and Setup.
Unlike the now departed Oppo UDP-205 and UDP-203 players, and the incoming Pioneer UDP-LX500 and UDP-LX800 UHD machines, Panasonic hasn't shortchanged users on streaming apps. The familiar-looking service portal supplies Netflix, Amazon Prime Video, YouTube, BBC News/Sport, plus the Berlin Philharmoniker channel. I would have liked to have seen a greater focus on streaming audio services, but I suppose you can't have everything.
Check out my data talents!
Once spinning a disc, it doesn't take long to discover the in-depth Playback Info screen – given that you can access it directly from the IR remote control. Amid a bunch of useful disc information, it rather helpfully reads HDR10 metadata, revealing Maximum Frame- Average Light Level (MaxFALL) and Maximum Content Light Level (MaxCLL) figures from playing platters.
For example, I'm told that Pacific Rim: Uprising (one of the UHD titles used to assess image quality) was mastered for 1,000 nits and has an MaxFALL of 863 nits. This kind of minutia is endless fascinating in a geeky sort of way.
Corners are rolled and smooth, and the hairline finish lends the player an upmarket demeanour
While not every disc proffers MaxFALL and MaxCLL info (Star Wars: The Last Jedi is blank on the subject, presumably because such levels weren't set in the metadata), knowing that Despicable Me 2 boasts a max average HDR brightness of 553 nits is certain to make me a big hit at parties.
Ultimately, the raison d'etre of the DP-UB9000 is image quality. The visuals from this deck, which has THX 4K HDR Source certification, are positively jaw dropping. Intensely detailed, with wide smooth colour, it presents peerless pictures.
PRODUCT: High-end Ultra HD Blu-ray player
Position: Panasonic's flagship disc spinner
PEERS: Pioneer UDP- LX500; Cambridge Audio CXUHD
1. The DP-UB9000 ramps up the build quality over previous Panasonic 4K decks
2. The handset includes Playback Info and HDR Setting keys
Some of this prowess can be attributed to Panasonic's second-generation HCX video processor. An evolution of what we saw in the earlier well-specified DMP-UB900 (launched in 2016), it includes a number of HDR refinements, including an HDR Optimizer to partner the player with a display.
This latter adjustment is powerful but intuitive to use. You can select OLED, High Luminance Projector, Basic Luminance Projector, Super High Luminance LCD, Middle or High Luminance LCD and Basic Luminance LCD – choose which best describes your display.
The Optimizer aims to prevent clipping on lower-brightness TVs/projectors by setting a tone map target and carrying out metadata conversion in the player. Panasonic's reasoning is that not all TVs will accurately tone map (that's to say, compensate for any shortfalls in luminance), particularly when content has been mastered above 1,000 nits, leading to (for example) bleached-out white cloudy skies, lacking in no apparent detail. The Optimizer was tried with a Sony LED LCD TV of only middling HDR brightness, and worked well. Compensation is scalable, too – the HDR Optimizer can set a specific tone map luminance. This is a powerful tuning tool.
High-precision hues
Beyond this, there's not a great deal required during setup. The DP-UB9000 will cope with most situations in Auto mode.
A 4K High Precision chroma processor and Multi-Tap filter are employed to interpolate a 4K 4:4:4 video output from 4K 4:2:0 content. This isn't new; Panasonic has had
Colour saturation and gradations appear flawless. Despicable Me 2 glows with gloriously rendered primaries
the technology for some years. It's designed to produce a more saturated, yet smooth, response than conventional processing, and works with both UHD discs and network streaming services.
A magnified snapshot of a 4K zone plate chroma frequency response test confirms perfectly delineated micro curves, with no coarse stepping. Smooth colour detail, authentic to the source, makes its imagery suitably cinematic.
Vibrancy and HDR pizzazz are class-leading. Pacific Rim: Uprising is a gorgeously clean and dynamic UHD disc, with oodles of fine detail and crisp, grain-free visual effects. Played on the DP-UB9000, the action becomes almost mesmeric. When the rogue Jaeger, Obsidian Fury, first attacks, the deck renders every aspect of the fast-moving fight with three-dimensional precision. I wasn't looking at the picture, I was looking into it.
Colour saturation and gradations appear flawless. The animation in Despicable Me 2, another Dolby Vision HDR release, glows with gloriously rendered primaries and tight, bright highlights.
Rattle and hum? Nope
In use, the DP-UB9000 is agile and stable. The chassis features a newly developed drive base and centre mechanism, and the drive sits within a vibration-reducing cradle. There's no rattle when loading discs, with the mechanism proving smooth and rigid, and disc loading is fast, taking a Java-heavy movie Blu-ray from tray to main menu in 40 seconds.
Best PANASONIC DP-UB9000 prices in the US ?

$

954.95
2 used from $845.00
6 new from $954.95
in stock


$

1,377.00
4 new from $1,377.00
in stock

Best PANASONIC DP-UB9000 prices in the UK ?

£

995.00
1 used from £984.95
4 new from £994.89
in stock


£

1,095.00
1 new from £1,095.00
in stock

MORE DEALS

See also TOP 15 Blu-ray Disc Players