HIGHER ORDER
If you didn't spend your spare fifty grand on, say, a shiny new Holden Commodore (before they run out), how about splurging it all on one camera? Well, it's no ordinary camera. Welcome to the pointy end of the digital medium format market.
Most photographers who buy Phase One's XF are going to be putting it to work which is how they can contemplate spending anywhere, depending on which model of capture back is fitted. And that's just with a standard prime lens. If you want something more exotic – like the fabulous new Schneider-Kreuznach 35mm f3.5 leaf-shutter wide-angle we had for this test – be prepared to start adding more big numbers (close to in this particular case). But it's all relative, especially if you have big clients who need you to deliver optimum quality files and don't mind paying for them.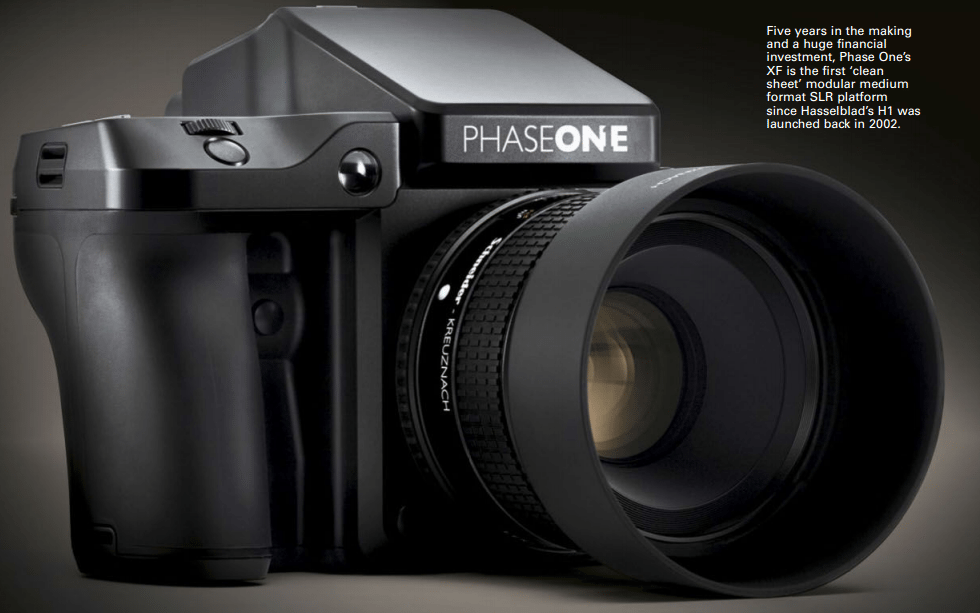 Phase One's XF is particularly interesting because it's the first new 'clean sheet' modular medium format SLR camera system since Hasselblad's H1 back in 2002… and that was before there really was such a thing as digital medium format. Of course, Leica's S2, launched in 2008, was also a new design, but actually has a smaller sensor and an all-in-one body design.
Until now Phase One has been making do with successive (minor) upgrades of the Mamiya 645AFD which dates back to the late 1990s. To be frank, this particular Mamiya platform was never really much to write home about – unlike the film-era greats such as the RB67 or the original M645 – and Phase One realised that its ever more capable capture backs weren't getting the front end they deserved. Developing any new camera is an expensive exercise, but it's even more so when you're only going to sell a comparatively small number each year so the XF represents a big investment in the future of digital medium format photography… and also a big vote of confidence. And to make sure it's able to do things the way it wants to. Phase One has recently completed the full purchase of Mamiya – it previously had part-ownership -which includes the Japanese manufacturing facility where the XF is built.
While both Leica and Pentax also market digital medium format cameras. Phase One's chief rival is another Scandinavian company, Hasselblad. Both offer modular camera systems based on the classic box-form body – originally devised, of course, by Victor Hasselblad in the late 1940s – but the Mamiya-based Phase Ones were falling behind the digital 'Blads, chiefly in terms of the integration that's possible between the capture back and the camera body, but also in convenience features such as detailed on-camera LCD info displays. Additionally, the Hasselblads offer the all-important capacity – in pro camera terms – to interchange viewfinders so the eyelevel prism can be replaced with a traditional waistlevel hood which is often especially useful in the studio situation.
7Review earns Amazon affiliate commissions from qualifying purchases. You can support the site directly via Paypal donations ☕. Thank you!
And it's worth noting at this point that while Hasselblad's later digital medium format platforms have been technically more advanced than the Mamiyas, from the H3D to the current H5D, the company's 'closed loop' policy has meant that they haven't been available to the users of Phase
THE XF+IQ3 COMBINATION IS NO MORE DEMANDING TO USE THAN ANY PRO-LEVEL FULL-35MM D-SLR AND. ALTHOUGH PHILOSOPHICALLY QUITE DIFFERENT. COMPARABLE TO THE PENTAX 6452.
One's backs (or, for that matter, anybody else's). There's now the 'open' H5X body, but the level of integration that's possible with non-Hasselblad backs is still an issue so clearly Phase One -without any heritage as a camera maker – needed to do something to ensure future competitiveness.
MAKING IT WORK
Starting from scratch. Phase One has been able to fulfil a number of the wish lists from its existing users as well as creating a platform that's more than capable of matching it with the current – and, more than likely, future – Hasselblads.
Some aspects of the XF are endearingly old school – including the styling – and some are absolutely contemporary, including a high degree of future-proofing via provisions for extensive firmware upgrades. Additionally, Phase One's latest generation of IQ3 series capture backs – released at the same time – fully leverage the XF's capabilities via an exceptionally high level of integration (more about these shortly).
The XF's angular and edgy styling is more reminiscent of Mamiya's RZ67 than anything else, although the Phase One actually isn't quite as bulky. Nevertheless, it's still quite heavy thanks to the beefy prism finder and the fact that all the external covers are made from aerospace-grade alloys. It feels in a very different league to the outgoing 645DF+ body.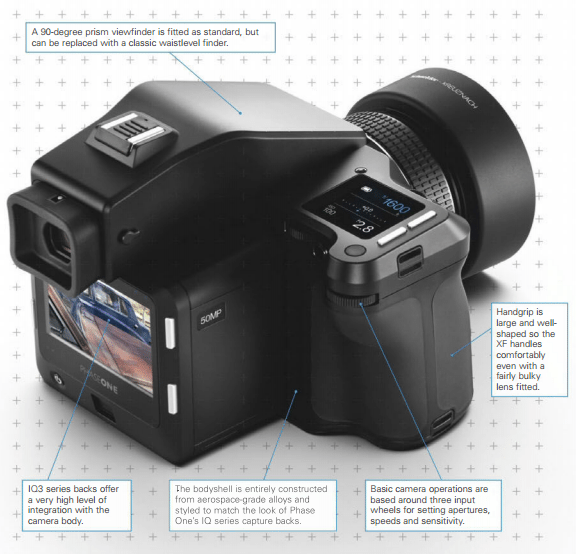 The Mamiya 645AF lens mount is retained, but beyond this the camera is all Phase One's own work, including the autofocusing system. The 90-degree prism viewfinder is fitted as standard, but can be interchanged with an optional waistlevel finder which, in particular, can be more desirable in some studio situations. The scene coverage is 97 percent for both, and the autofocusing is body-based so remains available regardless of the camera's configuration. The prism finder incorporates both a flash hotshoe and a PC terminal and, interestingly, the XF incorporates a Profoto 'Air' transmitter for remote radio-frequency triggering of the Swedish company's flash units.
A nice little piece of Scandinavian co-operation.
The XF boasts a good-sized handgrip atop which is one of its cleverest features… a large display panel with a capacitive touchscreen which works brilliantly in the field. There are three input wheels – similar to a Sony Alpha 7 series body -which are essentially used to set apertures, shutter speeds and the ISO, and can be configured to do any of these operations.
The direction of each wheel's rotation can also be changed, but they can also be locked to avoid accident adjustment. The control/ display panel – which Phase One calls the "OneTouch Ul" — is accompanied by a pair of long, rectangular buttons which can be used for more conventional selecting and setting duties (if desired, the touchscreen operation can be turned off). In fact, all the XF's external controls can be customised with the settable functions including autofocusing, the AE lock, mirror lock-up and depth-of-field preview. The display itself can be switched between 'Simple' and 'Classic' layouts – the latter being more comprehensive – or customised more specifically and there's adjustable backlighting to vary the brightness. It's also a multi-coloured display so, for example, out-of-range indicators are shown in red and any auto settings (i.e. apertures, shutter speeds, etc) are shown in blue. Furthermore, the degree of integration with IQ3 backs -made possible by a new "High Bandwidth" interface – allows for the whole panel to be replicated in their monitor screens… obviously again with touchscreen controllability which even includes shutter release.
The XF is powered by the same 3400 mAh BP-series lithium-ion battery packs as the IQ3 backs which enables a handy 'Powershare' facility should one or the other fail mid-shoot.
The flat battery can be replaced without the system switching off (but it won't operate with just one battery). Either component's on/off button powers up both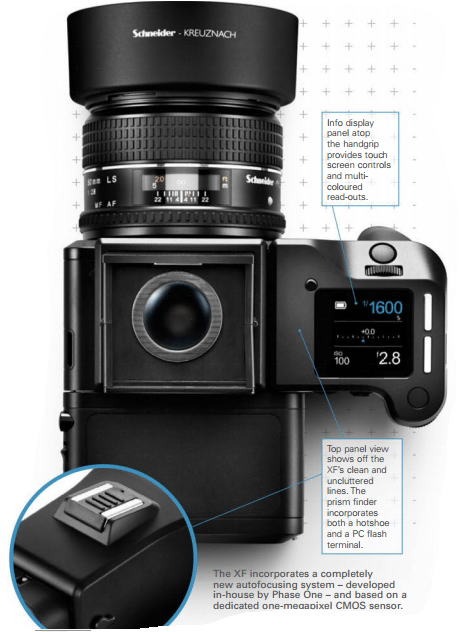 components. There are also two shutter release buttons on the XF body; one conventionally located atop the handgrip and the second, more classically, positioned alongside the base of the lens mount where it's designed primarily for use with the waistlevel finder and low-level shooting.
WORKER BEE
On the inside, the XF has a new TTL autofocusing system based on a one-megapixel CMOS sensor designated the HAP-1. As on the H5D, autofocusing is still only based on a centralised zone in the viewfinder, but Phase One's in-house developed 'HoneyBee Autofocus Platform' (HAP for short) is its answer to Hasselblad's 'TrueFocus' in terms of delivering enhanced accuracy and speed.
The principle is different, but the intent is the same; namely to make the autofocusing work as efficiently as possible so, within this central zone, there are actually 1000 'floating' measuring points with the option of setting Spot, Average or Hyperfocal AF modes. As the name suggests, this last mode allows for the autofocusing to be fine-tuned to optimise depth-of-field by focusing on the lens's hyperfocal point rather than at infinity. Additionally, focus calibration is available for up to 32 individual lenses – by serial number with the later models -to correct for any front- or back-focus variations.
Low-light AF assistance is provided by a built-in 'Precision White Light' illuminator which has a brightness adjustment
When the waistlevel finder is fitted, the HAP-1 sensor provides not only autofocusing, but also spot metering so auto exposure control is retained. Matrix (i.e. multi-zone) and average metering modes are available via the prism finder. The XF has a full set of 'PASM' exposure control modes backed by an AE lock, up to +/-5.0 EV of compensation and auto bracketing over sequences from two to five frames. Usefully, the auto setting ranges for apertures, shutter speed and ISO can be limited to a preset maximum and/ or minimum so, for example, a lens's largest or smallest apertures can be locked out or very slow speeds avoided when shooting hand-held.
The XF body incorporates a focal plane shutter with a top speed of 1/4000 second while timed long exposures of up to 60 minutes are possible (and supported by the IQ3 backs).
Flash sync is at all speeds up to 1/125 seconds, but the Phase One lens system includes a growing selection of leaf-shutter types from Schneider which enable a maximum sync speed of 1/1600 second.
There's a 'Vibration Delay' mode which can be preset from 0.5 to 8.0 seconds for shutter release after the mirror has been locked up. Commendably, mirror lock-up now remains engaged until it's switched off so it doesn't have to be re-activated after each exposure. Rather sexier is the 'Seismograph' mode which locks up the mirror (and locks open the focal plane shutter with LS lenses) and then uses the camera's built-in six-axis gyros and accelerometer to determine when all vibrations have died away sufficiently to allow automatic shutter release. The seismograph function also shows how much the camera is vibrating which can be a bit of a revelation for anybody who thought that their tripod was very sturdy and hence stable.
SOME ASPECTS OF THE XF ARE ENDEARINGLY OLD SCHOOL AND SOME ARE ABSOLUTELY CONTEMPORARY. INCLUDING A HIGH DEGREE OF FUTURE-PROOFING VIA PROVISIONS FOR EXTENSIVE FIRMWARE UPGRADES.
Phase One says that additional facilities based on the gyros and accelerometer will be provided in the future via firmware upgrades, but right now they also drive a 'Virtual Horizon' display that's selectable in an IQ3's monitor screen.
BACKS TO WORK
The IQ3 capture backs have essentially the same specifications as the IQ2 series, but have been designed to fully integrate with the XF via the new interface mentioned earlier. There are three models – two with CCD-type sensors and either 60 or 80 megapixels resolution, and one with a 50 MP CMOS.
There are some notable new features, starting with the 'Exposure Zone' tool which overlays a captured image with a range of colours that indicate zones of under- and overexposure in specific values. It's essentially the same idea as highlight/ shadow warnings, but a whole lot more sophisticated and allows exposures to be then more precisely fine-tuned as per the area indicated by a specifically coloured zone.
Also very neat is the 'Temperature Graph' which maps the temperature of the sensor over time so it can be allowed to stabilize prior to commencing an exposure. This is especially important now that exposure times of up to 60 minutes are possible. The 'Exposure Calculator' tool is also primarily designed for low light or night photography. After a preview is captured at a high ISO with a large aperture, the calculator then determines the exposure times required at lower sensitivity settings and/or smaller apertures.
There's also an enhanced 'Exposure Warning' facility which allows the highlight warning level to be set, along with its colour, plus a clip warning with its specific colour too. Both the IQ2 and IQ1 series backs can be used on the XF – but require a firmware upgrade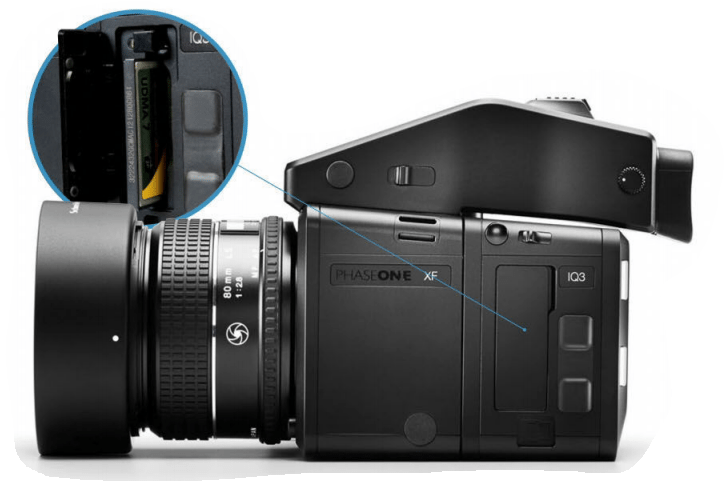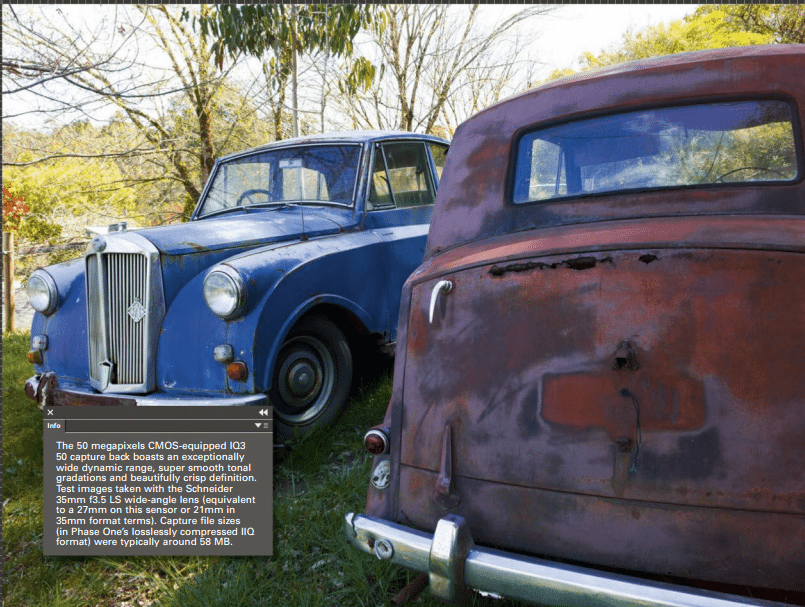 – but obviously none of the facilities that depend on the 'High Bandwidth' interface are available, including power sharing. However, an upgraded IQ2 back will support the XF camera controls in their monitor screens and gain selected IQ3 features such as the 'Exposure Zone' tool. At this point, the XF doesn't support the IQ2-based Leaf Credo backs, but backwards compatibility allows the IQ3 backs to be used on the Phase One 645DF/ DF+ camera bodies.
PERFORMANCE
The XF immediately scores highly for both its handling and efficiency of operation. It's a big camera, but the well-shaped grip is very comfortable and the XF feels well balanced even with a big lens like the new Schneider-Kreuznach 35mm f3.5 LS wide-angle fitted. Hand-holding really is quite feasible, both in physical terms and how the camera's ergonomics… most notable, the touchscreen controls.
Operationally, it's chalk and cheese compared to the previous Mamiya-sourced bodies and, while Hasselblad also offers a more contemporary front/ rear input wheel control arrangement. Phase One goes a lot further. The XF's third wheel additionally makes ISO setting immediately accessible, but the touchscreen does the same for everything else, and it's completely intuitive to master. It's also highly addictive to use, while the option to doing everything from the back's screen means the same level of speed and efficiency is available regardless of how the camera is being used. The prism finder is truly fabulous while the new feedback features of the IQ3 backs – especially the 'Exposure Zone' overlay – are very helpful and any subsequent fine-tuning is very quickly and easily applied. The impression here is very much of a 'total package' design approach with everything working in harmony to achieve the desired outcome as efficiently as possible. Consequently, the XF+IQ3
THE XF BOASTS A GOOD-SIZED HANDGRIP ATOP WHICH IS ONE OF ITS CLEVEREST FEATURES…A LARGE DISPLAY PANEL WITH A CAPACITIVE TOUCHSCREEN WHICH WORKS BRILLIANTLY IN THE FIELD.
combination is no more demanding to use than any pro-level full-35mm D-SLR and, although philosophically quite different, comparable to the Pentax 645Z.
We tried the XF with both the IQ3 60 and IQ3 50 backs, but concentrated mostly on the latter given the spotlight on 50 MP capture across several formats at the moment. Perhaps the most ironic aspect of our test is that the XF can be successfully used hand-held in situations where the Canon EOS 5Ds can't because of sharpness issues -purely related to the pixel size and density – related to either internal vibrations or external camera shake. For once, a bigger and heavier camera has benefits. Less surprising, of course, is that bigger pixels have benefits too, and this is most evident in the exceptionally wide dynamic range – quoted at 14 stops – delivered by the CMOS-equipped IQ3 50. Smoother tonal gradations, crisper definition and a superior signal-to-noise ratio are the key enhancements to which can be added the various performance advantages of medium format lenses. For example, Phase One says its latest 'Blue Line' models -of which the 35mm LS is one – are good for capture resolutions of "beyond" 100 megapixels, but also aberrations such as diffraction are less of an issue. The CMOS-based IQ3 50 also delivers exceptional low-light performance all the way up to ISO 6400 which makes its longer exposure durations quite useable… and delivers an image quality that the users of smaller format camera systems can only dream about.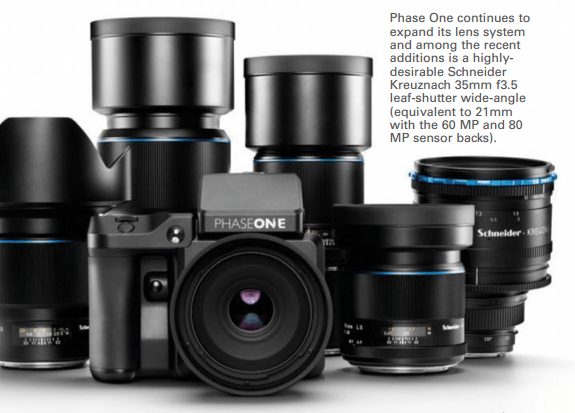 THE VERDICT
Not surprisingly, the XF in concert with any of the IQ3 capture backs is an expensive proposition, especially for photographers who aren't going to be putting their cameras to work. Selling the superior performance remains the key marketing challenge for all the makers of digital medium format cameras, but particularly those whose products wear the sort of price tags we're more accustomed to seeing on the windscreens of new cars.
The differences compared to, say, the 50 MP Canon D-SLRs might be easier to justify on a number of levels, but the Pentax 645Z is harder to argue around given it's using a similar size and type of sensor as the IQ3 50.
So we're not going to try to do it here beyond stating that the XF is actually much better built, offers the flexibility of interchangeable finders and is supported by a bigger system of dedicated lenses (many with leaf-shutters), but whether all this is worth the substantial extra investment is harder to determine outside the context of professional use.
In reality, money can't be the sole consideration here and it's more relevant to concentrate on what the XF offers… which is an extremely well-thought-out digital medium format platform that, beyond the benefits already listed in the previous paragraph, delivers exceptional levels of convenience, efficiency and functionality. With the XF, Phase One now has a camera body that's able to match what it has been offering with its IQ Series capture backs and Capture One image processing software for some time – intelligently designed products that maximise efficiency and optimise performance. If photography is your livelihood, that's an investment well worth making. If technical perfection is your goal… well, it's certainly worth considering.
100 MEGAPIXELS CAPTURE IS HERE
If 50 megapixels and around
Phase One is the first to hit the magic 100 megapixels market with a new IQ3 series capture back which delivers 101 MPThe image size is 11,608×8708 pixels which translates into a massive output size of 73.2×96.3 centimetres at 300 dpi. The dynamic range is an impressive 15 stops.
What's more, this 100 MP sensor is a CMOS device – a co-development between Phase One and Sony – and has a sensitivity range equivalent to ISO 50 to 12,800. Colour is processed at 16-bits per RGB channel to deliver a wider colour gamut and, quite simply, truly stunning image quality. If you want the ultimate in digital image capture performance, here it is!
A complete camera kit will set you back while the IQ3 100MP back on its own is a mere (and it can be fitted to other digital medium format SLR bodies).