Nearly two years down the track, the Pentax 645Z is still the most affordable route into digital medium format photography… and it also remains the best-featured '645' D-SLR on the market.
When we first road-tested the Pentax 645Z we suggested that the ultra-high resolution full-35mm format D-SLRs were making the extra investment in the bigger sensor camera harder to justify.
Time suggests that the more relevant comparison is with the alternative digital medium format systems that are also built around a 50 megapixels '645' format CMOS sensor. For starters, nobody gets close to the Pentax's price tag – now a little over for the camera body – and nothing released since can match it for features or specifications which are closer to those of a high-end smaller format D-SLR than anything else. What's also working in the 645Z's favour is that the price gap to the full-35mm D-SLRs with 50 MP
on tap isn't all that great, especially when the performance benefits of having bigger pixels are taken into account (something that's helping validate digital medium format cameras across the board… even the really pricy ones). Additionally. Ricoh – custodian of the Pentax brand these days – has been working overtime to expand its system of digital-era lenses for the 645Z, the one area where both Phase One and Hasselblad have had a definite advantage. The original 645D – predecessor to the 645Z – essentially launched with just one dedicated lens (sound familiar?), but now there's not only a wider selection of models specifically for the 645D/Z, but also the once hard-to-get 645N lenses – mostly only available in Japan – are distributed globally.
This has created a system of 17 lenses spanning 28mm to 400mm (equivalent to 22mm to 315mm) and including six zooms and a true macro. The newer digital-era DFA-series features such as the SDM built-in focusing motors, weatherproofing and image stabilisation.
Traditionally, even in the days of 120/220 rollfilm, medium format cameras were quite utilitarian in their specifications, the emphasis being on functionality rather than frills. This continues into the digital era and the key control systems – i.e. for focusing and exposure – can still be surprisingly
NOTHING IN THE DIGITAL MEDIUM FORMAT WORLD GETS CLOSE TO THE PENTAX'S PRICE TAG AND NOTHING RELEASED SINCE CAN MATCH IT FOR FEATURES OR SPECIFICATIONS.
rudimentary. Pentax actually took a different course with its 6×4.5cm film 645 – launched in 1984 – which introduced a hitherto unprecedented level of automation to the sector; something that's continued with the 645D and is even more the case with the 645Z which remains not only the best-featured digital medium format camera on the market – by a significant margin – but its systems and features are comparable with the current higher-end APS-C' and full-35mm format D-SLRs. It's still more expensive than anything in these smaller classes, but if the pursuit of absolute image quality is your primary goal then having a sensor that's 1.7x times larger than a full-35mm imager – and in the order of 2.5x larger than APS-C' -makes the price difference easier to justify.
7Review earns Amazon affiliate commissions from qualifying purchases. You can support the site directly via Paypal donations ☕. Thank you!
Like Hasselblad, Leica and Phase One, Ricoh has adopted a CMOS-type sensor for the 645Z because it delivers a number of performance benefits, among other things, faster continuous shooting speeds (although this is still relative, compared to the smaller formats), live view and Full HD video recording… all of which help make digital medium format a more attractive proposition for the non-professional user.
The 645Z further builds on the CMOS-derived performance enhancements by inheriting most of the advanced control systems and features from the Pentax K-3 II, Ricoh's current 'APS-C' D-SLR flagship. It's a luxury no other maker of digital medium format camera systems has. and it turns the 645Z into a truly formidable machine.
PIXEL POWER
The Pentax's '645' format CMOS is essentially the same device that Hasselblad uses in its H5D-50c camera and CFV-50c capture back, and Phase One employs in its IQ1 50. IQ2 50 and IQ3 50 backs. It has an imaging area of 43.8×32.8 mm and a total pixel count of 53 million. The effective pixel count is still a massive 51.4 MP which delivers a maximum image size of 8256×6192 pixels. More importantly, the pixel size is 5.3 microns which helps contribute to a dynamic range of 14 stops and a native sensitivity range equivalent to ISO 100 all the way to 204,800… and that maximum is achieved without any expansion processing which is significant. Furthermore, Ricoh makes sure every drop of resolution is squeezed out of this sensor by not using a low-pass filter. Instead, the Pentax 645Z has the same 'AA Filter Simulator' system that was introduced in the K-3 and is also used in the K-3 II.
The 'AA Filter Simulator' system is essentially a mechanical solution using sensor shifting, but working in the reverse to image stabilisation. Instead, the sensor is shifted very fractionally in order to introduce the slight blurring
or 'filtering' needed to counter moiré patterns. There are three settings – 'Off' which is obviously for prioritising resolution; 'Type 1 ' which is designed to balance resolution and moiré correction by shifting the sensor in a linear direction; and 'Type 2' which oscillates the sensor in a circular motion in order to optimise the blurring effect and, as a result, moiré correction.
The 645Z's image capture options comprise JPEGs in four sizes and three compression levels. 14-bit RGB RAW files recorded in either the Adobe DNG or PEF formats, and TIFFs. RAW+JPEG capture can be configured for any JPEG size and quality setting. The sensor is mated with Pentax's 'PRIME III' highspeed processor which enables Full HD video and continuous shooting at up to 3.0 fps. This may not seem very fast compared to the latest D-SLRs and mirrorless cameras, but it's not so bad in
THE BEST QUALITY JPEGS EXHIBIT A LEVEL OF DETAILING THAT'S TBULY DBAMATIC AND EVERYTHING STAYS CRISPLY RESOLVED EVEN WITH VERY BIG ENLARGEMENTS (JUST LIKE MEDIUM FORMAT FILM).
digital medium format terms and it's worth remembering that even the JPEGs are around 25 to 30 MB in size depending on the image content. The burst lengths are quite respectable – 30 frames with JPEG/large/best capture and ten in RAW mode.
The 645Z has dual SD memory card slots which support both HC and XC types as well as UHS-I speed data transfer plus Eye-Fi and FLU cards for wireless data transmission. The two slots can be set up in a variety of ways, including simultaneous saving to both (which creates a back-up) or the separate saving of RAW files and JPEGs. It's also possible to copy images from one card to another.
As just noted, the 645Z can also record video and it uses close to the whole sensor for this (a small outer area is reserved for image shifting with electronic image stabilisation) so the depth-of-field can be even shallower than it is with the full-35mm or 'APS-C' format.
BIG VIEWS
Another major benefit of a CMOS sensor is live view which is now taken for granted with the smaller formats, but is comparatively new in the digital medium format world. The 645Z makes the most of this facility by having an LCD monitor screen that's adjustable for tilt, either up or down. Additionally, it's a large 8.1 cm. 3:2 aspect ratio TFT LCD panel with a resolution of 1.037 megadots, and also adjustable for brightness, colour balance and colour saturation.
The optical viewfinder employs a trapezoid-shaped pentaprism – because it's more compact than a conventional type – and provides a scene coverage of 98 percent. The standard 'Natural Bright Matte' focusing screen can be interchanged with one of four alternatives and it's an easy D-l-Y procedure. Even compared to a full-35mm D-SLR, the 645Z's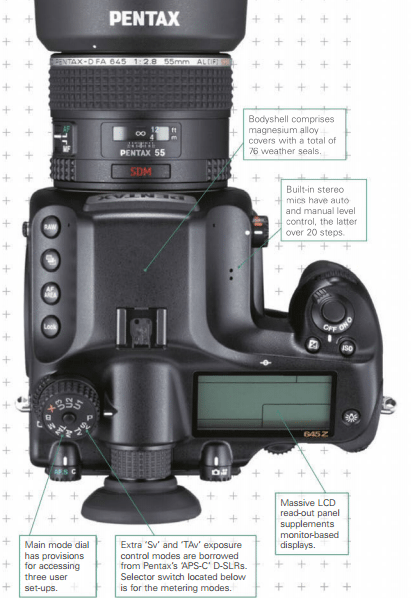 viewfinder is truly huge and quickly addictive so that anything smaller starts to feel quite claustrophobic.
Externally, the 645Z looks quite imposing, but in terms of its overall bulk, it's actually not vastly different from either Nikon's D4S or Canon's EOS-1 D X. The substantial handgrip is comfortable to hold, but this is definitely a two-handed camera even with one of the system's smaller lenses fitted. The control layout is based around a main mode dial with front and rear input wheels and various function buttons. On the handgrip side these are for sensitivity, exposure compensation and the AE lock while, on the opposite side of the pentaprism housing is a line-up of four buttons for the AF area modes, instant switching to RAW capture, setting up the auto exposure bracketing and locking the rear input wheel.
Most of the top deck is taken up with a huge monochrome readout panel which is angled towards the user. There's a new – well, actually repurposed – selector for switching between still photography and video shooting plus, on the rear panel, a new button for either engaging live view or, in the video mode, starting and stopping recording.
The rear panel layout is actually quite similar to that of any smaller format D-SLR and is centred around a four-way keypad which is used for all navigational duties, including moving the focusing point. Each of the keys also have their own functions, providing direct access to the drive modes, white balance settings, flash modes and 'Custom Image' presets (more about these shortly). Pressing an adjacent button switches them between AF point duty and their other roles.
A 'Status Screen' display in the main monitor shows all the main AF and AE settings and there's a 'Control Screen' which provides quick access to a range of capture-related functions. Another option here is a large dual-axis 'artificial horizon' level display (but less intrusive bar-type level displays are provided in live view).
TAKING CONTROL
The 645Z's bodyshell comprises magnesium alloy covers with a total of 76 seals at the various junctions and joints to protect against the intrusion of moisture or dust. Additionally, the body is insulated in key areas such as the battery compartment to enable operation to continue down to -10 degrees Celsius. Underneath is a diecast aluminium chassis and the lens mount is stainless steel.
The 645Z's control systems start with an 86,000 pixels RGB-sensitive metering sensor. In conjunction with the AF system, this delivers what Ricoh calls 'Real Time Scene Analysis' metering which is designed to determine most appropriate metering weighting for a given subject or scene (exactly like Nikon's 'Scene Recognition System'). There's the option of either centre-weighted average or spot measurements.
As on the smaller format Pentax D-SLRs, the standard choice of 'PASM' exposure control modes is supplemented with a couple of different methods of doing things. The first is Sensitivity-Priority AE – marked as 'Sv' on the mode dial – which allows for the ISO setting to be changed on-the-fly via the 645Z's rear input wheel and the exposure settings are then changed accordingly. The second is called Shutter & Aperture-Priority AE – marked 'TAv' on the mode dial – and it's essentially an auto ISO control in that the ISO setting is automatically changed in order to maintain a particular combination of aperture and shutter speed as light levels vary. The program exposure mode can be customised via a selection of six aperture/ speed selection lines, namely Auto. Normal, High Speed Priority. Depth-Of-Field Priority – Deep. Depth-Of-Field Priority – Shallow and MTF Priority. These are all
pretty self-explanatory, but the MTF Priority setting optimises the aperture selection to match the attached lens's MTF curve (as obtained from the lens's CPU). Program shift is possible in all settings and with either aperture or shutter speed priority, depending on whether the front or rear input wheel is used. There's also the option of 'Hyper' switching in both the program and manual modes. In program mode, turning the appropriate control wheel automatically switches the 645Z to either aperture-priority or shutter-priority auto operation… and the info display changes, for example, from 'P' to 'Hyper Av'. In manual mode, pressing the 'green-dot' button on the camera's back panel sets the exposure as it would be determined in the program mode and this can then be used as the starting point for fine-tuning.
The auto and semi-auto exposure control modes are backed by an AE lock, compensation up to +/-5.0 EV and auto bracketing which can be set to operate over sequences of two, three or five frames with an adjustment of up to +/-2.0 EV per frame. The shutter has a speed range of 30-1/4000 second and it's tested to 100,000 cycles. Flash sync is at speeds up to 1/125 second, but the 645Z doesn't have a built-in flash. External flash units sync via either a hotshoe or a PC flash terminal.
SHARP SHOOTING
The autofocus system uses the 'SAFOX 11' module which has a total of 27 focusing points, 25 of them cross-type arrays arranged in a 5×5 pattern. Here, compared to its digital medium format rivals, Ricoh has the advantage of Pentax's long involvement in autofocusing so the 645Z has the most sophisticated AF system in this category by a significant margin.
The three focusing points in the very centre of the frame (arranged vertically) work with f2.8 speed lenses and the system's the sensitivity extends down to EV -3.0 (at ISO 100). Low light assist is provided by a built-in LED illuminator. Switching between single-shot and continuous operation is done manually and there's an extensive choice of AF area modes with auto point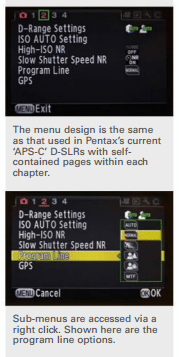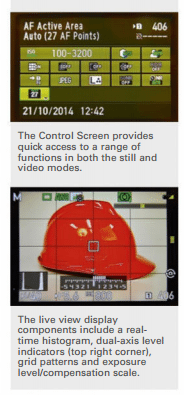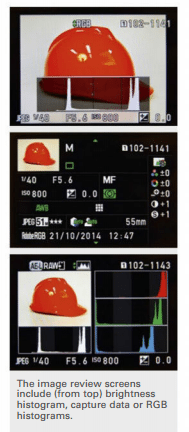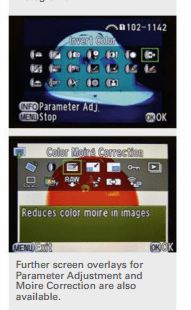 selection over one, nine or the full 27 points and manual point selection over one, nine, 20 or the full 27 points. In each case, the point clusters can be moved around using the navigator keypad. Furthermore, in the Custom menu, the single-shot AF mode can be set to either focus-priority or release-priority (i.e. the shutter will still fire even if the subject isn't in focus) while the continuous AF mode can be set to focus-priority, fps-priority or auto switching between the two. It's also possible to determine continuous AF operation for the first frame -again focus-priority, release-priority or auto switching. Focusing tracking is supplemented with a 'Hold AF' adjustment – also found in the Custom menu – which has four settings from 'Off' to 'High' to vary whether the system stays locked on to the subject regardless or will refocus on a new subject, depending on the period of interruption.
In live view or when shooting video, the 645Z relies on contrast detection measurements from the sensor which is much slower often making manual adjustment a more attractive option. Assistance is provided a focusing peaking display and/or a magnified image. The Pentax's white balance control options include the 'Multi Auto WB' measurement that was originally devised by Ricoh for its CX series higher-end compacts and the GXR system. This employs multi-point measurement to better handle scenes which include a number of different light source, essentially by determining an average colour temperature. Additionally, the 645Z also has Pentax's 'ColourTemperature Enhancement' (CTE) auto mode which increases the predominant colour in an image rather than trying to correct for it. There is a total of nine white balance presets – including four for different types of fluorescent lighting – and provisions for storing up to three custom measurements. Three manual colour temperature settings – selected from a range of 2000 to 10,000 degrees Kelvin – can also be stored. Fine-tuning in the blue-to-amber or magenta-to-green colour ranges – over a range plus/minus seven steps – is available for all the WB presets, the custom settings, the manual settings, and both the CTE and Multi Auto modes.
IN THE PICTURE
The selection of options for processing JPEGs in-camera again makes the 645Z unique in the digital medium
IF THE PURSUIT OF ABSOLUTE IMAGE QUALITY IS YOUR PRIMARY GOAL THEN HAVING A SENSOR THAT'S 1.7X TIMES LARGER THAN A FULL-35MM IMAGER, AND IN THE ORDER OF 2.5X LARGER THAN 'APS-C', MAKES THE EXTRA INVESTMENT EASIER TO JUSTIFY.
format world where, in some cases, even the existence of JPEGs is barely acknowledged.
There's a total of 11 'Custom Image' picture presets which are called Bright. Natural. Portrait, Landscape, Vibrant, Radiant, Muted. Bleach Bypass, Reversal Film. Monochrome and Cross Processing. Each of the standard colour modes is adjustable for saturation, hue. sharpness, contrast and high/low key. This last parameter varies the image brightness over a range of plus/minus four steps. Adjustments to both the colour saturation and the hue are made within a RGBCMY colour hexagon display which shows the variations in colour space terms.
The Bleach Bypass preset replaces the hue adjustment with a range of eight coloured toning effects (with green as the default) while the Reversal Film preset only has an adjustment for sharpness, but the colour saturation and contrast are already boosted to replicate the look of transparency film. The Cross Processing mode has a Random setting, a choice of three preset effects and provisions for storing three favourite effects.
The Monochrome 'Custom Image' has adjustments for sharpness.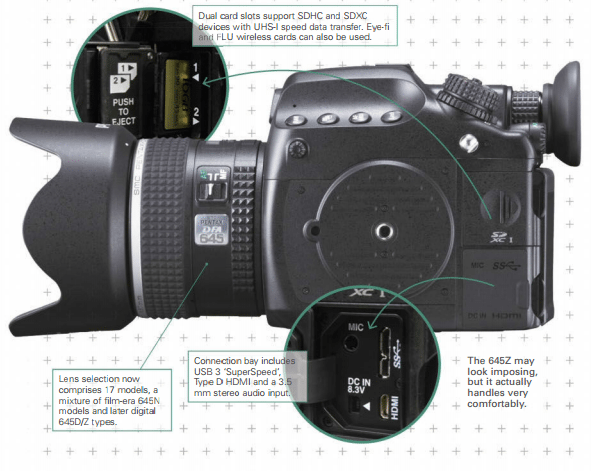 contrast and high/low key plus a set of contrast filters and a selection of toning affects. The filters are yellow, orange, red. green, magenta, blue, cyan and infrared while the toning effects range from cold-to-warm (i.e. blue-to-sepia) over plus/minus four steps. The visual effects of each preset – and any fine-tuning – can be gauged via the camera's 'Digital Preview' function which captures a preview image and displays it regardless of whether live view is activated or not. This is done by flicking the power switch to a preview position (it can also be set for an optical preview… a.k.a. depth-of-field preview) and you can then chose to save this image to a card or discard it.
CREATIVE PROCESSES
There's an impressive collection of 19 special effects which are available post-capture to edit files. These include the usual suspects such as Toy Camera, Retro. Miniature, Soft, Fish-Eye, Pastel. Sketch and Posterisation, plus others such as Shading.
Invert Colour, Unicolour Bold and Bold Monochrome. There's also a 'Base Parameter Adjust' setting which enables the image's base brightness, saturation, hue. contrast and sharpness to be fine-tuned. Incidentally, these various effects can also be appended to a RAW file and subsequently applied when the image is processed post-camera.
Multi-shot HDR capture is available and records three frames with a choice of adjustable bracketing values from +/-1.0 to +/-3.0, auto adjustment or three 'strength' settings called HDR1, HDR2 and HDR3. There's also an 'Auto Align' correction to ensure the three frames are precisely matched. More importantly for some users, HDR capture is possible when shooting RAW – either PEF or DNG files – with the three component images saved in a single file.
Alternatively, the 645Z has dynamic range expansion processing with separate adjustments for the highlights and the shadows, both with an Auto correction option. The 'D-Range' corrections are performed via a combination of exposure adjustments for the highlights and an adjustment of the tone curve for the shadows.
There's also a multiple exposure facility which can capture up to 2000 shots with the choice of three composite modes to determine the overall exposure – Average, Additive or Bright. An intervalometer also allows for up to 2000 images to be captured over intervals of two seconds up to 24 hours.
ON DISPLAY
We mentioned the 645Z monitor-based info displays earlier, but it's worth adding here that there's a choice of no fewer than 12 colour schemes, including – if you so desire – yellow, orange, purple or green.
The live view screen can be configured to include a real-time histogram, a highlight warning, one of five grid patterns, the bar-type electronic level displays mentioned earlier and an exposure compensation scale. The 'Custom Image' picture modes, white balance settings and drive modes can all be directly accessed when the camera is in live view and obviously the 'Digital Preview' function is available.
The image review/playback the screens include a luminance histogram superimposed over the image, a thumbnail with a full set of histograms (i.e. luminance plus the RGB channels), both highlight and shadow warnings, the grid displays and a detailed set of Exif data. The playback editing functions include cropping and resizing, basic movie editing, the ability to save a white balance setting, copying images from one memory card to the other, and a slide show function which allows for variable display times and a selection of three transitional effects. Also here is a 'Colour Moiré Correction' facility with three strength settings, and in-camera RAW file conversion to either a JPEG or a TIFF.
Thumbnails can be displayed in groups of six, 12, 20, 35 or 80 images, or in a 'Calendar Filmstrip' display. At the other end of the size scale, zoom playback allows for image magnification of up to 16x and a 'Quick Zoom' function can be set to go straight to 2x, 4x, 8x or 16x . Copyright information can be added to the Exif data, namely the photographer's name and that of the copyright holder.
The menu design from the Pentax 'APS-C' D-SLRs is carried over to the 645Z, so each chapter is divided into stand-alone pages which are individually accessed via numbered tabs (i.e. continuous scrolling isn't available). Both the layout and navigation are fairly logical with repeated right-clicks delving into the sub-menus and settings, and then the 'Menu' button for going backwards. One ongoing idiosyncrasy is the policy of also using the right-click key for checking some functions as well as the more logical 'OK' button… so, if you are in the habit of subsequently pressing 'OK' to confirm an action, you'll actually end up switching that function off. You'll soon retrain yourself.
PERFORMANCE AND SPEED
With our reference memory card – Lexar's Professional 600x 64 G B SDXC UHS-I speed device – loaded the Pentax 645Z captured a burst of 34 JPEG/large/best frames in 11.401 seconds which represents a continuous shooting speed of 2.98 fps… a near as a whisker to the quoted 3.0 fps. For the record, the average file size was 30 MB so that's a fair amount of data to move around, but the buffer memory still emptied extremely quickly. With a UHS-I speed card, the camera will go on shooting beyond the quoted burst length, but the frame rate is reduced.
However, it's the imaging performance that seals the deal with the 645Z… this and the fact that it's as easy to use as any smaller format D-SLR with comparable AF and metering performances.
It may look imposing, but it handles beautifully and really doesn't feel all that big in the hand (although it might with a longer lens fitted). The image quality is nothing short of stunning and, in many ways, it is just like looking at a 6×4.5cm transparency after you've been accustomed to 35mm. The best quality JPEGs exhibit a level of detailing that's truly dramatic and everything stays crisply resolved even with very big enlargements (just like medium format film). Of course, it's 51 MP resolution that's also unfettered by an anti-aliasing filter so the amount of crisply-resolved details has to be seen to be believed.
The dynamic range is also exceptional and stays impressive even at the higher ISOs up to 6400. Noise really isn't an issue up to ISO 3200 and even the ISO 6400 and 12,800 settings are quite useable, although some graininess is evident in areas of uniform tone. Because the 645Z is so comfortable to use hand-held, the imaging performance between ISO 100 and 1000 means you can do this in a wide range of lighting situations (which is where the TAv exposure mode really comes into its own).
The settings beyond ISO 51,200 really are only there for bragging rights as they're very noisy indeed. Nevertheless, the 645Z still puts in a very superior high ISO performance indeed. The various 'Custom Image' presets provide plenty of scope for tweaking colour and sharpness when shooting JPEGs. The tonal gradations are super smooth and the subtlest of shades is handled as well as the fully saturated. There really is no aspect of the 645Z's imaging performance that isn't worthy of a superlative and this certainly goes some way to justifying the purchase price.
THE VERDICT
In the light of cameras with ultra-high resolution full-35mm sensors like Nikon's D810, Canon's EOS 5Ds models or Sony's A7R II, it could be considered more challenging to mount a compelling argument for digital medium format, but the Pentax 645Z is undoubtedly that argument.
Apart from being the most affordable medium format D-SLR on the market by a long shot, it's also the most user-friendly and the most capable, particularly if you want the convenience of shooting JPEGs. It handles as comfortably as any full-35mm D-SLR and is equally comparable in terms of its operational ease and efficiency. The reliable autofocusing operation, faster shooting speed, tiltable monitor and video capabilities also put the 645Z in a class of its own. but towering above all this is its awe-inspiring imaging quality. Here the Pentax outperforms anything with a full-35mm sensor yet it costs very much less than any of its digital medium format rivals with 50 MP CMOS imagers.
On balance then, the Pentax 645Z simply can't be defined by its price alone because this pales into insignificance in the light of everything this camera offers for that money. By that test, nothing else on the market – in any sensor format – comes close.
VITAL STATISTICS
Type: Fully automatic medium format digital SLR with Pentax 645AF2 bayonet lens mount. Focusing: Automatic via 27-point wide-area system using phase-detection type CCD sensor arrays (including 25 cross-type arrays). Focus points may be selected manually or by the camera. Manual or auto switching between one-shot and continuous modes, the latter with a predictive function. Spot. Select. Expanded Area and Zone Select area modes. Sensitivity range is EV -3.0 to 18 (ISO 100). AF assist provided by built-in LED illuminator. AF micro-adjustment for up to 20 lenses. Contrast-detection AF in live view with manual assist via magnified image (up to 16x) and focus peaking display.
Metering: TTL via 86.000 pixels RGB sensor with multi-pattern evaluative, centre-weighted average, spot and P-TTL flash measurements. Metering range is EV -1.0 to 21 (ISO 100/55mm f2.8).
Exposure Modes: Program (with manually adjustable line; Normal. Hi-Speed Priority.
DOF Priority Deep or Shallow. MTF Priority), shutter-priority auto, aperture-priority auto, shutter and aperture priority, sensitivity-priority auto, metered manual, and P-TTL flash. 'Hyper Program' switching between program and either aperture-priority or shutter-priority AE modes. "Hyper Manual' instantly sets 'correct' exposure settings. Sensitivity priority program mode sets optimum aperture and speed for a given sensitivity setting.
Shutter: Electronic, vertical travel, metal blades. 30-1/4000 second plus 'B'. Flash sync to 1/125 second. Exposure compensation up to +/-5.0 EV in Vi or 1/3 stop increments. Viewfinder: Keplerian telescopic trapezoid prism type. Coverage ■ 38% vertical/ horizontal. Magnification ■ 0.62x (55mm lens at infinity). LCD displays and LED active focus point indicators. Interchangeable focusing screens (choice of four). Eyepiece strength adjustment built-in.
Flash: None built-in. External flash units connect via hotshoe or PC terminal.
Additional Features: Magnesium alloy bodyshell over diecast aluminium chassis; bodyshell sealed against dust and moisture, and insulated to -10 degrees Celsius; auto exposure bracketing (over two. three or five frames), depth-of-field preview. AE lock, external LCD panel (with built-in illumination). dual-mode self-timer (two or 12 second delays), three user settings memory, audible signals, wireless (IR) remote shutter release, wired remote shutter release, auto power-off (variable delay), mirror lock-up. 29 custom functions.
DIGITAL SECTION
Sensor: 52.99 million pixels CMOS with 43.8×32.8 mm area. Sensitivity equivalent to ISO 100-204.800. No optical low-pass filter. Focal Length Increase: 1.3xwith 6×4.5cm format lenses.
Formats/Resolution: Three JPEG compression settings, RAW output and TIFF. RAW+JPEG capture. RAW images can be captured as either compressed PEF or uncompressed DNG files. Four resolution settings; 8256×6192 pixels. 6912×5184. 5376×4032 and 1920x1440pix-els. 24-bit RGB colour for JPEGs. 42-bit RGB colour for RAW files (captured at 8256×6192 pixels resolution).
Video Recording: Full HD ■ 1920×1080 pixels at 50 (interlaced). 25 or 24 (progressive scan) fps and 16:9 aspect ratio or HD ■ 1280×720 pixels at 50.25 or 24 fps (progressive scan). All movie modes have Best. Better or Good quality settings. MOV format with MPEG-4 AVC/H.264 compression. Clip length of up to 25 minutes in duration or up to 4.0 GB in file size. Built-in stereo microphones with stereo microphone input and auto/manual audio levels control. Interval video recording mode at 4K (3840×2160 pixels) in Motion JPEG or AVI formats.
Recording Media: Dual slots for SD/SDHC/ SDXC cards with UHS-I support. Sequential, simultaneous or separate RAW and JPEG recording file management modes. Supports Eye-Fi and FLU wireless transfer cards. Continuous Shooting: Up to 30 frames at 3.0 fps with JPEG/large/best capture, up to 10 RAW frames, and up to 12 TIFFs. Low speed shooting at 1.0 fps for up to 300 JPEG/large/ best frames.
White Balance: Auto/manual with nine presets, three custom settings, auto with multi-point measurement, fine-tuning along the amber-blue and magenta-green axes, and manual colour temperature setting (2500 to 10.000 degrees Kelvin). 'Colour Temperature Enhancement' (CTE) mode enhances the prevailing lighting tone and Multi Auto WB modes takes multiple measurements to better balance scenes containing a number of different light sources.
Interfaces: USB 3.0 "SuperSpeed". HDMI output (Micro Type D). 3.5 mm stereo audio input. Additional Features: Live view (with contrast-detection AF). 'AA Filter Simulator' (Off. Type 1. Type 2). automatic correction for lens aberrations (distortion, lateral chromatic, peripheral illumination and diffraction), active sensor cleaning, image stabilisation via sensor shift dual-axis electronic level display (in viewfinder and/or monitor screen). 8.1 cm TFT LCD monitor (1.037 million dots) adjustable for tilt. sRGB and Adobe RGB colour space. 11 'Custom Image' presets (Bright. Natural, Portrait. Landscape. Vibrant. Radiant. Muted. Bleach Bypass. Reversal Film. Monochrome and Cross Processing), adjustable 'Custom Image' parameters (colour tone, colour saturation gamut radar and fine, contrast, sharpness – regular and fine, high/low key and highlight/shadow contrast adjust). B&W capture with contrast filters and toning effects. 19 post-capture special effects (Base Parameter Adjust. Extract Colour. Toy Camera. Retro. High Contrast. Shading. Invert Colour. Unicolour Bold. Bold Monochrome. Tone Expansion. Sketch. Water Colour. Pastel. Posterisation. Miniature.
Soft, Starburst. Fish-Eye. Slim). HDR capture mode (three exposures with Auto. HDR1.
HDR2 or HDR3 adjustment; manual exposure adjustment from +/*10.2.0 or 3.0; auto align), dynamic range expansion processing (highlight and/or shadow correction – On. Off. Auto), noise reduction for high ISO (Off. Auto. Custom. Low. Medium. High), noise reduction for long exposures (Off. On. Auto), multiple exposure facility (two to 2000; Additive. Average and Bright auto exposure adjustment), intervalometer (up to 2000 images, two seconds to 24 hours intervals with time delay). 'Interval Composite' mode, real-time histogram in live view, grid patterns (choice of five, black or white), histogram display in review/play-back (luminance and RGB channels), highlight alert, in-camera RAW-to-JPEG/TIFF conversion, copyright information, adjustable image display time, playback zoom (up to 16x), slide show (with variable display times and transitions). image rotate. 6/12/20/35/80 thumbnail displays, calendar filmstrip display, image editing functions (Colour Moire Correction. Resize. Cropping. Movie Edit. RAW development. Image Copy. Capture a JPEG frame from movie), PictBridge and DP0F support.
Power: Rechargeable 1860 mAh lithium-ion battery pack (D-L190 type).
Dimensions (WxHxD): 156x117x123 mm (body only).
Weight: 1470 grams (body onfy without battery pack or memory card).
Distributor: C.R. Kennedy & Company Pty Ltd. telephone (03) 9823 1555 or visit the website at www.pentax.com.au