Avira Free Security Suite 2017
NOT A MATCH FOR A FULL PAID SUITE, BUT PRETTY DARN GOOD FOR FREE.
FOR SOME YEARS now home users have had access to free anti-virus, but recently Avira decided to go the whole hog. It made a full featured suite available for free. You won't find anything resembling the feature set of one of the paid suites, but there's an awful lot here for the grand price of $0.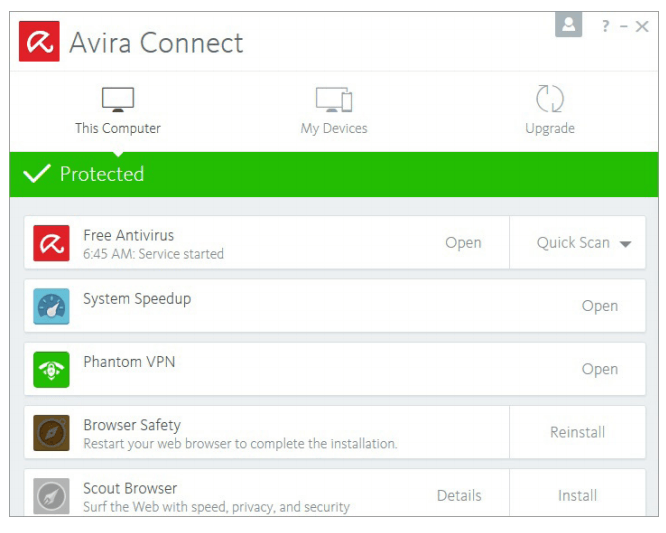 Avira was one of the best performers in AV-Test's most recent benchmarks, although its significant impact on system performance hurt its final rating. The latest version of its anti-malware tool also includes ransomware protection, which monitors documents for modifications that might indicate ransomware in action. There's also Browser Safety and Identity Safeguard, which are tools built to stop drive-by malware and identity theft on phishing sites.
The free suite also incorporates a chunk of Avira's capable system optimisation tools, allowing you to clean your system and registry (much like CCleaner) as well as control privacy settings. There's Avira's excellent Scout privacy browser supplied in the suite, too.
Finally, the suite includes two excellent tools that aren't common on paid suites. One is cloud-based management of multiple devices: you can log into the Avira web site and see and manage devices attached to your account and can even remotely initiate scans. The other is a VPN service, implemented much like Kaspersky's Secure Connect.
The free suite gives you 500MB a month to work with.
7Review earns Amazon affiliate commissions from qualifying purchases. You can support the site directly via Paypal donations ☕. Thank you!
Avira also has a paid suite called Total Security, which offers unlimited access to the Phantom VPN service.
It also includes online banking certificate checks, control of USB attached-devices, file encryption and shredding, a firewall manager and network scanning. Its parental controls are minimal, however.
AVIRA FREE SECURITY SUITE 2017
Free
www.avira.com

CRITICAL SPECS
Anti-malware, anti-ransomware, website filtering, secure browser, system optimisation and cleaning, VPN