Bitdefender Total Security 2018 Review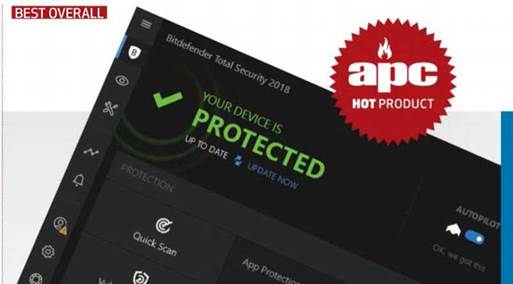 Anti-malware, anti-spam, firewall, parental controls, secure browser, system cleanup, version checking, password manager, website filter, remote monitoring, anti-ransomware, rescue disc and VPN.
Although its overall rating took a modest hit in the most recent AV-Test benchmarks due to some overzealous filtering of new applications, Bitdefender Total Security remains our favourite suite overall, both for its extremely capable detection and removal system, as well as the sheer volume of features it supports.
The set of features available in Bitdefender is equalled by no other suite. Of course, it has your basics: firewall, anti-malware and anti-spam. But it protects against so much more. There's a secure browser for online shopping and banking, anti-theft tools for laptops and mobiles, a file shedder, a security auditor, system cleanup, version checking, webcam access monitoring, password manager, social network protection and much more.
We've been particularly impressed in this latest version with the file locker as well, which lets you lock down access to particular folders to block ransomware but make exceptions for specific apps. You could say, for example, that Word could access your docs folder, but other apps can't — which is much more convenient than other solutions that have you locking and unlocking your folders every time you want to do anything.
What's more, Bitdefender has continued to improve its parental controls, which is becoming a serious competitor to the likes of Norton Family and Qustodio. Comprehensive cloud-based controls, parental advisory systems and support for multiple platforms are all built in. What's more, the cloud management system, Bitdefender Central, extends beyond parental controls, allowing you to monitor the security of your devices remotely, as well as trigger scans.
7Review earns Amazon affiliate commissions from qualifying purchases. You can support the site directly via Paypal donations ☕. Thank you!
When it came to anti­malware performance, it achieved perfect scores in AV-Test's antivirus benchmarks, although it was a little overzealous when new software was installed. We've had excellent results with its removal engine, too — it does a good job of actually cleaning infections after detection, and includes a pre-boot mode for ripping problematic elements out.
It also has one of the best recovery drive/disc creators going, with a good set of tools available for repairing a system that's so messed up you can't even boot into it.
Given the sheer volume of features built into BitDefender, you might expect it would be hard to use. It's not. Its autopilot mode gives you a 'set-and- forget' option that many users will find appealing.
We've never had any real problems with autopilot, and it's smart enough to make firewall and cleanup decisions without your input. If you've more of a mind to manage the system yourself, you can: all the tools, options and reports are highly configurable.
You can set multiple location profiles and adjust sensitivity sliders if you want to increase the aggressiveness of its scans.
The price listed is for the first year only, and Bitdefender may jack up the price for renewals, but given the quality of the suite, it's presently a real bargain.
Verdict
None better.
5/5
RUNNER-UP
Kaspersky Total Security
No other suite has done as good a job at keeping up with Bitdefender as Kaspsersky Total Security. Its feature set largely mirrors that of our winning suite, and for the most part, the various components are well designed and well integrated. All the tools you could really want are built into the suite — including backup, file encryption, webcam monitoring, cloud-based parental controls and a password manager. It even includes a volume-limited VPN for secure connections when you take your laptop onto public Wi-Fi hotspots.
It also managed perfect scores in the AV-Test benchmarks, and has only a modest impact on system performance. Overall, however, we don't think it has quite the elegance of design that Bitdefender has, and right now, it does have a slightly higher price — although for three devices, it's still a good deal.