Powerful new processing boosts the picture quality of LG's already impressive OLED TVs, says John Archer. Read our LG OLED65E8 Review.
PRODUCT: 65in 4K HDR OLED TV with integrated Dolby Atmos audio
In the middle of LG's current TV range, above the C8 series
PEERS: Samsung QE65Q9FN; Sony KD-65AF8
A combination of gorgeous designs, a five-strong range targeting different buyers, and impressive picture quality improvements saw LG's OLED models make huge inroads into the mid-range/premium TV market last year. With LCD/LED technology fighting back in emphatic fashion through direct-lit contenders from Sony and Samsung, however, the pressure is on LG to keep moving OLED forwards.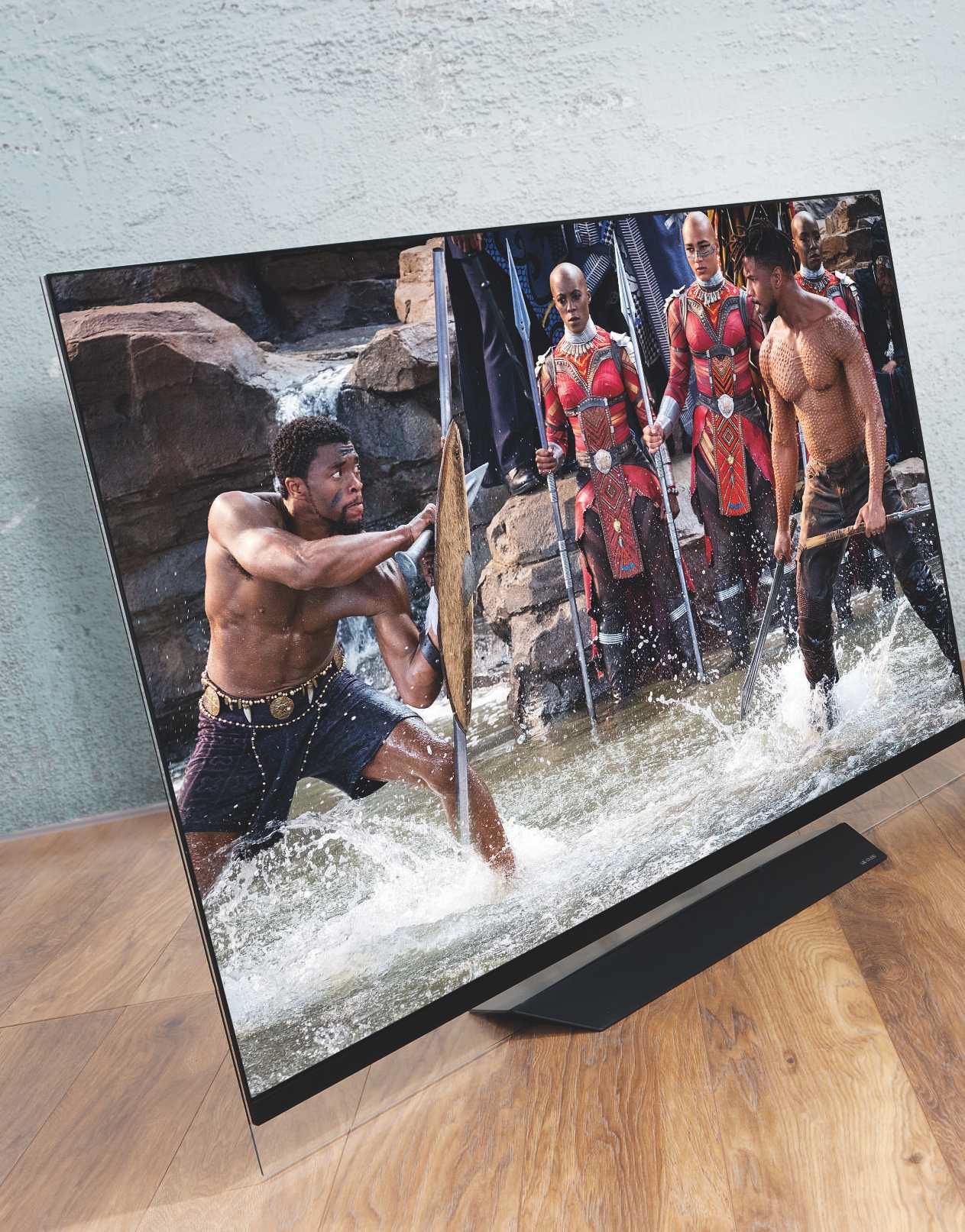 Cue the OLED65E8, LG's new upper mid-range 65in display. Is this yet another progression for the company's OLED technology, or did 2017 already show us the best it can do?
LG OLED65E8 Review: Design refresh
LG has certainly gone to town with design in 2018. This TV looks radically different to its E6 and E7 predecessors. The chunky, integrated soundbar of those earlier models has been replaced by a slinky see-through glass sliver that clamps into an impressively heavy-duty desktop stand.
The front-firing speaker is now relegated to a small black 'band' between the screen and the new glass neck, while the glass trim that protruded beyond the left, right and top edges of the E7's screen frame has been reduced to the point where you barely notice it. This is a bit of a shame, for me, as it leaves three edges of the screen looking relatively prosaic. At least OLED's typical state-of- the-art feel is restored by the slimness (a few millimetres) of the majority of the TV's rear.
Despite its reduced speaker space this set still carries built-in Dolby Atmos decoding, yet doesn't do as convincing a job of delivering the format as its predecessors. Bass sounds good to a point but becomes forced at lower extensions, and the sound tends to become swallowed when pushed hard, rather than opening up. There's a wide and high spread, though, albeit in a flat 'wall' effect, and a decent amount of attack from the forward-facing drivers.
In fact, this audio performance no longer feels especially premium by general TV standards. A pity when we're talking about a TV that's definitely got a premium price tag (although World Cup promotions) attached.
Fortunately, the OLED65E8 makes up for its slight backward audio step with a surprisingly substantial step forward with its picture quality. Why surprising? Because I'd honestly wondered if there was much further LG could take its current technology following its game-changing 2017 efforts. It turns out, however, that it had an ace up its sleeve in the shape of a new processing engine.
LG OLED65E8 Review: Picture polish
Dubbed Alpha 9, this new processor works well to tidy up most of the 'rough edges' that cropped up on occasion when viewing LG's E8 models. For instance, there's now hardly any sign of the strange vertical banding sometimes witnessed with mid-dark or detailed dark scenes on the E7. The early cockpit sequence in American Made (Ultra HD Blu-ray) here looks almost clean, rather than as if it's appearing through chunky prison bars.
A potentially tricky dark scene in a church in the wonderful new 4K Blu-ray of Steven Spielberg's Saving Private Ryan also looks even and natural.
Improvements are detectable in the way the OLED65E8 handles complex areas of HDR colour. The blended shades and hues of Mad Max: Fury Road's desert skies (Ultra HD Blu-ray) exhibit little noise, while the subtle toning of the leaden skies and grey, bombed-out buildings during Saving Private Ryan's final act is unblighted. It's also noticeable that this 2018 model suffers less with blocking noise in the very darkest parts of its pictures than the E7 did. This is particularly true if you stick with the E8's Standard HDR image preset.
LG's 'bug fixing' continues with the TV's motion handling. Pans across the cemetery in Saving Private Ryan still look a bit billowy without LG's TruMotion processing in play, and there's a little shimmering around the edges of moving objects if you do activate it. Yet the extent of this digital intrusion is less than I've seen before with LG sets, and the tools are present within the Custom TruMotion
1. Again, LG's design emphasises the OLED screen's slim dimensions
2. The remote offers physical buttons and onscreen pointer
menu to help you strike a nice balance between reducing judder and keeping noise to a minimum.
LG OLED65E8 Review: Maps to the stars
I've saved the best of the OLED65E8's picture quality improvements to last. A new Dynamic Tone Mapping system analyses incoming HDR10 signals and attempts to add to them the sort of dynamic scene-by-scene metadata present in the Dolby Vision premium HDR format.
Powered by that Alpha 9 processor, this Dynamic Tone Mapping feature gives HDR10 content (the majority of 4K Blu-rays) more punch than before. It raises the average brightness level of Saving Private Ryan's daylight sequences to levels where at times – provided the image isn't almost uniformly bright – they seem to match the intensity of Samsung's Q9FN models.
This significantly brighter approach is achieved without compromising the obligatory, deep black levels for which OLED has long been adored by home cinema enthusiasts. So, for instance, when the troops in Saving Private Ryan walk along a ridge at night, the sky lights up with lightning that looks more intense than you might have expected, but the blackness of the surrounding sky is every bit as rich as you'd hope it would be.
Sequences such as this, where the contrast range is so wide, show the OLED65E8 at its most 'HDR' – and where it scores its biggest points over Samsung's (less expensive) 65in Q9FN model. It's not the only advantage this LG has over its arch rival, however. Viewing angle here is far superior. Images survive off-axis viewing without losing colour or contrast, while the Q9FN loses colour saturation, and exhibits backlight blooming, from as little as 25 degrees.
The Samsung, though, has its own advantages. Its extra peak brightness can deliver a wider expression of the full range of HDR material, and it retains colour saturations better in the very brightest parts of a picture. 4K images appear a little sharper across the whole picture too – although, strangely, the LG's 4K pictures look slightly more detailed over close-up content. And finally, the LG has to dim down with uniformly bright HDR pictures while the Samsung generally does not.
As for those looking to partner this set with a gaming console, LG has delivered a much brighter HDR Game mode than it's ever managed before, and cooked up a sub-20ms input lag time.
Dolby Vision playback is on the menu here (LG offers it across its OLED and Super UHD Nano Cell LCD models). Generally, feed the TV a Dolby Vision source and you're rewarded with noticeable improvements in colour accuracy/balance and dynamic range. Samsung's screen rivals (and TVs from Panasonic and Philips) support the HDR10+ format, which works along broadly similar dynamic metadata principles to Dolby Vision, but at the time of writing HDR10+ is only supported by Amazon Video; there are still no HDR10+ 4K Blu-rays.
It should be noted, though, that while the OLED65E8's Dolby Vision pictures usually look even more enticing than its HDR10 (and SDR) images, every now and then Dolby Vision scenes containing a mix of dark and bright content arriving into the TV over HDMI can cause the picture's usually stunning black levels to shift up a little. This is a much more minor issue than it has been on the previous two OLED generations, but hopefully LG can eventually deliver a firmware update that removes it completely.
LG OLED65E8 Review: I ThinQ, therefore I am
LG's Alpha 9 processor doesn't just deliver improved pictures. It also contributes to a much more expansive smart system, adding support for a new ThinQ AI platform to LG's traditional WebOS interface.
ThinQ AI delivers much improved voice recognition and control, accessed via the familiar, curved remote, plus the potential for the TV to monitor and control other electronic devices and appliances in your home. Professional installers should also appreciate the OLED65E8's much more advanced and individually controllable calibration menus and options.
A WebOS user interface is once again employed, LG having first debuted it in 2014. As expected, this continues to impress with its attractive graphics, ease of navigation and customisation of the onscreen interface. It also supports a strong array of video streaming apps: Netflix, Amazon Video, YouTube (all in 4K and HDR iterations), Now TV, and the new Rakuten TV platform that's become the first in Europe to provide both Dolby Vision and Dolby Atmos streams. Catchup apps for UK broadcasters are provided within a Freeview Play container.
LG OLED65E8 Review: E for exciting
The OLED65E8's improved smart features and, especially, outstanding picture quality make it among the most exciting OLED TVs yet for any home cinema fan who loves the spectacle HDR can provide. Its only serious problem, beyond a sonic performance that seems to have regressed rather than moved forward, is its price.
The TV certainly stands up to stiff competition from direct-lit LED models. Samsung's 65Q9FN is an obvious challenger – making a choice between the two is tricky, as each offers its own distinct advantages, as discussed earlier.
More difficult to ignore is LG's own OLED65C8 model, which experience suggests will offer essentially the same picture quality, while retailing for a good chunk less courtesy of a different design/audio implementation.
If you're a member of the money's-no-object crowd, though, partnering LG's superb new OLED picture performance with the OLED65E8's smarter aesthetic and slightly more beefed-up sonics is probably a no-brainer
3D: No 4K: Yes. 3,840 x 2,160 HDR: Yes. HDR10; Dolby Vision; HLG; Technicolor HDR TUNER: Yes. Freeview HD; satellite CONNECTIONS: 4 x HDMI inputs; 3 x USB; RF input; satellite input; Ethernet; headphone output; optical digital audio output SOUND (CLAIMED): 60W, 4.2-channel BRIGHTNESS (CLAIMED): N/A CONTRAST RATIO (CLAIMED): N/A DIMENSIONS (OFFSTAND): 1,449(w) x 903(h) x 52(d)mm WEIGHT (OFFSTAND): 26.6kg
FEATURES: USB/network multimedia playback; Alpha 9 processor; WebOS/ThinQ/ AI smart platform; voice control/recognition/search (incl. Google Assistant and Alexa support); HDR Effect; Dynamic Tone Mapping; Quad Step noise reduction; Dolby Atmos decoding; One-Touch Sound Tuning
LG OLED65E8 Review: PARTNER WITH
SAVING PRIVATE RYAN:
Another fan-favourite Spielberg flick gets the back-catalogue 4K treatment, and it's a doozy, marrying detailed, assured 4K HDR imagery with a revamped Dolby Atmos soundmix.
3. LG's OLED retains its colour and contrast when viewed off-axis
4. Dynamic Tone Mapping processing aims to improve HDR10 playback
5. There's also a 55in model in the E8 series
LG OLED65E8 Review: VERDICT
Excellent new processing addresses many of the minor niggles of previous OLED TVs, and boosts HDR performance.

A slimmed-down design doesn't benefit sound quality, though.
Recommended
LG OLED65E8 Review
Excellent new processing addresses many of the minor niggles of previous OLED TVs, and boosts HDR performance.
Add your review

IMPORTANT: Please note that Suitable (Universal) Item May Not Work for All Functions As Original Item.
All Item Tested Before Delivery To Make Sure It's Working Perfect
Package Included: 1 x Remote Control without Battery
Last update was on: December 6, 2023 6:50 pm
IMPORTANT: Please note that Suitable (Universal) Item May Not Work for All Functions As Original Item.
All Item Tested Before Delivery To Make Sure It's Working Perfect
Package Included: 1 x Remote Control without Battery
Please feel free to contact us for any question of the item to make sure you get what you wanted

IMPORTANT: Please note that Suitable (Universal) Item May Not Work for All Functions As Original Item.
All Item Tested Before Delivery To Make Sure It's Working Perfect
Package Included: 1 x Remote Control without Battery
Last update was on: December 6, 2023 6:50 pm
IMPORTANT: Please note that Suitable (Universal) Item May Not Work for All Functions As Original Item.
All Item Tested Before Delivery To Make Sure It's Working Perfect
Package Included: 1 x Remote Control without Battery
Please feel free to contact us for any question of the item to make sure you get what you wanted