With Dolby Vision and Dolby Atmos support, Sony's 2018 OLED TV is taking the fight to LG, says Steve May. Read our SONY KD-65AF8 Review.
AV INFO
PRODUCT: 65in OLED TV with Dolby Vision/Dolby Atmos decoding
POSITION: Second-tier OLED screen, positioned under the A1
PEERS: LG OLED65C8; Panasonic 65FZ950
A year or so ago, Sony reimagined the humble telly with its A1 OLED debut. The adoption of OLED display tech enabled its engineers to completely rethink TV audio; by adding vibrating actuators to the back of the set, the panel itself could generate sound. The A1 also used a chic lean-back design, and adapted image processing techniques first seen on the spectacular ZD9 LED LCD TV. The result was a humdinger of a 4K set.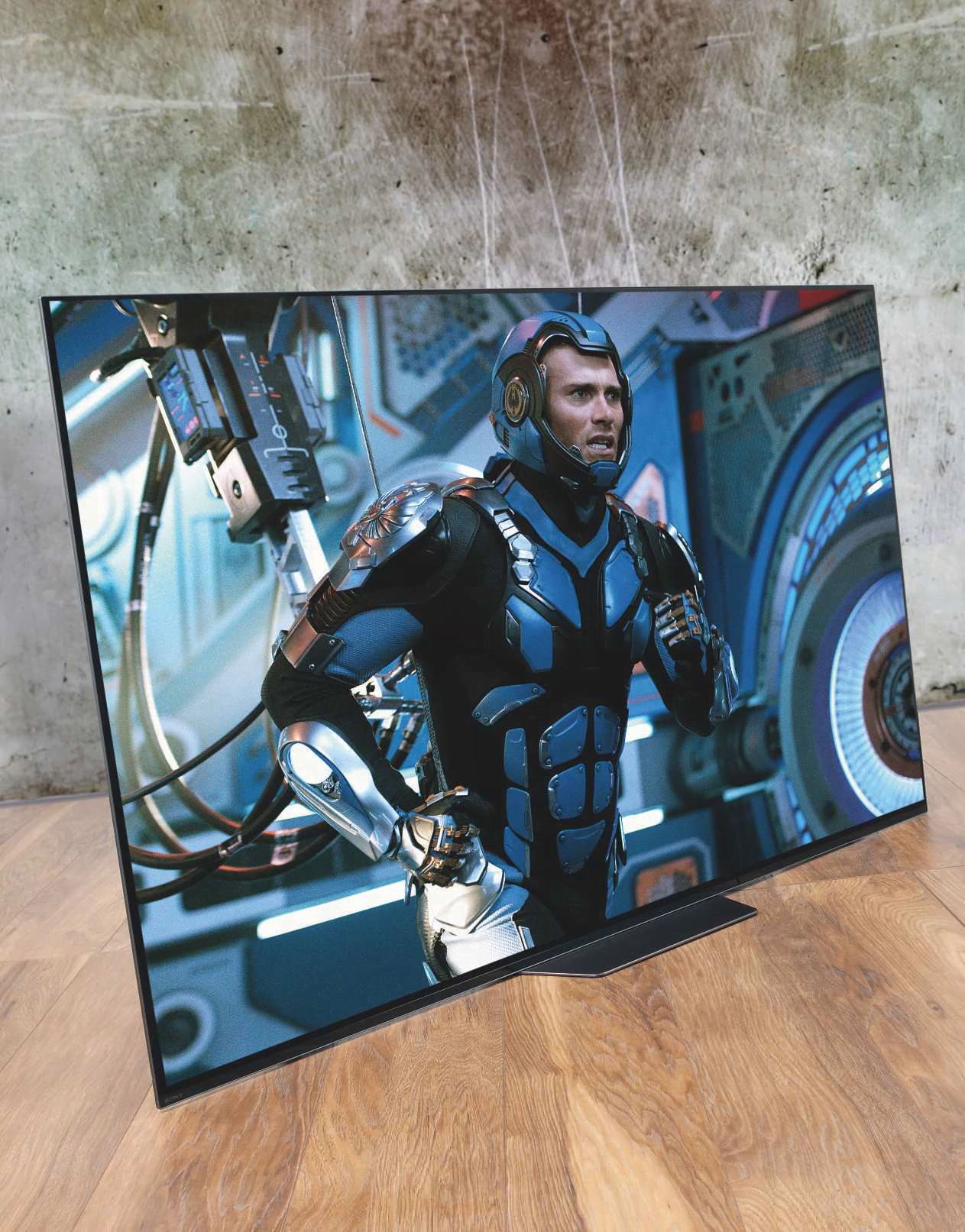 You may also like:
7Review earns Amazon affiliate commissions from qualifying purchases. You can support the site directly via Paypal donations ☕. Thank you!
Now with the AF8, it's reined in the bravado in favour of a more conventional form factor. Which is the real Sony? Design anarchist or tech conservative? Sometimes it's difficult to tell.
Available in 55in and 65in screen sizes (the latter tested here), this more accommodating design should at least prove easier to park on AV furniture and trendy flat-pack benches. And as the AF8 arrives while the A1 is still on sale (although we suspect a replacement is imminent), and is priced to match, it presents buyers with an interesting conundrum.
SONY KD-65AF8 Review: Simple sophistication
The lean-back look may have gone, but there's still something artisan about the AF8. Ostensibly little more than a wafer-thin OLED panel with an electronic backpack, its simplicity belies the sophistication of both its design and construction. There's barely a rim to the glass or an air gap between panel and stand – the screen sits snugly on a single, slender foot.
If you want to wall-mount, there's 31mm less distance between the mount and the front of the TV than the A1.
For those aiming to hang it flush, the biggest challenge will be placing the power plug.
Overall, the cosmetic design is so minimalist you probably won't even spot the Bravia branding hiding at the bottom left of the bezel.
Only two of the TV's four HDCP 2.2-ready 4K HDMI inputs support full-fat 4K 60p at 4:2:0, or 10-bit at 4:4:4 and 4:2:2. This could potentially prove an annoying limitation. Other connections include a trio of USBs (one for HDD recording), an AV minijack, headphone socket (for those that don't have Bluetooth cans), optical digital audio output and Ethernet. Wi-Fi and Bluetooth are standard. All these ports hide behind snap-on panels, which give the set a clean, unfussy look. There's a choice of either terrestrial or satellite tuners.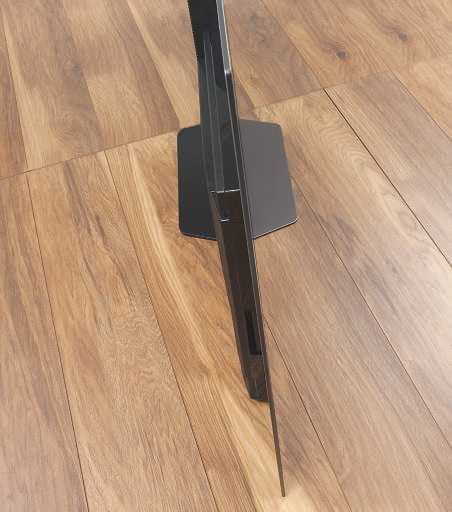 The AF8 comes with the familiar Sony soft-button remote control, with integrated microphone and hot buttons for Netflix and Google Play. There's nothing particularly fancy here.
There's no Freeview Play on the KD-65AF8 either, but much of the same functionality is available on the set's YouView app, which sits atop Freeview. Streaming services include Netflix, Amazon Prime Video, Google Play, YouTube, DisneyLife, Rakuten TV and Spotify.
The smart interface remains unchanged from the Sony A1. The set currently uses Android TV OS 7.0, and while it boasts a comprehensive feature set, with integrated Chromecast and Google Assistant control, the platform still runs on square wheels. Both LG and Samsung are ahead in the ease-of-use stakes.
SONY KD-65AF8 Review: Sony synergy
The AF8 employs the same X1 Extreme image chipset found on its predecessor, and image quality is similarly fine. The synergy between Sony's panel and processing is near perfect. The company says it carries out deep pre-calibration of its OLED screens as part of the manufacturing process, aping production techniques applied to its (stratospherically expensive) Trimaster Studio OLED monitors. There's no question that the end result looks sensational straight from the box, with fine detail performance, aided by 4K X-Reality PRO and dual-database processing, class-leading.
For those that want it, there's still a fair amount of tweaking on offer. In amongst the picture settings is an Advanced Contrast Enhancer (which I kept on Medium) and a Peak Luminance adjuster, which for this audition was mainly set on Medium for SDR playback.
1. The AF8 joins the 2017 A1 in Sony's current OLED TV line
2. Sony's remote is unadventurous, but easy to use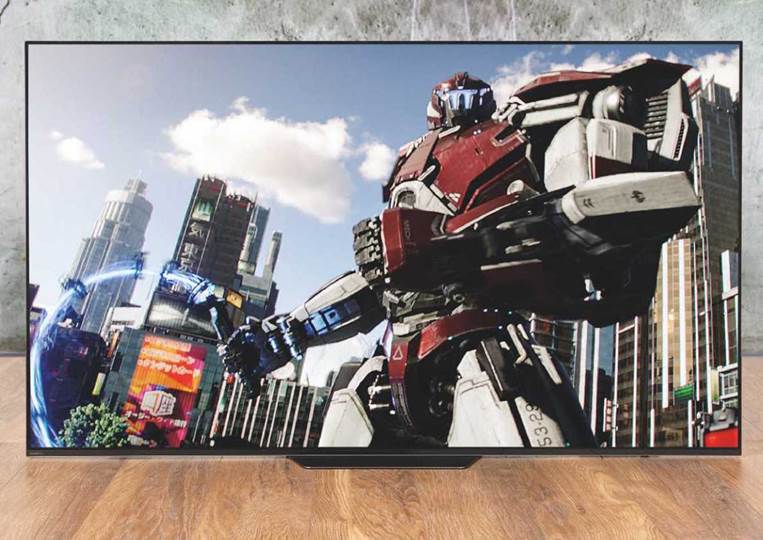 Root around and you'll also discover the Light Sensor, although this is generally best switched off for a more consistent brightness performance. There's also the usual plethora of image presets on offer, including Vivid, Standard, Custom, Cinema Pro, Cinema Home, Sports, Animation and Game.
The AF8's HDR support covers HDR10, HLG and Dolby Vision. The latter is a bit of a curate's egg. The TV happily presents Dolby Vision via its in-built Netflix app, but not necessarily from external sources. The set requires bespoke compatibility with any Dolby Vision-capable playback device in order to work; it's not plug 'n' play.
HDR performance is spot on for a 2018 OLED. It averages just under 800 nits, but can peak as high as 900 nits when measured with a five per cent window and Peak Luminance set high. This intensity diminishes when the HDR window is enlarged, but given that most spectral highlights are generally much smaller and occur fleetingly, the set can certainly dazzle when it needs to. (One of the cute characteristics of the X1 Extreme chipset is that it can be tailored to match any partnered panel; dynamic tone mapping for HDR can precisely follow the TV's ability to display brightness and colour).
Perhaps more importantly, black level performance is first-rate. The AF8 obviously goes perfectly dark, but it preserves low-level shadow detail too. Native 4K detail is presented with extreme clarity, and the set's Triluminos wide colour performance is mouth-watering. My go-to Transformers: Dark of the Moon 4K platter is a feast of bright primaries and well-constructed blends.
The set's dynamics are emphasised by Anon (Sky Cinema UHD). The movie, which embraces high-contrast cinematography, looks sharp enough to cut diamonds. Monochrome suits, grey concrete walls and copious blacks are given almost three-dimensional depth by this OLED. The Augmented Reality text, used throughout the movie, appears beautifully crisp. It's tempting to still-frame every few minutes just to read the onscreen notes.
With everyday SDR material the AF8 is sublime. Utilising the panel's inherent dynamics, Sony's bespoke
Object Based HDR Remastering trickery offers a convincing lift to most content, without seeming forced or unnatural. It's much better in this regard than, say, LG's HDR Effect processing.
SONY KD-65AF8 Review: Setting the scene
My two most visited image presets proved to be Standard, which offers a pleasing overall APL (Average Picture Level) and Cinema Home, which gives a convincing cinematic 4K presentation. I also rather like the set's Vivid mode, albeit
Sony's X1 Extreme picture processing for non-4K and standard dynamic range sources is peerless
with a modicum of control implemented. It certainly adds impact to SDR content. Brightness and contrast are maxed out, while Black Adjust, Advanced Contrast Enhancer and Peak Luminance are on High. Edge colour down to 50 on the fuel gauge, and sharpness down to 30-ish, and the image doesn't look over saturated or cranked.
Sony's Motionflow XR motion handling is impressive too. If you want to maintain maximum detail in fast- moving sports, opt for Smooth or Custom (with Smoothness on 3, Clearness on Low). These modes preserve clarity and smooth out horizontal pans.
For movies, select True Cinema if you want to avoid icy interpolation effects.
For the most part, the AF8 knocks all the requisites out of the park. But there is a caveat. Gaming performance lags behind (pun intended) rivals. Using the Standard picture preset, lag is high at 101.5ms. Switching to the dedicated Game mode drops this to 47.2ms. To be honest, the TV didn't feel laggy in this mode when playing Fortnite, but I would certainly expect a gaming performance of 30ms or less, something that LG, Panasonic and Samsung have all achieved. Sony should really find a way to shave time off that tardy performance.
The set's innovative Acoustic Surface Technology works just as well here as it did on its predecessor. Stereo imaging is pronounced, with overt panning around the image; audio is perfectly attached to onscreen action, and there's no
shortage of volume. For the AF8 there are two rear-panel bass drivers, rather than the single unit that was built into the A1's stand, but they work in tandem, effectively acting as one. This TV can grumble down to around 31.5Hz, with no subwoofer required. Acoustic Surface Technology sounds better than any have a right to expect.
The set can also handle Dolby Atmos audio delivered in a Dolby Digital+ container. This means it'll play Dolby Atmos-encoded content on the TV's Netflix app and recognise an Atmos stream from an external source, such as a Sky Q box. While the TV's sonic system is stereophonic, and doesn't actually do anything Atmos­pheric, you can route the bitstream out over HDMI to a Dolby Atmos-enabled AV receiver for immersive audio.
SONY KD-65AF8 Review: A cut above
Whatever way you cut it, the KD-65AF8 is a superior OLED 4K flatscreen. If you're wondering if you should spring for this or last year's A1, let your decision by swayed by cosmetics, as there's general parity in image performance between the two models. I personally prefer the slightly more conventional design of this year's AF8, and the finish is still a cut above the competition.
There are niggles. Full-fat UHD HDMI provision is limited and that gaming performance is eclipsed by rivals. However, when it comes to raw picture performance, the AF8 deserves to be on the front row of the grid, and the sound conjured by Acoustic Surface Technology is crisp and prodigious, with those twin rear woofers seamlessly integrated with the actuators, filling out the bottom end.
A recent Dolby Atmos/Dolby Vision firmware update puts it on a level playing field with rival LG OLED screens, while Sony's picture processing for non-4K and SDR sources is peerless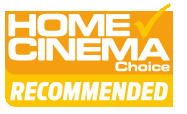 SONY KD-65AF8 Review: VERDICT
Recommended
SONY KD-65AF8 Review
This neatly designed, high-performance OLED TV is gorgeous to look at and doesn't need a 'bar to sound good. Now if only Sony would sort out its Game mode...
Add your review
SONY KD-65AF8 Review: Specifications
3D: No 4K: Yes. 3,840 x 2,160 HDR: Yes. HDR10; HLG; Dolby Vision TUNER: Yes. Freeview HD; satellite HD CONNECTIONS: 4 x HDMI inputs; 3 x USB; optical digital audio output; AV minijack input; Ethernet; headphone output; subwoofer pre-out SOUND (CLAIMED): 50W BRIGHTNESS (CLAIMED): N/A CONTRAST RATIO (CLAIMED): N/A DIMENSIONS (OFFSTAND): 1,447(w) x 836(h) x 55(d)mm WEIGHT (OFFSTAND): 24.4kg
FEATURES: Built-in Wi-Fi; Chromecast Built-in; Bluetooth headphone support; USB/network multimedia playback; Android OS; Triluminos display; X1 Extreme processor with 4K X-Reality PRO; Object Based HDR Remaster; Motionflow XR; Acoustic Surface audio with Atmos bitstream support; screen mirroring
SONY KD-65AF8 Review: PARTNER WITH
SONY UBP-X700: Sony's relatively compact 4K spinner already looked like a bargain before its Dolby Vision update landed at the end of May. Responsive menus, SACD playback and excellent AV performance.
3. To give SDR material a polish, the TV offers Object Based HDR Remaster processing
4. Sony's ultra-thin panel attaches to a bulkier back section
5. Dual bass drivers are tucked into the AF8's rear chassis