KD-55XF8505 Review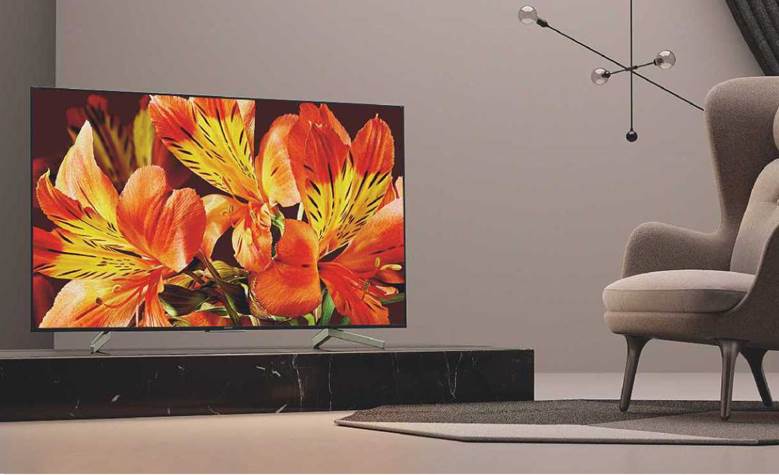 Contrasting fortunes
Sony's XF8505 4K HDR TV has the price tag to appeal to buyers seeking to step up from the mass market. But John Archer isn't convinced it has the performance power to match
AV INFO
PRODUCT:
4K HDR TV with edge LED lighting and X1 processing
POSITION:
7Review earns Amazon affiliate commissions from qualifying purchases. You can support the site directly via Paypal donations ☕. Thank you!
Around the middle of Sony's 2018 4K TV range
PEERS:
Sony KD-55XF9005;
Samsung UE55MU8000
THE 55in KD-55XF8505 is Sony's first real mainstream TV of 2018. So my first job needs to be tracking down how its specifications differ from those of the (excellent) step-up XF9005 series reviewed in 55in guise in HCC #285.
Probably the most important difference is that the 55XF8505 ditches the XF9005's direct LED lighting with local dimming, in favour of an edge-based lighting system with 'whole frame' dimming. This means it only adjusts the brightness of the entire lighting system in response to changes in picture content, removing the ability for more subtle illumination tricks.
Also, unlike the XF9005 models, this TV uses an IPS-type LCD panel. Such panels support wider effective viewing angles than rival VA ones, but have been known to struggle to deliver a strong contrast.
Not taken to the Extreme
Behind the panel there are other differences. The KD- 55XF8505 uses Sony's 'vanilla' X1 processing system, which has around 40 per cent less computational grunt than the X1 Extreme chipset in Sony's step-up models, and lacks a number of the Extreme's features. For example, there's no dual-database system for separate noise reduction and detail addition procedures when upscaling sub-4K sources. There's also no support for the Dolby Vision HDR format delivered by X1 Extreme sets, and no Precision Colour Mapping for on-the-fly colour optimisation.
The TV's smart features are provided by Android TV. Regular readers will know that I'm not this system's biggest fan. It supports plenty of apps, including 4K HDR versions of YouTube, Netflix and Amazon Video, and Sony has also provided YouView to give you enhanced access to the catchup TV services of the UK's main terrestrial broadcasters (Freeview Play and Android TV are not currently compatible, I'm told). Google-powered voice search/control, plus interoperability with Amazon Alexa and Google Home hardware, offers an extra layer of funky usability.
Android TV's layout, though, remains inelegant and short of customisation options. Running it also makes the TV's whole operating system painfully buggy and sluggish.
The 55XF8505's connections include four 4K-capable HDMIs (although only two of these support 4K/60p 4:4:4) and three USB ports, plus wireless and wired network options to support Android TV and access media you have stored on networked devices.
Dark destroyer
It takes only a few moments watching the recent blockbuster Stephen King adaptation It on Ultra HD Blu-ray to discover that Sony's 55XF8505 is a flawed performer.
Try watching any of It's darker scenes in 4K HDR, such as Patrick Hockstetter's ill-fated search through the sewers for Ben Hanscom, and pretty much all you see is the thick grey mist that hangs over any part of the image that's supposed to look black.
As well as instantly making all dark scenes appear unconvincing and lacking in dynamism, this depressing greyness suppresses lots of shadow detail.
None of the 55XF8505's settings really address its black level limitations. Reducing the brightness or backlight settings leaves the same fundamental greyness essentially unchanged. Switching between the Standard and Cinema picture presets does little to help, either; the greyness just shifts from having a blue tone to having a red one.
Setting Active Contrast to medium or high does, to be fair, improve things a bit. But only in the sense that it takes dark scenes from being nearly unwatchable to 'at least you can see what's happening.'
Having no real black foundation to play against also affects the 55XF8505's colours during dark scenes, reducing their pop and punch. During the entire sequence where the children fight Pennywise in his underground lair, for instance, there's a muted, bleached look to many of the children's skin tones.
The only thing that at least obscures some of this set's black level weaknesses is watching in a bright room. But I know plenty of HCC readers like to dim the lights when watching movies at home. And in such a situation the 55XF8505 fails to impress.
Making the TV's black level limitations all the more painful is the fact that in other ways its pictures look very tidy. Motion is handled superbly by Sony's Motionflow system, for instance, enabling the camera to track. It's sinister balloons, or Pennywise's sinister movements, without generating blurring, flickering or significant digital processing artefacts.
Native 4K pictures are crisp and detailed, and bright HDR scenes such as It's deliberately hyper-rich sunny exteriors enjoy more punch and colour than you commonly find on mid-range LCD TVs. In fact, Sony's processing and light management is good enough to make bright HDR shots look lighter than the 570 nits of peak brightness I measured from a 10 per cent white HDR window (in Standard picture mode; this drops to 505 nits with the Cinema presets).
HDR highlights look at least a little punchy, while the average HDR brightness floor sits markedly higher than it does with standard dynamic range footage. You never get the sort of full-blooded HDR impact you get from Sony's XF9005 series, or other more premium LCD TVs.
Also noteworthy is how well the 55XF8505 delivers standard dynamic range and HD footage. All HD content is converted to 4K with exceptional deftness, and while the TV's brightness isn't sufficient to deliver a knock-out HDR picture, it's more than enough to deliver an impressively light and nuanced SDR image. The set's black level problems are less pronounced with SDR too – although they certainly don't disappear.
And the TV's sound is comfortably better than expected. An open and detailed mid-range lets it go loud before it starts to sound harsh, and dialogue remains convincing even under pressure from It's alarming 'jump' sound effects and score.
Explosive soundtrack moments pack just enough bass to have real impact, too, and – best of all – the soundstage spreads far beyond the screen's left and right edges without becoming dislocated or thin.
Bright pupil
The 55XF8505 can, at times, deliver very attractive pictures to go with its above-par sonics, so it's a shame that these 'good times' occur exclusively with bright content. Whenever a dark sequence comes along – as tends to happen with just about any movie, never mind a horror title like. It the combination of this TV's IPS panel and edge LED engine fall short of what you will expect.
In that regard, Sony's mid-ranger is something of a disappointment.
VERDICT
3/5
Although the 55XF8505 sounds pretty good and delivers crisp, detailed pictures with bright scenes, it obviously struggles to handle dark sequences.
3D: No 4K: Yes. 3,840 x 2,160 HDR: Yes. HDR10; HLG TUNER: Yes. Freeview HD; satellite HD CONNECTIONS: 4 x HDMIs (all HDCP 2.2); 3 x USB ports; RF input; satellite input; Ethernet port; headphone port; digital audio output SOUND (CLAIMED): 2 x 10W BRIGHTNESS (CLAIMED): N/A CONTRAST RATIO (CLAIMED): N/A DIMENSIONS (OFF STAND): 1,231(w) x 713(h) x 52(d)mm WEIGHT (OFF STAND): 19.1kg
FEATURES: Built-in Wi-Fi; USB multimedia playback; network multimedia playback; Sony X1 processor; Android TV smart platform; YouView support; Chromecast Built-in; IPS panel; Motionflow XR 800Hz; ClearAudio+ processing; 4K X-Reality PRO upscaling; Google Home and Amazon Alexa support
PARTNER WITH
GOOGLE HOME MINI: Pairing the Sony TV with a Google speaker lets you perform voice control without having to lift a remote. This neatly styled Mini model won't offer the last word in sound quality from its onboard speaker.
1. Integrated YouView provides access to iPlayer, ITV Hub, All4 and My 5
2. The TV uses edge LED illumination with whole frame dimming