Set up Family Sharing to allow family members to access your Apple TV+ subscription. Read our Apple TV plus review.
Having been in the content game for many years, it's probably no surprise to learn that Apple has launched its very own video streaming service. While the iTunes Store meant you could purchase individual TV shows & movies for many years, it wasn't until streaming platforms began to take off that Apple's focus shifted, with Apple TV+ launching to great fanfare in 2019. Not to be mistaken for Apple TV (Apple's dedicated set-top box), this month we'll take a look at Apple TV+ and its dedicated library of original video content that you won't find anywhere else.
Getting started. To begin, download the Apple TV app from your iPhone's app store (if it's not already installed on your device). At the time of writing there was no dedicated app for Android smartphone users, but you can still access content from a web browser by visiting www.tv.apple.com and registering for an account there. New users get a seven-day free trial, with Apple also offering three months free with the purchase of a new Apple device. Outside of this, a subscription costs $ per month and lets you stream up to 4K (where available) on a maximum of six devices.
What's on offer? From the get-go Apple has prioritised original content, meaning you won't find a back catalogue of older shows & films (unlike Stan or Netflix). Taking this into account, it's impressive to see just how much content is available to be streamed. Notable titles at launch included TV drama Morning Wars starring Jennifer Aniston & Reese Witherspoon, Emmy Award winning comedy series Ted Lasso, plus science-fiction drama For All Mankind. More recent programs include miniseries WeCrashed starring Jared Leto & Anne Hathaway which recounts the rise and fall of WeWork, TV thriller Severance, and David Attenborough narrated series Prehistoric Planet. If you're more of a movie buff, then you may be left wanting more, with only a limited selection of original films available, although that list does include CODA which won best picture at this year's Oscars.
Browsing. Upon first opening the app, visit the Originals tab to find every show & film available to be streamed as part of your subscription. Swipe through the carousel at the top of the page to see new & trending titles, or pick from the list just below which includes any shows you've already started watching. Further down you'll find content organised into different categories and genres. After finding something you like, tap to see a description, trailer, cast list, and most importantly the option to start watching.
Watch now. Not limited to just Apple TV+ originals, on the Watch Now tab you'll also find a curated collection of content available through TV catch-up services such as 7Plus & 9Now, plus other subscription services like Stan, Amazon Prime and Binge. Promoted as a convenient way to access content across different platforms, simply tap on a title to be taken directly to the relevant streaming app to begin watching. You can also use the search tool to find a particular title, along with where it can be streamed or purchased.
7Review earns Amazon affiliate commissions from qualifying purchases. You can support the site directly via Paypal donations ☕. Thank you!
Profiles. One common feature of streaming services is the ability to set up profiles for each member of your household, meaning content is personalised to different users. While other apps rely on you sharing a common username and password,
Apple instead makes use of its existing Family Sharing tool. To set it up, visit the settings app on your Apple device and tap your profile at the top of the page before selecting 'Family Sharing'. Note that each user will need their own Apple ID and account in order to have a unique profile.
Kids. Readers with younger viewers will be happy to know that Apple TV+ offers a great selection of content perfect for kids. Notable releases include Harriet The Spy, The Snoopy Show, and The Helpsters which comes from the makers of Sesame Street. To see everything on offer, visit the 'Fun for All' category in the app.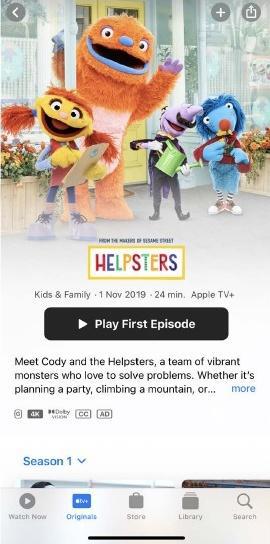 Offline playback. Like any good streaming service, you can download shows & films to your device for watching without an internet connection. It's as easy as choosing a title and tapping the download icon (down arrow) in the top-right corner. To access a list of downloaded shows and films, visit the Library tab and tap 'Downloaded'.
Picture-in-picture. Smartphones may be great for watching on-the-go, but it's also easy to get distracted by phone notifications. Even worse is the need to pause a show, close the app, and respond to messages that come through while watching. Luckily Apple TV+ includes support for picture-in-picture, meaning you can continue to watch a program whilst using other apps.
iTunes store. Acting as a hub for all your streaming needs, it makes sense that the Apple TV app also includes access to the iTunes Store – Apple's very own rental & purchase service for television shows and films. Located on the Store tab, you'll find classic films, plus recently released titles, along with episodes from your favourite television shows.
Devices. Initially limited to Apple products, streaming support for Apple TV+ has slowly expanded to other devices. This includes Google TV, Amazon Fire Stick, selected smart TVs, plus Xbox or Playstation consoles.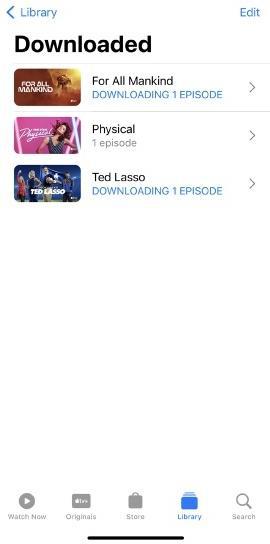 Sports. While it mightn't appeal to many readers, it's worth pointing out that at the time of writing, a subscription to Apple TV+ also included free access to American Major League Baseball games (plus Major League Soccer from 2023). Sure, it may not be as relevant for an Australian audience, but perhaps it's a sign of Apple potentially exploring local sports in the future.