Combining smart features, 4K HDR playback and a 100in screen, this 'Laser TV' appeals to John Archer. Read our HISENSE 100L5FTUK Review.
Once upon a time there were televisions and there were projectors, and never the twain shall meet. Here, though, in the shape of the 100L5FTUK-A12, we have increasingly innovative brand Hisense bringing these two disparate AV technologies together with a solution designed to give you the best of both worlds. Yes, the 'Laser TV' moniker is a bit odd, but I'm prepared to cut Hisense some slack.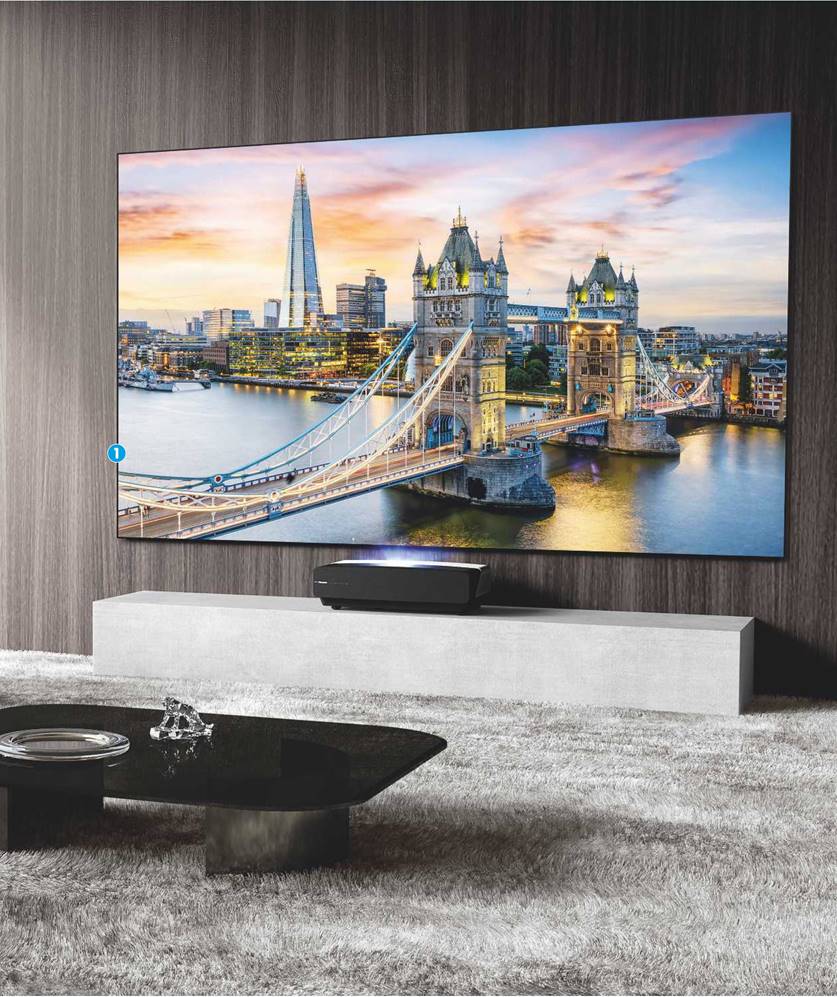 The idea behind the 100LSFTUK is deceptively simple: Combine a rigid high-gain, 100in projector screen with an ultra-bright 4K laser projector, so that home cinema fans can enjoy a king-sized TV-like experience for a fraction of what an actual 100in TV would cost.
The screen part of the 100LSFTUK equation is a narrow-framed design with a wall bracket. As well as using a highly reflective surface, it employs a lenticular filter designed to reject ambient light, so that most of the light you see on the screen has come straight from the projector. This is vital if you want to retain a punchy picture from a projector in a room potentially full of ambient light.
The projector part of the 100LSFTUK is a classic ultra-short-throw design. It sits 30-40cm below the screen and less than 30cm away from your wall – on an AV cabinet, say- throwing its picture-carrying light out of an aperture on its upper edge.
A so-called X-Fusion single-laser lighting system promises 25,000 hours of working life without any need to replace it. The quality/brightness of the image should reduce far less over that life span than you'd experience with a regular lamp, too.
7Review earns Amazon affiliate commissions from qualifying purchases. You can support the site directly via Paypal donations ☕. Thank you!
See also TOP 15 projectors
Using laser technology also means the projector can be turned quickly on or off, like a TV, without the warm up/cool down times associated with lamp-based models.
Planet of the apps
In keeping with its TV-not-projector theme, the 100LSFTUK's features include a digital tuner and Ethernet/ Wi-Fi network connections. This network support feeds into a fully fledged VIDAA smart system, complete with the Netflix, Amazon Prime Video, YouTube, Freeview Play and Rakuten TV streaming apps (all of which get their own dedicated buttons on the Laser TV's slim, metallic remote control).
There's currently no support for Disney+ or Apple TV+, but Hisense suggests that they should be added before the end of the year.
Other connections include four HDMI inputs (many projectors still only carry two), and two multimedia USB ports. The HOM ls are built to the v2.0 standard, and don't support any HDMI 2.1 features – that means only ARC audio passthrough rather than eARC, and no support for 4K/120Hz playback and VRR gaming. Input lag is higher for gaming than it is with most TVs, too, at just under 45ms, and there is no support for HDRl O+ or Dolby Vision – you just get HDRlO and HLG. Of course, these limitations apply to the vast majority of projectors.
A final feature Hisense's Laser TV turns its lens up at is 30, something that is still fairly common on other models.
We're gonna need a bigger wall
Getting the 100LSFTUK up and running isn't as easy as just wrangling a TV out of its box
Details
4K UST smart laser projector and rigid projector screen combi
Flanked by a 120in version and 88in model with a 'sound-enhancing' screen
1. The partnering l00in screen has a slim frame to make it as discreet as possible
2. There's a 2 x lSW speaker system behind the front· facing fabric grille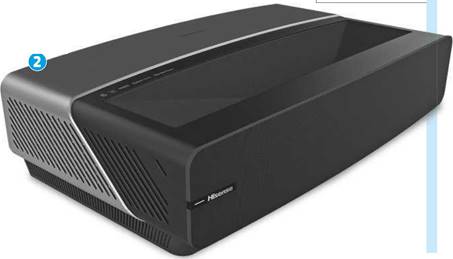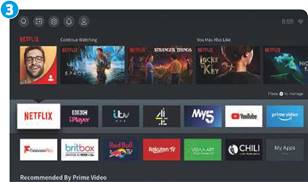 – despite an impressive auto calibration system that helps address geometry just by taking a photo of the screen on your phone (making sure your phone and projector are on the same Wi-Fi network). Handy, then, that at the time of writing Hisense is offering a free professional installation service to buyers.
Built into the PJ's rear – so it fires out into the room – is a 2 x lSW-rated speaker system hidden behind a black fabric cover. This doesn't just serve up stereo; there's a surprisingly effective Dolby Atmos decoder built in.
The size of the soundstage generated is genuinely remarkable, throwing sound not just left and right, but also upwards, leading to a more convincing sense of Atmos height effects than some soundbars I've heard.
The only issue with this performance is that bass is pretty limited, leaving big movie moments feeling thin, and the occasional shrill treble a bit over-exposed.
Not going native
In some ways the 100LSFTUK is a strong picture performer for such an unusual and, in the circumstances, affordable display. It's not a native 4K projector, but its OLP-based faux 4K optics deliver HD-beating levels of detail and clarity. Focus and sharpness are maintained across the lOOin image.
Brightness is impressive, too. There's enough here to give the picture striking 'pop', create a reasonably convincing portrayal of HOR, and combat ambient light.
That's not to say you can watch extreme-contrast HDR content, such as A Quiet Place on 4K Blu-ray, in full daylight and expect to get the same experience a flatscreen TV might give you. You'll want to at least darken your room as much as possible when watching a movie if you're after a cinematic vibe.
With regular TV shows and sports footage, the 100LSFTUK's pictures hold up in terms of brightness, colour saturation and, surprisingly, shadow detail – especially if you use the HDR Dynamic preset. Just make sure to turn off the over-enthusiastic noise reduction, and switch the motion processing to the well-judged Clear option.
The PJ's Adaptive Contrast feature is clever at subtly expanding dynamic range, apart from the High setting which adjusts baseline brightness so often and so aggressively that it becomes a distraction.
The lOOLSFTUK isn't completely immune to DLP's rainbow effect. However, it's much less troublesome than I'd feared it might be considering the bright output.
While its performance exceeds expectations in a well-lit setting, I'd like it to adapt a little better to dark room conditions. Clearly visible during the night-time sequence in A Quiet Place where the children hide in the fields, were black levels that weren't very inspiring. All dark areas
Tested with A QUIET PLACE: This smart survival horror about killer beasties with very, very good hearing is served up with a sublime Dolby Atmos soundmix on Paramount's Blu-ray and 4K Blu-ray releases – a showcase of subtlety, precision and dynamics. Spin it now while A Quiet Place II spooks up cinemas.
appear fairly grey and flat, and while the HOR Night and Standard presets – plus the Light Level setting – can improve things, this is a limitation I could never fully resolve.
The 100LSFTUK's colours with A Quiet Place are also a little thin using any of the picture presets bar HDR Dynamic. During the family's walk home from town at the film's start, skin tones and leaves and grass look pallid and unnatural, as well as rather jaundiced in Hisense's HOR Day/Night modes.
The aforementioned Dynamic Mode shows the 100LSFTUK can achieve a nice, rich colour response. With this preset engaged in a dark room, A Quiet Place's daylight scenes, and night-time red lights, enjoy levels of vibrancy and saturation that track beyond the SOR REC.709 levels many non-laser models stick at. In fact, if anything, the Dynamic preset comes on a touch strong for a dark room, causing clipping in peak areas of some HDR images.
There's a quite comprehensive set of calibration tools available, allowing colour performance to be massaged. With this in mind, if you like the idea of the 100LSFTUK enough to spend £ on it, getting it professionally calibrated might be a good investment.
After all, despite its underwhelming black levels, this Hisense provides an enjoyable bigscreen living room experience for just a fraction of the cost of a 100in TV – and less than some premium 65in sets.
SPECIFICATIONS
JD: No 4K: Yes. 3,840 x 2,160 resolution via mirror-flipping 0.47in Tl chip HDR: Yes. HDRlO; HLG CONNECTIONS:4 x HDMI inputs; 2 x USB ports; RF tuner; Ethernet port; digital optical audio output; VGA BRIGHTNESS (CLAIMED}: N/A CONTRAST (CLAIMED}: N/A ZOOM: Fixed DIMENSIONS (SCREEN}: 2,241 (w) x l,272(h) x 5( d)mm DIMENSIONS (PROJECTOR}: 550(w) x 350(d) x 150(h)mm WEIGHT: N/A
FEATURES: UST OLP laser projector; built-in 2 x 15W audio with Dolby Atmos; claimed 25,000-hour laser lamp life; Standard, Day, Night, Dynamic and Sports picture presets; 28.7cm throw distance; Ultra Smooth Motion system; VIDAA U Smart TV platform; Wi-Fi; Bluetooth; lOOin Ambient Light Reflecting projector screen; Freeview HD tuner (Freeview Play); quad-core processor
Verdict
HISENSE 100L5FTUK Review
A remarkably affordable way of getting a king-sized screen experience, with excellent connections and smarts. Black levels for dark room viewing aren't the best.
Add your review
Best HISENSE 100L5FTUK prices in the UK ?
MORE DEALS

See also TOP 15 projectors
3. Hisense's VIDAA smart platform is well-stocked with VODapps
4. Connectivity apes that of a TV, with four HDMI inputs, two USBs and more