This second-gen ultra-short-throw PJ doesn't match its predecessor, but still appeals to Steve May. Read our OPTOMA CINEMAX P2 Review.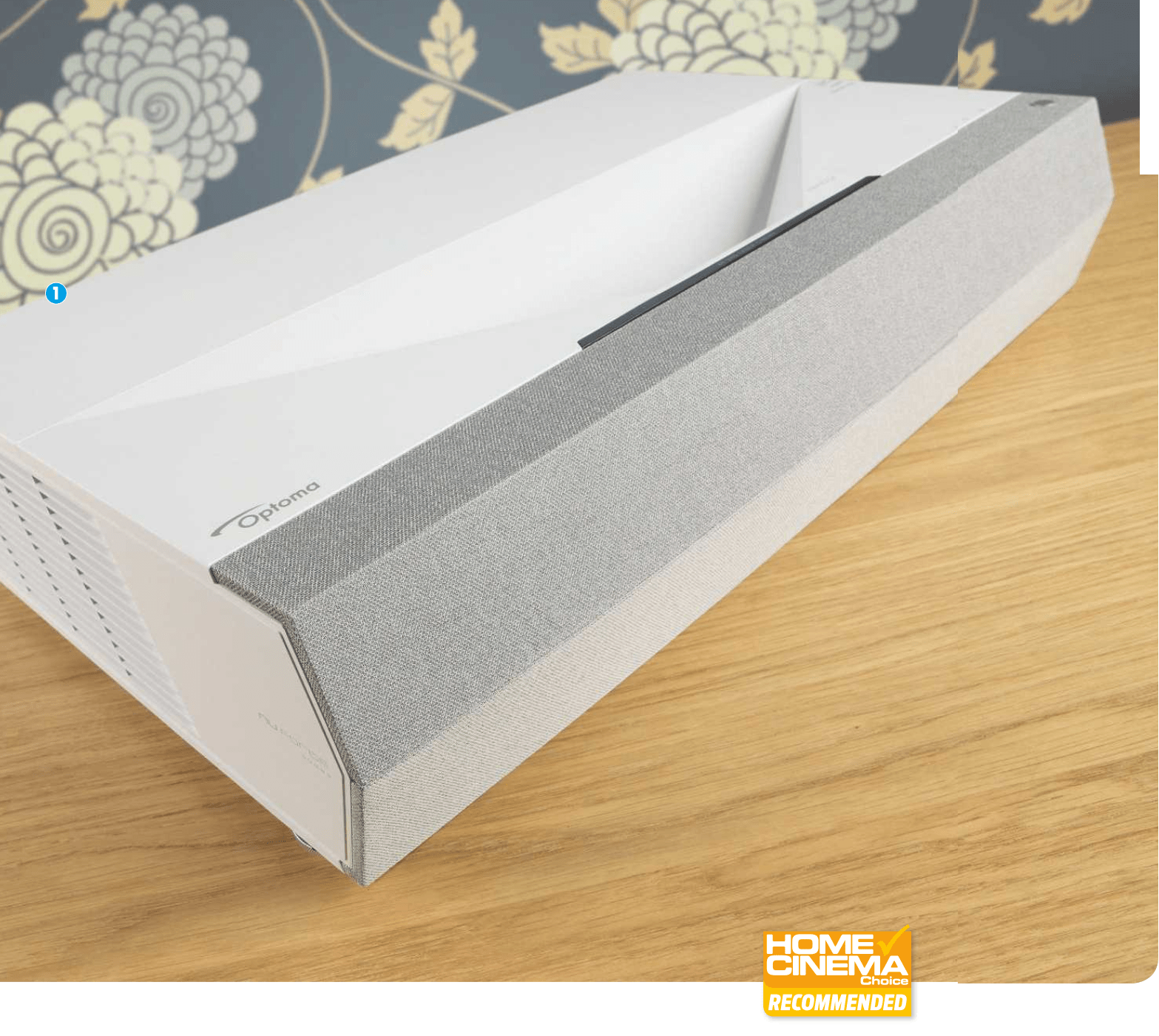 AV INFO
PRODUCT: UHD DLP ultra­short-throw projector
POSITION: Above the 1080p laser-based HZ40UST
PEERS: Viewsonic X10-4K; Epson EH- LS500W/B
Optoma is back with a new iteration of its ultra-short-throw living room-friendly projector. The CinemaX P2, unlike the original CinemaX P1, aka UHZ65UST, comes in a fresh white livery and offers a £ saving on its predecessor. However, a cursory glance at the spec reveals there are changes beneath the hood that suggest a somewhat denuded performance.
How so? Perhaps most importantly, brightness is diminished by 500 Lumens, and contrast downgraded from a suggested 2,500,000:1 to 2,000,000:1. The colour gamut has also shrunk in the wash. Optoma claims 85 per cent of DCI-P3 for the P2, compared to 87 per cent on the P1.
7Review earns Amazon affiliate commissions from qualifying purchases. You can support the site directly via Paypal donations ☕. Thank you!
See also TOP 15 projectors
One upshot of these revisions is that this model is now closer to the considerably cheaper Viewsonic X10-4K [HCC #299]. It's also at a spec-sheet disadvantage against the brighter but similarly priced Epson EH-LS500 [HCC #309].
So is this moderated UST projector now too much of a compromise to warrant the saving? Or has Optoma actually found the right balance between performance and price? Time to dim the lights…
Like Ps in a pod
Cosmetically the two CinemaX models have been cut from the same cloth. The chassis on the P2 is exactly the same as its forebear. You still get three HDMI inputs – two on the back, one placed to the side. All are v2.0 and can be renamed to reflect the connected source. HDMI 1 is ARC compatible.
Further connections are two USB ports (one side-mounted), an optical digital audio output, Ethernet LAN and a 3.5mm aux output. A baked-in media player plays picture, music and video files from USB sticks.
The CinemaX P2 is a 4K UHD model built around a single-chip DLP device and laser light engine. It's HDR compatible, in so much as it will manage light output to best reflect the dynamic range in the source material, but with no pixel- precise light control available, you shouldn't expect a similar performance to a flatscreen TV.
The projector also supports 3D, via DLP's own 3D Link system. No glasses are supplied in the box, however.
Installation is blissfully stress free. Achieving an image upwards of 120in is simply a matter of shuffling the CinemaX P2 in front of a wall. For a 100in picture, it needs to be just 25cm (approx) away.
While most users will opt to watch on a white wall, Optoma has its own 100in ambient-light-rejecting fixed screen, the ALR101, for those who'd prefer a rather more formal 'laser TV' style arrangement.
And in many ways, using the P2 is much like operating a TV. The main home screen features buttons for settings menu, input source and apps, and there's a wallpaper backdrop worthy of David Attenborough (you can select from images of water droplets, pea pods, sea anemones and more).
There's no access to the Google Play Store, though. The CinemaX P2 runs a customised version of Android, and the app selection in the Optoma Marketplace is
fairly limited – essentially there's a choice of browser, Netflix and BBC News. It's far easier to use one of the HDMI slots for a streaming media device.

Sounds good
We typically don't expect projectors to offer anything other than a functional noise from their integrated speakers but the P2 is delightfully fulsome. The stereo soundstage here is clear and wide, with no shortage of bassy punch. It's far better than what you'll experience from the average flatscreen telly.
You can also stream music from a connected Bluetooth device, putting the P2 in audio-only mode. While this isn't something I'd necessarily advocate, it does make a decent feast of Black Sabbath's Electric Funeral (not something I thought I'd ever say about a PJ).
1. Behind the P2's cloth grille sits its four-driver stereo speaker array
2. The streamlined remote reflects the PJ's living room ambitions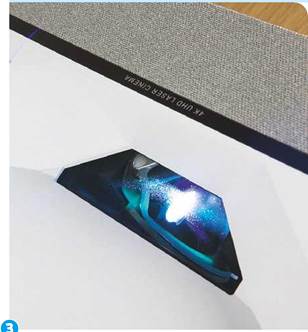 Despite the reduced brightness capability, the P2 can still cope with moderate levels of ambient light. You don't need a fully dark environment to benefit from its bigscreen thrills, which is part of the UST PJ appeal.
Its pictures are crisp too. The non-native 4K DLP chipset employs ingenious mirror-flipping to create a UHD image, and the end result is undeniably impressive. Sky's 4K nature show Gangs of Lemur Island exhibits superb fine definition; the furry, tufty faces of the titular lemurs are rich in texture and depth.
There's a significant caveat to its HDR specification, however. Although the projector claims HLG compatibility, it does not display HDR from Sky Q, because the Sky Q set-top box doesn't appear to recognise the P2 as an HLG sink.
'Bright enough to operate away from pitch darkness, and its 4K performance is never less than enjoyable'
The Optoma's HLG support is actually limited to file playback via USB, which in the real world is irrelevant. So the aforementioned lemur gangs are presented in 2160p SDR.
There are no problems with other sources. The projector instantly recognises the HDR10 flag on Midway (Ultra HD Blu-ray) and duly optimises to make the most of the presentation. It does a great job managing the mayhem of the opening Pearl Harbour attack, which is punctuated with explosive bombing runs. Black plumes of smoke are juxtaposed violently against red-orange flames.
Even away from the action, the house on the bay, which is partially swathed in shadow, exhibits excellent contrast. While you're not served spectacular HDR, the P2 does offer a well-balanced image which doesn't sacrifice detail for brightness.
Any fears for the projector's colour performance are similarly assuaged by Despicable Me 2 (UHD Blu-ray). From the Arctic circle opening sequence, which features drifts of white snow and ice complete with fine shadow detail and footprints, to its more Minion-dominated sequences, it's never short on vibrancy.
Texture depiction is also creditable. Gru's trademark black and white scarf is impeccably knitted.
Nor does the P2 require a 4K or HDR source to impress. Dave Bautista's cop buddy movie Stuber (Sky Q HD), opens with the star and Karen Gillan in full cop garb entering a hotel, and there's clear differentiation between their dark police vests and FBI macs. The black bars that frame the letterbox presentation are also convincingly ebon, preventing any sense of over-bright framing.
Display modes include Cinema, HDR simulation, Game (with improved latency from the original CinemaX P1), Reference, Bright and User. HDR compatibility can be set to Auto or off. I found it looks its best in Cinema mode.
One area where the P2 appears to edge ahead of its predecessor is operating noise. While the spec sheet implies they're the same, I didn't find this model quite as intrusive, particularly when the integrated sound system is running at moderate volume.
Box-ticking beamer
Fears that this somewhat underspecified new addition to Optoma's CinemaX range might disappoint prove largely unfounded. The P2 is still bright enough to operate away from pitch darkness (a prerequisite for a projector with media room ambitions), and its 4K performance is never less than enjoyable.
The obvious shortfall is its inability to present HDR from Sky sources. It would be rather nice if this could be addressed at some point, perhaps via a firmware patch, and the limitation is worth noting if Sky Q is one of your key sources.
As a concept though, Optoma's UST flagship still ticks all the right boxes.
Verdict
Recommended
OPTOMA CINEMAX P2 Review
Not quite the brightness beast its predecessor was, but still a beautifully designed living room UST projector. Sky Q owners may rue the lack of HLG HDR support.
Add your review
Best OPTOMA CINEMAX P2 prices in the US ?

$

3,498.00
2 used from $1,799.00
3 new from $3,498.00
in stock

Best OPTOMA CINEMAX P2 prices in the UK ?
MORE DEALS

See also TOP 15 projectors
SPECIFICATIONS
3D: Yes. DLP 3D Link 4K: Yes, via Texas Instruments DLP 'mirror switching'
HDR: Yes. HDR10; HLG CONNECTIONS: 3 x HDMI inputs; optical digital audio output; 3.5mm audio minijack output; Ethernet; 3 x USB (one service-only) BRIGHTNESS (CLAIMED): 3,000 Lumens CONTRAST (CLAIMED): 2,000,000:1 ZOOM: N/A DIMENSIONS: 576(w) x 383(d) x 130(h)mm WEIGHT: 11kg
FEATURES: Single-chip 4K DLP projector; 40W (claimed) built-in stereo sound system; powered USB port; 30,000-hour (claimed, max) laser light source; 26dB (claimed) fan noise; geometric correction; 0.25:1 throw ratio; Amazon Alexa and Google Assistant voice control; IFTTT smart functionality; PureMotion frame interpolation; 4K media player; Info Wall mode; colour management system; Gaming mode; ISF display modes; tilt-adjustable feet
PARTNER WITH
OPTOMA ALR101: Launched in 2019 to accompany the P1, this 100in 16:9 fixed-frame screen is naturally a fit for the P2. It uses a 0.6 gain screen material for improved viewing angles and claims to block 90% of ambient light.
3. Optoma claims a 30,000-hour life-time for its laser lamp