Triangle launch their large Antal loudspeaker in 40th Anniversary Limited Edition form. Noel Keywood listens. Read our TRIANGLE ANTAL 40TH ANNIVERSARY LIMITED EDITION LOUDSPEAKERS Review.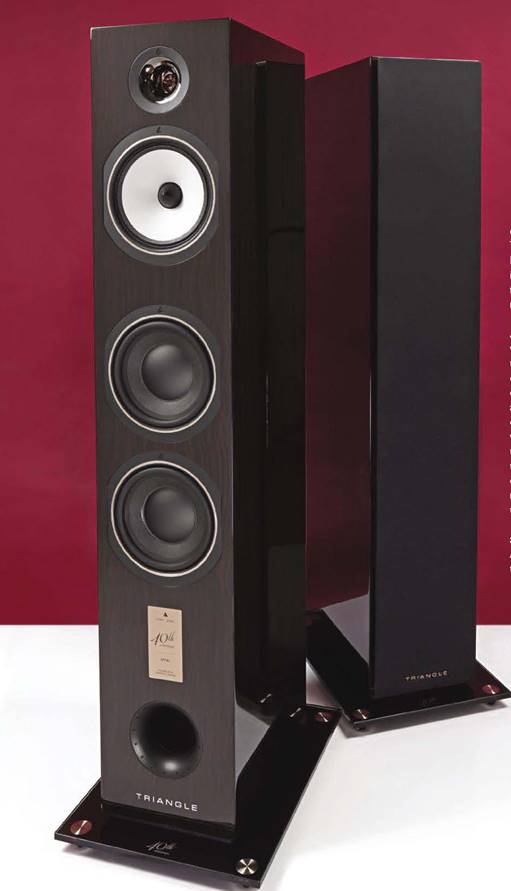 Sadly, the days of broom cup­boards are over. Leak 3090s were the last I ever owned but I regret to say there was nowhere in my terrace house of Victorian dimensions to store them. I could well have swapped them for the Triangle Antal 40th Anniversary Limited Edition loudspeakers. I am review­ing here, I muse. They similarly give power­ful bass and have looming presence, yet more easily fit 'the smaller home'.
I first reviewed the French company's Antal back in the February 20 I I issue – it was their 30th Anniversary Edition at the time, fitted with titanium dome tweeter.A decade later the 40th Anniversary version comes with a magnesium dome tweeter and a tweaked crossover network, but otherwise the basic formula remains. What we have here is a large-volume cabinet, two bass drivers for plenty of cone area to move air, a single midrange unit of large cone diameter able to cover a lot of the mid-band and a horn loaded tweeter able to handle the highs.
The twin bass drivers, large cabinet and big front port together suggest the Antal will deliver powerful lows – and that's the way it was. Triangle use two 140mm bass units with wood fibre, flax and carbon fibre composite cones that they claim are extremely rigid. Measurement showed they work up to a low I 85Hz as Triangle state, loaded by a shared rear chamber that is vented by a front port.
Above this frequency the large 140mm white coloured midrange driver takes over. This covers a very wide range, extending right up to 3kHz before handing over to the horn tweeter. The importance of this is that the most critical part of the audio band is handled by one drive unit in effect, keeping the sound consistent. The white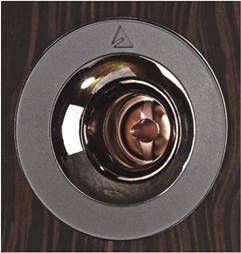 7Review earns Amazon affiliate commissions from qualifying purchases. You can support the site directly via Paypal donations ☕. Thank you!
Should not buy anything from AudioAffair.
See also TOP 10 Subwoofers

The magnesium dome tweeter comes with a combined phase plate/plug assembly to control output, buried in a a short horn to project energy forward.
cone is of untreated cellulose paper, with a stationary central phase plug that prevents interference around the cone's base by randomising high frequencies (a common technique). Behind it lies a large sealed chamber.
Above 3kHz Triangle's magnesium dome horn loaded tweeter kicks into extend output smoothly up to 20kHz, with the aid of a phase plate and phase plug too. Triangle keep its output smooth and even, so as not to emphasise distortion within recordings, this very much concerning CD harshness (although there's graunch to be heard in LP too).
Measuring 200mm wide the Antals are not broom cupboards. They stand quite high at I 090mm though, but at a solid 26.8kg can be moved around by one person, if not easily lifted. Depth including terminals is 360mm. The cabinets are attractively finished with a deep gloss lacquer over veneer, in our samples a dark Santos Rosewood. Lighter hued Blonde Sycamore is also available. There are black grilles with a very light, acoustically transparent cloth that can be used if preferred.Also supplied are heavy glass plinths and an array of spikes, plus floor protectors.
A thick glass stabilising plinth must be screwed on and spikes or floor-protecting feet attached.
SOUND QUALITY
Representing a standard system of good quality I drove the Triangles from a Creek Voyage iA20 amplifier, but with their very high sensitivity felt obliged to wheel in our Icon Audio Stereo30 SE single-ended valve amplifier (30W) too. Connection was through Chord Company Signature Reference cables.
For CD I used our Oppo UDP-205D Universal Player as a transport, feeding the AKM DAC within the Voyage through a QED Quartz glass optical cable. Hi-res came in through a USB connection from a MacBook Pro laptop to the Voyage, allowing high sample rate PCM as well as DSD, the latter being most important since a lot of 'hi-res' is up-sampled CD code ( 16bit) my measurements (and rough sound) suggest.
I like to paint the broad picture first with loudspeakers, because there always is one.The Antals are technically and sonically accurate, meaning no screaming treble, a naturally balanced sound that doesn't try and attention grab. In other words, they let the music through unmolested. It's an important point to make because too many modern loudspeakers have treble lift for "added insight". Triangle don't pull this stunt with the Antals: they are smooth and accurate.
And that's just what I heard.
With my standard treble torture tracks such as Nils Lofgren's Keith Don't Go (CD), the dose-miked lacerative guitar strings that send harmonics up to 20kHz into the loudspeaker didn't hurt my ears through the Antals. Those harmonics with their sharpness were there but I could tolerate them as part of the recording, rather than something pushing pins into my ears. Not quite the finesse of a ribbon tweeter, but thoroughly acceptable, the Antals did well here.When Willy DeVille shouted into the microphone singing Spanish Harlem (CD) the spitch was tolerable; likewise Fleetwood Mac's Dreams (24/96) slid past without its treble too challenging.
But with Dreams the repetitive bass line loomed large in the room, full bodied and powerful. When a sudden break from repetition came with a few doodles on the strings the Antals captured the event fluently. I had no problems with Stevie Nicks vocal either: it was clear and seemingly forward.
The Antals' ability to drive heavy but fluid bass into my room ( 17ft long) was underlined by Josefine Cronholm's Gates of Istanbul where the massive bass line started and stopped at discrete points rather than droning on: these 'speakers played a bass tune like few others, displaying controlled power. If you want bass the Antals have it, but not in wallowy excess.
With Korsakov's Dance of the Tumblers, from Snow Maiden (24/96) the Minnesota Orchestra loomed large in my room, horns sounding crisp yet solid. Kettle drums thundered in large fashion, putting weight into the performance. There was plenty of insight and a well laid out sound stage that convinced with big-hall dynamics; this was no small sound. At this point it was time to move to the valve amplifier.
To run our Stereo30 SE I had to swizzle things around a bit. Hi­res from the MacBook Pro was fed into the Oppo's ES9038Pro DAC via USB, the player's phono­socket analogue outputs going to the Icon – a minimalist and pure signal path.
Unsurprisingly, the Antals moved up a step in this set-up, or should I say the signal going into them did – but they resolved differences in appropriate fashion. Now the Minnesota Orchestra was more vivid and their playing had a smoother, more coherent flow to it. The crisp insight of the 'speakers well served to serenade the sound of a single­ended valve amplifier; this was a very interesting match indeed. The violin of Marianne Thorsen had a lovely sheen as she played Mozart's Violin Concerto No4 (24/96), backed by the Trondheim Soloists; I completely enjoyed this.
Classical fared well and bass­heavy Rock track lows loomed a tad larger. Thunderous subsonics moved my lounge and frightened the cat. The reason is that – as with all valve amps – the Icon has a low damping factor and this made bass grow a little, but the 4 Ohm tap kept a tight grip all the same.
The Antals have very strong deep bass then, if a dry balance overall: they are not 'warm' in sound character. A fabulous match for valve amplifiers I would say and if bass is a little heavy in a resonant room then a few old socks in the ports should help at a pinch, until foam bungs (not supplied) can be secured. I thoroughly enjoyed them with our Icon Stereo30 SE valve amplifier.
CONCLUSION
Triangle's large Antal loudspeakers have grown subtly better over the years. Their sound is as large as their cabinets – if not quite up to the dimensions of yesteryear's broom cupboards! These 'speakers have a superbly clear and cohesive midband, powerful deep bass and well lit but not excessive treble.A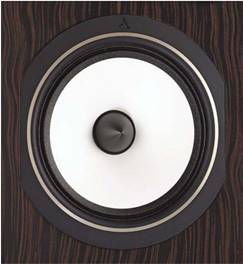 Triangle's large, white midrange unit, made of uncoated cellulose paper, covers much of the audio band. At centre lies a stationary phase plug to prevent interfer­ence at the cone base.
MEASURED PERFORMANCE
Our near-field response analysis shows a fundamentally flat and smooth result down to 60Hz, confirmed by a third­octave pink-noise analysis. Triangle don't attempt to raise treble at all, the unusual dome tweeter with horn and phase plug running flat and smooth from 3kHz right up to 20kHz. This means it will sound less bright than most in a showroom, but it is technically more accurate. There is no lower-midrange lift to add warmth either, so the sound balance may well be dry.
Bass extends down to 30Hz then cuts off sharply. The port is tuned to 36Hz Ired trace response analysis), as the impedance trace confirms by its dip. This is low enough to give strong deep bass but the 'speaker won't respond to warp subsonics from LP. Although it runs low, the Antal has no bass lift so will not sound bass heavy.
Measured using pink noise overall impedance was a low 4.7 Ohms, where most are 6 Ohms nowadays. Higher current draw results in greater voltage sensitivity, a massive 91 dB sound pressure level being produced by one nominal Watt 12.8V) of input. Consequently, the 'speaker needs no muscular yet accurately balanced and insightful delivery then, from a beautifully finished loudspeaker.
I thoroughly enjoyed Triangle's 40th Anniversary Antal in Limited Edition form. Whether you want an orchestra in the room, or Atom Heart Mother, the Antals oblige. An engaging loudspeaker more than 40 Watts to go extremely loud and amplifiers down to 10 Watts will suit.
This is a technically accurate loudspeaker, rather than a 'tweaked' one with raised bass or treble. It will sound drier than many, but also very smooth and easy in treble delivery. High sensitivity makes it suitable for low power amplifiers. NK
FREQUENCY RESPONSE Green – driver output
Red – port output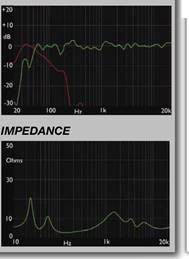 TRIANGLE ANTAL 40TH ANNIVERSARY LIMITED EDITION LOUDSPEAKERS
OUTSTANDING – amongst the best.
VERDICT
TRIANGLE ANTAL 40TH ANNIVERSARY LIMITED EDITION LOUDSPEAKERS Review
Clean, clear and with powerful bass. Large yet accurate sound.
PROS
Balanced and clear sound
Strong low bass
Well finished
CONS
Slightly hard treble
Need optional foam bungs
Add your review
|
Read reviews and comments
Best TRIANGLE ANTAL 40TH ANNIVERSARY LIMITED EDITION LOUDSPEAKERS prices ?
MORE DEALS

See also TOP 10 Subwoofers
www.trianglehifi.com