Mission's LX-4 MkII floorstanding loudspeaker gets Noel Keywood's close attention. Read our MISSION LX-4 MKII Review.
It was a hot evening back in the late 1970s when I quietly melted in a restaurant listening to a charming and enthusiastic Farad Azima explain his first loud­speaker, the Mission 770. Farad has gone but Mission lives on and here is one of their latest loudspeakers, the LX-4 MkII compact floorstander.
Designed by Peter Comeau, another habitue of that period, the recently introduced LX-4 MkII carries on Mission tradition, they say, by placing tweeter beneath bass/midrange unit to give a classic Mission inverted array. After a bit of measurement and head scratching I suggested it was a classic D'Appolito arrangement of drive units and Peter agreed. I suspect it was meant to be an inverted array, judging by the grille (more later) but this idea got cancelled. As a result the LX-4 MkII uses two bass/midrange units covering the audio band equally up to where the tweeter cuts in, being positioned symmet­rically above and below it.
The idea here is to give the same sound balance irrespective of whether you are sitting down or standing up; the 'speaker remains consistent in its sound as you move around – and I've found this arrangement works very nicely, exactly as claimed.
Each bass/mid driver has a 130mm (5in) composite (mixed) fibre inverted dome. Point to note is that they are non-metallic, so none of the bright zing that can come from metal cones, especially when they have a metal 'dust­cap' that acts as a high frequency radiator (rather than anything to do with dust).
Complementing these units is a 25mm tweeter with microfibre dome, so again no metal here, for consistent sonic flavour. Crossover is quoted as 3kHz and our impedance trace confirms this as the frequency where it contributes fully.
The cabinet is sturdily built, weighing 15.5kgs – solid but liftable. The two bass/mid drivers are reflex loaded by two rear ports, Mission stating a lower frequency of 40Hz and this was confirmed by measurement when the port is taken into account. This corresponds to a room 14ft long, so add 1ft at each end for seating and loudspeaker distance from rear wall and you come in at around 16ft as a target room size. Or in other words, a medium sized living room. Much past 18ft you might want something a bit larger. If bass is too heavy, which may happen in a small-ish (12ft) square room, then there are foam bungs to damp things down.
7Review earns Amazon affiliate commissions from qualifying purchases. You can support the site directly via Paypal donations ☕. Thank you!
See also TOP 10 Subwoofers
What is a surprise in the specs is sensitivity. Mission suggest the LX-4 MkII goes very loud (89dB) from just one Watt. Normally, only larger floorstanders reach this sort of sensitivity but indeed the LX-4 MkII did go this loud, so low power amplifiers will do fine, around 40 Watts being plenty enough for most users and their neighbours. This brings into the picture smaller amplifiers from the IAG stable such as Quad Vena II, Leak Stereo 130 and Audiolab 6000A, making for a relatively compact system – also an affordable one. The LX-4 MkII has been designed for use close to a rear wall where at 265mm deep, 200mm wide and 920mm high it's unimposing. Finishes are Walnut Pearl, Lux White and Lux Black.
Whilst head scratching over the drive unit arrangement I noticed that the grille, that attaches magnetically, has large and small apertures – it is asymmetric yet attaches either way around – and which way around is not explained in the handbook. l checked with Mission and as expected the large aperture is top, putting a divider bar between tweeter and lower bass/midrange unit. This is correct for Mission's classic inverted tweeter arrangement, but not ideal for a D'Appolito where there should be no obstruction between

There are height adjustable spikes to stabilise the cabinet and anchor it down, and cups to prevent floor damage. Rear connection is through bi-wire terminals, with shorting links for mono-wiring.
SOUND QUALITY
I ran the LX-4 MkIIs from our Creek Voyage iA20 amplifier, via Chord Company Signature Reference screened cables. The Creek's internal AKM digital convertor was fed CD through a QED Quartz glass-fibre optical cable. Hi-res and DSD digital came from a MacBook Pro running on battery for electrical isolation, feeding an Oppo UDP-205D via USB (from an Audirvana+ software player) to exploit its ESS ES9038Pro DAC.
Small side note: the iA20 has isolated digital inputs to avoid earth noise currents infecting and affecting the digital convertor, as can alarmingly happen our measurements show. So I need not run from battery with the iA20 Mike Creek says, but generally it is the safest option.
Clearly hearing the difference between DSD and hi-res of poor quality (as much is) through the Missions, I wheeled in LP courtesy of our Timestep Evo Technics SL-1210 Mk2 Direct Drive turntable, its SME309 arm fitted with an Audio Technica OC9X MC cartridge feeding a Pro-Ject Phono Box RS2 via balanced input, balanced output going to the iA20 through Chord Company Epic cables. All-balanced LP then.
To jump straight in, after a long run-in of 80 hours (important) the LX4 MkII had a full balance with strong bass and – at times – obvious upper mid-band. The "at-times" bit alludes to my Fleetwood Mac hi-res (24/96) test tracks where there was tizz in the cymbals and hi-hats from Mick Fleetwood's drum kit.
As Audirvana+ worked its way through a list of compiled review tracks it was obvious that the Missions were fine with high quality CD, the vivid guitar strings of Nils Lofgren's acoustic guitar
in Keith Don't Go (CD) sounding acceptably bright, the bells and triangles in Cyndee Peters' House of the Rising Sun (DSD128) stabbing out strongly yet sweetly, There was a wealth of treble insight, grilles off. With poorer quality CD I resorted to putting the grilles on to slightly damp down highs.
Josefine Cronholm's vocals came over as natural and easy with In Your Wild Garden (CD), plucked acoustic bass behind her sounding strong yet controlled; firm, rumbling lows moved the room nicely. The LX-4 MkIIs had a dark neutral flavour from their woven fabric drivers, free of metallic zing.
Spinning LP the Missions suited high quality cuts such as High Masekela's Hope, and the latest Abbey Road re-master. Cymbals in Dire Straits Walk of Life (Mobile Fidelity 45rpm re-master) were a tad obvious, as were Carol Kenyon's vocals in Dance With Me (12in 45rpm single) that became a little harsh, the tweeter making obvious recorded limitations I suspect (this is a 1980s disco 12in, 45 with severe wallop).
I got a second view from my son who, without any prompting, thought they were well balanced if a little dense with vocals and occasionally a bit sharp up top. They were impressive at the price though (he plays acoustic guitar and electric with valve PA cabinet, having a keen young ear).
The picture moved up a notch with our Icon Audio Stereo 30SE single-ended valve amplifier in the driving seat. There was more apparent bass, giving a larger, warmer low end, almost certainly due to lower electrical damping in the amplifier. This brought even more weight to the sound and, as usual with an SE, there was a liquid sense of musical progression, plus better lucidity across the midband that made vocals float freely. Some of the sense of midband warmth or denseness that I thought came from the fibre drive units eased with LP feeding the valve amp. in an all-analogue system. Treble, whilst still obvious, gained some lustre.
The amplifier's output level meter showed just a few Watts being used even at high volume. The Missions suited this amplifier: we were both impressed by their sense of scale and dynamic life. If you have a low powered valve amp this 'speaker is a worthy partner.
CONCLUSION
The Mission LX-4 MkII floorstander is a lot of loudspeaker for the price. It has plenty of bass power, deep rumbling lows being common.
Vocals were set against a dark background and upper treble was strong, bringing plenty of apparent detail. They did not sound overly bright with well recorded material, but with poor CD or LP there was some edginess at times.
Fed decent digital or quality analogue from LP, especially from a valve amplifier, the LX-4 MkIIs managed very well all the same and at the price are amazing value.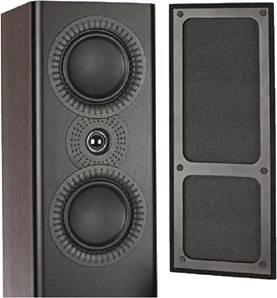 MEASURED PERFORMANCE
Our third-octave analysis of pink noise shows frequency response extends from 50Hz up to 20kHz. The rear ports (red trace) are both tuned to around 45Hz, as the impedance trace dip confirms. There is some slight lift across the lower midband to add a sense of body to the sound, bass extending smoothly downward (without foam bungs supplied) to 60Hz.
There is a rise in tweeter output as it comes into play above 3kHz, relatively mild at +1dB or so across the upper midband, increasing to a 3dB peak at 9kHz. Lack of a dip at crossover and this treble lift will give the LX-4 MkII a bright balance, the grille offering slight reduction.
Bass output has been tailored for use close to a rear wall in small to medium rooms, up to 16ft long or so, optional foam bungs pulling level down for use in a room that booms. The LX-4 MkII is not a bass heavy loudspeaker, being balanced for accuracy after taking into account room gain.
The LX-4 MkII's 4 Ohm bass unit is relatively sensitive, giving 89dB sound pressure level for one nominal Watt (2.8V) of input. It needs no more than 40 Watts to go very loud, suiting low power amplifiers.
High sensitivity is an outstanding feature of Mission's LX-4 MkII. Raised treble will give a bright balance and make it critical of poor recordings though. NK
FREQUENCY RESPONSE
Green – driver output
Red – port output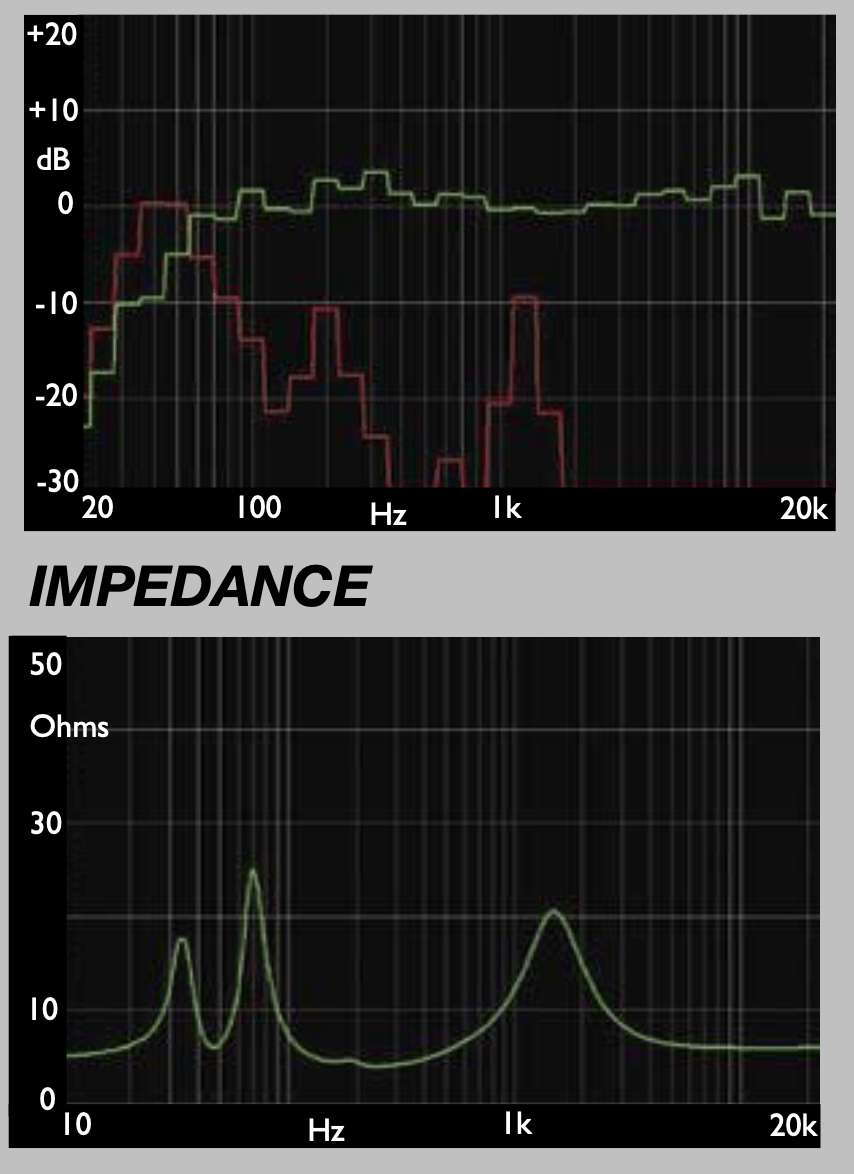 VERDICT
MISSION LX-4 MKII Review
Fast and detailed, with powerful bass. Very good value.
PROS
Good insight
High sensitivity
Deep bass
CONS
Dense midband
Sharp at times
Add your review
Best MISSION LX-4 MKII prices in the US ?

$

299.00
1 used from $279.50
2 new from $299.00
in stock


$

349.99
2 used from $291.99
1 new from $349.99
in stock

Best MISSION LX-4 MKII prices in the UK ?

£

399.00
1 new from £399.00
in stock


£

399.00
1 new from £399.00
in stock

MORE DEALS

See also TOP 10 Subwoofers
MISSION LX-4 MKII
OUTSTANDING – amongst the best.
VALUE – keenly priced.
Mission
+ 44 (0)1480 452561
www.mission.co.uk