Samsung joins the UST PJ party with its feature-packed LSP9T. Steve Withers bathes in the glow of its triple-laser light source. Read our Samsung Premiere LSP9T review.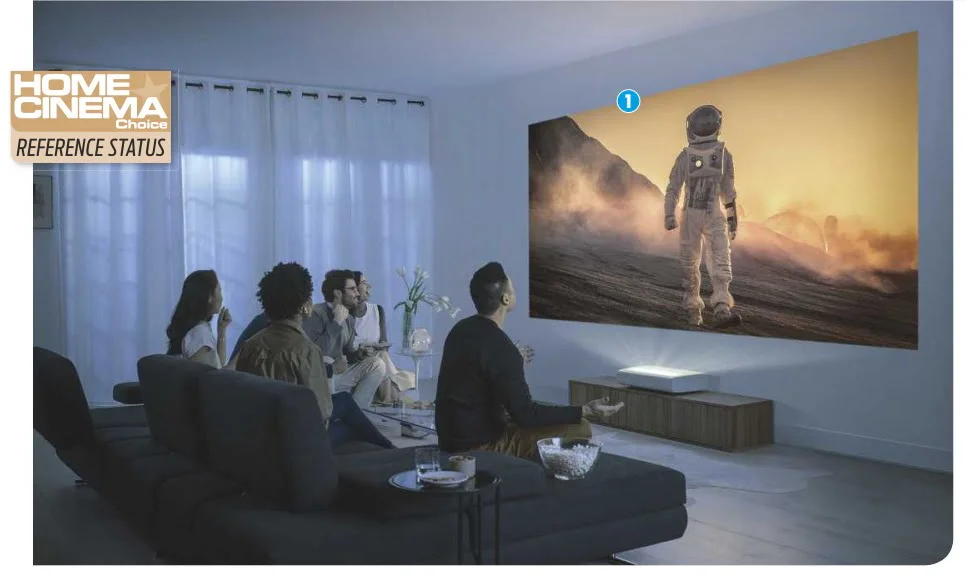 Samsung probably isn't the first name that springs to mind when thinking about projectors, but based on the company's new LSP9T 4K HDR beamer that might be about to change. Christened 'The Premiere', the brand backs the hyperbole with a seriously impressive set of specs that includes a three-colour laser light source, ultra-short-throw (UST) optics, beefy sound system, built-in tuners, and full Tizen smart platform.
The result is a projector that offers a genuine alternative to a bigscreen living room TV. arguably more so than any competitor. Naturally all this cutting-edge technology doesn't come cheap, with the LSP9T. That might sound toppy. but don't forget it's capable of delivering an image up to 130in across – and good luck finding a TV that big for similar wonga.
The main benefit of a UST projector is the ability to produce such a massive picture from an incredibly short throw distance. The LSP9T projects 100 inches from only 11cm. and can fill a 130in screen from just 24cm. Crucially, it does so without introducing optical aberrations or hotspotting.
Delivering these images is a light source composed of individual red. green and blue lasers, which results in a claimed brightness output of 2.800 Lumens, plus a 20.000-hour rated lifespan and improved stability compared to a normal projector lamp. Perhaps more importantly, it also generates a gigantic colour space. Samsung says the LSP9T can achieve 106 per cent of REC.2020 (a much wider space than the more commonly quoted DCI-P3). I actually measured it at 98 per cent of REC.2020. the largest gamut I've seen on any display… ever.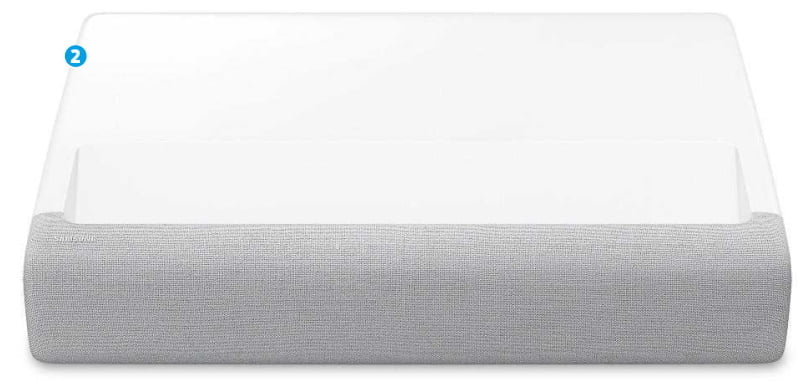 A step-down model, the LSP7T. delivers a more typical 83 per cent of the DCI-P3 colour space, from a single-laser light source, and maxes out image size at 120in.
7Review earns Amazon affiliate commissions from qualifying purchases. You can support the site directly via Paypal donations ☕. Thank you!
See also TOP 15 projectors
Samsung applies additional technology to rein in the LSP9T's enormous gamut, with 16-bit colour mapping and powerful 4K upscaling for lower-resolution content. There are also a couple of features not currently found on any other projector: support for the dynamic metadata HDR10+ format, and a dedicated Filmmaker Mode to watch movies 'as the director intended'.
Setup mirrors a Samsung TV – you'll soon have Wi-Fi running, TV channels tuned and VOD apps installed
The projector has domesticated styling, with an elegantly curved chassis and neutral white finish. The front is completely covered in grey fabric, and there are cooling vents on either side. So despite being relatively large, this projector is surprisingly discreet, and from the front looks more like a soundbar on steroids.
This isn't far from the truth, actually, because inside you'll find a 4.2-channel speaker system with Acoustic Beam technology running off a claimed 40W of amplification. Normally I'd never recommend using a projector as an audio source (in part because of the usual distance between PJ and screen), but the LSP9T is an exception. It creates a better soundstage than most TVs. reinforcing its claim as a viable substitute.
Connections are all located on the side nearest the wall, allowing for tidier cable management. It's an impressive selection with three HDMI 2.0b inputs (one with eARC); terrestrial and satellite tuners: a USB port for multimedia playback and powering dongle-style streaming devices: an optical digital output; and an Ethernet port.
There's also integrated Wi-Fi. Bluetooth, and support for Apple's AirPlay 2. In fact, about the only hookup missing on the LSP9T is a 12V trigger output, which is a shame because it means you can't use the projector to activate a motorised screen. As for other missing features, there's no backlight on the otherwise intuitive remote and no support for 3D either. But that's about it. and in all other respects you won't find a better specified projector.
Installation is straightforward: place the projector on a flat surface parallel to the wall, then physically move it forwards or backwards to change image size, and left or right to centre it. You focus the image using the motorised control in the menu system, but try to avoid the keystone adjustment if possible – it will introduce scaling artefacts and rob the image of fine detail.
The remaining setup is exactly the same as a Samsung TV. with the SmartThings app taking you through the process. Before you know it you'll have Wi-Fi connected. TV channels tuned in and all streaming apps installed (the LSP9T carries Samsung's full Tizen-powered OS. bringing the same smart features as its TVs. including built-in Bixby and Amazon Alexa, and VOD hubs such as Netflix. Prime Video. Apple TV+ and Disney+). The fast on/ off nature of the laser light source also helps blur the lines between TV and projector.
The LSP9T's images support 4K. although its DLP chipset isn't native 3.840 x 2.160. and instead uses a 2.716 x 1.528-pixel micro-mirror that combines two separate off-set images to create the perception of a single 4K frame. It's very effective, with the illusion only being exposed by 4K test patterns.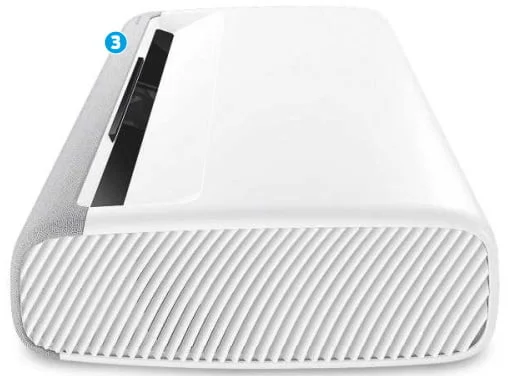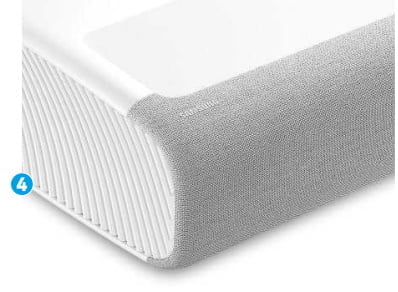 Watching The New Mutants (4K BD) reveals a crisp and razor-sharp picture, in part thanks to DLP's single-chip nature avoiding and alignment issues. This allows all the fine detail to shine through – whether its facial close-ups. clothing textures or the layered production design.
Conversely, the film's opening nighttime sequence demonstrates the inherent weakness of DLP. with limited contrast and blacks that are often more of a dark grey. When viewed in living rooms with ambient light, as it's chiefly designed for. this shortcoming is less of an issue.
The film's climactic 'demon bear' fight reveals an impressive HDR performance. The LSP9T uses the brightness of its lasers and exceptional tone-mapping to produce punchy HDR images, but it's worth remembering this is one area where a TV will always ace a beamer.
However, that's definitely not the case when it comes to HDR colour, and here the LSP9T gets to strut its chromatic stuff. The 4K Blu-ray of Guardians of the Galaxy Vol.2 is awash with saturated primaries, and the PJ's super-wide gamut renders Ego's planet in all its day-glo glory.
It's worth pointing out that while this projector's laser lighting doesn't utilise a colour wheel, you may still experience 'rainbow artefacts'. If this is something you suffer from. I'd recommend a demo before dropping seven grand.
The 2018 version of Robin Hood (UHD BD) includes HDR10+. and the LSP9T correctly detects the dynamic metadata, ensuring the opening crusader sequences are awash with Middle Eastern sunlight, while also retaining highlights and avoiding unwanted clipping.
Running through the built-in apps establishes this projector's abilities as a surrogate flatscreen, with each loading flawlessly. The battle with the Krayt dragon in The Mandalorian (Disney+) looks suitably epic;
the dimly lit churches of Warrior Nun (Netflix) retain a pleasing contrasty quality; and the bright and colourful automotive antics of The Grand Tour (Prime Video) benefit from HDR10+.
The same goes for the built-in tuners, where the LSP9T shows off additional strengths. Sophisticated processing does a great job upscaling Full HD broadcasts to the larger image, while motion is buttery smooth. The latter is a particular strength of DLP. making this projector ideal for watching sports and gaming (although serious gamers may find the 55ms lag a bit high).

There's no denying that the LSP9T is expensive, and if all you want is a projector then you may as well head to models from JVC and Sony that have similar price tags, native 4K resolutions. 3D support and better blacks. There are more affordable UST alternatives too. but none come close to this Samsung in terms of performance and features. This is one Premiere you won't want to miss.
Recommended
Samsung Premiere LSP9T Review
Colour-rich picture performance, unrivalled feature-set and surprisingly good sound make this premium PJ a viable bigscreen alternative to a TV.
Add your review
Best Samsung Premiere LSP9T prices in the US ?

$

3,236.96
4 new from $3,236.96
in stock


$

3,667.96

$3,991.92
4 new from $3,667.96
in stock


$

5,299.00
1 new from $5,299.00
in stock

Best Samsung Premiere LSP9T prices ?
MORE DEALS

See also TOP 15 projectors
spec
3D: No 4K: Yes. 3,840 x 2,160 via Texas Instruments XPR technology HDR: Yes. HDR10; HDR10+ CONNECTIONS: 3 x HDMI inputs (one with eARC); terrestrial and satellite tuners; powered USB; optical digital audio output; Ethernet BRIGHTNESS (CLAIMED): 2,800 Lumens CONTRAST (CLAIMED): 2,000,000.1 ZOOM: N/A DIMENSIONS: 550(w) x 141(h) x 367(d)mm WEIGHT: 11.5kg
FEATURES: RGB triple-laser lighting system; DLP optical engine; 16-bit 3D colour mapping; 4.2-channel audio with Acoustic Beam technology and 40W claimed amplification; 20,000-hour claimed laser life; built-in Tizen-powered smart platform; Bluetooth; Apple AirPlay 2; Bixby and Amazon Alexa built-in; SmartThings app; Tap View; Game Enhancer; Filmmaker Mode; white balance, gamma and colour calibration controls
PARTNER WITH
PRIME VIDEO: Amazon's streaming video platform offers a rich seam of HDR10+ content (Netflix is sticking with Dolby Vision). Access comes as part of a Prime subscription, which includes other goodies.