AS THE "Smart TV" has become the norm, projectors in contrast have remained steadfastly dumb. For many home theater enthusi­asts, that arrangement has worked out just fine, with streaming, voice control, and other forms of internet-connected interaction handled by front-end components on the A/V rack and the projector serving as little more than a means to display an image. But recent ultra short throw and other "lifestyle" projectors have begun to blur the distinction between smart and dumb by offering some of the high- tech features found in the latest TVs. And now with the arrival of LG's HU810PW, we have something we haven't seen here before here at Sound & Vision: a model designed for a traditional ceiling-mount instal­lation that's loaded with TV-type smart features.
By Al Griffin
LG calls the HU810PW a 4K UHD Smart Dual Laser CineBeam Projector. To parse that mouthful, the HU810P is a single-chip (0.47- inch) DLP projector that delivers 4K resolution via pixel-shifting and uses a dual-laser (red, blue, plus green phosphor) light source to beam images with up to a specified 2,700 ANSI lumens brightness. Smart features come courtesy of the same webOS 5.0 interface found in LG's flat-panel TVs, with the projector offering access to Amazon Prime Video, Disney+, Peacock, YouTube, Showtime, Starz, and other streaming apps via a wired or Wi-Fi connection. An HDMI eARC port lets you route audio, including Dolby Atmos soundtracks, directly from the projector to an outboard receiver or surround sound processor, and the HU810PW also has a Bluetooth output for a wireless connection to a soundbar.

Along with its 4K display capabi­lity, the HU810PW supports the HDR10 and Hybrid Log Gamma high dynamic range formats and is spec'd for 97 percent DCI-P3 color space coverage, though a footnote in LG's spec sheet claims that this only applies to certain picture modes. The projector lacks a dynamic iris, but does provide Dark Room, Bright Room, and user-adjustable Iris modes, which are aided by an Adaptive Contrast setting that helps to maximize picture contrast depending on room lighting. There's no user- adjustable HDR tone mapping adjustment similar to the one found in Epson and JVC projectors, though a Dynamic Tone Mapping feature capable of adjusting HDR images on a frame-by-frame basis can be enabled.
The life of the projector's laser light source is specified for up to 20,000 hours, which translates to nine-plus years of six-hour daily viewing time. It boots up to full brightness within a few seconds after power-up, and shuts down quickly and quietly. Along with Wi-Fi, the HU810PW's wireless streaming support extends to Apple AirPlay for Mac computers and iOS devices and screen mirroring via Miracast for PCs and Android devices. Voice control is also onboard, with Google Assis­tant, Amazon Alexa, and LG's own ThinQ+ assistants all supported.
LG's cosmetic design for the HU810PW could best be described as "unassuming." It has a boxy white case, with a dial to manually adjust horizontal/vertical lens position on the right side and knobs to manually adjust zoom and focus at the bottom front beneath the lens. A joystick control to navigate onscreen menus and power the projector on and off is located on the projector's back panel above the inputs.
7Review earns Amazon affiliate commissions from qualifying purchases. You can support the site directly via Paypal donations ☕. Thank you!
See also TOP 15 projectors
The LG's connections include a pair of HDMI 2.0b inputs plus an HDMI version 2.1 input that supports eARC (Enhanced Audio Return Channel) and ALLM (Auto Low Latency Mode). And while HDMI 2.1 on a projector should be great news for gamers, bandwidth for that input is limited to 24Gbps, which is not enough to support 4K/120Hz video output from latest-gen PlayStation 5 and Xbox Series X gaming consoles. On the subject of gaming, I measured input lag from a 1080p test signal generator at 80ms in Game mode—a below-average level of performance compared with other projectors.
LG packages the same Magic Remote with the HU810PW that you get with the company's TVs. This offers "point-and-click" capability where you use the fully backlit handset to drag a cursor around the screen, and then click on items to select them. There are navigation and scroll wheel controls, along with buttons to directly access onscreen menus, picture modes, and a microphone for voice control. Simplink(HDMI-CEC) lets you use the remote to also operate connected devices like a Blu-ray disc player. And if you have an A/V receiver connected to the projector via HDMI eARC, the remote can adjust the AVR's volume. For someone like myself who regularly uses a "dumb" projector, LG's Magic Remote—and the busy WebOS 5.0 screen interface—took some getting used to, but I eventually adapted. Unfortu­nately, many of the streaming apps that I regularly use for viewing like HBO Max, Netflix (Netflix!), and The Criterion Channel were not available for download from LG's App Store, so I ended up using using an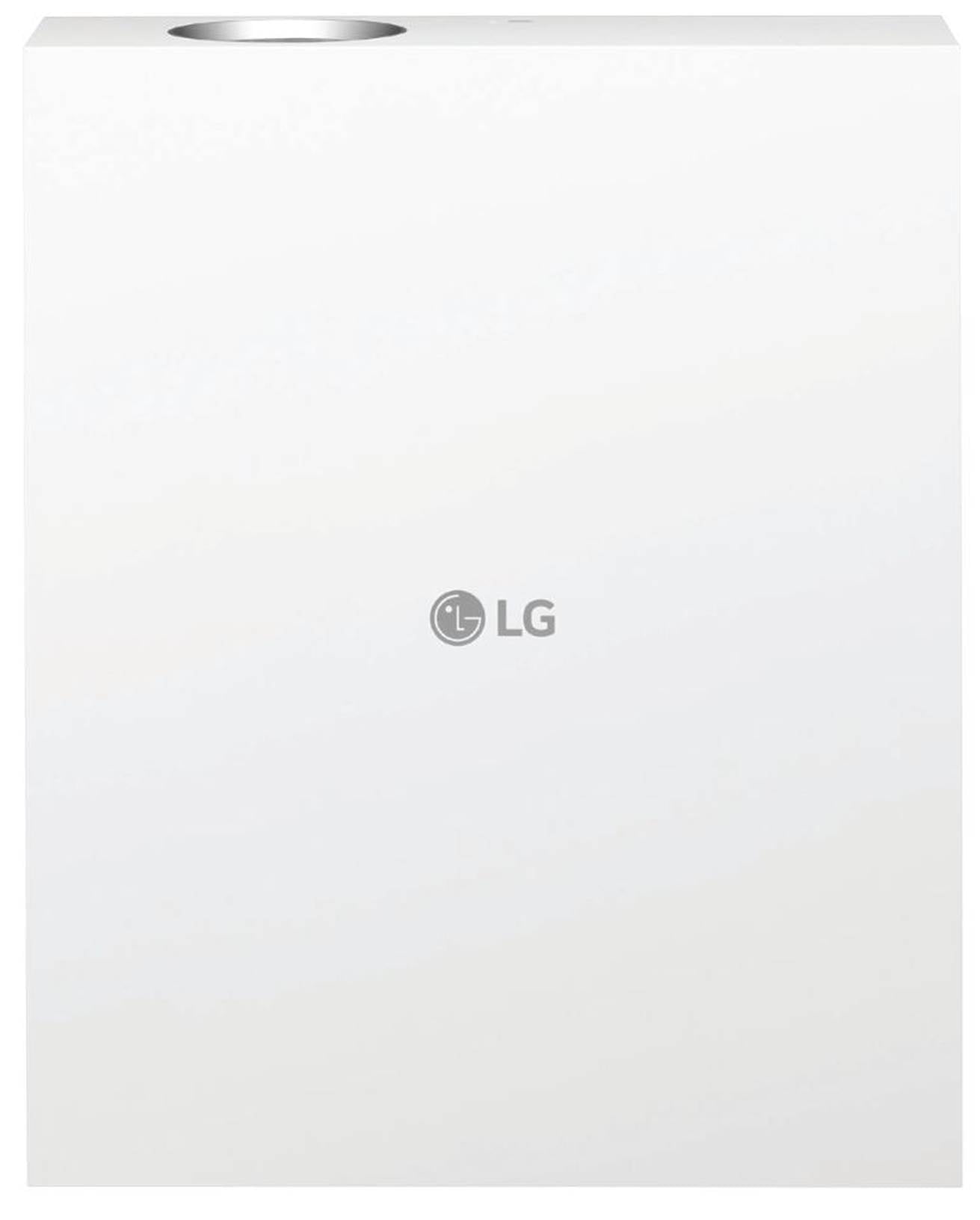 external Roku Streaming Stick+ for much of my evaluation.
Like many a projector before it, the HU810PW was installed on a high shelf located at a 14-foot distance from a 92-inch diagonal, 1.1 gain Stewart Filmscreen Cima screen in my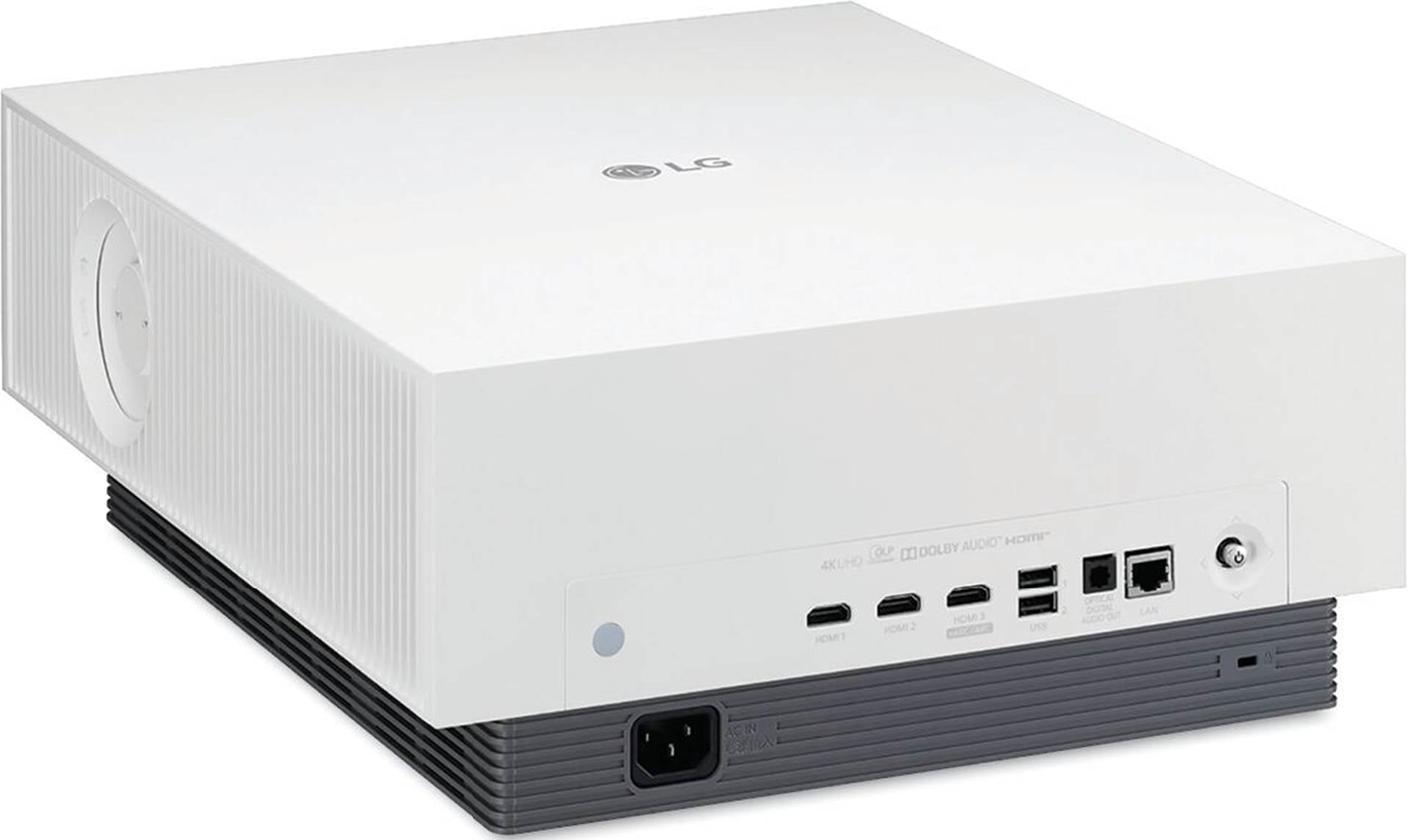 home theater room. The projec­tor's 1.6x zoom allowed me to easily adjust image size to fill the screen from that distance, while its 60 percent vertical, 24 percent horizontal lens shift adjustments helped to precisely center the image. The manual focus control meant repeated trips between projector and screen were necessary to evaluate image crispness after making fine adjustments, but I was able to eventually dial the focus in perfectly.
Most of the LG's picture presets had a pronounced blue bias that made white tones look overly cool. That list included Filmmaker mode, a setting that otherwise eliminates image processing such as motion enhancement. The most accurate preset I measured was Bright Room (Expert), which proved close enough that I would recommend it for most viewers. As a starting point for my adjustment, I instead ended up using Dark Room (Expert), a mode that required substantial calibration to whip into proper
At a Glance
+ Ample brightness and good contrast
+ Flexible zoom and lens shift range
+ Built-in streaming apps
– Requires calibration for best performance
– Smart features may be overkill for some
800-243-0000
lg.com
FULL-ON/FULL-OFF CONTRAST RATIO: 3,225:1 The measurements here were made using Caiman measurement software from Portrait Displays (www. portrait.com), together with a Photo Research PR- 650 color meter, Minolta LS-100 luminance meter and a Murideo/AVPro (Fresco Six-G) test pattern generator.
Pre-calibration measurements were made with the LG HU810PW's Expert (Dark Room) picture mode active. Post­calibration measurements were made in the same mode. All measurements were made with the projector positioned at a 14- foot distance from a 92-inch diagonal, 1.1 gain Stewart Filmscreen Cima screen.
The projector's maximum full-on/full-off SDR contrast ratio was achieved with the Expert (Dark Room) Picture, Minumum Energy Saving, Dark Room Iris, Low Black Level, High Dynamic Contrast, and Adaptive Contrast settings active, with Contrast at 80 and Brightness at 50. With this combination, black measured 0.006 ft-L and peak white 19.35 ft-L for a contrast ratio of 3,225:1. With the Iris set to Medium, contrast ratio with the other settings listed above was 2,415:1.
Before calibration, the default color temperature preset in Expert (Dark Room) Picture mode displayed a significant red/blue bias. The Delta E averaged 18.85, with a low of 7.4 at 10 IRE and a high of 24.4 at 100 IRE. After calibration, the average Delta E improved dramatically to 1.3 with a high of 1.8 at 100 percent brightness. (Delta E is a figure of merit indicating how close the color comes to the standards, either D65 for the white point or the color coordinates for each of the primary and secondary colors that define the color gamut under test. Values below 3 are generally unnoticeable.)
With the default settings active in Expert (Dark Room) Picture mode, the Delta E of the HU810PW's measured color points averaged out to 8.5.
Using the projector's color management system adjustments, I was able to improve color point accuracy to an average Delta E of 2.4, with a high of 3.2 for blue. Coverage of the DCI-P3 color gamut in Expert (Dark Room) mode topped out at 87.3 percent.
Post-calibration, gamma closely tracked a 2.2 target for most of the range with the BT.1886 Gamma preset selected. With the HDR Cinema Home preset mode active, peak white output measured 110 nits +/- 5 nits regardless of the size of the measured white window. Picture uniformity was excellent: white full­field test patterns showed minimal brightness drops between the center and edges of the projection screen, and no color shifts. Our suite of video processing tests revealed excellent all-around performance.
specs
DIMENSIONS: (WxHxD, Inches) 13.2 x 5.9 x 16.1
WEIGHT: (Pounds) 24.2
VIDEO INPUTS: HDMI 2.0b (2), HDMI 2.1 (1, w/eARC)
OTHER: Wi-Fi, AirPlay, Bluetooth (output); Optical digital audio output; USB type-A (2), LAN (Ethernet)
ILLUMINATION METHOD: Dual laser (red, blue, plus green phosphor)
LIGHT SOURCE LIFE: 20,000 hours
Fan noise is very low. LG specs it at 28dB for Minimum Energy Saving, and I only measured a 2dB difference between the Minimum and Maximum modes.
Input lag with a 1080p source measured 80ms in Game mode, making the LG a below-average option for high-def gaming. — A.G.
shape (see Test Bench). Similar to LG's HU85LA ultra short throw model Sound & Vision's Kris Deering tested in late 2019, the HU810PW offers 2-, 10-, and 22-point white balance adjustments—a unique feature for a projector. Starting out with 2-point adjustment, and then switching to 22-point for more granular tweaking, I was able to dial in a near-perfect grayscale, while the color management system controls let me make substantive improvements to color point accuracy.
A fully different set of picture presets is available for viewing programs with HDR. I opted for the Cinema Home mode, which delivered a maximum light output in the 110 nits (32 footlamberts) range. (A preset labeled Brightest unsurprisingly delivered the LG's maximum measured light output at 307 nits, though the LG's grayscale skewed green with that one selected.) There are multiple settings that affect picture contrast for both standard and high dynamic range viewing, including Energy Saving, Iris, Black Level, Dynamic Contrast, Adaptive Contrast, and Bright­ness Optimizer settings. As detailed in the Test Bench section, various combinations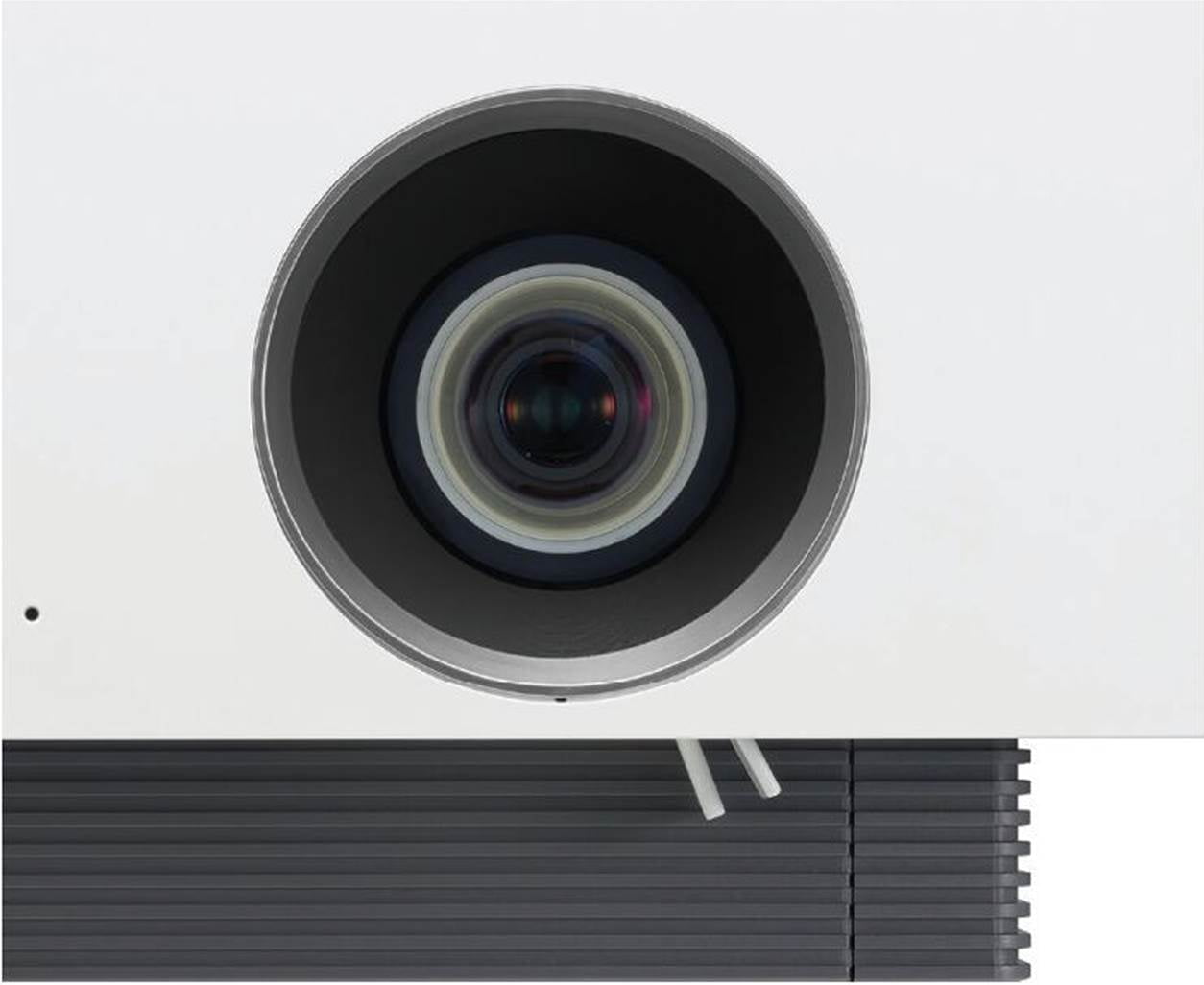 of these resulted in a maximum 3,225:1 contrast ratio—about twice as high as what we've measured on other 4K DLP- based projectors. Some of the settings crush highlight detail in images when applied, however, so you'll need to experiment to find an appropriate mix for your viewing environment, screen, and taste. For my own HDR viewing, I set Energy Saving to Minimum, Iris to User Mode (6), Adaptive Contrast to Medium, and Dynamic Contrast to Low.
HD/SDR PERFORMANCE
To check out the projector's performance with regular high- definition programs, I streamed The Knick on HBO Max. This series, which originally aired on Cinemax in 2014-2015 and is directed by Steven Soder­bergh, takes place in a strug­gling hospital in early 1900s Manhattan. The set decoration and costumes are both meticu­lously detailed, and so are the early apparatuses depicted from this embryonic period of modern medical exploration. The crisp whites of the surgical gowns in each episode came across with satisfying bright­ness and highlight detail. Darker scenes, such as those that take place in the Chinatown opium den where brilliant yet troubled chief surgeon John Thackery spends much of his downtime also displayed impressive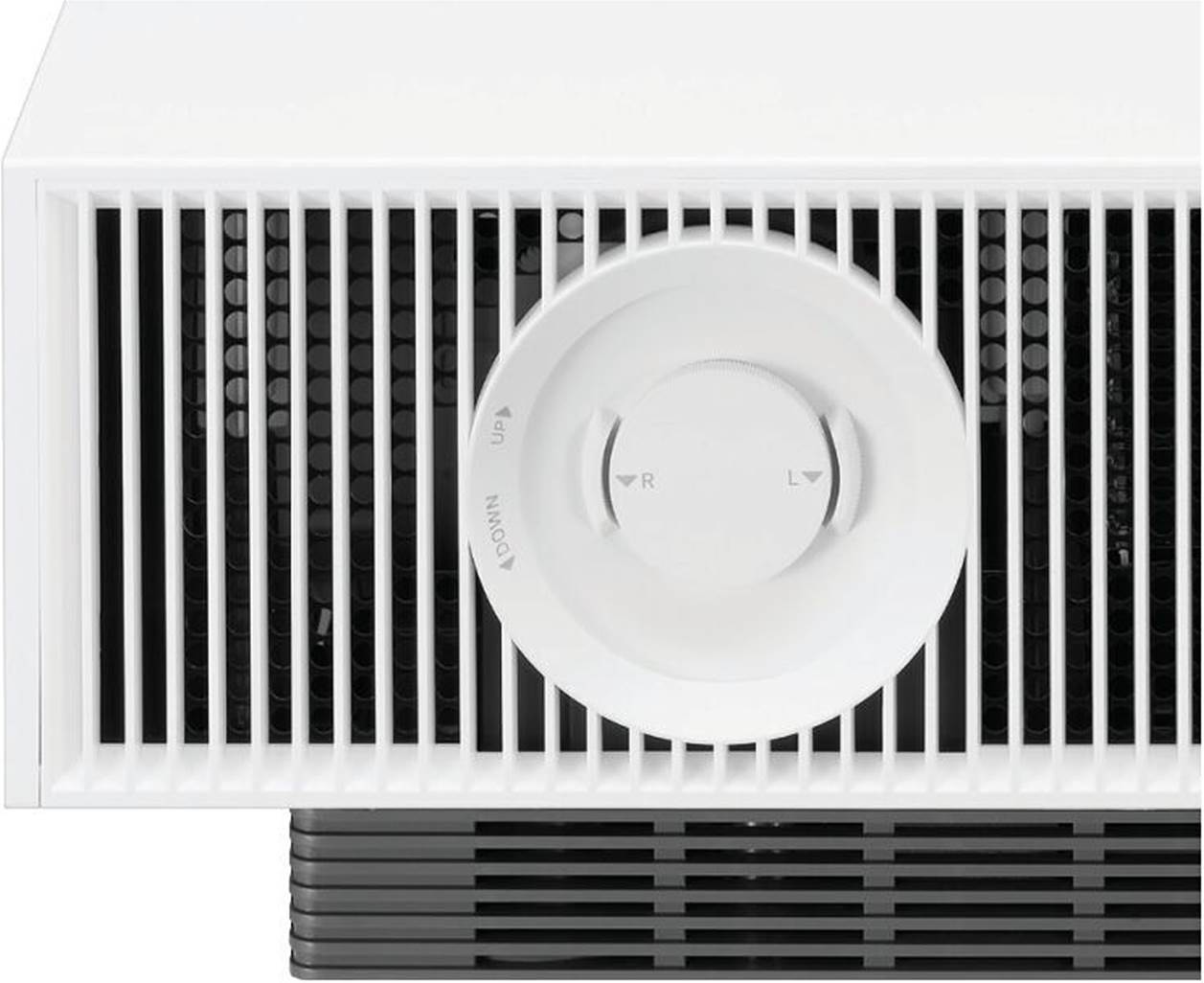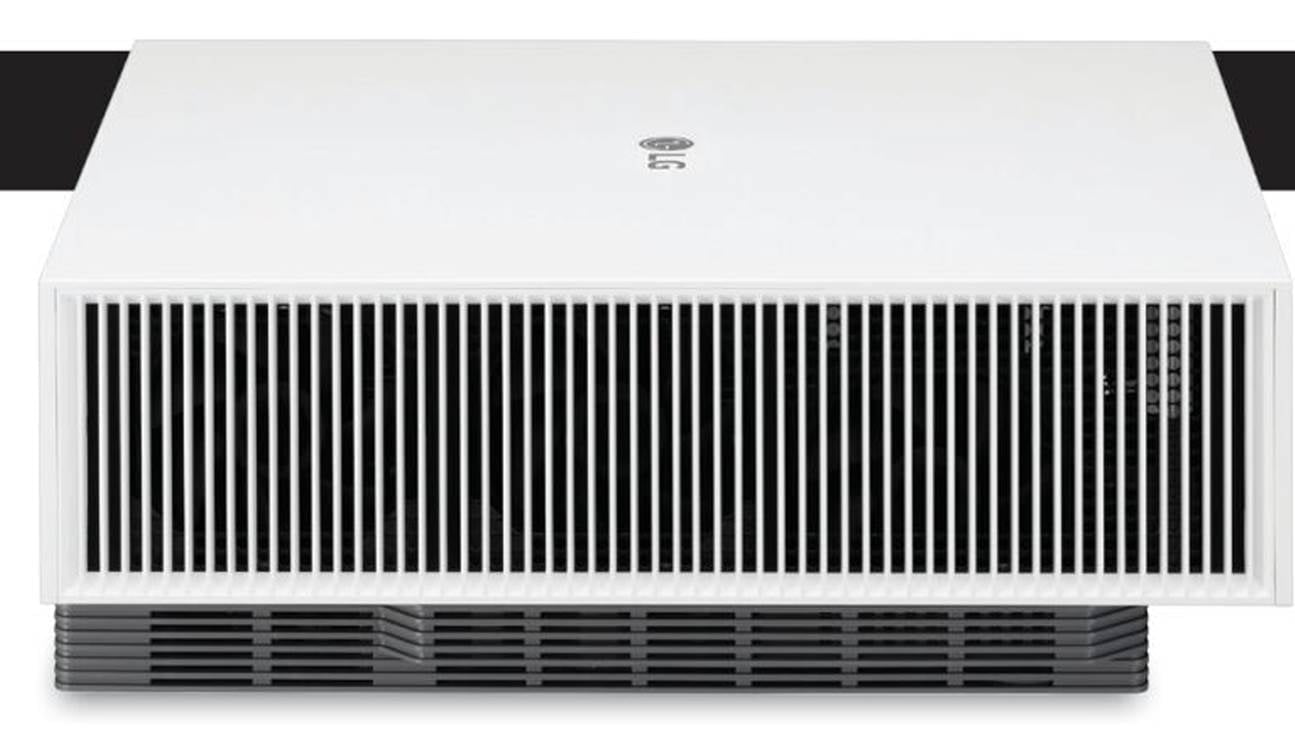 depth. Skintones of the cast looked natural, and with the LG handling 4K upconversion, the consistently crisp picture allowed for fine details in the ornate drawing and dining rooms of the hospital's wealthy benefactors to emerge clearly. (As an HBO Max subscriber since its May 2020 launch, I can attest that streaming quality of the service has greatly improved since I first used it to rewatch GoT during the early lockdown days.)
ULTRA HD/HDR PERFORMANCE
For my 4K/HDR evaluation, I used a mix of personal refer­ence movie discs on Ultra HD Blu-ray and streamed shows on Amazon Prime and Netflix. Starting out with 2001: A Space Odyssey, the cave scene where pre-hominids huddle displayed good black depth and impres­sive detail in the fur of the crea­tures. Shadows lacked the level of black extension I've noted on projectors that use a dynamic iris, but the performance here was a definite notch above other DLP models I've recently had in-house.
The mostly monochrome 2018 Chinese film Shadow offers a good example of how high dynamic range can enhance black-and- white images. LG's projector presented a wide range of creamy gray tones in scenes that take place in the king of Pei's court, and I didn't note any color tinting that wasn't originally part of the movie's post-production special effects. Blacks in Shadow looked consistently solid, and image highlights also had a satisfying level of punch. It was on this film in particular that I noticed how some of the HU810PW's contrast enhancement features could easily cause HDR high­light detail to appear washed out, but once I hit upon the right mix of adjustments (listed above in the Setup section), the picture had a punchy, yet balanced look.
Of the LG's built-in apps that I checked out, both Amazon Prime and YouTube programs could be displayed in 4K/HDR, with Amazon also providing Dolby Atmos soundtracks. Watching the Amazon Prime series ZeroZeroZero, I noted rich color and excellent detail in shots of a tanker ship crossing the Atlantic ocean. And in a later scene where a para­military squad descends onto the tanker from a helicopter, the ship's floodlights and the spotlights on the soldiers' rifles contrasted powerfully with the dark background of the night sky. A subsequent scene in Mexico where the same squad ambushes a drug dealer's entourage in an SUV showed similarly strong contrast as vehicle headlights flashed in a darkened tunnel.
I took advantage of the LG's arrival to bust out my copy of the Midsommar Director's Cut: Collector's Edition on Ultra HD Blu-ray disc. Shot with 8K and 5K cameras and mastered at 4K resolution, director Ari Aster's 2019 movie initially only received a Blu-ray release—a big disappointment. (While that disc looked good overall, it didn't nearly match up with my visual memory of what I saw in the theater.) Watching the Ultra HD Blu-ray version on the LG, the play of sunlight on the Swedish commune's rural retreat had a wonderfully natural look, and the white clothing worn by the residents displayed extremely fine tonal gradations. Color in particular corre- sponded with my theatrical experience, with the flowers worn by the May queen during a ceremonial feast literally bursting with vivid hues.
CONCLUSION
With the HU810PW, LG has delivered a DLP projector offering impressive perfor­mance that's also reasonably priced for a 4K model with a laser light source. Getting pictures to look their best required a fair amount of work, but once I had the settings dialed in, I was very happy with what I was seeing with both regular HD and 4K/HDR sources. For some viewers, the HU810PW's streaming and voice control features likely won't matter, but once you do get used to the projec­tor's Smart TV interface, it's easy to navigate. LG may be a company closely associ­ated with OLED TVs, but the HU810PW confirms it can also make projectors that will satisfy the demanding home theater enthusiast crowd.
The Verdict
LG's 4K laser DLP projector is packed with smart features and offers impressive all-around per­formance at a reasonable price.
Best Lg hu810pw prices in the US ?

$

2,199.99

$2,999.99
13 used from $1,408.17
7 new from $2,199.99
in stock

Best Lg hu810pw prices in the UK ?

£

1,960.57

£2,174.97
9 new from £1,991.59
in stock

MORE DEALS

See also TOP 15 projectors