John Archer throws a 4K HDR bigscreen party with Epson's latest laser-powered UST beamer. Read our EPSON EH-LS500 Review.
Epson scored a surprise hit in 2018 with its debut ultra short­throw laser projector, the LS100 [reviewed in HCC #283].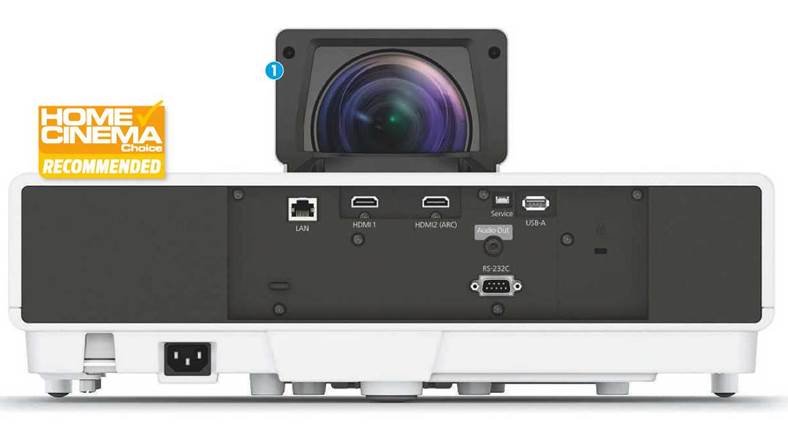 It's much less surprising to find the brand delivering a more sophisticated and feature-rich sequel in the shape of the EH-LS500, a 4K stealth beamer more obviously designed to look good in your living room.
It does this by ditching the office AV aesthetic of the LS100 in favour of aping the appearance of a soundbar, at least when viewed from its rear, which is arguably its front, given that its ultra-short-throw nature means it will be sat well forward of your viewing position. This wears a tasteful felt cover that hides both on-projector control buttons and the unit's 10W stereo speaker system.
Looked at from the other side it's much more functional, but the raised circular lens feels more likely to produce a high-quality home theatre picture than the wide rectangular aperture used by the multi-purpose LS100.
The LS500 carries three HDMI inputs, when most projectors only manage two. One of these is mounted on the rear under the detachable felt cover, alongside a powered USB port. This makes it easy to attach, say, a Roku or Amazon HDMI streaming stick, or quickly jack in your phone or tablet.
7Review earns Amazon affiliate commissions from qualifying purchases. You can support the site directly via Paypal donations ☕. Thank you!
See also TOP 15 projectors
You can additionally share content from smart devices wirelessly, if you add Epson's optional ELPAP10 wireless LAN unit to the rear USB port.
'You are my density…'
The LS500's specifications reinforce its more focused AV ambitions. Unlike the 1080p LS100, this model supports 4K playback. It isn't native 4K, instead using Epson's Pro-UHD pixel shifting technology to deliver at least the sort of pixel density associated with UHD.
The laser comes with a huge five-year (or 12,000-hour) warranty, emphasising the technology's advantage in this respect over traditional lamp-based designs. Stick with the LS500's much less bright (1,200 Lumens) Eco lamp mode, and laser life hits a claimed 20,000 hours.
The laser also helps the LS500 pump out a suggested 4,000 Lumens of peak brightness (for both white and colours), while the various settings options available result in a vast contrast ratio claim of up to 2,500,000:1.
As you'd hope with those sorts of picture specs, the projector supports HDR10 and HLG HDR playback, as well as 3D. And its brightness means that it can deliver an image as large as 130in, from a throw distance of just 23cm. In other words, this really is a PJ you can sit permanently on a sideboard without disturbing the rest of your room.
Installation is generally straightforward. Simple screw-down legs adjust the angle of projection, while horizontal and vertical digital keystone and, more unusually, specific corner adjustments help you get the image's edges perpendicular. To focus, use the slider under the pop-off rear cover.
Key image settings include a highly flexible light output adjustment; Cinema/Bright Cinema/Dynamic and Game picture presets; white balance management; noise
'High dynamic range sources actually look like HDR courtesy of the PJ's fearsome laser light output'
reduction, resolution and detail enhancements; frame interpolation; colour management; and a Dynamic Contrast option that can be set to off, High Speed, or Normal.
Check out, too, the HDR10 Setting feature in the Signal menu. This lets you trade dynamic range for overall brightness, in recognition of projectors' inability to deliver the sort of luminance HDR is designed for.
Sharp shootin' in Sherwood Forest
In some respects the LS500's pictures are startlingly good. The supreme sharpness and detail of the (Taron Egerton) Robin Hood 4K Blu-ray remains impressively intact despite the projector not being a native 4K design. And the bigger you push can hide shadow detail and flatten the image out. Colour performance slips in dark scenes, too.
Some tones look strained and short of nuance, >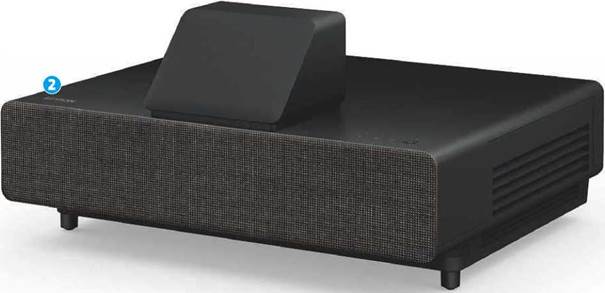 PRODUCT: Ultra-short-throw 4K HDR laser projector
POSITION: Near the top of Epson's current home cinema range, and its premium UST model
Epson EH-TW9400; Optoma UHZ65UST; ViewSonic X10-4K
the image, the stronger this impression becomes. After careful adjustment of the focus slider, this sharp feeling remains in the image's corners too (not always a given on UST models), and nor is the sharpness accompanied by noise or exaggerated grain.
Epson's 4K Enhancement feature for HD and lower-res sources is pretty subtle though; so much so that I struggled to spot really substantial differences when toggling the feature on and off, even with the PJ's separate Detail Enhancement and Super Resolution features ramped up. Certainly, its effect seems to just make the picture look denser rather than more detailed.
The LS500's motion handling is good. Movie sources are handled without excessive judder or artefacting – and that's without activating the rather unnecessary motion processing tool.
With bright scenes, the projector produces some of the most authentic, natural and nuanced HDR/wide colour gamut tones I've seen at this level of the projector market. And this is despite not having a dedicated wide colour filter.
High dynamic range sources actually look like HDR – even in fairly bright environments – courtesy of the laser's fearsome light output.
The LS500 manages to runs quietly in its Cinema mode (which sets the laser output to its 50 per cent level). But even upping the brightness by one 5 per cent step sees the fan noise increase quite a bit, and with other presets, where light output is nearer 100 per cent, the fans become quite distracting.
While the PJ excels with bright content and in well-lit rooms, it struggles with dark scenes watched in a dark room. Despite being able to get its light output down to 1,200 nits, Robin Hood's night-time raids expose some obvious greyness where there should be blackness. This

1. To craft its images, the LS500 uses a laser light source
2. The fabric cover conceals an extra HDMI input and powered USB port
3. The PJ will throw a 130in image from less than 50cm
losing that lovely natural appearance that's so obvious during brighter scenes.
The Dynamic Contrast feature adjusts the Epson's light output in response to its analysis of the source image. This can cause some instability to black levels, but you can't really turn it off, as doing so introduces even more greyness.
'A strong 3D performer – crosstalk ghosting is well controlled, and the sense of depth created is convincing'
The LS500 does, though, show no hint of grey/green dot noise in dark areas, a trait of rival single-chip DLP models. And there's no 'rainbow effect' issue to worry about with this LCD projector.
I'd hoped the PJ's black level limitations might disappear with SDR replay, but it remains at pretty much the same level, only without bright HDR elements to counter it.
A side dish of 3D
If you're thinking of gaming on the LS500, you'll be glad to hear its Game setting suffers with only 26.8ms of input lag.
It's a strong 3D performer, too; worth adding the optional eyeware to your shipping list. Crosstalk ghosting noise is well controlled if you avoid the 'Bright' 3D setting, and the sense of depth the Epson creates is convincing. Detailing is rich and clean, colours maintain their vibrancy, and the dimming effect of Epson's 3D glasses actually counters the shallow black levels witnessed with 2D content. The only issue with its 3D performance is fast motion having a slightly flickery, translucent look.
The LS500's speakers are above par, its stereo implementation finding more detail and soundstage width than most projector systems manage. Its physical nearness to your wall or screen helps its sound appear to be coming from near its pictures – always a bonus. That said, it's a bit too muddy and bass-light to really satisfy, meaning you'll likely still want to use the PJ's audio output. Usefully, there's HDMI ARC in addition to a stereo minijack connection.
Up against the wall
The UST PJ market is still in its infancy, particularly when it comes to laser models, so the Epson EH-LS500 is a welcome addition. Black level shortcomings during dark-room movie viewing count against it, but in other areas this makes a strong case for going large in your lounge
Verdict
Recommended
EPSON EH-LS500 Review
Epson's new UST model benefits from a refreshed aesthetic and offers plenty of features and performance quality for the price.
Add your review
Best EPSON EH-LS500 prices ?
MORE DEALS

See also TOP 15 projectors
SPECIFICATIONS
3D: Yes. Active shutter 4K: Yes. 3,840 x 2,160 via 4K Enhancement pixel shifting HDR: Yes. HDR10; HLG CONNECTIONS: 3 x HDMI inputs; 2 x USBs; audio stereo minijack output; RS232-C, Ethernet BRIGHTNESS (CLAIMED): 4,000 Lumens CONTRAST (CLAIMED): 2,500,000:1 ZOOM: 1.35x (digital only) DIMENSIONS: 458(w) x 228(h) x 375(d)mm WEIGHT: 9.3kg
FEATURES: Laser-based LCD projector; built-in 2 x 10W audio; powered USB input; 20,000-hour lamp life; 37dB max/23dB min claimed fan noise; Cinema, Bright Cinema, Dynamic and Eco picture presets; 0.27-0.37:1 throw ratio; motion processing; 4K Enhancement with manual detail and sharpness tweaks; HDMI ARC; Dynamic Contrast
PARTNER WITH
IKEA BESTA: With plenty of size/specification variations (plus custom options), IKEA's AV furniture range is a good starting place for those looking to house their cinema hardware. Includes this 1.8m-wide, wall-mountable TV bench.
4. Unlike Epson's earlier LS100, there's now the choice of a white finish