Epson's latest upper mid-range projector is worth the extra money, says John Archer
Wide colour HDR heroics
Projectors aren't natural bedfellows of today's High Dynamic Range and Ultra HD picture technologies. Happily, though, projector manufacturers haven't just thrown their hands up in despair. Instead, they've steadily been getting better at finding ways to handle content that really they shouldn't be able to – and Epson's new EH-TW9400 is the latest proof of just how far they've come.
An HDR/4K-capable LCD projector
Epson's upper mid­range home cinema PJ. above TW7400
Epson EH-TW7400; BenQ W5700
1. Epson's full-size remote is easy to use and backlit
2. The lens is motorized and offers a2.1 x zoom
7Review earns Amazon affiliate commissions from qualifying purchases. You can support the site directly via Paypal donations ☕. Thank you!
See also TOP 15 projectors
This model is the big (as in, better specified and more expensive) brother to the previously reviewed EH-TW7400 [see HCC #293]. From the outside, though, the two look pretty much identical. Both are massive by 'mainstream' projector standards, and both feature a large, centrally mounted lens with forward-firing cooling grilles to either side.
The chassis edges are nicely rounded, the bodywork feels robust, and there's a crisp, black finish. You can also buy an EH-TW9400W variant (for £ extra) that bundles a wireless HDMI connection system.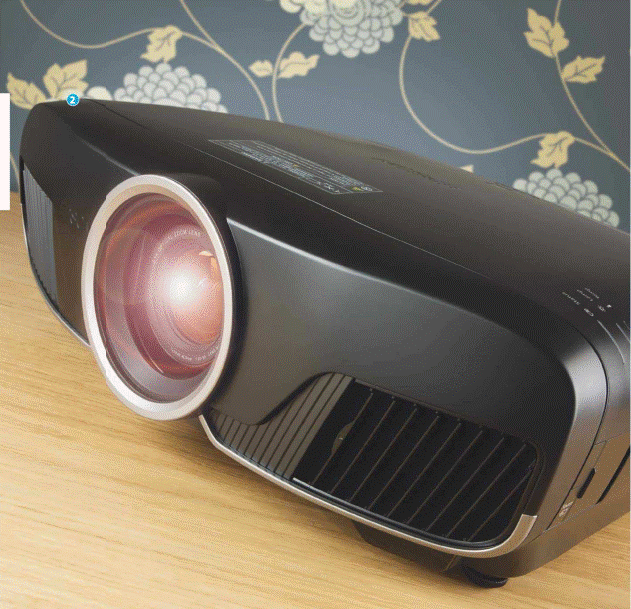 The connections initially look the same as those on the EH-TW7400. There are two HDMIs (one of which is 4K HDR ready), two USBs (both 2.0, one for service use only), an RS-232C port, a 12V trigger output, and a VGA computer input.
Closer inspection, though, reveals an additional Ethernet port on the EH-TW9400 to aid integration into home control systems. It also turns out that the 4K HDMI input supports 18Gbps, paving the way for 4K HDR at frame rates up to 50/60Hz.
This is a first for an Epson mid-range model, and is welcome now that we have 4K/60p video gaming and 50/60Hz live 4K HDR broadcasts/streams.
The projector also has these 4K HDR broadcasts in mind with its support for the HLG HDR format.
This is another improvement over the EH-TW7400, which only caters to the industry standard HDR10 platform.
It's a punchier model, too, with a claimed peak brightness of 2,600 Lumens versus the 2,400 figure of the EH-TW7400. The claimed contrast ratio is also boosted to six times higher.

Turning to similarities between the two units, both feature motorised lens control with an impressive 2.1x optical zoom. There's also plenty of fine focus control, and both vertical and horizontal image shifting.
HDR tweaks
The EH-TW9400 claims to cover the full DCI-P3 colour spectrum used in commercial cinemas. As with BenQ's similarly wide colour-capable W2700 and W5700 models [see HCC #299 and #300 respectively], delivering so much colour range requires the projector to introduce a colour filter that substantially darkens the picture.
Epson provides, however, a simple but effective HDR adjustment that lets you trade brightness against dynamic range across 16 different settings. The extremes of this setting are pretty unusable, but moving plus or minus four from the 'eight' default level can be helpful for tweaking HDR images to suit different room setups and image tastes. Or, actually, for adapting the projector to different HDR content, as I'll discuss more later.
There are also (largely unnecessary) sharpness and detail boosters, plus standard and MPEG noise reduction filtering for sub-4K sources.
And it joins the EH-TW7400 in supporting 3D if you cough up for some of Epson's optional active shutter glasses.
Gamers will be pleased to discover the EH-TW9400 suffers under 30ms of input lag, regardless of whether you're using the projector's Fine or Fast image processing settings.
The one controversial aspect of the specifications is its 4K resolution. As usual for >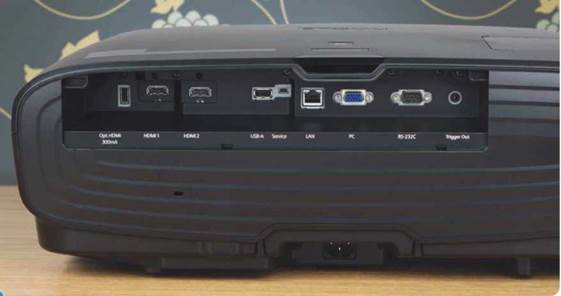 a sub-£ projector, it doesn't carry a native 4K resolution. Its imaging chips are actually only 1.920 x 1.080 Full HD. Instead, it divides 4K pictures into two marginally offset images and drives each pixel twice per frame, to create a 4K effect.
'I think I will have seen everything…'
Control of the EH-TW9400's lens/shift features is via a likeably large and hefty remote control that gives its backlit buttons plenty of room to breathe. It also provides direct access to lots of useful image features, including the key HDR Setting tweak.
The new 4K Blu-ray release for Tim Burton's Dumbo (reviewed next issue) features a gorgeous HDR, wide colour picture mastered to 4,000 nits – enough to strike terror into the heart of any affordable projector. Yet with a little careful adjustment, the Epson actually coped with it rather well.
The main changes to make were choosing the Digital Cinema mode (which brings in the colour-expanding filter), upping the power output to High, and then reducing the HDR Setting to five (which actually increases baseline brightness) to stop the image appearing too dark.
With this done, the results are often gorgeous.
Particularly striking is how intense but also refined the film's bold, stylised colours are. Epson's claims of DCI-P3 coverage are credible, as the projector delivers everything from the dazzling pinks and reds of a whimsical sunset or the gaudy neon lighting of Vandevere's Dreamland theme park, to the endlessly subtle tones in Dumbo's dimly lit footage of the circus audiences.
It can't rival the colour volume of a good HDR TV, simply because (as with all PJs) it can't get as bright. But provided you tweak the HDR Setting as suggested, the EH-TW9400 runs brighter than I'd have expected with its wide colour filter in place.
As a result, HDR pictures are excellent for a relatively affordable model. For instance, spotlights in the circus have a brightness hit to them that exposes the flatness of the SDR version of the film. There's a sparkle to the sequins on Colette's costumes, and daylight sequences show that the projector can hold on to its brightness even when there's a whole frame of it to deal with.
A caveat is that black levels aren't quite as deep once you've upped the brightness for a more satisfying HDR picture, as they are using the projector's presets. There's greyness over some dark Dumbo sequences, such as those in the Nightmare zoo. But its black level response can still be considered good in the context of such an all-round punchy HDR experience. If you want significantly better black levels with HDR material, you're looking at a big step up in price to models like JVC'S £ N5.
While I'd recommend a user-defined Digital Cinema mode setting for dark-room viewing, the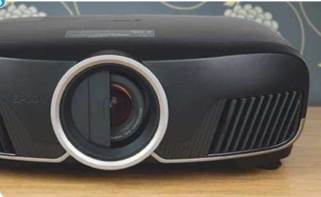 EH-TW9400's flexibility with HDR sources means that if there's ambient light in your room, or you find a particular title just too dark for comfort, then Epson's Bright Cinema and Cinema settings both offer an excellent compromise. Colour saturations and black levels are reduced (considerably and slightly, respectively) In return for a much brighter finish. This sort of choice is, for me, essential on an HDR PJ.
The only frustrating thing about the EH-TW9400's HDR flexibility is the extent to which you have to use it.
'The EH-TW9400 offers an all-round punchy HDR experience… colours are intense but also refined'
For instance, while calling up the HDR Setting to boost the baseline brightness works well for Dumbo, with Pan – another 4.000-nit 4K Blu-ray – this setting causes substantial clipping and desaturation of some of the film's bright highlights, such as the sun hanging above Neverland as Peter arrives there on the flying ship.
This might lead you, on occasion, to wanting to pause a film to fiddle with the HDR Setting. This is hardly ideal, but there's no sign yet of any projector – certainly at this price – being able to adjust itself on the fly.
The Dumbo UHD disc is detailed enough to reveal that the EH-TW9400's 4K images aren't as crisp and textured as those of native 4K projectors, or some of the best- quality pseudo 4K DLP models I've auditioned. They are, though, a substantial notch above standard HD, and have their sense of density and detail enhanced by a freedom from any sort of noise. Most obviously, there's none of the rainbow effect of DLP designs. And the fluid camera sweeps on show throughout Dumbo's Dreamland destruction sequence all look natural, with no excessive juddering or blur.
It's worth saying, too, that my EH-TW9400 sample didn't suffer significantly from RGB convergence errors to leave parts of the picture looking unfocused.
While you'll want to feed the PJ as rich a diet of 4K content as possible, it's solid with SDR HD Blu-rays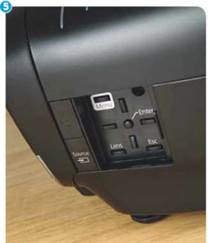 This mid-range projector needs a bit of TLC to always get the best out of it, but the results are good enough to more than make the effort worthwhile.
too, resolving impressively deep black levels, the sort of colour tone finesse it's easy to forget that SDR is actually capable of, and 'upscaling' HD to pseudo 4K cleanly and effectively.
You can choose to turn off the 4K setting with HD and bring in Frame Interpolation instead (this latter option isn't available with 4K sources). But I didn't see much benefit in either of these options.
Thanks to a pair of Epson active shutter glasses lying around in my cinema room, I was able to take the unit's 3D pictures for a spin. And the results were excellent.
The 3D effect is convincing, delivering a great sense of depth and space while limiting crosstalk ghosting noise to only the most extreme image content (such as bright text on a dark background). The picture retains sufficient brightness and detail levels are high (although 3D playback is. as expected, restricted to Full HD). Motion avoids that juddery or sickly look sometimes associated with 3D. and I wasn't aware of any flickering effect from the glasses (so long as you're viewing in a dark room). Finally, the experience wasn't the least bit fatiguing. If only 3D had always looked this good.
Time and money well spent
The EH-TW9400 delivers its impressively bright, contrast- rich and colourful images without suffering excessively with either heat or fan noise. Some will want the sharper 4K impact of XPR DLP and native 4K rivals, but the only serious issue I can really find with it is the ongoing effort required in always getting the best out of its considerable HDR talents, with the myriad of radically different content that's out there. Invest some of your time, though, and it can be made to sing with almost anything you care to throw at it. And that's what matters most
HCC VERDICT 4.5/5
Epson EH-TW9400 Review
This mid-range projector needs a bit of TLC to always get the best out of it, but the results are good enough to more than make the effort worthwhile.
Add your review
Best Epson EH-TW9400 prices in the US ?

$

49.99

$125.99
1 new from $49.99
in stock


$

89.19

$99.19
2 new from $89.19
in stock


$

133.99
1 new from $133.99
in stock

Best Epson EH-TW9400 prices in the UK ?
MORE DEALS

See also TOP 15 projectors
SPECIFICATIONS
3D:: Yes. Active shutter (glasses optional) 4K: Yes. PRO-UHD 4K Enhancement method HDR: Yes. HDR10; HLG CONNECTIONS: 2 x HDMI inputs (one 18Gbps/HDCP 2,2); Ethernet port; 2 x USBs (one service only); 12V trigger; PC port; RS-232C BRIGHTNESS (CLAIMED): 2,600 Lumens CONTRAST (CLAIMED): 1,200,000:1 ZOOM: 2.1x DIMENSIONS: 520(w) x 193(h) x 450(d)mm WEIGHT: 11kg
FEATURES: 3LCD projector; 5,000-hour claimed lamp life in Economy mode, 3,500 hours otherwise; 24dB max quoted fan noise; Wide Colour filter mode with DCI-P3 support; 1.35-2.84:1 throw ratio; vertical lens shift (+/- 96.3 per cent); horizontal lens shift (+/- 47.1 per cent); 300in maximum image size; motorized lens and focus; 10-position lens memory; frame interpolation; ISF certification
PARTNER WITH
EPSON ELPMB30: For permanent residency in your movie den, mount the EH-TW9400 projector to your ceiling with Epson's low-profile mount. Available for £, it comes with a white cover plate to blend in with your room decor.
3. Unlike the EH-TW7400, this PJ supports 18Gbps over HDMI
4. The projector features a sliding lens cover
5. A side panel conceals physical menu/source keys