John Archer fires up HDR, SDR and 3D on the Latest addition to Epson's '4K Enhancement' LCD projector range. Read our EPSON EH-TW7100 Review.
Epson's latest 4K Pro-UHD LCD projector promises serious bang for your buck. The EH- TW7100 claims a maximum brightness of 3,000 nits and contrast ratio of 100,000:1, and image sizes up to 500in. It even packs a Bluetooth output for streaming audio to external speakers, in addition to its onboard 2 x 10W sound system.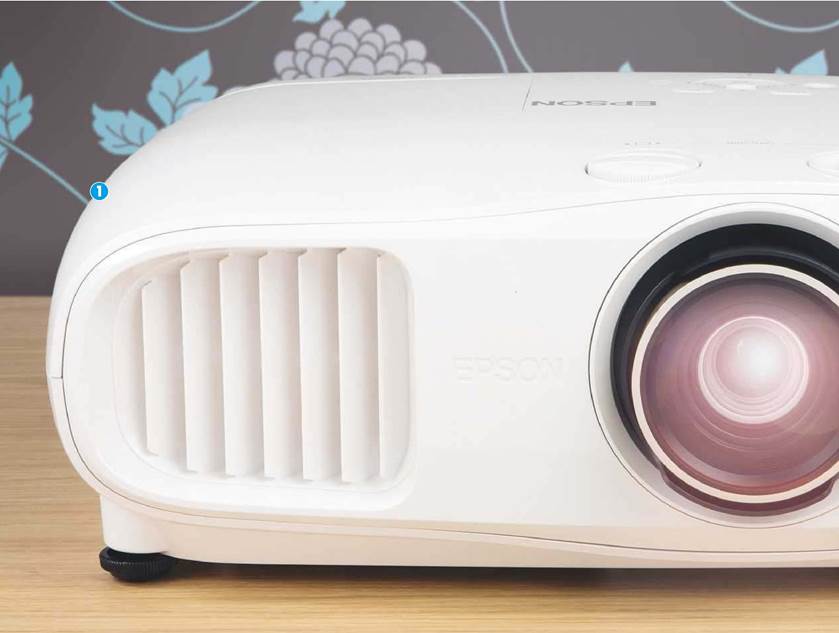 All the above, bar the 500in screen size suggestion, hint at the EH-TW7100's target market. Indeed, Epson describes it as a 'family room' projector. So can it still deliver a cinematic performance?
Lamp life is rated at an impressive 5,000 hours if run in its Eco mode. That works out at around one film every day
av info
PRODUCT
: Affordable LCD projector with HDR and 4K support
POSITION
: Towards the lower end of Epson's home cinema lineup
PEERS
: Optoma UHD40; 
BenQ W2700
; 
Epson EH-TW7400
for seven years. Of course, if you're going to be running HDR content (the EH-TW7100 can handle the HDR10 and HLG formats – no projectors to date play HDR10+ or Dolby Vision), you'll no doubt use a brighter lamp mode, which will inevitably bring the lamp life down.
Its design is a charming blend of serious and fun. The serious bits find it sporting quite a large body by projector standards around this price point, along with plenty of heat venting, two large speakers either side of the rear mounted connections, and a promisingly large lens.
The fun bits are the glossy white finish and the rounded edges and corners, which ensure it doesn't look harsh on your coffee table.
7Review earns Amazon affiliate commissions from qualifying purchases. You can support the site directly via Paypal donations ☕. Thank you!
See also TOP 15 projectors
Connections are dual HDMI inputs (Epson's literature is keen to point out to potential projector newbies that these can be used for a streaming media stick, such as Amazon Fire TV); two USB ports (one powered); a 12V trigger output; a 3.5mm audio output; and an RS232C control port. There's also the aforementioned Bluetooth audio feature.
Easy install
The EH-TW7100's combination of straightforward vertical/ horizontal optical image shifting wheels and an impressive (manual) 1.62x optical zoom make it easy to adapt its picture to pretty much any room layout. Image adjustments are reasonably plentiful too. You can, for instance, change the speed of the dynamic iris, the level of fine line sharpness and soft focus detailing, and overall sharpness (with thin and thick line enhancements),
There's also a very handy HDR10 Setting option that lets you trade brightness for dynamic range, plus four picture presets: Dynamic, Bright Cinema, Natural or Cinema. There's no Game preset, but the projector still measures a pretty respectable 27.6ms of input lag.
These presets don't yield as much image difference with HDR as I'd ideally have liked, presumably because the projector is running towards the upper extremes of its brightness and contrast capabilities to deliver an HDR effect. The Bright Cinema mode does, however, just about make enough difference to give you an option if there's ambient light to contend with.
Actually, you might also decide to stick with Bright Cinema even in a blacked-out room, as it delivers this PJ's all-round most HDR-looking images (without overcooking elements, as the Dynamic preset does).
Black levels aren't as deeply inviting in Bright Cinema as they are with the standard Cinema preset, though. And this is significant given that the projector's black levels are its weakest point. Certainly they're nothing like as impactful as those of Epson's EH-TW9400 (which claims a dynamic contrast ratio of 1,200,000:1), and can leave dark sequences in your favourite movies looking pretty grey, no matter what you do with the projector's settings. Black levels grey over more if you don't employ the dynamic iris, too – but this iris occasionally causes quite noticeable brightness shifts, even when on its Fast setting.
With the EH-TW7100's default settings, colours can feel peaky and artificial in dark HDR areas of an image. During the scenes in Barnum's dingy apartment in The Greatest Showman (Ultra HD Blu-ray), skin tones look patchy, and shadowy areas take on a distracting green undertone. >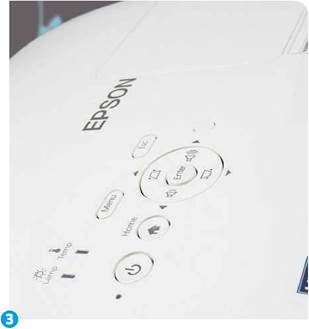 Cue Epson's HDR Setting feature. Shift this down a few points, to its five or, at a push, four setting, and although the range of light presented reduces, dark colours become much more natural while bright scenes get more dynamic punch. Black levels take a slight hit in the process, but the pros outweigh the cons. You'll be able to make out more subtle detailing in dark parts, while the increased brightness helps to distract you from the black level shortcomings.
'The EH-TW7100 adapts well to the very different demands of HDR and SDR, and impresses with 3D'
Another downside to shifting the HDR Setting is it introduces slightly more clipping (loss of subtle shading in the brightest areas). The temptation to push the HDR Setting even higher is tempered, too, by the way it causes noise to creep into mid-dark shots.
All things considered, though, the EH-TW7100 provides a winningly flexible toolset for personalising the compromises you have to expect with any HDR projector.
#nofilter
Colour handling doesn't achieve the wide range and intensity of Epson's EH-TW9400, as this projector doesn't have the more expensive model's optional colour filter.
Yet HDR content still feels vibrant, and there's some impressive tonal subtlety on show.
Motion is handled with conviction, and detail levels are good; not truly 4K, but higher than you'd see with a normal HD projector. (To clarify this point, while the EH-TW7100 can play 4K sources, it doesn't have native 4K optics. Instead, it uses pixel-shifting technology to pass '4K' images through slightly offset Full HD imaging chipsets).
Brightness levels are satisfying, and probably push things as far as they can without black levels fading out completely. And even with the lamp set to High for maximum HDR impact, this PJ runs surprisingly quietly.
This Epson is more at home with SDR content than HDR, though. Colour tones are more balanced and natural, and black levels dig deeper. With the lamp set to its Eco mode for SDR playback, running noise reduces even more. Pixel-shifted 1080p sources are presented cleanly and with detail, too.
The EH-TW7100 adapts well to the very different demands of HDR and SDR, and impresses with 3D.
The natural dimming effect of active glasses (not supplied) aids subjective black level, while the stereoscopic image remains bright and flicker-free enough to hold your attention. The sense of depth produced is exemplary, and motion is crisp and avoids any 'shimmering' effects. Best of all, crosstalk ghosting noise is very rare, either in the distance of large-scale shots (such as those across Pacific Rim's vast Shatterdome), or over very near content such as subtitles or objects pushed 'out of the screen'. Note that Epson's pixel-shifting technology doesn't work with 3D, so you only get a native HD image.
The EH-TW7100 finishes on a high with its audio. The built-in speaker system provides plenty of volume and the necessary range to stop Pacific Rim's loudest mech vs monster battles from sounding harsh. The soundstage escapes from the projector's bodywork, too, helping it appear at least a bit less dislocated from the distant pictures it's supposed to be accompanying.
Strong option
The Epson EH-TW7100's black levels aren't quite good enough to make it a fully satisfying dark-room projector. It's definitely a strong 'living room' option, though, offering impressive flexibility and setup options for what is, in the circumstances, a pretty aggressive price
Verdict
EPSON EH-TW7100 Review
While black levels and colour handling aren't as satisfying as those of Epson's TW7400 or TW9400, this PJ's brightness and flexibility make it a good living room option.
Add your review
Best EPSON EH-TW7100 prices in the US ?

$

116.99
1 new from $116.99
in stock


$

119.99
1 new from $119.99
out of stock

Best EPSON EH-TW7100 prices in the UK ?

£

1,495.00

£1,699.99
2 used from £1,135.19
6 new from £1,495.00
in stock


£

1,579.00
12 new from £1,547.42
in stock

MORE DEALS

See also TOP 15 projectors
SPECIFICATIONS
3D: Yes. Active shutter 4K: Yes. 3,840 x 2,160 via 4K Enhancement technology HDR: Yes. HLG; HDR10 CONNECTIONS: 2 x HDMI inputs; 2 x USB ports (one powered); RS-232C; 3.5mm audio output; 12V trigger BRIGHTNESS (CLAIMED): 3,000 Lumens CONTRAST RATIO (CLAIMED): 100,000:1 ZOOM: 1.62x DIMENSIONS: 410(w) x 157(h) x 310(d)mm WEIGHT: 6.9kg
FEATURES: LCD projector technology; built-in 2 x 10W audio system; 5,000-hour claimed lamp life using Eco mode; Bluetooth sound output; Cinema, Bright Cinema, Dynamic and Natural picture presets; 1.32-2.15:1 throw ratio; vertical (+/- 60%) and horizontal (+/- 24%) optical image shifting; full white balance and colour management; HDR Setting adjustment; backlit remote control; 40in-500in image size
PARTNER WITH
PACIFIC RIM 3D: Guillermo del Toro's joyous sci-fi/actioner gets a superior 3D Blu-ray release (despite being a 2D-3D conversion rather than shot native), bolstered by a stonking DTS-HD MA 5.1 soundmix. Every disc shelf deserves this platter.
3. On-body controls give access to the PJ's menus, should you lose the remote…