BenQ W2700
AV projector
Flash performer
The latest generation from BenQ delivers UHD resolution via four-flash DLP, with colour delivery also a highlight.
SUMMARY
BenQ W2700
7Review earns Amazon affiliate commissions from qualifying purchases. You can support the site directly via Paypal donations ☕. Thank you!
See also TOP 15 projectors
+ True Ultra-HD (4K) resolution + Excellent value for money + Long lamp life
– Deinterlacing issues with 1080i/50and 576i/50
The BenQ W2700 AV projector is the company's third generation of projectors with Ultra-HD (4K in its domestic context) resolution. The first generation was the BenQ W11000 and X12000, BenQ's original projectors to sport Ultra HD, using an 0.66-inch 4.15-megapixel Digital Micromirror Device with XPR pixel shifting to create something like 3840 x 2160 on-screen pixels. Then came the BenQ W1700 model at a much more affordable $.
This used an 0.47-inch DMD of 1920 x 1080 resolution but with four-times XPR pixel-shifting to create Ultra-HD output. And this W2700 is clearly intended to be a successor to the W1700.
Equipment
It is also a physical successor to BenQ's earlier full-HD projectors, the W1070 and W1070+ (and others). These were successful models from six years ago in the case of the W1070, and BenQ reasons that those still using them might be ripe for an upgrade to 4K. So the W2700 has been designed to let them keep their mounts and their screens, and simply swap in the new 4K W2700 model with the minimum of fuss, and no fiendish new screen size and throw distance calculations required.
Technically, of course, this is a different beast; it's not even just a slight tweak of the W1700 model.
"With high-quality Ultra-HD material such as UHD Blu-ray, the image was astonishingly good…"
Even the case is different: a bit wider, not quite as tall. The enclosure is cream with grey front and back panels. A cluster of controls are on the top, along with a sliding panel that reveals the zoom, focus and vertical lens shift adjustments. All of those are mechanical; they physically wind the lens this way and that.
BenQ describes the lens assembly as a 'Precision 10-Element 8-Group All Glass 4K-optimized Lens Array'. No cheap plastic there. The lens is fully contained within the body lines of the unit. It looks a little odd because of a panel over the space through which the lens peeks (see main image). This looks like it's blocking the bottom half of the lens (or the top half if it's ceiling-mounted upsidedown). But in fact the geometry is such that the picture is cast slightly upwards (or downwards), clearing the barrier. Its purpose is apparently to reduce scattering of light at extreme angles and reflections from nearby surfaces.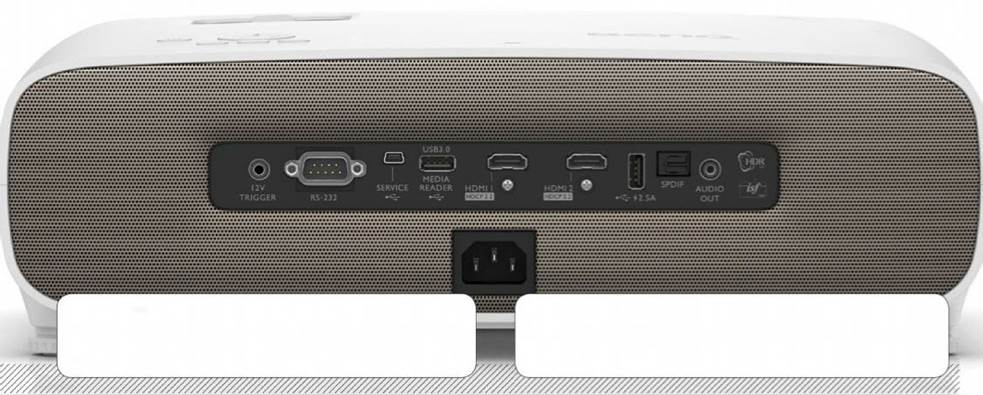 HDMI and USB
Both HDMI inputs support 4K signals, while there's a USB 3.0 slot for direct media playback. The second USB slot is just to supply power, handy if you keep, say, a video Chromecast plugged into one of the HDMI inputs.
Audio options
There are two speakers in the rear of the W2700, which could provide audio for ad hoc set-up, though of course we'd recommend a sound system suitable for a large-screen image! Optical and analogue outputs are provided.
At the back are the inputs and other connections, along with the two rear-firing speakers. Each of those speakers is supplied with five watts of power. BenQ has abandoned the D-SUB15 analogue video connection from the previous model, so it's all digital now. There are two HDMI inputs and both are rated at full UltraHD; they support 2160p/60 and HDR10 and BT.2020 signals, at least in some combinations.
There's also a USB 3.0 socket for media playback. Since it has speakers, the projector can strip out the audio from the HDMI signal. Or in preference to the speakers, it can provide sound output via optical S/PDIF and 3.5mm analogue stereo. There's also a trigger so the unit can be switched on and off by other devices.
The projector is fairly short in throw. The 1.3:1 zoom lens allows the projector to be placed between 2.502 and 3.278 metres from the screen to deliver a 100-inch (2.54 metre) diagonal. As noted BenQ says that it can be swapped in for a BenQ W1070 or W1070+, or indeed for a W2000, W1110 or W1090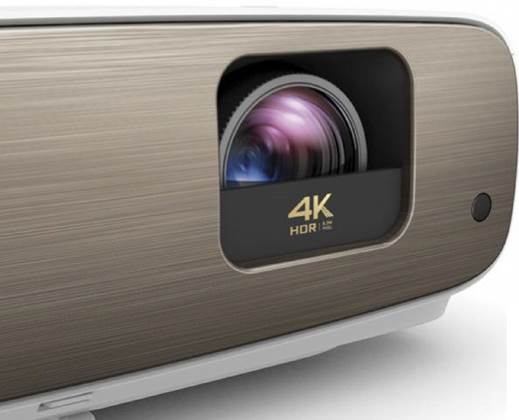 LENS BLOCKER: it seems like the panel covering part of the lens would block the picture, but the geometry avoids this, while the panel reduces scattered light and relections.
projector, and it will produce an image in the exact same place — except, of course, it will be an Ultra-HD image.
BenQ rates the output of the projector at 2000 lumens and its contrast ratio at 30,000:1 (up from 10,000:1 for the W1700). The lamp is rated at a life of between four and fifteen thousand hours, depending on the output settings. It comes with an infrared remote control. It does support 3D with the purchase of appropriate extras.
Performance
The first thing I did after connecting up the projector was run my standard Ultra-HD resolution test pattern. I'm pleased to report that the projector resolved the pixel-wide-or- tall lines so that they could be individually discerned (see image opposite). To be clear, they are a little smudged, not as cleanly etched as they are on an Ultra-HD TV. I reckon that could be achieved with a design change, such that the mirrors on the DMD and the spaces between them were of similar dimensions.
That would eliminate the remaining partial overlap between the shifted pixels. But that would also mean considerably reduced brightness since there'd be a markedly smaller reflective surface. Anyway, while imperfect, the line separation was the best I've yet seen from this breed of XPR DLP projectors.
The image was even across the screen, from corner to corner. There was no discernible colour separation at the extremes — no coloured halos around whites. Nor was there any noticeable DLP rainbow effect.
One side effect of the slight overlap of pixels over their neighbours was the complete absence of any screen-door effect at any viewing range, no matter how precisely I focused the projector. Stuff just looked like it was being projected from film, not a regular grid device.
With high-quality Ultra-HD content such as UHD Blu-ray, the image was astonishingly good. Particularly impressive was colour.
The bright palettes used in the recent UHD re-issue of The Fifth Element (see our UHD Blu-ray reviews) were near stunning in their richness and power. Korben Dallas' stateroom aboard the ship at Fhloston Paradise was delivered with an incredible power in its intense blue walls and gilt detail — the shiny brass, the fine lace, the near limitless detail everywhere. It was all simply magnificent. Black levels were subjectively deep. The out-of-the-box quality is a testament to BenQ's practice of performing factory colour calibration for every unit — they come with individual certificates.
As usual, I played a bit of Billy Lynn's Long Halftime Walk on Ultra-HD Blu-ray to make sure the projector could handle the high frame rate 2160p/60 video. It could, and by golly it looked smooth and sharp. But the projector seemed unable to support HDR signals, nor 10-bit colour depths, with this signal. Eight bits it was.
By contrast, with 2160p/24 content, the Denon AVR-X3500H AV receiver reported the projector accepting full HDR10, BT.2020 colour with 12 bits of colour depth and 4:2:2 colour resolution. Of course, accepting a signal and making full use of it are two different things. The projector takes, for example, that BT.2020 and maps it to its 100% of Rec.709 colour capabilities. It uses HDR10 fully, because the DMD panel is rated at 10-bit support.
One more thing on Billy Lynn. It also disclosed something I hadn't noticed before. Normally I just jump to somewhere in the middle of this movie. But this time I let it play from the start, through the logos of the various funding firms. And all of them juddered. I initially thought that this must have been some weird error by the projector, but that 60p video became gloriously smooth the moment the movie proper started. It seems that those logos had been crudely converted from 24p to 60p, leaving them juddering across the screen. Remember, DLP projectors switch their pixels on and off really, really fast, so there's no papering-over judder in the source material.
Using the test patterns on a Sony UltraHD Blu-ray (press '7669' from the main menu to access them), the projector in its default settings showed good and clear differentiation between brightness levels 0.005 nits and 0.01 nits. Both were brighter than indicated, I'd say, because the brightness scale was being mapped to the projector's contrast range. At the other end, it was barely possible to distinguish between 1000 nits and 1100 nits. The full range scale across the bottom of the brightness ramps showed a smooth gradient from full black to full white, without apparent steps. (That confirms that the projector is physically capable of more than 8 bits in the brightness scale.)
Of course, only a tiny proportion of the material available in 2019 appears in the form of Ultra-HD Blu-ray. With most regular Blu-ray content, the performance was also extremely good. The 24 to 60Hz cadence problems with early models in the Ultra-HD XPR range seem to have been eliminated. The engine clearly runs at 24 frames per second with 24fps content.
The scaling of 1080p to 2160p was very good. There was almost the same sense of detail as there was with Ultra-HD, particularly on recent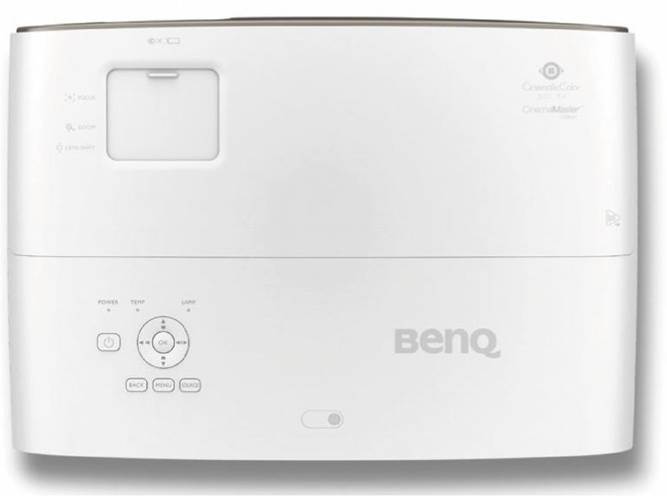 material. At the extremes, colours weren't quite as startling.
Rather to my surprise, this model incorporates a motion-smoothing system. It was off by default but it can be switched on through the Picture menu: choose Advanced then Cinema Master. There were three levels. At the highest setting it had only a mild effect, taking the edge off the enormous judder during the Chicago flyover in The Fugitive. And, you know, I was inclined to leave it on. Because while it smoothed just a little, it also managed to avoid doing any damage — there was no apparent 'heat haze' distortion, no fine detail shifting inappropriately in space, no seeming look of waxiness. No, it was all good, no bad.
Content at 50Hz was also handled without unfortunate cadence issues. Apparently the projector can kick into a native 25Hz/50Hz mode. But it's best to let your Ultra-HD Blu-ray player deinterlace the material. With 576i/50, the projector seemed to be locked into video-mode deinterlacing regardless of the actual content. With 1080i/50, the results were kind of weird, with the projector not only running in video mode, but breaking up fine detail in a strange way that defies my analysis. So just deinterlace at source and feed that to the projector.
Conclusion
The BenQ W2700 AV projector is a marked improvement over the W1700, yet sells for the same price. It's a real bargain, with that easy swap-in for owners of older projectors being an additional bonus. Stephen Dawson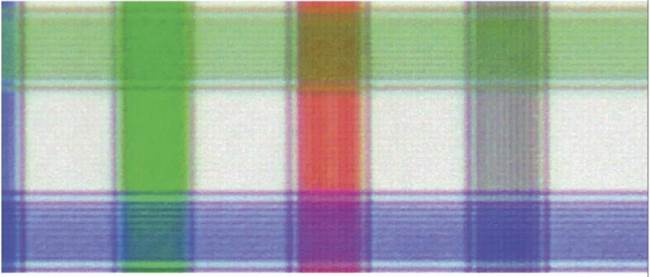 ▲ Close-up detail of the UHD test pattern delivered as video and captured photographically. The individual lines of pixels visible are a single pixel wide with a single pixel separation, showing that full 4K is delivered accurately.
Specifications
Tested with firmware: 1.0.0
Projection technology: 12mm FHD Digital Micromirror Device with XPR 4x pixel shifting technology
Output resolution: 3840 by 2160 pixels Aspect ratio: 16:9 Lamp: 245 watts
Lamp life: Normal 4000 hours, Economic 10,000 hours, SmartEco 15,000 hours
Contrast ratio: 30,000:1
Brightness: 2000 ANSI Lumens
Inputs: 2 x HDMI (both with UHD support)
Outputs: stereo analogue minijack, optical digital
Other: 1 x RS-232C, 1 x USB (to supply 2.5A power), 1 x USB 3.0 (media playback/firmware upgrades),
1 x USB Mini-B (firmware upgrades), 1 x 12V trigger
Audio: 2 x 5W speakers Dimensions (whd): 380 x 127 x 263mm Weight: 4.2kg
Warranty: Two years on-site pick up and return (Lamp – the earlier of 6 months or 750 hours use)
Contact: BenQ Australia Telephone: 1300 130 336 Web: www.benq.com.au
BenQ W2700 Home Cinema DLP Projector (4K UHD, HDR, 95% DCI-P3, 2000 ANSI lumens, 30, 000:1 contrast)
£1,398.99


£

1,299.00
in stock
13 new from £1,265.00
1 used from £1,400.00

as of September 18, 2023 10:33 am
Features
DLP projector type; home cinema application
Resolution 3840 x 2160 pixels (4K UHD); contrast/lumens 2000 ANSI lumens, 30,000 1 contrast
Features/Ports Cinematic Color (95% DCI-P3), HDR Pro (HLG + HDR10), Motion Enhancer 4K, Upscaling of Full HD Content to 4K UHD, Vertical Lens Shift; 2x HDMI (2.0 & HDCP 2.2), 3x USB (1x Mini B), D-Sub
2-year manufacturer's warranty. The warranty conditions can be found under "Further technical information." Your legal warranty rights remain unaffected
Box contents BenQ W2700 DLP projector white, manual CD, quick start guide, remote control incl. batteries, power cable, warranty statement