For its top-flight ultra-short-throw HU85LS, LG swaps out the standard lamp for something more cutting-edge. John Archer enjoys the light show. Read our LG HU85LS Review.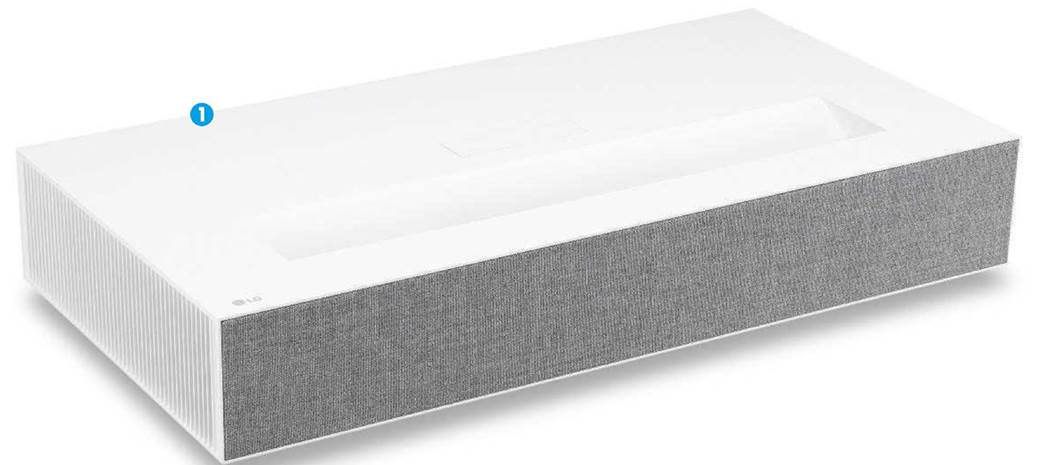 Ultra-short-throw 4K HDR laser DLP projector with smart features
LG's premium CineBeam projector
Optoma UHD52ALV; JVC DLA-N5
WHILE LG IS hardly the most prolific projector brand, it's got an uncanny knack for standing out from the home cinema crowd.
Its CineBeam HU85LS combines a 4K laser lighting system with ultra-short-throw (UST) optics and punchy built-in speakers to form an alternative to a bigscreen living room TV. The price tag will make many wince, but it's less than half the price of Sony's similarly themed VPL-VZ1000ES.
7Review earns Amazon affiliate commissions from qualifying purchases. You can support the site directly via Paypal donations ☕. Thank you!
See also TOP 15 projectors
When I say the CineBeam HU85LS is a short-throw projector, I mean it. Its front edge can nearly touch your wall and still deliver a focused image up to 120in. And it does this without any sagging on the picture's top edge, or the brightness hotspots or corner focus issues that can trouble UST designs. Very impressive.
The HU85LS looks nice, too. Its front side is completely covered in grey Kvadrat cloth, while the main bodywork is finished in a crisp, neutral white. The Kvadrat covers a forward-firing speaker system, while the sides sport attractively integrated cooling vents.
The rear carries a solid set of connections, including two HDMIs (one with ARC); USB ports for both multimedia playback and powering of dongle-style streaming devices; and an optical digital audio output. There's no 12V trigger, though, which is a surprising omission considering the PJ's price tag.
The HU85LS is much more affordable than Sony's laser-based UST projector, and much smaller too. This naturally leads to less space to accommodate a speaker system, but the PJ's ultra-short-throw approach still means that its stereo array (rated at a modest 2 x 5W) is more useful than those found in regular projectors. The LG's sound actually seems to emanate from the pictures it's supposed to accompany, rather than from somewhere across the room. Fire up the Adaptive Sound mode and there's a tangible expansion of its soundstage that's hard to reconcile with the claimed specification. Most TVs don't sound this good.
HDR U ready?
Impressive audio is just an accompaniment to the HU85LS's main dish of largescreen images. Here, a laser-lit DLP system is employed (rather than the LED implemention on its more conventional HU70LS 4K DLP beamer – see HCC #311), that enables 4K HDR playback.
HDR support is limited to HDR10, with no provision for the HLG format, or the dynamic metadata HDR10+ and Dolby Vision variants. The latter two formats are not yet supported by any other UK projector, however.
There's also no provision for 3D. While stereoscopy may have vanished from TVs, many projectors still deliver it, making use of the technology's immersive nature.
The 4K specification falls short of that of Sony's VZ1000ES. Instead of native 3,840 x 2,160 optics, the HU85LS generates its 4K picture by rapidly oscillating a 2,716 x 1,528-pixel DLP digital micro-mirror device, combining two separate off-set half-frame images into what emerges as a single 4K frame.
Once you've got the HU85LS setup, however, it delivers 4K sources – such as the crisp 4K Blu-ray of Guy Ritchie's The Gentlemen – with impressive amounts of sharpness
'With the projector switched to its Cinema picture preset, night-time sequences showcase solid, deep blacks' and detail. The native Sony model still edges it, but the HU85LS feels crisper than most single-chip DLP 4K models, and certainly more dense and textured than any Full HD beamer.
Setup is actually a bit fussy for a PJ with fire-and-forget aspirations. There are no optical image shifting or zoom tools to help, making precise positioning of the projector in relation to your screen essential. And getting the image's geometry perfect means wrestling with a complicated 12-zone keystone adjustment screen.
Aside from its sharpness (which extends to its handling of HD sources), the HU85LS's biggest picture attribute is its ability to adapt to both bright and dark conditions.
In bright rooms, the '3Channel' laser lighting system (which adds a red laser source to the usual blue one) pumps out light levels that seem to exceed the projector's claimed 2,700 Lumens. These cut through the few inches of ambient light between the projector's aperture and your screen effortlessly, delivering wonderfully intense visuals.
(Note that while the HU85LS's laser lighting means it doesn't utilise a colour wheel – as most DLP projectors do – I still experienced some noticeable 'rainbow effect', where colour stripes flit almost subliminally over high-contrast parts of the picture. Susceptibility to rainbowing varies from person to person, so try to demo the projector before you buy one to see how much it affects you.)
Colour handling in bright rooms is also note-worthy. Rated as reaching more than 90 per cent of the DCI-P3 colour space, the HU85LS brings out the deliberately 'amped' colours of Inside Out (4K Blu-ray). And its laser source – suggested to last more 20,000 hours – means colours should remain more or less stable throughout the projector's lifetime.
Hit the lights
The PJ retains a decent sense of contrast in dark areas when viewed in ambient light, but what sets it apart from many rivals is how effciently black levels hold up when you black-out your room.
With the projector switched to its Cinema picture preset, The Gentleman's night-time sequences showcase solid, deep blacks, rather that apologetic greys. It's a fine performance by 'living room projector' standards, although blacks don't run as deep during dark-room viewing as those you'd get from a lamp-based, true home cinema DLP projector, and fall well short of JVC's D-ILA projectors such as the DLA-N5. Still, this black level intensity feeds into colours giving them plenty of pop, while there's enough shading subtlety to ensure colours don't look forced or basic.
The HU85LS also gets plenty of mileage from HDR sources, thanks to its impressive brightness and the dynamic tone mapping system LG ports over from its 4K HDR TVs.
Other features borrowed from the brand's flatscreens are the TruMotion system for reducing judder – which is effective if used on a low 'strength' setting – and LG's WebOS smart platform, complete with its roster of video streaming apps. This is a feature that I wish more consumer-focused projectors would adopt.
The ultra-short story
The close-to-£ ticket of the HU85LS, its minor feature foibles, and the strong performance of conventional competitors, mean I can only give it a qualified rather than whole-hearted recommendation. It also faces stiff competition from Optoma's more affordable and smart-looking – but not as smartly specified – UHZ65UST [see HOC #306]. Yet it caters convincingly for both dark- and bright-room viewing in a way that's genuinely surprising. That should be reason enough to win it plenty of fans
VERDICT
LG HU85LS Review
Aside from a couple of compromises, LG's flagship CineBeam projector does an impressive job of coping with the varied demands of a living room installation.
Add your review
Best LG HU85LS prices in the UK ?

£

3,061.12

£3,326.98
1 used from £2,243.91
1 new from £3,061.12
in stock


£

4,219.19
4 new from £4,219.19
in stock

MORE DEALS

See also TOP 15 projectors

SPECIFICATIONS
3D: Yes 4K: Yes. 3,840 x 2,160 via Texas Instruments XPR technology HDR: Yes. HDR10 CONNECTIONS:2 x HDMI inputs; 3 x USB (one powered); optical digital audio output; Ethernet BRIGHTNESS (CLAIMED): 2,700 Lumens CONTRAST (CLAIMED): 2,000,000:1 ZOOM: N/A DIMENSIONS: 680(w) x120mm(h) x 347(d) mm WEIGHT: 12.2kg
FEATURES: 3Channel laser lighting system; DLP optical engine; 2 x 5W built-in (forward-firing) audio; powered USB input; 20,000-hour claimed laser life; built-in WebOS smart platform; HDR tone mapping; TruMotion; 0.19:1 throw ratio; 26dB claimed fan noise (Eco mode); MiraCast; Bluetooth sound output; 12-point digital keystone correction; Dynamic Contrast; white balance, gamma and colour control
PARTNER WITH
SONY WH-1000MX3: With a successor model due soon, Sony's Bluetooth active noise cancelling headphones have seen their price fall to around £. These are a superior performer, with excellent imaging and clarity, and a wide soundstage.
1. A Kvadrat grille gives the HU85LS a touch of living-room style
2. Rear-panel connections include two HDMI inputs