Is BenQ's flagship DLP 4K PJ as accurate as the company claims, asks Steve Withers? Read our Benq W5700 Review.
AV INFO
PRODUCT: 4K UHD single-chip DLP projector
POSITION: Flagship model in CinePrime series
PEERS: Vivitek HK2288; Optoma UHD65; Epson EH-TW9400
BenQ has made some bold boasts about its new CinePrime series of projectors, and especially the flagship W5700 reviewed here. As with the lower-cost W2700 [see HCC #299], it incorporates CinematicColor technology, but here the company claims it reaches 100 per cent of the wide colour gamut used by UHD Blu-rays, making it the first single-chip DLP 4K home projector to achieve the feat.
1. BenQ's remote is easy to use and offers all key controls
2. The projector's all-glass 11-element lens is optimised for 4K
7Review earns Amazon affiliate commissions from qualifying purchases. You can support the site directly via Paypal donations ☕. Thank you!
See also TOP 15 projectors
BenQ is so confident of the W5700's ability to accurately deliver the video industry's colour standards of REC.709 and DCI-P3 that it even includes a verifying factory calibration report. I'll be taking my own measurements to check the veracity of BenQ's claims…
Spin the wheel
The W5700 uses the latest version of Texas Instruments' XPR (expanded Pixel Resolution) technology, which is backed up by a 245W lamp generating a decent 1,800 Lumens of brightness. There's also a six-segment RGBRGB colour wheel that generates all those extra colours while keeping rainbows to a minimum.
Naturally the W5700 supports HDR (HDR10 and broadcast HLG). However, it also includes BenQ's HDR-PRO technology for improved tone mapping, along with CinemaMaster Video+ processing.
It looks the part of a range-topping model, with an attractive matte-black finish suited to home cinema installations. Clever touches in the design include an anti-dust hood around the lens (although this only works when it's ceiling mounted), louvered air intakes to reject dust from the cooling system, and a patterned lens ring to minimise light leakage from the optical engine.
The latter is built around an 11-element all-glass lens array that's been optimised for 4K.
The W5700's single-chip DLP design eliminates convergence issues, and when combined with this lens the pictures are incredibly sharp.
There's a plethora of connections at the rear, with two HDMI v2.0b inputs that are HDCP 2.2 compliant, and three USB ports. One can be used to power an HDMI streaming stick, and for that reason BenQ also includes an optical digital audio output and a 3.5mm
analogue jack, but given the home cinema aspirations there are no built-in speakers. Automation options include a 12V trigger for syncing with an electric screen.
You'll find some basic controls at the rear of the PJ, but it also ships with a matching, well-designed black remote.
It has a backlight, essential for use in a dark home cinema.
The W5700 has vertical and horizontal shift controls on the top, and rings around the lens for zoom and focus. These controls are extremely flexible thanks to a 1.6x zoom and a lens shift that can move 60 per cent either way vertically and 23 per cent horizontally. That kind of latitude should ensure easily installation in a dedicated room.
The lack of any motorised controls excludes the inclusion of a lens memory, making the use of a 'Scope ratio screen impractical – unless you fancy manually re-sizing the image every time you change aspect ratio.
Out of the box
The factory calibration report shows the model and individual serial number of the unit, and confirms compliance with D65 and 100 per cent of REC.709 and DCI-P3 to a deltaE (error) measurement of less than three (which is the visible threshold). This is important because video content is produced using the industry standards of D65 for white, and the REC.709 colour gamut for SDR and DCI-P3 for HDR. If the display matches these standards, then what you're watching is exactly what the creators want you to see.
Initial scepticism faded once I measured the W5700 producing white and colour measurements with errors that were all below three. The PJ also delivered 100 per cent of both REC.709 and DCI-P3, which is genuinely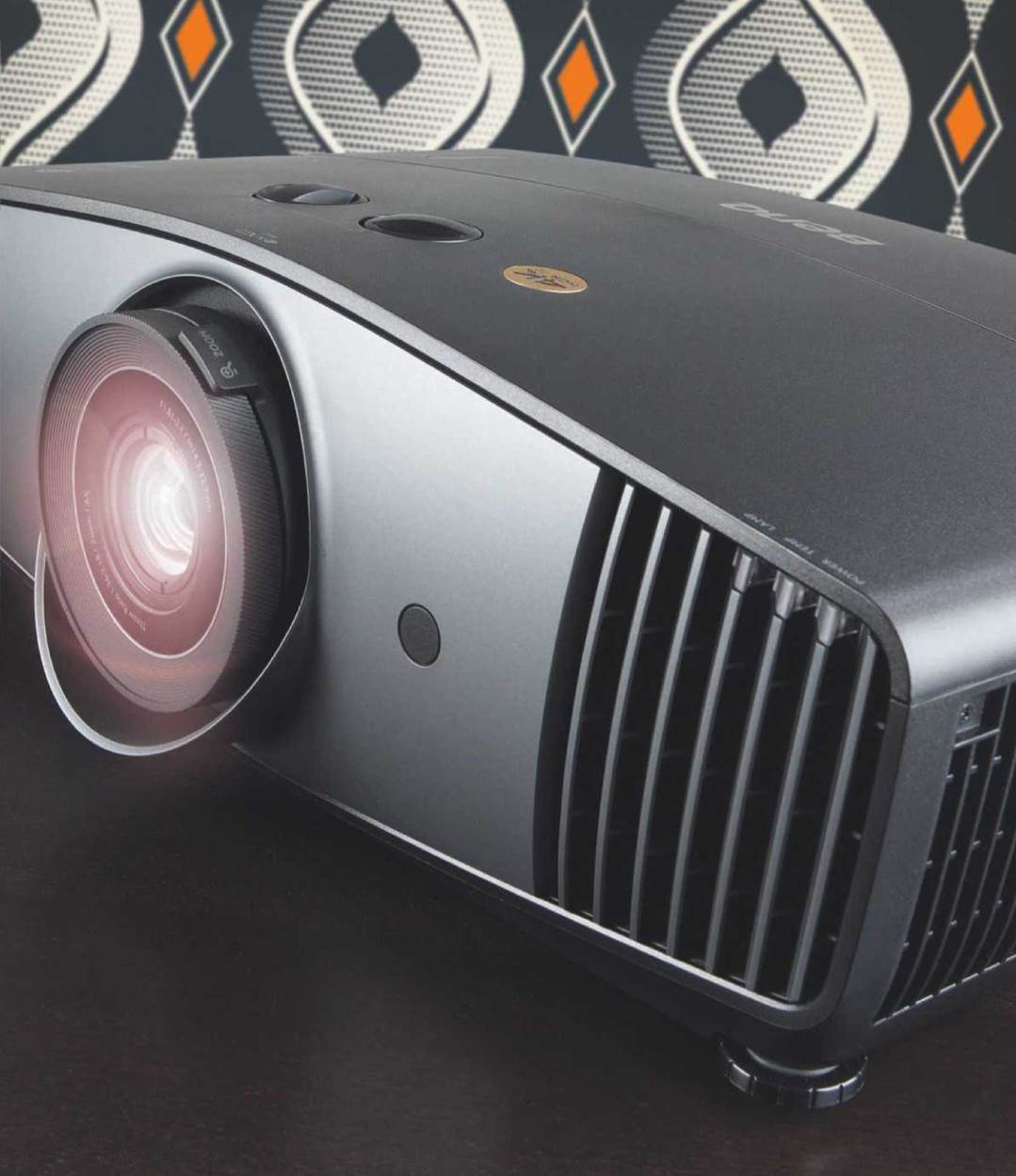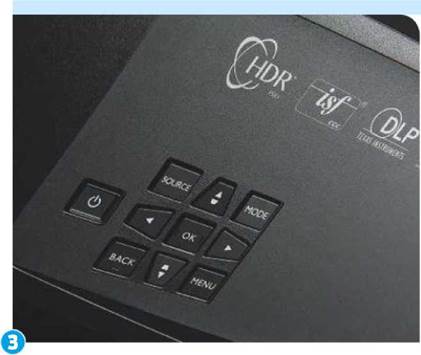 impressive because in the past single-chip DLP machines have struggled to even hit 100 per cent of REC.709.
And the BenQ didn't just excel in terms of its accuracy; the overall picture is equally appealing. Watching The Expanse on Amazon Prime in 4K SDR reveals images that are often spectacular. The projector might not be native 4K, but its XPR trickery results in perceived 4K images that don't reveal any pixel structure, even when viewed up close.
An orbital assault exposes all the detail in the intricately rendered spaceships and station, while highlighting a DLP strength: smooth and judder-free motion. The sunlight reflecting off the ships' hulls is suitably bright and the blacks of space are deep enough to leave the dynamic iris off. The projector's adherence to REC.709 also ensures stable colours and excellent flesh tones.
BenQ's CinemaMaster Video+ processing suite offers controls for Colour Enhancer, Flesh Tone, 4K Pixel Enhancer and 4K Motion Enhancer. The first two seem redundant considering the colour accuracy, and the same goes for the last when you consider motion handling is a DLP strength. The 4K Pixel Enhancer is useful with lower-resolution content, but in general I left all these controls off.
The Expanse takes a realistic approach, and as a result colours are often muted. This is not the case when it comes to Star Trek: Discovery, 1080p on Netflix but also in HDR.
In the penultimate episode of Season Two, Captain Pike walks on to the bridge of the USS Enterprise, and the classic 1960s set is presented in all its Technicolor glory.
Alone in the dark
At 1,800 Lumens the W5700 is hardly a light-cannon, but that shouldn't be an issue in a dedicated room. If you're thinking of a normal living space, the W2700 might prove a better choice. BenQ employs a colour filter to reach 100 per cent of DCI-P3, which unfortunately reduces the light output further, but that's a compromise you'll have to make if you want colour fidelity.
The W5700's tone mapping delivered some impressive pictures. For the best results you will need to engage the dynamic iris, which increases the brightness and deepens the blacks without noticeably pumping the image. The frequent lens flares in Star Trek: Discovery certainly exhibited a lovely specular pop.
The sequence in Lucy (UHD Blu-ray) where Scarlett Johansson escapes her captors includes some difficult mixed-contrast content that allows the W5700 to display its strengths and also a specific weakness. Close-ups of Johansson reveal every pore of her skin, and her blonde hair and artificially blue eyes look spectacular. As she shoots her way out of the factory the sparks in the background are delivered with a glowing intensity.
However, even with the dynamic iris on, the darker corners of the factory lack shadow detail, and the blacks themselves are more a very dark grey. This is an inherent weakness of DLP but in a blacked-out home cinema, which is the projector's target environment, there's nowhere to hide and these limitations become more apparent.
While the tone mapping is effective, a film like Overlord on 4K disc pushes the projector's HDR capabilities to its limits. There's a sequence near the beginning, involving a landmine, that takes place in a darkly lit field. The greens and browns that dominate the colour scheme are wonderfully nuanced but the scene is often too dark, although using the HDR Brightness control can help.
At this point it's also worth mentioning this projector's other flaw: its operating noise. The actual fan isn't too loud at around 30dB, but there's also the sound of the colour wheel and the XPR feature, while the dynamic iris is annoyingly noisy too. There's a Silent mode that turns off XPR to make the projector quieter, but then you're simply looking at a 1080p image.
If you're a fan of 3D Blu-ray the W5700 is right up your street, with a total absence of crosstalk, smooth motion, and images that are detailed and accurate. Brightness takes a hit because of the spex, but the miniaturised mayhem of Ant-Man and the Wasp looks awesome, especially when the frame opens out for IMAX sequences.
Home cinema star
Overall, this is a superb UHD projector that boasts previously unobtainable colour coverage for a DLP display and a remarkable level of accuracy. Design and setup are home cinema-friendly. Brightness is somewhat limited but HDR performance remains impressive, and motion handling and 3D are both excellent. Audition one
VERDICT
www.benq.eu
Recommended
Benq W5700 Review
This high-end 4K DLP XPR projector delivers exceptional accuracy and awesome bigscreen images. The blacks could be better, but it's still amazing value.
Add your review
|
Read reviews and comments
Best Benq W5700 prices in the US ?

$

156.89
1 new from $156.89
in stock


$

4,349.55
2 new from $4,349.55
in stock

Best Benq W5700 prices in the UK ?

£

168.97
1 new from £168.97
in stock


£

2,399.00
2 new from £2,399.00
in stock

MORE DEALS

See also TOP 15 projectors
SPECIFICATIONS
3D: Yes. Active 3D (glasses optional) 4K: Yes. 3,840 x 2,160 (Texas Instruments XPR) HDR: Yes. HDR10; HLG CONNECTIONS: 2 x HDMI inputs; optical digital audio output; 3.5mm audio output; RS-232; 12V trigger; Ethernet; IR-IN jack; USB 3.0 media reader; USB 2.0 media reader; powered USB 2.0 port BRIGHTNESS (CLAIMED): 1,800 Lumens CONTRAST (CLAIMED): 100,000:1 (dynamic) ZOOM: 1.6x DIMENSIONS: 492(w) x 168(h) x 349(d)mm WEIGHT: 6.5kg
FEATURES: Single-chip DLP system; lamp life rated at 4,000 hours (Normal); 10,000 hours (Eco), 8,000 hours (SmartEco); 1.36-2.18:1 throw; CinematicColor with 100 per cent DCI-P3 coverage; HDR-PRO tone mapping; CinemaMaster Video+ processing; ISF Day/Night presets; vertical and horizontal lens shift
PARTNER WITH
LUCY: Don't own this on 4K BD? Then you're missing out. Scarlett Johansson is perfect as the titular, chemically enhanced super-being going up against legions of goons in Luc Besson's frenetic sci-fi. HDR visuals and Atmos audio are first-rate.
3. HDR-PRO is the name of BenQ's bespoke tone mapping engine