LG's fine-tuned OLED impresses Steve May – even with an obvious spec-sheet omission
The LG E9 is an exceptional 4K flatscreen. Available in 65in (as tested here) and 55in guises, it's the top-ranked integrated OLED in LG's 2019 lineup, positioned above the C9 and B9. Burdened with glorious functionality, it employs the second- generation Alpha9 intelligent picture processor and offers support for high-frame-rate 4K sources via HDMI 2.1. Inevitably, there's a caveat. But let's not get ahead of ourselves.
av info
PRODUCT: 65in 4K HDR OLED
POSITION: Flagship integrated OLED, positioned above the B9 and C9, but below the 'wallpaper' W9
PEERS: Samsung 65Q90R; Sony KD-65AG9
1. LG's curved handset supports voice interaction
2. Speaker drivers are hidden in the bezel below the screen
Bitdefender | Awards Campaign LP | .com
With coupon code: 7RW20, Audio Affair will give you £20 off all orders over £250. Sales items and some brands including Audio Pro, Pro-Ject, Kanto Audio and Audioengine are excluded from the discount code .
7Review earns Amazon affiliate commissions from qualifying purchases. You can support the site directly via Paypal donations ☕. Thank you!
Predictably thin, with a nigh-on invisible rim holding its glass in place, the E9 has catwalk good looks. And function supports form.
The forward-facing sound system, much like the OLED panel itself, is impressively thin. Beneath the driver array is a transparent perspex lip which not only gives the illusion that the set is floating, but cleverly helps stabilize it, with the aid of a heavy pedestal counterweight hidden behind the screen.
All four of its HDMI inputs are freshly-baked 2.1, which in terms of future-proofing could be a big deal. On last year's LG OLED screens, high-frame-rate (HFR) support was only available for USB content; with the adoption of HDMI 2.1, HFR 4K support, along with eARC,
VRR (Variable Frame Rate) and ALLM (Auto Low Latency Mode) are now standard. Not essential upgrades, but good news for serious gamers.
Additional connectivity includes a trio of USBs,
Ethernet, an optical digital audio output and a mini headphone jack (which I doubt will ever get used).
Wi-Fi and Bluetooth are options for streamers.
LG has tidied up the interface of its WebOS smart platform for 2019, and the result is a cleaner user experience. Not only are there fewer apps (down from 35 to 16) shown in the ThinQ AI launcher bar, it also occupies less screen space.
Use the Intelligent Edit feature to better customise onscreen options to suit your viewing habits.
The launcher bar still offers access to various streaming apps, including NOW TV, Netflix, Amazon Prime Video, Rakuten TV, BBC iPlayer, ITV Hub, All 4 and Demand 5 – the latter four carried via the TV's implementation of a Freeview Play tuner.
A secondary preview bar interrogates streaming apps to provide a list of selectable content.

LG's ThinQ AI voice control is also smarter this time around, in that it now understands context so interaction becomes more conversational. Google Assistant is also built-in, and there's compatibility with Amazon Alexa and Apple AirPlay 2.
Familiar feel
Unsurprisingly, given the set's premium aspirations, its image quality is superb. The E9 offers pin-sharp detail and vibrant colour fidelity, with reassuringly deep black levels and copious shadow detail – attributes we know and love from OLED.
Out of the box, the default picture mode is Eco; while undoubtedly worthy, it's not recommended and should be changed to one of the other presets.
The selection includes Cinema, Sports, Game,
HDR Effect, Vivid and Standard. Most users will gravitate to the latter, for good reason. The colour temperature here and overall brightness level is ideal for everyday viewing.
Included as part of this preset bouquet is Deep Learning AI picture management, which allows the panel to better display shadow detail by reacting to viewing light levels and adjusting tone mapping accordingly. This algorithm has, says LG, been crafted from a database of millions of data points covering source recognition and picture optimisation. Such content and quality analysis represents a significant evolution in picture processing technology, and I found no obvious reason to deselect this when the screen is used in a regular living room environment.
LG's menu system remains complicated and a tad confusing, but there's not a lot of tweaking necessary; just keep noise reduction and smooth >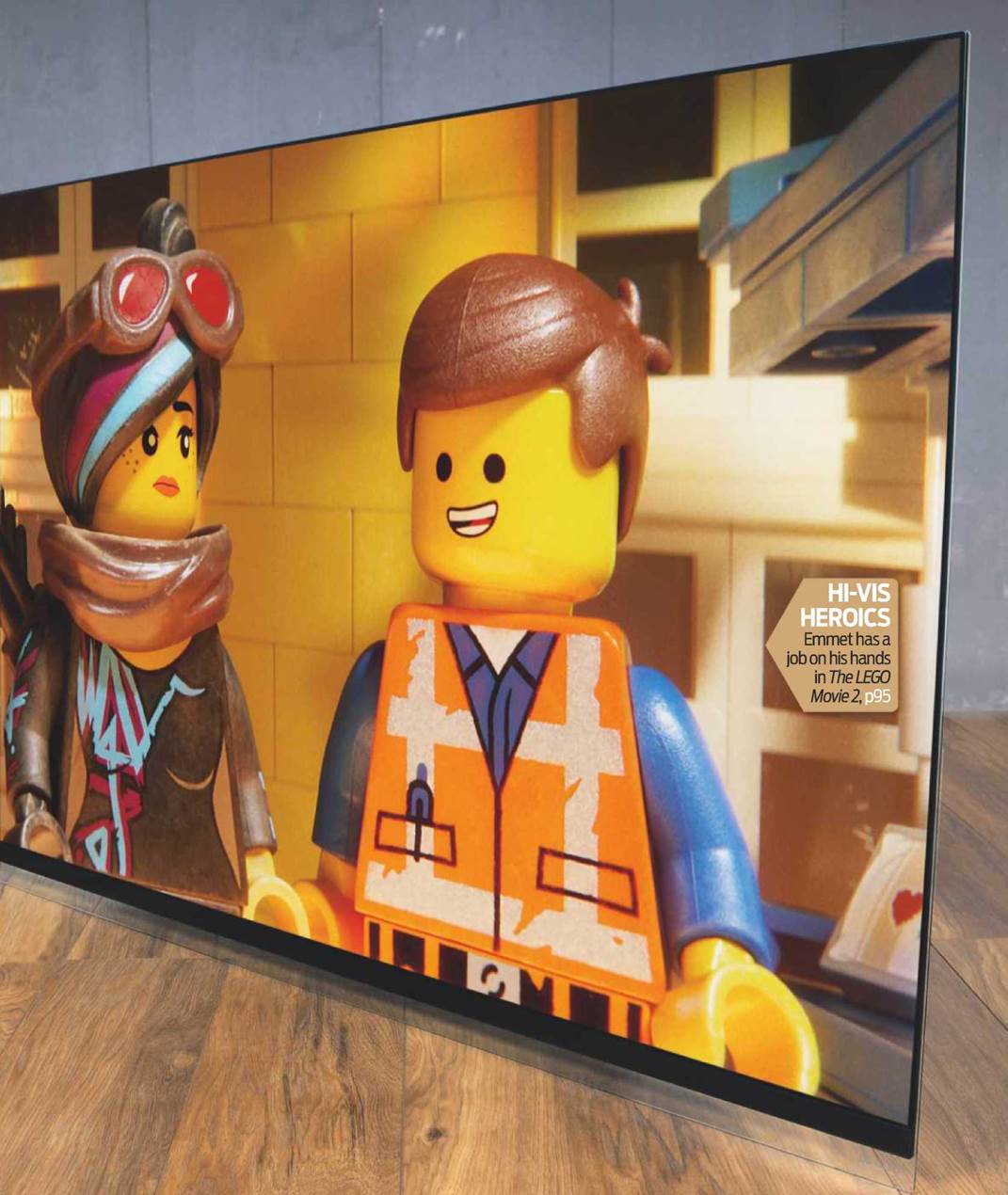 gradation settings low, unless you have low-quality sources that demand some help.
Standard bearer
Fed an HDR10 source (most 4K Blu-rays), picture presets switch to Cinema Home, Cinema, Game, Technicolor,
Vivid and Standard. Of those, the Technicolor and Cinema options are too dull to enjoy; there's a colour cast which really doesn't celebrate the benefits of the OLED panel. Cinema Home, which has increased mid-tone luminance, and Standard both provide a more satisfying viewing experience. Note that the preset choice narrows again when Dolby Vision content is detected.
The E9's HDR performance is largely in line with what we expect from a premium OLED display. The panel burns brighter with a smaller 5 per cent HDR test window than a 10 per cent one, which bodes well for its real-world HDR performance, as specular highlights are generally fleeting and small. HDR highlights peaked at 843 nits in a 5 per cent window, and on average managed around 800 nits. This is virtually identical to the performance of LG's 2018 OLED displays.
What you really need to know is that the opening space battle in Star Wars: The Last Jedi (Ultra HD Blu-ray) looks gloriously dynamic, with its fiery explosions juxtaposed against deep, black space. There's visceral punch to this LG's HDR imagery.
Dolby Vision performance is sumptuous too, as evidenced by stop-motion animation Rilakkuma and Kaoru (Dolby Vision, Netflix). The detail and nuance evident in the fluffy bear characters is exquisite; exterior shots of fabric cherry blossoms bathed in bright sunshine have almost three-dimensional depth (and no, the set isn't 3D compatible).
DV grading always seems spot on. The Californian beach scenes in Dead to Me (Netflix, see p102) have
The E9 offers pin-sharp detail, vibrant colour fidelity, reassuringly deep blacks and copious shadow detail
enticing warmth, while zombie drama Black Summer (also Netflix), with its colour denuded palette and extreme detail, looks terrifyingly realistic.
Near-black shadow performance is an area where rival OLED brands are doing battle. For what it's worth, I spied no low-level 'flashing' during my audition, something noted on 2018 screens under certain conditions in areas of near black. Peering into the Gothic murk of What We Do in the Shadows (Amazon Prime) revealed nothing more than expected tonal variations. Running through the subterranean sequences in Resident Evil: The Final Chapter (UHD Blu-ray) revealed plenty of low-level noise, but this isn't particularly detectable at a normal viewing distance.
The brand's frame interpolation toolbox is impressive. Trumotion can be switched off, or run with Smooth, Clear or User determined dejudder and deblur (my preference is for de-judder on or near zero, and de-blur close to 10; yours may vary). Clear processing does introduce minor artefacts, but for general TV content and sports (I experimented with tennis and Formula 1), it looks fine. For movie playback I would typically turn the setting off completely. The Motion Pro option is actually a Black Frame Insertion tweak, albeit one that introduces flicker and stutter.
Deeper control can be had through Dynamic Contrast, Dynamic Colour, Super Resolution, and Dynamic Tone Mapping tools. The latter has been given an overhaul this season, with improved signal range detection algorithms. Tone mapping is also now optimised for panel type.
Of course, not everything you'll watch is in HDR, and some questions remain over the E9's treatment of SDR. Doing time with Orange is the New Black (Netflix), the image looks over-egged when HDR Effect is engaged.
It's certainly not as satisfying, or convincing, as Sony's Object Based HDR Remastering default setting.
Assured audio
The E9 impresses sonically. The TV may flaunt a wafer-thin design, but makes a fine noise, even if the sound output – designated as 4.2-channel – still sounds basically stereophonic. Dialogue is crisp and clear, with appreciable mid-range. When Supreme Leader Snoke makes his displeasure felt at the downing of the Dreadnought, in …The Last Jedi, there's reassuring rumble and menace to his voice.
Dolby Atmos decoding is onboard (as well as processing to upmix stereo sources to virtual surround), but obviously the TV can't do that much with the immersive audio format. You'll want to export an Atmos bitstream to a soundbar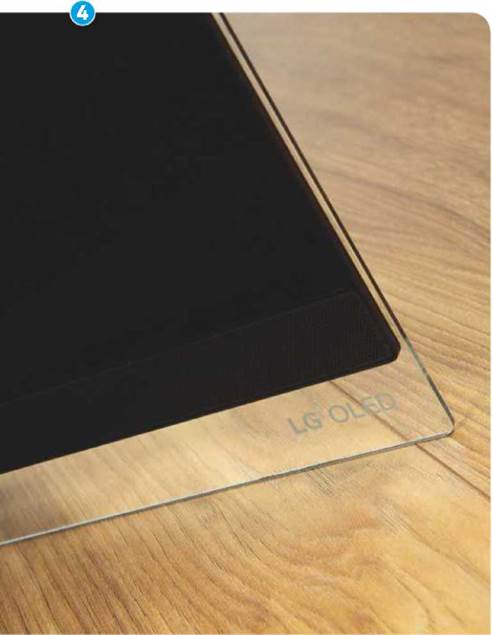 or AV system. Still, as far as integrated audio systems go, this is one of the better factory options.
New this year is support for the WiSA wireless audio standard. Speakers connected via WiSA rather than Bluetooth, as used by LG in 2018, offer better latency performance and have support for 5.1 multichannel connections. Unfortunately I couldn't actually test this, as no WiSA-compatible speakers were supplied.
Gaming performance is excellent, provided you utilise the Game preset, where measured input lag is just 12.8ms. And console junkies will appreciate the inclusion of Auto Low Latency Mode and Variable Refresh Rate from those HDMI 2.1 ports. Enabled by the in-menu Fast Game Response setting, the TV should auto switch to a Game mode when receiving an ALLM signal.
Ready for battle
There remain some quirks (I'm not a fan of HDR Effect), but generally speaking the E9 is a fabulous performer, with a host of cutting-edge features. There's actually scant difference across the various LG OLEDs. Points of difference are largely cosmetic and reflect the various sound solutions offered. Here the overall design of the set is a real crowd- pleaser, and its onboard audio is often bafflingly good.
Of course, the elephant in the room is HDR10+, the rival dynamic metadata standard to Dolby Vision. It's not clear if this will gain significant traction, although the system is widely used by Amazon Prime Video, and is finding its way onto Blu-ray discs. Its absence here puts the E9 at a tick-box disadvantage if you want your next TV to be as future-proof as possible. It also leaves LG vulnerable to incoming OLED models from Philips and Panasonic that support HDR10+ and Dolby Vision. Yes, the E9 is good, but we won't know just how good until the latest Philips and Panasonic sets hit the HCC test bench
VERDICT
LG OLED65E9PLA Review
First-class picture performance makes this a cinematic treat, and functionality is leading edge. But how significant is the lack of HDR10+?
Add your review
|
Read reviews and comments
Best LG OLED65E9PLA prices ?
MORE DEALS

3. The set uses LG's second-generation Alpha9 processor
4. A perspex lip on the TV's lower edge gives it a floating vibe
SPECIFICATIONS
3D: No 4K: Yes. 3,840 x 2,160 HDR: Yes. HDR10; HLG; Dolby Vision; Technicolor TUNER: Yes. Freeview Play; satellite HD CONNECTIONS: 4 x HDMI inputs; 3 x USB; Ethernet; digital optical audio output; headphone output SOUND (CLAIMED): 60W BRIGHTNESS (CLAIMED): N/A CONTRAST RATIO (CLAIMED): N/A DIMENSIONS (OFF STAND): 1,447(w) x 877(h) x 50.3(d)mm WEIGHT (OFFSTAND): 20.8kg
FEATURES: Built-in Wi-Fi; WiSA wireless connectivity; Bluetooth; USB multimedia playback; second-generation Alpha9 processing engine; WebOS with ThinQ AI; voice control; Google Assistant built-in; Amazon Alexa; Apple Airplay 2; HDMI 2.1 specification (includes eARC, VRR, HFR)
PARTNER WITH
LG SL9YG: Toward the top of LG's 2019 soundbar range is this Dolby Atmos/ DTS:X model developed in conjunction with Meridian Audio. Upfiring drivers handle the .2 height channels – an optional extra is the SPK8 wireless rear bundle.