Optoma's 4K HDR hero gets a voice control update, but is it a smart move wonders Steve May?
Dawn of the 4K smart projector
All but identical save for the provision of Wi-Fi and smart home functionality, the UHD51A is the brainier brother of Optoma's UHD51 released last year. You no longer have to wield a remote to power up, select inputs or fiddle with modes – you can use voice instead… provided you have the patience to make it all work.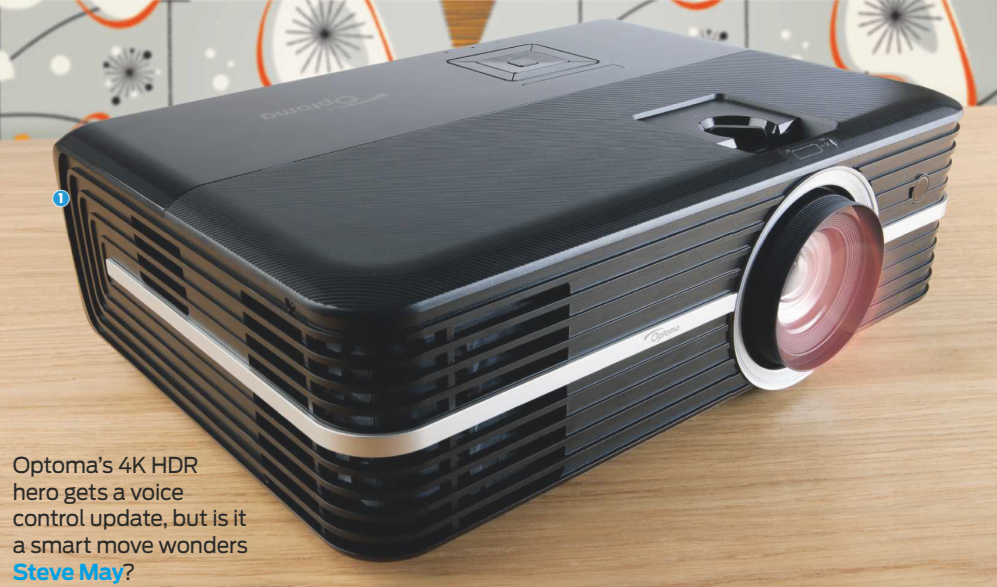 In addition to the Amazon Alexa support spotted on rival models, Optoma has introduced Google Home integration and even IFTTT (If This Then That) functionality. So is this 4K HDR projector something to shout about?
Ins and outs
Gloss black, with a silver trim, the UHD51A is reasonably compact and nicely finished, and at 5.22kg it's suitable for both shelf- or ceiling-mounting. Its back-panel
product:
Smart 4K DLP projector
7Review earns Amazon affiliate commissions from qualifying purchases. You can support the site directly via Paypal donations ☕. Thank you!
See also TOP 15 projectors
POSITION:
Middle of Optoma's PJ range, below UHD65 and UHZ65 (laser) models
connections are comprehensive, and include two 4K-ready HDMI 2.0 inputs, plus a PC VGA port, audio minijack input/output and optical digital audio output. There are twin USB media ports too (the media player is quite versatile, handling MKV and MPEG video files) and one of these can be used to power an HDMI dongle.
A third USB is provided for a Wi-Fi dongle (wireless support isn't built in). There's also Ethernet, plus RS-232 for system control and a 12V trigger to sync with screen and AV receiver.
As you might expect for this category of projector, there's also a basic 2 x 5W sound system onboard, which is useful if you're not opting for a permanent install.
The UHD51A is fun to drive. It sports a snazzy, graphical interface with coloured tiles that's more intuitive than the familiar projector-menu text box. The experience is not unlike using a TV.
The supplied remote control also makes a play at streamlining operation, although it's not backlit, which is a disappointment. Unlike more typical PJ remotes, this has a simple thumbwheel design, augmented with a few keys, including Home, Back and volume control. This selection is mimicked on top of the projector, should it be more convenient to use on-body controls.
Physical setup is straightforward, with an internal test pattern generator on hand to sharpen everything up, and a moderate degree of vertical lens shift (+10 per cent) to align with your screen. Given the relatively low asking price of the UHD51A, you shouldn't be surprised to find that the focus and zoom controls are manual. A 1.3x zoom combines with the lens arrangement to deliver a throw ratio of 1.2-1.59:1.
Optoma may have bigscreen projection down pat, but network functionality is as slick as gravel. To activate the projector's smart skillset, you'll need to register and pair it on Optoma's Device Cloud database.
You can then enable the Amazon Alexa skill 'Optoma SmartProjection for Smart Home', or convince your Google Home to link with the product. The user experience here is horrible, requiring you to jump between apps, with Optoma as an intermediary.
'In addition to Amazon Alexa support, Optoma has introduced Google Home integration and even IFTTT'
Alexa voice control is limited to power, input, volume and USB media player control. Google Home control allows you to dig a little deeper, such as selecting display modes and activating the UHD51A's image interpolation. IFTTT is a little different, in that it allows more seamless integration through the use of applets.
You could use a cinematic Philips Hue lighting scene to trigger the projector powering up, for example. That said, you'd need to be a serious smart home geek to want to master IFTTT protocols.
Welcome Discovery
The dubious value of smart functionality aside, the UHD51A's image quality immediately gets a thumbs up. With both HD and UHD sources, there're admirable levels of detail on screen. For sheer eye-candy thrills, Star Trek: Discovery (Netflix, HD HDR) allows this Optoma to shine, finding cinematic beauty in its showcase VFX. Meanwhile, the outlandish Warcraft (Sky Cinema UHD) looks supremely naturalistic. Orcs really are quite fetching in 2160p.
Brightness is rated at 2,400 Lumens, with a 500,000:1 dynamic contrast ratio. In the real world, this equates to the UHD51A being bright enough for use in rooms with some ambient light.
The projector is at its quietest with the lamp brightness in Eco mode. This robs images of peak white snap, but isn't too high a price to be paid in a dark-room environment. Operating noise is quite high, though. While Optoma claims 25dB in Eco mode, the spinning DLP colour wheel has a distinct sound signature.
Lamp life is rated between 4,000 and 15,000 hours, depending on the light mode chosen.
The projector is HDR compatible, and actually makes a good fist of high dynamic range content (given that consumer projectors really can't produce spectral highlights like a TV can). The best you can hope for from any HDR projector is appreciable punch, and this model
1. The projector's throw ratio of 1.2-1.59:1 is suited to small/medium rooms
2. A tidy remote, but not backlit

has a fair stab. However, with some programmes the image can look overly dark.
When fed SDR content, there are a variety of image presets to choose from: Cinema, HDR Sim, Game, Reference, Bright and User. Cinema proves to be the most satisfying and well-balanced.
Image lag is rated at 70ms in Game mode. You'll probably think this fine for general gaming, but not so much competitive fragging. It's actually less impressive
'The outlandish Warcraft looks supremely naturalistic on this PJ. Orcs really are quite fetching in 2160p'
than the more affordable UHD40 in this regard, but that's presumably down to the PureMotion image processing adding unwanted latency.
Ready to REC.709
The UHD51A uses a six-segment RGBRGB colour wheel that covers a claimed 100 per cent of the REC.709 colour space found on SDR Blu-ray, although DCI-P3 coverage falls short. Subjective vibrancy is high, however; bright primaries have a convincing level of saturation, courtesy of TI Brilliant Color processing.
A single-chip DLP device, Optoma's beamer is built around Texas Instruments' XPR (eXpanded Pixel Resolution) 0.47in DMD device, which uses clever image switching to deliver an 8-million pixel image to the screen. It's not native 4K, but you'll be hard-pressed to tell. Certainly, with native 4K content, image quality is demonstrably sharper than Full HD.
As with the UHD51 [see HCC #287], I wasn't aware of DLP rainbow flicker, something worth noting if that image artefact has bothered you in the past.
A bonus for home cinephiles is the projector's 3D capability, and it impresses with stereoscopic material.
As Ridley Scott's Prometheus (3D Blu-ray) opens, we're literally flying along the planet's surface. When we land at the thunderous waterfall, it appears to go back at least a mile; there's genuine spatial dimensionality to the image. 3D pictures are presented at 1080p.
Black level performance is fine for the price point, as is the model's overall contrast. If you want to enhance blacks, there's a Dynamic Black mode to experiment with, but while this improves image dynamics, it does crush shadow detail.
Topical update
It's easy to be impressed by Optoma's UHD51A. It's a well built, high-performance 4K projector, bolstered by topical smart home functionality. Image quality is generally great, and its 3D performance entertaining.
The provision of voice control, however, is a mixed blessing. If your smart assistant of choice is Amazon Alexa, then there's little here in terms of functionality which warrants the time spent setting the system up, or the price hike over the original UHD51. Google Home users are at least offered a most comprehensive range of control options, but actually using them still seems more gimmick than godsend. The IFTTT functionality potentially has the most to offer, but this is more likely to be programmed by an AV professional as part of a larger integrated system install.
Overall, this is an intriguing update on a fine projector, but ultimately perhaps little more than a stopgap until the next wave of TI 4K DLP chips enter production
HCC VERDICT
OPTOMA UHD51A REVIEW
We're not convinced smart voice control adds very much to the home cinema projection experience, but the UHD51A impresses where it counts - and that's onscreen.
Add your review
Best OPTOMA UHD51A prices in the US ?

$

1,998.00

$2,439.97
4 used from $999.99
2 new from $1,998.00
in stock

Best OPTOMA UHD51A prices in the UK ?

£

373.05
1 new from £373.05
in stock

MORE DEALS

See also TOP 15 projectors

SPECIFICATIONS
3D: Yes. Active 3D (glasses optional) 4K: Yes. 3,840 x 2,160 HDR: Yes. HDR10 CONNECTIONS: 2 x HDMI v2.0 inputs; PC VGA input; audio minijack input/output; optical digital audio output; 4 x USB ports (one powered, one service port); Ethernet; 12V trigger; RS-232C BRIGHTNESS (CLAIMED): 2,400 Lumens CONTRAST (CLAIMED): 500,000:1 ZOOM: 1.3x DIMENSIONS: 392(w) x 281(h) x 118(d)mm WEIGHT: 5.22kg
FEATURES: XPR single-chip DLP design; Amazon Alexa support; Google Home support; IFTTT support; 2 x 5W built-in audio; claimed lamp-life of 4000 hours (Bright mode), 10,000 (Eco), 15,000 (Dynamic); claimed 25dB fan noise in Eco mode; 1.21:1-1.59:1 throw ratio; vertical lens shift
PARTNER WITH
OPTOMA DE-9106ETT:
Optoma's tab-tensioned electric 16:9 screen measures 106in diagonal and uses a matte white fabric designed for 4K projectors. Use the UHD51A's 12V trigger output (or one on an AVR) to kick the drop-down motor into life.
3. USB ports handle media file playback, Wi-Fi dongle support, and device power