OPTOMA UHD65 – Optoma's 4K Dark Knight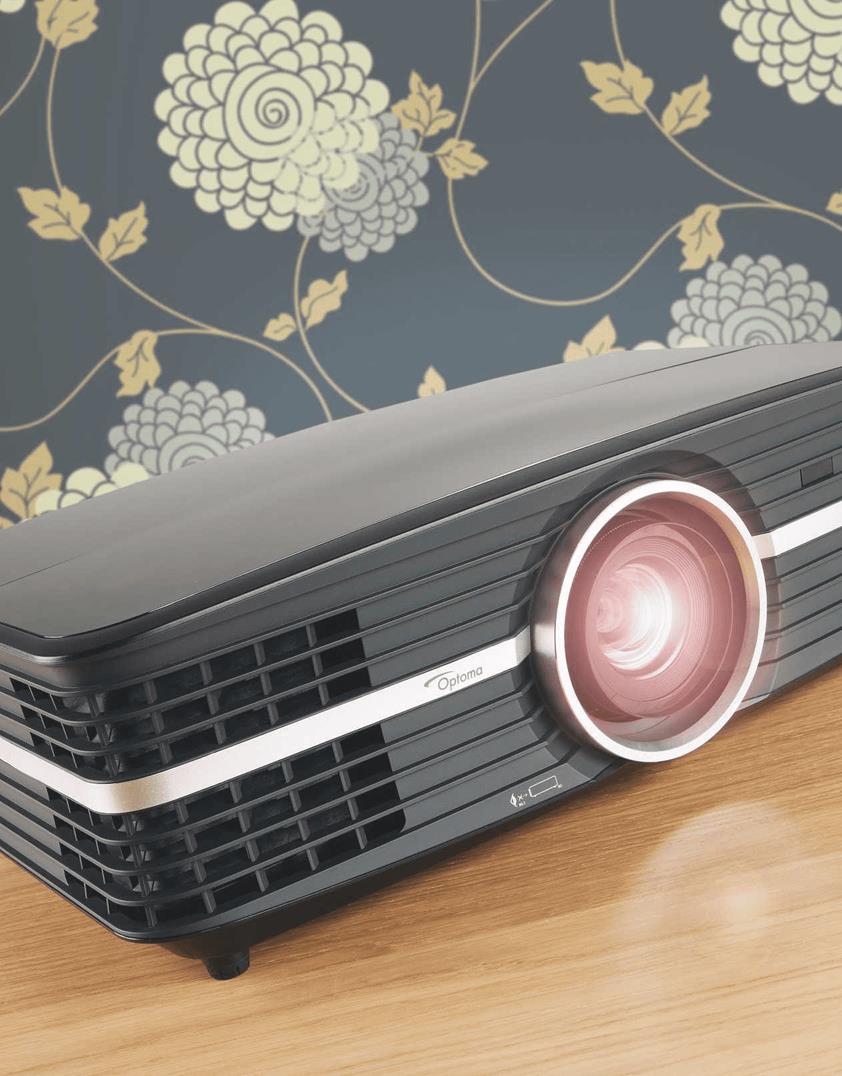 You don't need HDR to bring out the best in this 4K projector, says Steve May
The 4K home cinema projector scene continues to intrigue. This compact Optoma model, aimed squarely at home theatre fans, will be of considerable interest to buyers who have previously shortlisted Sony's SXRD range, JVC's eShift offerings and Epson's 4K Enhancement models. It's the stablemate to Optoma's brighter, cheaper media-room UHD60 4K model, and a direct rival to Acer's UHD DLP beamer, the V7850.
1. For this cinema- focused model, Optoma adopts a black chassis
2. Backlit, but not able to control zoom/focus
PRODUCT:
7Review earns Amazon affiliate commissions from qualifying purchases. You can support the site directly via Paypal donations ☕. Thank you!
See also TOP 15 projectors
4K HDR DLP projector
Tops Optoma's 4K home theatre projector range
PEERS:
Acer V7850;
Epson EH- TW9300W
Given how ruinously expensive early 4K projectors have been, this affordable HDR offering would seem a tempting proposition. But before you dig out ,000, there are things to consider.
The Optoma UHD65 sports a stealth-black finish, clearly designed to melt from view in a dark theatre room. It's not a particularly large or heavy model either (less than 8kg), so should be relatively straightforward to ceiling-mount.
Hot air is vented to the front, with all inputs recessed to the rear. Here you'll find two HDMIs, but only one of these is 4K/HDCP 2.2 capable. There's also a VGA PC input and 3.5mm audio input, digital audio and analogue stereo outputs, plus a USB input – not for media playback, but to power HDMI dongles like Chromecast or Amazon Fire and Roku TV sticks.
An Ethernet LAN connection turns out to be for control purposes only. Supported protocols include AMX Discovery, Crestron, Extron, Telnet, HTTP and PJLink. Additionally, a 12V trigger can be used to sync the projector with an electric projection screen.
There's an integrated 4W sound system, which will do the job if you need a quick, casual hookup for a sports event or gaming session. Obviously, a proper multichannel setup is more appropriate for movie viewing.
Not afraid of the dark
Brightness is rated at 2,200 Lumens – its UHD60 sibling [see HCC #277] offers 3,000 – while contrast claims to be 1,200,000:1. While the PJ can be used in a room with some ambient light, it's absolutely at its best in a light- managed room.
Setup controls are basic but effective. Focus and (1.6x) zoom predictably require manual adjustment, no fancy remote control zoom here. There's generous lens shifting available, but you'll need to pop the top half of the projector lid off to get to the lens shift wheel. As a consequence, there's an unsightly seam which runs the width of the projector.
When it comes to throw, you'll need to budget at least 3.5 metres if you want to cast an image over 70in. The throw ratio is 1.3-2.22:1.
Optoma's remote offers brightly backlit buttons, and gives quick access to inputs and some picture parameters, while the PJ's onscreen display uses a standard text box interface, with tabs for Display, Audio, Setup, Network and Info.
Navigating these is straightforward. Items of interest include a wall colour compensation filter, recognizing that many users will opt to project onto a handy wall rather than a dedicated screen, plus Ultra Detail and Dynamic Black picture modes. The latter boosts peak luminance, but increases fan noise. The former adds an obvious image processing lift; available in three strengths, it's hard to recommend at any. When disengaged, the projector displays an admirable level of clean UHD detail.
Viewing presets include Cinema, Vivid, Game,
Reference, User and Bright. There are also ISFccc Day and Night options for calibrators. The projector auto-senses HDR10, and adjusts accordingly – HDR viewing modes comprise Bright, Standard, Film and Detail.
There's also an SDR to HDR option, but this pushes chroma to unwatchable levels and is best avoided.
The UHD65 employs the latest Texas Instruments XPR (expanded Pixel Resolution) 0.67in 4.15million DMD device, which uses hyper-fast mirror switching to create a 4K (8million pixel) image. It's coupled to an RGBRGB colour wheel, a key differentiator with the sibling UHD60 projector, which has an RGBYCMW colour wheel. The advantage of RGBRGB is that it can faithfully reproduce the REC.709 colour space, but sucks more brightness from an image (hence the dark-room recommendation).
Optoma's PureEngine provides a secondary point of difference between the UHD65 and its stablemate. This features a cocktail of enhancements to improve contrast, colour vibrancy and motion. However, Pure Motion has zero impact on the project's ability to retain motion clarity. The good news is that, as befits a home theatre model, images have a consistent cinematic feel. A split-screen mode allows for an easy comparison, so you can take it or leave it.
Let's go to war
As with all other native 4K PJs I've auditioned, image clarity is gorgeously high, with splendid fine detail. The sleight of hand behind DLP's 4K image resolution certainly isn't identifiable with UHD content. There's no shortage of pixel detail onscreen. In Warcraft: The Beginning (UHD, Sky Q), skin texture, sumptuous fabric and furs are all totally convincing.
This clarity is joined by vibrant hues, with the projector employing BrilliantColor to boost overall brightness. With a 10-bit output from Sky Q, no colour banding was noted, and the opening Paramount splash to Star Trek Beyond displayed superb gradation and rich tones. However, this DLP solution doesn't support wide colour as found on UHD Blu-rays, instead downconverting to the REC.709 standard currently used on TV and regular BDs.
While Optoma's UHD65 is compatible with HDR10 sources, it's worth reiterating that there's a world of difference between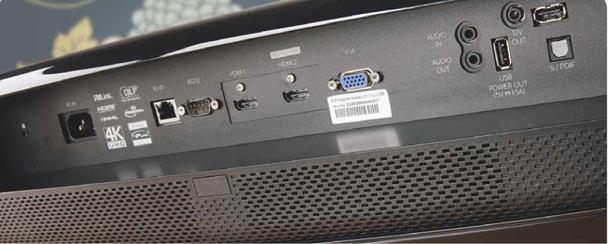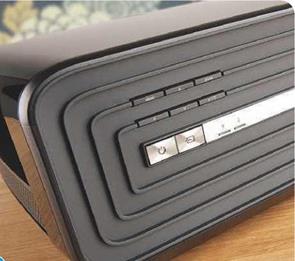 flatscreens and projectors when it comes to the portrayal of high dynamic range. Televisions have the ability to throw high brightness at specific areas of the screen, to better realise spectral highlights. Projector lamps aren't anything like as capable. If they were, you'd need to accommodate the kind of projector hardware seen at your local multiplex. Instead, what we get is tone-mapping gymnastics.
While I would argue the UHD65 looks its best with standard dynamic range 4K material, be it from set-top boxes, an Amazon 4K streamer or even upscaled HD Blu-ray, it makes a decent fist of HDR content. It delivers a convincing level of intensity with the torch-lighting in John Wick: Chapter2's catacomb shootout (Ultra HD Blu-ray), and manages to proffer some effective shadow detail. There is an intrinsic limitation to the projector's black level profundity, though.
While this isn't particularly apparent with TV studio content or sports (such as UHD Formula One via Sky Q),
it's obvious that the bars on a letterboxed movie stay uniformly dark grey, regardless of viewing mode, gamma variants or tweaks in brightness and contrast.
Therefore, in that opening sequence to Star Trek Beyond, Kirk confronts the mini aliens in a chamber that's never quite as deeply shadowed as it should be.
On a much more positive note, although a single-chip DLP model, I was never particularly aware of the technology's characteristic rainbow fringing artefact during
my audition, apart from fleeting appearances on scenes of very high contrast.
Equally importantly, the UHD65 is a quiet enough operator. In Eco lamp mode it purrs along at 25dB, which is relatively easy to mask with the thuds, swells and crackles from your speaker system. And with the PJ run in Eco mode, lamp-life is quoted at 10,000 hours.
Put it on your list
Overall, the UHD65 is a great 4K proposition. Feature set and image clarity are excellent for its class. It's up against stiff competition from the slightly cheaper Acer V7850, which utilises the same core DLP engine, and Optoma's own less expensive UHD60, but the black finish makes it uniquely suited to home theatre use, and its images convince. Definitely one to audition
3. On-body controls can be found on the PJ's side-plate
4. Two HDMI inputs, but only one can handle 4K HDR sources
HCC VERDICT
4.5/5
: Fine UHD detail and vibrant colours make this 2160p projector a great choice for 4K home cinemas, even if – as with other 4K DLP models – black levels aren't imperious.
3D: No. 4K: Yes. 3,840 x 2,160 HDR: Yes. HDR10 CONNECTIONS: 2 x HDMI inputs;
PC VGA input; optical digital audio output; RS232; Ethernet; USB (power);
12V trigger; 3.5mm audio in/out BRIGHTNESS (CLAIMED): 2,200 Lumens CONTRAST (CLAIMED): 1,200,000:1 ZOOM: 1.6x DIMENSIONS: 498(w) x 141(h) x 331(d)mm WEIGHT: 7.8kg
FEATURES: Single-chip DLP XPR (expanded Pixel Resolution) with RGBRGB colour wheel; 2 x 4W built-in audio; 10,000-hour claimed lamp-life in Eco mode; 25dB fan noise in Eco mode; Cinema, Vivid, Game, Reference, User and Bright picture presets; ISFccc Night & Day modes; 1.39:1-2.22:1 throw ratio; PureEngine processing; vertical lens shift (+15%); backlit remote
PARTNER WITH
JOHN WICK: CHAPTER 2:
A superb movie sequel on a superb Ultra HD BD release. The skilful HDR grading makes it a great test disc, and the Dolby Atmos soundmix impresses by virtue of its effects choreography and unadulterated dynamism.
OPTOMA TECHNOLOGY BL-FP240E P-VIP 240W Replacement Lamp for Uhd60/Uhd65 Projector Accessory
as of September 18, 2023 11:02 am
Features
P-VIP 240W lamp
Projector compatibility: Uhd60/Uhd65
90-Day