Acer sets the pace with a compact, competitive UHD HDR projector. Steve May counts the pixels 4K cinema goes mainstream
av info
PRODUCT:
Affordable DLP 4K HDR projector
Position:
Below the bulkier and 4K-capable V9800, above the H7850, also 4K
DEERS:
Epson EH-TW9300; Optoma UHD65
7Review earns Amazon affiliate commissions from qualifying purchases. You can support the site directly via Paypal donations ☕. Thank you!
See also TOP 15 projectors
The 4K DLP projector landscape is changing faster than timelapse footage from Planet Earth. Just months after the first UHD models landed with all the grace of a beached whale, a new generation of entirely more accommodating models are breaking cover, and with price tags that will make any AV addict sit up and pay attention.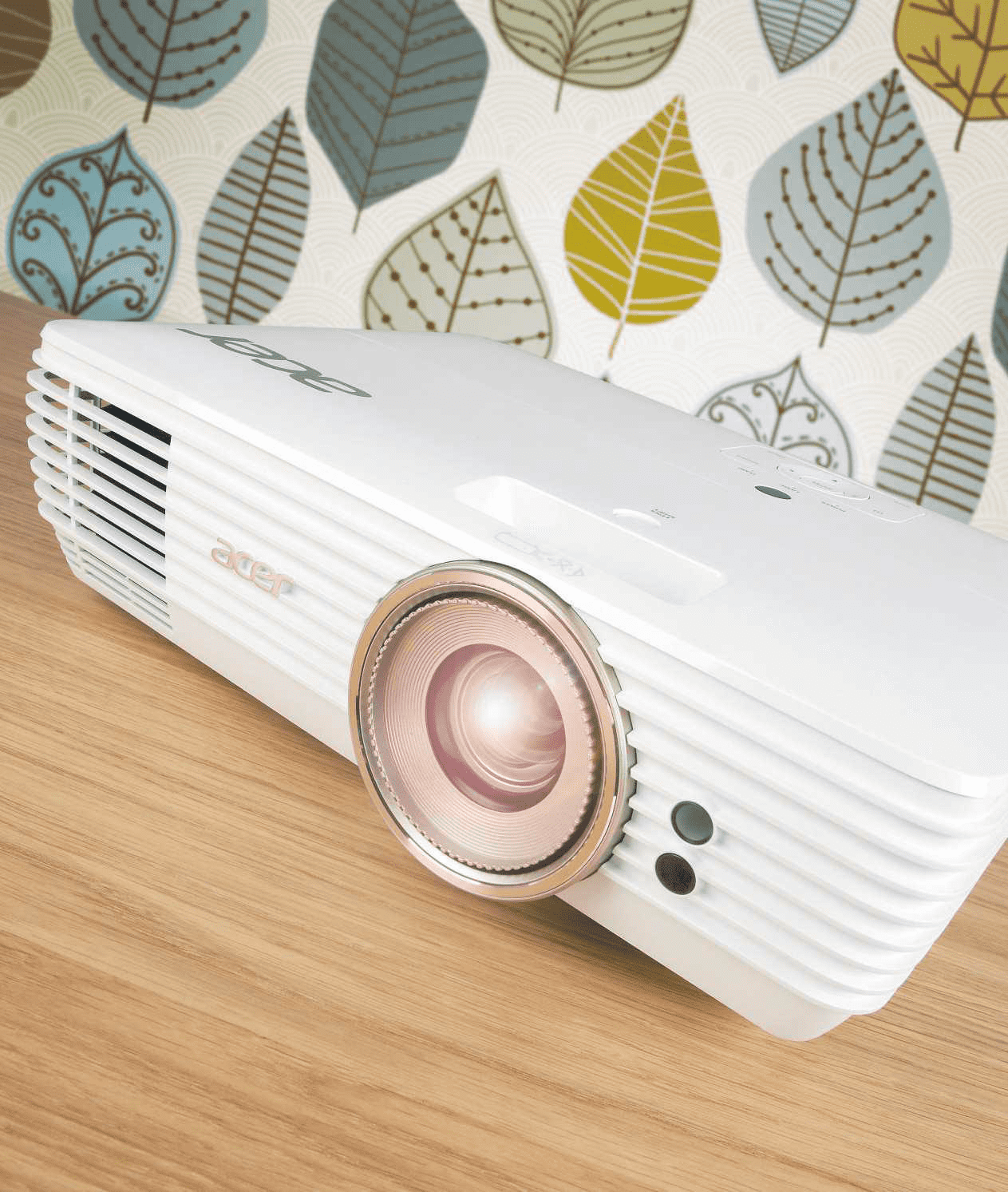 1. Acer's backlit remote sits snugly in your hand
2. 1.6x zoom and vertical lens shift aid installation
Acer is taking point with the V7850, one of two 2160p models from the brand to adopt a room-friendly form factor. Unlike its UHD predecessor, the V9800, it's small enough (approximately 40cm wide) for a living room or small theatre environment, easily fitting where a hulking 15kg beamer just isn't going to work. With HDR support and a brightness of 2,100 Lumens, could this be a 4K projector for the AV everyman?
Design-wise, the V7850 is certainly on the right side of classy. The gloss white cabinet looks great and the lens assembly has a pleasing copper-coloured wrap.
Well ventilated, it routes hot air to the front. Overall build quality seems fine.
The supplied IR remote is a cosmetic match, with bright-blue backlit buttons.
If you want to go hands-on, there's menu based navigation through a selection of controls mounted towards the rear of the PJ's top panel. Connections are found around the back. Of the two HDMI inputs, only one is v2.0/HDCP 2.2-capable (labelled 'UHD 4K'), so you'll probably want to route all your sources through your AV receiver. There's also a VGA input and output, audio minijack, plus Ethernet, RS232 and 12V trigger, the latter useful for partnering the Acer with an electric projection screen.
Bucking the trend, the V7850 is 3D ready, but Acer doesn't bother to bundle glasses.
This single-chip DLP PJ offers HDR 10 support (but no other HDR variants), tied to a REC.709-grade colour wheel. So while the projector is compatible with wide colour, as found on most UHD Blu-rays, it down converts hues to REC.709.
The Acer is accommodating, but unfancy, when it comes to installation. Focus, zoom and vertical lens-shifting are all done manually. Height can be adjusted between 0 and 15 per cent of the image, enough to overcome most hurdles, while the zoom ratio is a healthy 1.6x. Combined with Acer's lens, this results in a throw ratio of 1.39-2.22:1.
There's no horizontal lens-shift offered.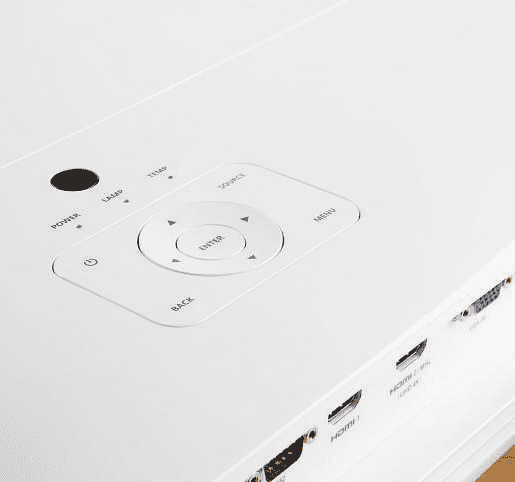 While the V7850 warrants a proper projection screen, it features a colour compensation mode for those firing directly onto a painted wall.
Like many compact multimedia projectors, the V7850 has in-built speakers, which are thin-sounding but functional. Rated at 2 x 5W, it's probably good enough for impromptu sessions of uncritical viewing, but uncomfortable for anything more.
Dripping in detail
Powered up, the V7850 makes a great first impression, with copious picture detail pinging off the screen. A 4K demo clip authored by Japanese production house Q-Tec looks gorgeous; a shiny kimono has lustre and realistic texture.
Texas Instruments' 4K DLP solution employs hyper-fast mirror switching to create a 4K image from just four million mirrors; the mirrors flip at 9,000 times a second, and the technique is ingenious, certified as 4K by the Consumer Technology Association (CTA).
However, I did note loss of 4K detail (via a test pattern) with Acer's Super Resolution processing activated, artefacts taking the place of high-frequency information. Some tweaking is therefore worthwhile – I ended up putting Super Resolution back in its box by adjusting it to 0, and setting Sharpness to 3. This gave a cleaner, sharper image, although didn't entirely pass my test pattern criteria. To be honest, it's unlikely this will translate to everyday viewing; 4K content still appears better delineated than Full HD. And you may find that you prefer the impact that Super Resolution can deliver when it comes to teasing out fine details. It's a feature worth experimenting with. The simple rule is tweak the image to best suit your source.
Rated at 2,100 Lumens, the V7850 isn't the brightest compact projector out there. It isn't even as bright as its more affordable 4K stablemate, the H7850, which pumps at 3,000 Lumens, but this isn't an issue when viewed in a fully dark room.
Colours are vibrant, and the colour mapping from REC. 2020 sources maintains depth and richness. The level of colour detail evident as Immortan Joe gets dressed early on in Mad Max: Fury Road (UHD Blu-ray) is delicious.
While the projector is HDR 10 compatible, it isn't able to deliver the kind of luminance highlights you'll routinely see
'This is a star when it comes to operational noise. Acer's Silent mode is so quiet you can hear popcorn drop'
on an HDR flatscreen. This is to be expected, as the two display technologies are just not comparable. When tone mapping white detail mastered at 1,000 nits, clipping becomes apparent.

As with Acer's 4K debut, the V9800 [HCC #272] the projector's black level performance doesn't exactly inspire in the way that, say, Sony's VPL-HW45ES (Full HD) can. Images can sometimes get lost in a sea of featureless grey murk, robbing the picture of its sense of contrast and image depth.
The Dynamic Black function can be used for a contrast boost, but increases the projector's operating noise considerably. This is a shame, as generally, the V7850 is something of a star in this regard. I found quiet movie moments unbothered by the usual whine of a DLP colour wheel, and switch to Acer's Silent mode and it's so quiet you can hear popcorn drop. I'd only therefore recommend the Dynamic Black feature for when it's necessary to combat the effects of ambient light.
As with most modern PJs, the V7850 comes stocked with a wide range of image presets, including Movie, Dark Cinema, Standard, Bright, Rec 709, Game, Sports, User and the aforementioned Silent. It's unlikely you'll ever
want to flit between so many depending on circumstance – stick to Standard, Silent and the two cinematic modes, and adjust them to suit. The usual controls are offered (Contrast, Brightness, Gamma, Colour Temp, etc), plus more advanced options including colour management (the projector is ISF certified).
There's also a sliding HDR tool with parameters of 1-4. Slide it to 4 and peak highlights glow a little brighter than, for example, if it's set to 2. It's quite subtle, and rather highlights the big difference between HDR implementation on PJs and flatscreens. It's not a brightness booster, though, because it doesn't lift black areas.
Away from Ultra HD content, this projector is a solid effort, albeit with the same black level shortcomings. Single-chip DLPs always look super-sharp (no LCD panel trio to align), and this model upscales regular fare with cinematic aplomb. Worries about rainbow effect distractions are mostly unfounded. What I did see was minimal and largely inconsequential. Personal experience can vary, of course.
Less noteworthy is the projector's motion handling. Regardless of image preset, this can be considered average, with some loss of detail and general smudging. And Acer's AcuMotion frame interpolation processing seems to have little positive impact in any of its three modes.
Affordable alternative
The V7850 is the first next-gen 4K DLP projector to provide a genuinely affordable alternative to the big UHD beasts we've seen to date. It has a limited black level and constrained HDR performance, but it delivers a crisp, colour-rich image with HD and UHD, and can run absolutely silently. Do we like it? Yes we do. It could be just the upgrade you're looking for
3. One of the Acer's HDMI inputs is v2.0 and HDCP 2.2-ready
SPECIFICATIONS
3D: Yes. Active shutter (glasses optional) HDR: Yes. HDR 10 4K: Yes. 3,840 x 2,160 CONNECTIONS: 2 x HDMI (1 v2.0; 1 x v1.4); RS232; 12V trigger; Ethernet; PC VGA in/ out; minijack audio; USB (device charging) BRIGHTNESS (CLAIMED): 2,100 Lumens CONTRAST (CLAIMED): 1,000,000:1 ZOOM: 1.6x DIMENSIONS: 398(w) x 127(h) x 297(d)mm WEIGHT: 5.3kg
FEATURES:
Single-chip UHD DLP projector with RGBRGB colour wheel; built-in 2 x 5W audio; +/- 15 per cent vertical lens shift; REC.2020 colour mapping;
ISF calibration; AcuMotion frame interpolation; Dynamic Black; HDR adjustment; throw ratio of 1.39-2.22:1; MHL compatible; wall colour mode; gamma, brightness, contrast, saturation, tint, colour temperature control; colour management
PARTNER WITH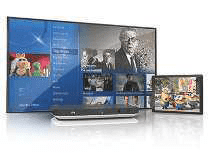 SKY Q: Acer's V7850 is a perfect foil for Sky's Ultra HD (but SDR) sports broadcasts and movie/TV downloads. Upgrade from Sky+HD to a Sky Q Silver box to sample 4K delights, adding Wi-Fi multiroom Sky Minis. Price depends on contract.
Finally a 4K projector for the rest of us. Limited contrast (and HDR impact) but strong colours, quiet operation and UHD detail make this Acer an appealing option.