DESIGNED FOR GAMERS FIRST AND FOREMOST
It's hard to beat a projector for a truly big-screen experience, especially when gaming, but many suffer from an issue that makes them unbearable for faster-paced games. Latency, or the time it takes to process the image from the moment it's sent from the PC to the projector, can often be a problem for these projectors. BenQ is the first company that we've seen to release a projector that targets this issue first and foremost. It's also remarkably affordable, and arguably offers the best big-screen experience for such a tight budget.
The W1210ST is based on DLP technology, which makes it fantastic for delivering rich, lifelike colors and solid contrast performance. The company claims a 15,000:1 contrast ratio, but makes no mention of whether this is with a dynamic iris or not. However, it's the 16ms latency time when running in game mode that makes this such a tempting model for gamers – compared to other low-latency projectors, it's about twice as fast. The 1.2:lx zoom is decent for smaller rooms, pumping out a 100-inch screen size at a distance of 1.5 metres. Sadly there's no lens shift, so you'll need to place it precisely when mounting.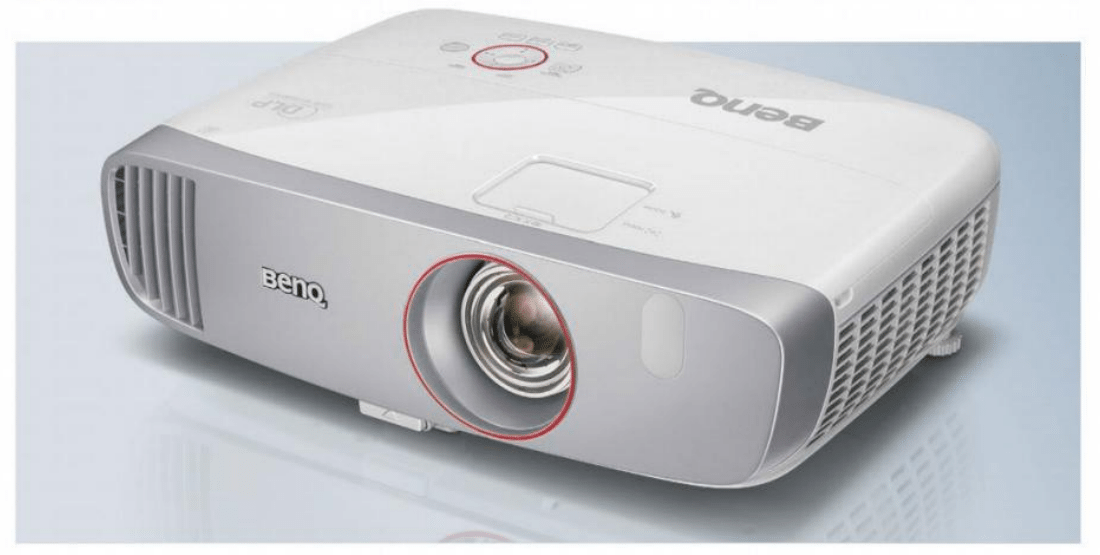 With a native resolution of 1920 x 1080, you might think that the pixel structure could be rather apparent, but we're happy to report it's very hard to see unless you're extremely close to the screen. We were also happy to find the dreaded Rainbow Effect, a problem DLP projectors often suffered from in the past, basically absent. Caused by the way DLP projectors use a special RGB wheel to introduce color to the light shone from their on-chip micro-mirrors, the six-speed wheel used here basically negates this effect entirely, at least from our point of view.
The phenomenon varies greatly depending on the user though, so we'd highly recommend giving this a test-run if you can. In fact, testing it first is a must, as it's so distracting if you do notice it -though many people just don't see it at all. At this price and low-latency, it's a steal for gamers who want the biggest image possible… provided you don't notice the Rainbow Effect.
Bennett Ring
7Review earns Amazon affiliate commissions from qualifying purchases. You can support the site directly via Paypal donations ☕. Thank you!
See also TOP 15 projectors
KEY SPECS
Lamp life 5000 hours in Eco mode • 1920 x 1080 resolution • 3.6kg • DLP technology with six-speed color wheel
BenQ W1210ST Gaming Projector
Record-breaking low latency
If you've been reading PC PowerPlay for a while, you probably know how passionate I am about projectors as the ultimate gaming display. When it comes to dollars per inch, they're unbeatable, delivering wall-spanning immersion at a cost much more affordable than big-screen TVs. However, they often suffer from input-latency, which is what makes BenQ's W1210ST a rather interesting proposition.
The company has focused on making this the lowest latency projector on the market. This means that as soon you hit your mouse button, your gun fires on-screen almost immediately. Projectors with high latency can add an extra 120ms or more to the time you hit fire and it displaying onscreen, but the W1210ST lowers this to a mere 16ms when operating in gaming mode. Basically this is imperceptible to all but robotic eyes.
It's also designed to throw out a huge image at a very short range, pumping out a 100-inch screen at a distance of just 1.5 meters. This is great for smaller rooms, but if you want to mount it at the rear of a longer room, could be a concern. The image is a standard HD resolution of 1920 x 1080, while the DLP chip inside delivers brilliant color and contrast at such a low price point It's also rather dazzlingly bright with a rating of 2200 Ansi Lumens, so you can use it in rooms that are less than light-proof.
There is a price to be paid for the use of a DLP technology though – the dreaded "Rainbow effect", which gamers seem to be most perceptible to, as we spend so much time staring at screens. Even though this projector uses a six-speed wheel, we noticed ever-so slight color halos and rainbowing during fast moving scenes. Having said that, we're very prone to this effect, which many people never notice. So we'd highly recommend giving this projector a demo at the shop before you take it home; hopefully you're one of those who aren't susceptible to the Rainbow effect.
If you don't want to drape a HDMI cable from your PC to the projector, an optional wireless box will do it all via the wonders of radio waves, and BenQ claims this introduces zero latency to the entire system.
It's great to see BenQ put gamers first especially considering the fantastic price point of this projector; you'll pay a similar amount for a high refresh rate 30-inch panel. However, we just wish they'd gone with LCD technology W instead of DLP, to guarantee no sign of the Rainbow effect. Given BenQ's love of DLP though, we can't see this happening in the near future. BENNETT RING
Designed to throw out a huge image at short range, pumping out a 100-inch screen at a distance of just 1.5m
AWO Original P-VIP240W Lamp Bulb for 5J.JEE05.001 with Housing for BenQ HT2050 HT2050A HT2150ST HT3050 W1110 W1120 W1210ST W2000 W2000+ Projectors
as of November 20, 2023 7:40 pm
Features
Replacement for P-VIP 240/0.8 E20.9n Original Projector Lamp Bulb with Housing
Lamp Part Number 5J.JEE05.001 for BenQ HT2050,HT2150ST,HT3050,W1110,W1120,W1210ST,W2000,W2000+
The Premium Replacement Lamp Provides Clear And Bright And Sharp Pictures For Home Theater, School Presentation, Business Meeting etc
AWO is Responsible For All The Item Descriptions And Coming With 180 Days Warranty And Lamp Lifetime About 2000-3000hours
All Lamps Will Be Test Before Delivery, All Messages Will Be Respond Within 24hours, Excellent Return Service And Friendly Customer Service
SeiZed Projector Lamps Bulb 5J.JEE05.001 for BENQ W1110 W2000 HT2050 HT3050 W1210ST MH733 TH671ST MW732 (Color : 20 Pc)
as of November 20, 2023 7:40 pm
Features
Strict testing is carried out before leaving the factory to ensure that each product is of high quality.
This is a new replacement lamp bulb,use the same as bright and durable lamp wick as the original bulb. make it more brillancy and clear.
Strong heat dissipation, low energy consumption, high-intensity reflector lamp cup, enhanced light gathering, solid material, longer service life.
The complete bulb module,can be easily replaced when the device is off, as simple as taking out an old bulb, precise matching, without the need for a professional operator.
It's a great substitute for your old and bad ones,Please verify this is the right part number before ordering