Steve May vows to take this 4K beamer with him wherever he goes
It's a sad fact of life that many video projectors look unspeakably dull – boxy and bland and still with one eye on the corporate presentation market. The ViewSonic X10-4K bucks that trend. With this new X Series mid-ranger, the company has shaken off years of dowdy design and created a projector that wouldn't look out of place in the swankiest of pads.
It almost verges on being fashionable.
AV INFO
PRODUCT: 4K HDR short-throw LED projector
POSITION: The cheaper of two ViewSonic X Series models
PEERS: BenQ W1720; Optoma UHD300X
1. Below the lens panel is a Harman/ Kardon-designed sound system
7Review earns Amazon affiliate commissions from qualifying purchases. You can support the site directly via Paypal donations ☕. Thank you!
See also TOP 15 projectors
2. The connections cover matches the leather carry handle
A short-throw model, this stubby star can be parked just metres from a wall or (less likely) a screen, for instant bigscreen gratification. Whether intended for movies, sports or a kid's birthday party, the X10-4K looks to be the ideal everyday projection solution.
Most obviously, it's designed to be portable. A carry handle makes its 2kg bulk easy to tote from room to room. Inputs are hidden behind a smart magnetic leather cover.
An integrated Harman/Kardon sound system looks much like a diddy soundbar, positioned beneath the centred lens, which incidentally sits behind a clear pane so there's no need to worry about dust clogging the optics.
When it comes to cosmetics, the X10-4K is undoubtedly excellent. But is its AV performance just as creditable?
All bases covered
Connectivity is good. Behind that leather flap you'll find two HDMI v2.0 inputs, plus a USB-C for video playback from compatible smart phones, a microSD card slot, 3.5mm audio minijacks, and a digital optical audio out. There are two further USB connectors for media reading, one of which is a fast 3.0 port.
There's also a slot for a Wi-Fi dongle (supplied) to support the Ethernet option. Being a trendy young thing, the X10-4K can be integrated with Google Assistant and Amazon Alexa, although I've yet to be convinced of the need for any voice control on a projector. And if you want to stream audio direct from your smartphone to that Harman/Kardon speaker, there's Bluetooth too.
Given that the X10-4K eschews conventional projector design, there's no button-acne atop the chassis, just a simple volume dial. The IR remote control is tentatively backlit (you'll just about find the keys in a darkened room), and distinguished by a multi-function rotary wheel. This dial is novel, but not particularly responsive,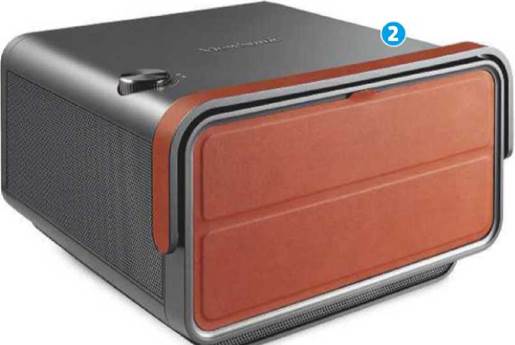 particularly when it comes to volume control, often reacting seconds after you've spun it one way or the other.
One reason the X10-4K is so compact is that it doesn't use a conventional lamp, instead there's an LED light module inside. With an anticipated lifespan of 30,000 hours, it promises to be essentially maintenance-free.
The ethos behind the X10-4K is unashamedly plug-and- play. An AF mode keeps the image tightly focused, but you can always manually adjust the picture using the rotary wheel on the remote control if you feel it needs help.
Ideal for impromptu screening sessions, you need just 1.77 metres to cast an impressive 100in image (with no zoom, the throw ratio is fixed at 0.8:1). Setting up on a coffee table shouldn't present any issues, and if you can't get it square on, the projector offers manual horizontal and auto vertical keystone correction.
It's a good deal friendlier than the average office equipment escapee too. Running on an Android OS, the PJ offers a smart, graphical UI. It also runs apps from the
Aptoide store. Vaguely familiar, like those knock-off sweets seen in Lidl, Aptoide is a less enticing alternative to Google Play, with a choice that's esoteric. The best on offer are BBC iPlayer, Netflix and Twitch. Rather than faff around, it makes more sense to use an Amazon Fire TV dongle.
LED it be
The obvious concern with any projector that uses an LED light source is brightness. But the ViewSonic is quick to
dispel fears of dullness. It's claimed 2,400 Lumens output allows viewing in rooms with some ambient light, although obviously a fully dark room works best.
The X10-4K uses a DLP 4K Ultra HD chip with XPR technology, able to present an 8.3million pixel resolution image by flipping its DMD mirrors at lightning speed. It's not native 4K, but able to offer better-than-HD image quality.
Fired up and aligned, my advice would be to head to the projector's Movie setting. While the average picture level is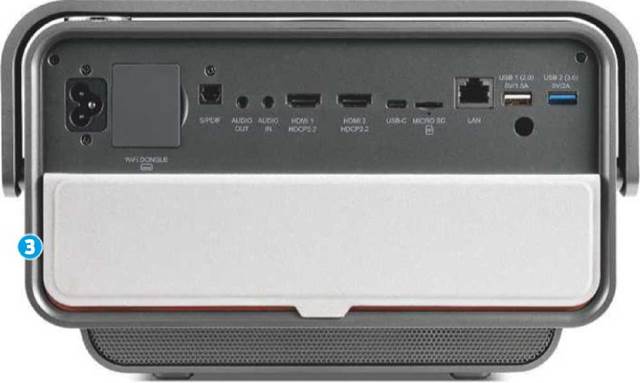 brighter in ViewSonic's TV mode (there are also Brightest, Game and User options), this cinematic preset tends to give a more pleasing image.
The X10-4K, unlike the BenQ W5700 (see p48), is limited to a REC.709 colour space, but it doesn't disappoint when it comes to saturation and punch, looking particularly good with animation. Despicable Me 3 (Ultra HD Blu-ray) provides a veritable feast of eye-candy, with Minions realistically yellow.
The projector is also HDR compatible, although the usual caveats apply, which is to say, no projector offers a genuine HDR viewing experience. The best I normally hope
'This portable projector is enormous fun when it comes to popcorn movie nights and sporting fixtures'
for is that the overall picture level isn't adversely dimmed, and in this regard the ViewSonic fares well. Although if you prefer, you can always manually override the HDR mode, switching to SDR in the Advanced picture menu.
Inevitably, there are limitations to this cute model's performance. Deep black is elusive, leaving letterbox bars presented dark grey and proving a challenge with darker movies like Resident Evil: The Final Chapter (UHD Blu-ray). However, there's still an efficient contrast to its images, particularly with 4K SDR content, as evidenced by Sense8 (Netflix).
I also noted some banding when it comes to gradations, while bright highlights can wash-out completely. But this isn't a form-factor for performance hounds.
Fine detail reproduction is excellent, given the constraints of XPR. When Alice (Milla Jovovich) discovers her friend's helicopter on the beach at Arcadia in …The Final Chapter, the amount of information on show in the cockpit is delicious. There's granular texture in the sand on the surrounding beach too. With high-quality sources, the X10-4K impresses.
If you're primarily interested in sports, image-smoothing frame interpolation is available, variable between Off, Low, Mid and High. I wouldn't recommend it for movies, however, finding its effect too noticeable.
Normally I'd advise against using the in-built sound system on a projector for anything other than casual non-critical use. But the Harman/Kardon speaker on this ViewSonic is in a different league; it's actually by far the best I've heard on a projector. Despite the small cabinet size, it exhibits admirable grunt, and I'd even consider watching regular TV with it, and that's saying something. There are two audio modes available,
Movie and User; the latter allows you to twiddle with an equaliser, but the default Movie mode is pretty darn good.
Fan noise is a concern though, and doesn't significantly change whether you opt for an Eco LED setting or not.
Fresh and exciting
It's probably too optimistic to believe that the X10-4K might have mainstream appeal. Home projection is always going to be something of a niche, but ViewSonic has certainly come up with a product that's fresh and exciting.
While it doesn't offer the ultimate visual performance, suffering most obviously from a lack of black-level prowess, this portable is enormous fun when it comes to popcorn movie nights and sporting fixtures. Get it out when you need it, pop it away when you're finished.
We've seen brands attempt to make projection a lifestyle choice before. Philips' all-in-one Screeneo springs to mind, but this is arguably the most convincing lifestyle proposition yet.
Image quality is fine for the price point, the sound system is definitely top of the pops, and the overall design is class-leading. It certainly has the X factor
Verdict
Recommended
ViewSonic x10-4k Review
Elegant and well specified, this 4K short-throw style icon is a portable projector worth lusting over. Good UHD image quality and outstanding integrated sound make it a tempter.
Add your review
Best ViewSonic x10-4k prices in the US ?

$

1,299.93
2 used from $1,299.93
in stock

Best ViewSonic x10-4k prices ?
MORE DEALS

See also TOP 15 projectors
www.viewsonic.com
SPECIFICATIONS
3D: Yes. Glasses optional 4K: Yes. 2160p HDR: Yes. HDR10 CONNECTIONS: 2 x HDMI inputs; digital optical audio output; 3.5mm stereo minijack input; 3.5mm stereo minijack output; 2 x USB (media readers); 1 x USB-C; Ethernet; microSD card slot BRIGHTNESS (CLAIMED): 2,400 Lumens CONTRAST (CLAIMED): 3,000,000:1 ZOOM: N/A DIMENSIONS: 261(w) x 166(h) x 271(d)mm WEIGHT: 2kg
FEATURES: Single-chip DLP XPR projector; built-in Harman/Kardon audio; LED illumination with 'lamp life' rated at 30,000 hours; 26dB claimed fan noise; 0.8:1 throw ratio; image interpolation; compatible with Google Assistant and Amazon Alexa; carry handle; leather connections cover; Wi-Fi (via supplied dongle); Bluetooth; auto focus; auto keystone correction
PARTNER WITH
PANASONIC DP-UB450: New this year from Panasonic is a Ultra HD deck with HDR10+ and Dolby Vision compatibility. The half-width form factor should make it easy to find a home for. Twin HDMI outs let you send audio to another device.
3. From 4K player to smart device, the X10-4K has plenty of connective talents