This cylindrical speaker sports an impressive set of features, but how does sound quality measure up?
DETAILS
PRODUCT Libratone ZIPP Copenhagen
ORIGIN Denmark/China
TYPE Wireless multi-room speaker system
WEIGHT 1.5kg
DIMENSIONS (WxHxD) 122 x 261 x 122mm
FEATURES
• Quoted power output: 100W
• Up to 24-bit/96 kHz playback
• Apple AirPlay; AptX Bluetooth wireless connectivity
• Streaming service support: Spotify; Apple Music; Tidal; Deezer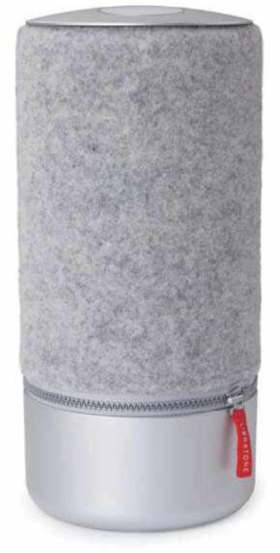 There are actually two versions of the full-size ZIPP speaker, but this more expensive Copenhagen offering has a sturdier aluminium base and smart woollen sleeve (available in a variety of colours). Both models share the same basic design with an upright, cylindrical cabinet that houses two 25mm tweeters and a 102mm mid/ bass driver, powered by a quoted 100W Class D amplifier.
Like the Bluesound it can run off both mains power or an internal battery, which claims to give up to 10 hours music playback, while the leather carrying handle makes it easy to quickly grab the ZIPP and move it from room to room, out into the garden or even take it away on holiday with you. But, of course, you still have the option of linking it with other ZIPP speakers for multi-room music or pairing two together for stereo sound.
It provides both wifi and Bluetooth aptX options for streaming music and also supports AirPlay, which is useful for owners of Apple devices. There's also a 3.5mm line-in jack for wired devices and a USB port that lets you
play music that's stored on a memory stick or hard drive. But while the AirPlay support is ideal for Apple fans, it does add to the cost of the speaker while not really offering anything extra for owners of other computers or mobile devices. Admittedly, there is an app for Android users, but it's rather basic.
back to menu ↑
Sound quality
The ZIPP Copenhagen certainly claims to have a level of power that few of its multi-room rivals can match. And, like the Samsung R5 (overleaf), its cylindrical design attempts to provide 360° sound to fill the room with sound. It's certainly loud enough to get any party started when it needs to, although it doesn't quite have the same attention to detail as some of the better performing designs here.
Leaping in at the deep end with the dense, raucous This Is How I Disappear, I can feel the floorboards vibrating with the weight of the driving power chords, while the sturdy design of the speaker ensures that it avoids distortion even as I push the volume all the way up. But the ZIPP's power isn't matched by clarity,
back to menu ↑
PLAY BY AIR
The ZIPP Copenhagen is the only speaker in the group to support Apple's AirPlay connectivity, and Libratone is also planning to include the new AirPlay 2 as well as Amazon Alexa voice command control in a soon to be released firmware update.
AirPlay is ideal for owners of Macs and iOS devices, as it allows them to stream audio from any app at all – just as Bluetooth does, but with the higher bandwidth and quality provided by the wi-fi connection. AirPlay 2, launched in September 2017, takes things even further as it allows you to mix and match multi-room AirPlay 2 speakers from different manufacturers for the first time – rather than forcing you to buy your entire system from a single brand, but there's limited support for streaming services compared with some of its rivals.
and the faster guitar riffs and percussion lack focus and can't quite stand out over the lower frequencies. Still, it works well enough if you like bass-driven dance music. In fact, this is one of the few speakers in the group that can handle the deep, electronic rumble of Shadow Journal without rattling at the seams.
It's a similar story with the dense, percussive sound of The Big Sky (Meteorological Mix). The slap-bass and heavy drums have a really satisfying fullness to them, but the sound becomes a little more murky as the chanting vocals pile up on top, and the ZIPP can't quite separate the layers of sound to give each instrument room to breathe. Without too much bass to contend with on Bijou, the ethereal guitar rings out clearly, while the powerful amp ensures that the echoing sound takes flight and fills the air all around the compact ZIPP
back to menu ↑
OUR VERDICT
ZIPP Copenhagen Review
AirPlay is great for Apple fans, but the ZIPP may not appeal to others
PROS
Powerful sound with strong bass
AirPlay support
CONS
Lack of HF precision
Weak support for Android and Windows devices
Add your review
|
Read reviews and comments
360 degrees FullRoom sound - acoustic FullRoom technology sends sound waves in every direction, filling your home with rich sound
Multi-room music - link your Zipp or Zipp MINIs together with SoundSpace Link to create a flexible multi-room listening experience
Last update was on: June 17, 2021 6:25 pm
360 degrees FullRoom sound - acoustic FullRoom technology sends sound waves in every direction, filling your home with rich sound
Multi-room music - link your Zipp or Zipp MINIs together with SoundSpace Link to create a flexible multi-room listening experience
Stream anything - dip into all your preferred music apps and content sources. If you can stream it, the Zipp and Zipp MINI can play it
Connect, combine and control your Zipp with a groundbreaking Libratone app and an elegant touch interface lets you control your music from the speaker
Pick your Zipp up and bring it anywhere - with up to 10 hours of acoustic power; let your Zipp represent your style - change the cover in seconds
Was this article helpful?