A compact bookshelf speaker combining hi-tech features with surprising power and performance
As a starting point for Harman Kardon's Omni multi-room speaker range, the Omni 10+ is compact and eye-catchingly spherical. It's competitively priced and that compact design – available in either black or white finish – makes it ideal for sitting on a shelf or table in a bedroom or kitchen. And, for larger rooms, you also have the option of pairing two of the speakers together to create a proper 2.0 stereo system.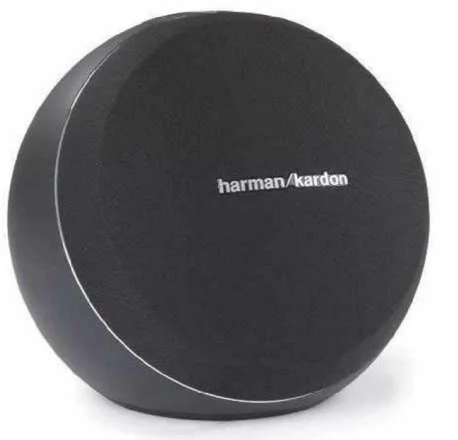 The Omni 10+ boasts an impressive set of technical features, including dual-band (2.4GHz/5GHz) wifi for connecting to your home network and an Ethernet interface for rooms that might struggle to receive a good wifi signal. There's Bluetooth for making quick, direct connections to mobile devices and a 3.5mm input jack too. The speaker supports hi-res audio formats up to 24-bit/192 kHz, and also includes Chromecast streaming technology.
It's very easy to get up and running, as the large, glowing Link button on the speaker automatically connects it to Harman's Controller app on your mobile devices, which then connects the speaker to your wi-fi network.
DETAILS
PRODUCT Harman Kardon Omni 10+
ORIGIN US/China
7Review earns Amazon affiliate commissions from qualifying purchases. You can support the site directly via Paypal donations ☕. Thank you!
TYPE Wireless multi-room speaker system
WEIGHT 1.3kg
DIMENSIONS (WxHxD) 181 x 166 x 159mm
FEATURES
• Quoted power output: 25W + 25W
• Up to 24-bit/ 192kHz playback
• Bluetooth wireless connectivity
• Streaming service support: Spotify; Tidal; Qobuz; Deezer
• Chromecast support
The only problem here is that the Controller app only runs on iOS and Android platforms, so there's no quick and easy way to play music that you might have stored on a Mac or Windows PC.
Sound quality
If you're looking for a compact speaker that can punch above its weight, this is a reliably solid choice. Despite standing at just 166mm tall, Harman claims that the woofer and tweeter inside the Omni 10+ provide a total of 50W output, and the echoing guitar flurry that opens Bijou launches into the air like a burst of fireworks. As I push the sound up towards maximum, the Omni 10 + manages to fill the room more effectively than some of its equally compact rivals. There's no distortion, though – despite my initial concerns about the rather lightweight plastic cabinet – and the delicate guitar rings out with impressive clarity.
The dense arrangement of The Big Sky (Meteorological Mix) is more of a challenge, but it again proves adept at balancing power with precision. The heavily layered percussion remains firm and clear as the chanting chorus
piles up on top and the bass radiator that occupies almost the entire back panel of the speaker adds a little extra weight that helps keep the slap-bass from getting drowned out. The Omni 10+ even manages to cope with the sheer energy of My Chemical Romance on This Is How I Disappear. It's loud enough that I'm now worried about upsetting the neighbours, yet this mini powerhouse manages to contain the mighty chords and thrashing riffs while still retaining clarity and detail. There could, perhaps, be a little more weight and body to the sound, but it's a minor miracle that the Omni 10 + hasn't fallen apart at this point.
The one track that does cause it some signs of weakness is Shadow Journal. The bass port on the back works well with the internal driver, but Richter's subterranean electronics are another matter altogether, and the entire cabinet shakes as it attempts to deliver the track's ominous sound
OUR VERDICT
Recommended
Harman Kardon Omni 10+ Review
Stylish and powerful speaker that makes a great multi-room starting point
PROS
Powerful yet compact bookshelf loudspeaker
Well- balanced sound
CONS
Struggles with deep bass
No apps for Mac or PC
Add your review
Best Harman Kardon Omni 10+ prices in the US ?

$

350.79
1 used from $399.00
1 new from $350.79
in stock

Best Harman Kardon Omni 10+ prices ?
MORE DEALS

OVERALL CASTING OFF
Developed by Google, Chromecast is a streaming technology that allows apps to 'cast' audio and video directly to suitably equipped devices. This means compatible streaming apps will automatically detect the Omni 10+ speaker when it's connected to a network, allowing them to stream music directly without relying on Harman's own Controller app.
Of course, not all apps support Chromecast, so there will be times when you need to use the Controller app. As you'd expect, Controller can play music that is stored on your iOS and Android mobile devices, as well as supporting Spotify, Qobuz and other streaming services. However, the app doesn't run on Macs or Windows PCs, which makes Harman's Omni range less attractive for people wanting to access music stored on their home computer.