Its ecology and 360° omnidirectional sound is impressive, but is this a multi-room all-rounder? Read our R5 Wireless 360 Review.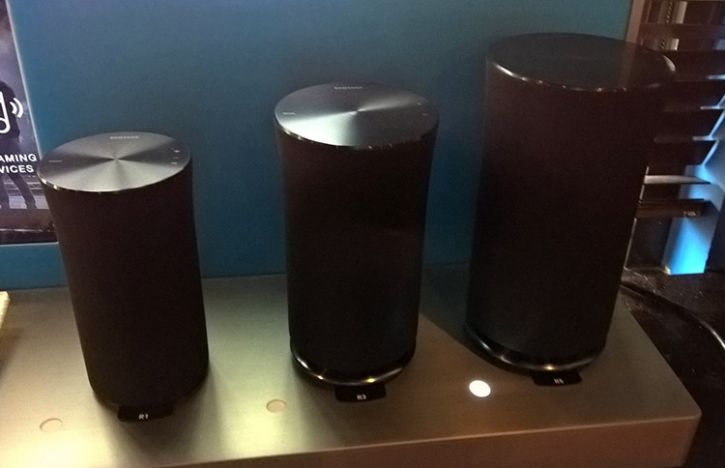 DETAILS – R5 Wireless 360 Review
PRODUCT: Samsung R5 Wireless 360
ORIGIN: South Korea/China
TYPE Wireless multi-room speaker system
WEIGHT 2.7kg
DIMENSIONS (WxHxD) 166 x 313 x 166mm
7Review earns Amazon affiliate commissions from qualifying purchases. You can support the site directly via Paypal donations ☕. Thank you!
FEATURES
Quoted power output: Not specified
Up to 24-bit/ 192kHz playback
Bluetooth wireless connectivity
• Streaming service support: Spotify; Tidal; Qobuz; Deezer; TuneIn
DISTRIBUTOR Samsung
UK TELEPHONE 0330 7267864
WEBSITE samsung.com/uk
For any Samsung TV, smartphone or tablet owners, the R5 is a good option. However, it might not be quite so attractive to people outside of its eco world. This is one of the most imposing speakers in this group, with a cylindrical black tower design that stands at 313mm high. It's probably a little too large for a bookshelf – and that would be a waste anyway since, as the name implies, the R5 claims to provide 360° sound and needs plenty of room to breathe.
The other part of the name is also important, since the R5 is indeed completely wireless. It includes both wifi and Bluetooth, along with Samsung's SoundConnect that allows it to work with its smart TVs. That's great for Samsung aficionados, but the R5's wire-free approach means that there's no 3.5mm connector or any wired inputs of any sort for any other types of devices.
Samsung's Multiroom app for iOS and Android devices works well, guiding you through the set-up process and providing access to services such as Spotify, Tidal and Qobuz. However, the Mac and Windows versions of the app have been stuck in their 'beta' phase for years, and neither of them will allow me to play music files stored on a home computer. The iOS app is also a little erratic, and occasionally appears to lose the network connection to the speaker.
Sound quality
The sound quality of the R5 is also something of a mixed bag, with some aspects of its 360° design proving more effective than others. The upward-firing 25mm tweeter and downward 125mm mid/bass drivers do a good job of creating a spacious, open sound that isn't fixed on a specific sweet spot in one part of the room. The floating, reverberating guitar on Bijou fills the air, and there's a satisfying swell to the synthesiser chords that form the backdrop to Brian May's solo.
The ambient atmospherics of Shadow Journal are equally effective, and the downward-firing bass driver does a good job of digging down to the deeper electronic rumble. The R5 handles the track's subterranean bass better than most when played at mid volume, although it falters as I increase the level to 60 percent, and the entire unit starts to vibrate. Even so, the R5 can still fill a medium-size room on only about 50 percent of its maximum volume, so it's more than adequate for casual listening and there's the option of pairing two speakers together if you fancy listening in stereo.
The higher end of the frequency spectrum proves to be a slight weakness. The R5 handles the dense drums of The Big Sky (Meteorological Mix) effectively, but those heavy rhythms do slightly overpower the lighter vocals. There's a similar effect with the overdriven rock of This Is How I Disappear. The heavy power chords leading into the final chorus land with real weight, but the faster tiffing guitars on top don't stand out as clearly as they should, and lean a little too heavily towards the low end, overshadowing the balance just a little too much for my liking
R5 Wireless 360 Review: OUR VERDICT
R5 Wireless 360 Review
The 360° design works well with easy listening tracks, but lacks discernment on denser material
PROS
Effective 360° sound
Plenty of power
Add your review
Best R5 Wireless 360 prices in the UK ?

£

160.00
1 new from £160.00
in stock

MORE DEALS

SOUND ALL AROUND
The R5 is just one of several speakers in Samsung's Wireless 360 range, all based on a similar cylindrical design, with an upward-firing tweeter on the top of the unit and a downward-firing mid/bass driver in the base. Both channel the audio through what Samsung describes as an 'acoustic lens' that disperses the sound through 360° around the speaker. Sound from the mid/bass also passes through a hollow 'ring radiator' – a circular cavity running around the base of the speaker that further disperses the audio, as well as acting as a passive bass radiator.
The R5 needs to be placed in the centre of the room to show off its omnidirectional sound capabilities, but Samsung's multi-room range also includes less attention-seeking models like the M7, which can be tucked onto a shelf or fixed to a wall.