It might be short on stature, but this mini multi-room offering certainly doesn't lack ambition or features
Despite being one of the most compact speakers in our group, the Pulse Flex is a sophisticated piece of kit packed with the latest technology. Standing at just 183mm tall, 125mm wide and 100mm deep, it'll easily sit on a bookshelf or coffee table in any room around the home. It weighs around 1.2kg and you can even buy an optional battery pack that turns it into a mobile speaker that can be taken out into the garden for the occasional barbecue, should you choose.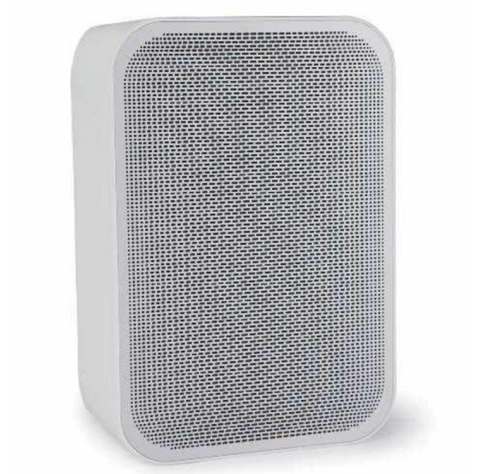 You also have the option of pairing two Flex speakers together for stereo and you can connect the two speakers to one of Bluesound's subwoofers or use them as part of a surround sound system along with one of its soundbar speakers.
The Flex supports a wide range of audio file formats, including hi-res FLAC and MQA, up to 24-bit/192kHz, and as well as providing both wifi and Bluetooth aptX wireless, there's also a 3.5mm jack socket on the back that doubles up for both analogue and digital optical inputs. There's a USB port too, which allows you to play audio files stored on a memory stick or hard drive.
details
PRODUCT Bluesound Pulse Flex
ORIGIN Canada/China
TYPE Wireless multi-room speaker system
WEIGHT 1.2kg
DIMENSIONS (WxHxD) 125 x 183 x 100mm
FEATURES
•  Quoted power output: 2x 10W
•  Up to 24-bit/192 kHz playback
•  AptX Bluetooth wireless connectivity
•  Streaming service support: Spotify; Tidal; Qobuz; Deezer
The only disappointment is that the BluOS app used to control the Flex is not as simple and straightforward as some of its rivals. I'm initially puzzled by its complex menu system and interface, and it's only after randomly stabbing at buttons for some time that I can figure out how to play music stored on my iPad.
Sound quality
After a bit of a slow start, the Flex does acquit itself well once I manage to get it to acknowledge the existence of my iPad. It shows a deft touch with the dense, rhythmic sound of The Big Sky (Meteorological Mix) by Kate Bush, maintaining the space between the pounding drums, slap bass, and chanting vocals, so that each layer of sound remains clear and distinct.
This Is How I Disappear by My Chemical Romance is another track that requires precision, and the Flex always keeps the chopping, aggressive guitar tight and focused even on the overdriven final chorus. Meanwhile the firm, punchy drums dictate the pace and keep everything under control. And it proves surprisingly muscular too – admittedly, its twin 10W Class D amps don't quite have the required power to produce really room-filling sound, but a single speaker will be more than adequate for casual listening around the house.
7Review earns Amazon affiliate commissions from qualifying purchases. You can support the site directly via Paypal donations ☕. Thank you!
Stick one Flex in the lounge and another in the kitchen and you'll have all the bases covered for a dinner party. Switch to something more delicate, and the porcelain chimes of Brian May's solo on Bijou float through the air with an ease that also suggests that two speakers would make a great little stereo system as well. It's no surprise, though, that the compact Flex does struggle with deep bass sounds. It handles the floating ambience of Max Richter's Shadow Journal with no trouble at all, but the deep, electronic bass in the middle section of the track proves a step too far, and I can hear the little speaker cabinet straining at the seams as it attempts to contain that ultra-low rumble. But, to be fair, that's a lot to ask of such a compact design
OUR VERDICT
Recommended
Bluesound Pulse Flex Review
Costly, but hi-res support and versatile networking features appeal
PROS
Versatile multi-room and networking features
Connectivity
Hi-res support
CONS
Complex app
Requires some network knowledge
Add your review
Best Bluesound Pulse Flex prices in the US ?

$

249.00

$299.00
5 new from $249.00
in stock


$

498.00
2 new from $498.00
in stock


$

487.00

$537.00
1 new from $487.00
out of stock

Best Bluesound Pulse Flex prices in the UK ?

£

249.00

£299.00
1 new from £249.00
in stock

MORE DEALS

BLU FOR YOU
The Bluesound app may be complicated, but that complexity reflects the fact that it's more than just a simple music player – it's actually part of a complete BluOS operating system that is designed to focus on playing music within a multi-room network environment.
The app only runs on iOS and Android devices, which might seem to leave Mac and PC desktop users out in the cold, but the operating system also allows you to create 'network shares' so that you can play music stored on a Mac or PC, or on a separate network media server, such as Bluesound's Vault 2 with 2TB of storage (HFC 421). Not everyone has this level of technical know-how, but it's worth persevering with the Pulse if you want that versatility or require hi-res playback and MQA support.