A versatile multi-room speaker that proves adept at handling more delicate, atmospheric sounds
We first saw the original HEOS 5 as part of a full multi-room setup in HFC 395 and it's still on sale on a number of online stores. This is the up-to-date HS2 model, which now includes Bluetooth and support for hi-res audio up to 24-bit/192kHz.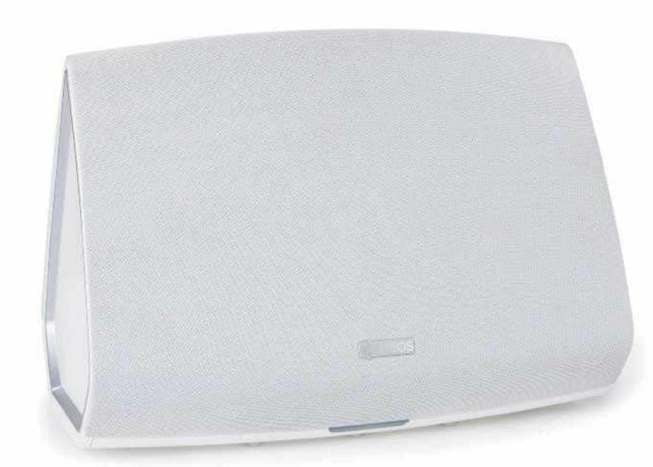 The HEOS 5 HS2 is one of the larger speakers in this group and houses four separate drivers – two tweeters, and two mid/bass drivers – along with a passive radiator to provide a bass boost. Even so, it's still small enough to sit on a shelf without too much trouble. The multi-room side of things is handled by either wi-fi or the Ethernet interface on the back of the unit, but the HEOS 5 HS2 also includes Bluetooth for quick and easy pairing with mobile devices, as well as a 3.5mm connector and USB port.
Getting started is straightforward, as the HEOS app guides you through the set-up process quickly and easily. Unfortunately, the app only runs on iOS, Android and Amazon Kindle devices, so if you want to play music from a Mac, PC or network drive then you'll need to roll up your sleeves and wrestle with the network settings on your computer.
DETAILS
PRODUCT Denon HEOS 5 HS2
ORIGIN China
7Review earns Amazon affiliate commissions from qualifying purchases. You can support the site directly via Paypal donations ☕. Thank you!
TYPE Wireless multi-room speaker system
WEIGHT 3.2kg
DIMENSIONS (WxHxD) 294 x 209 x 166mm
FEATURES
•  Quoted power output: Not specified
•  Up to 24-bit/ 192kHz and DSD128 playback
•  Bluetooth wireless connectivity
•  Streaming service support: Spotify; Tidal; Deezer
Sound quality
The four drivers inside the HEOS 5 HS2 mean that it's larger and more substantial than its compact bookshelf rivals, and while the speaker doesn't provide much sense of stereo separation, its design does help to create a more open, spacious soundstage. Brian May's echo-laden Bijou drifts lightly up into the air, while Freddie Mercury's brief solo captures the deeper, richer timbre of his voice in its later years. You also have the option of pairing two speakers together to create a more traditional stereo configuration to fill the room with sound.
That bass port does its job well too, and I'm really surprised by the rich vibrating thrum of the didgeridoo that opens The Big Sky (Meteorological Mix). In fact, the bass becomes rather exaggerated at times, and the truly subterranean rumbling of Shadow Journal initially shakes both the speaker cabinet and my floorboards. Thankfully, though, the HEOS app provides treble and bass controls that allow me to adjust the sound so that the lighter strings in the second half of the track aren't overwhelmed, and the speaker proves very effective at creating the wistful, floating cloud of sound that this ambient track requires to really convince.
That delicacy proves to be the main strength of the HEOS, but surprisingly, it struggles as I ramp up the volume and turn to the sonic onslaught of This Is How I Disappear. The four drivers do provide plenty of power, and casual listening while I'm exploring the app only requires about 25 percent of maximum volume. But I'm surprised to discover that the sound starts to become harsher at around only 50 percent, and the aggressive, chopping guitar riffs lose clarity and impact. It may be that the combined firepower of those four Class D amps is too much for the compact speaker cabinet, but the HEOS 5 HS2 can't quite handle the overblown rock epics that I enjoy so much. It will, however, work a treat if you only want to play more delicate music in the background.
OUR VERDICT
Denon HEOS 5 HS2 Review
A great option for mellow listening, but it won't get the party started
PROS
Spacious sound; connectivity; hi-res support
CONS
Sound hardens up at higher volumes; limited app
Add your review
Best Denon HEOS 5 HS2 prices ?
MORE DEALS

NET KNOW-HOW
Denon's HEOS app only runs on iOS, Android and Amazon Kindle devices, so there's no quick and easy way to play music from a Mac or PC – which seems like a fairly basic requirement, given the number of people that store music on a home computer. The company's advice on this matter can also be a little confusing at times. The Help files on its website initially states that I need to install DLNA software (such as Plex) on a Mac or PC, but I later discover additional information that explains how to set up 'network shares' on a computer, which allows the HEOS app from my mobile devices to view and play music stored on my computer. Unfortunately, this still proves to be something of a struggle, and it's a shame that Denon's app software isn't as neatly designed as the HEOS speakers themselves.