SOMFY One – 4/5 – indoor security camera
VERDICT
A quick and easy way to add home security, but a few annoyances stop us recommending it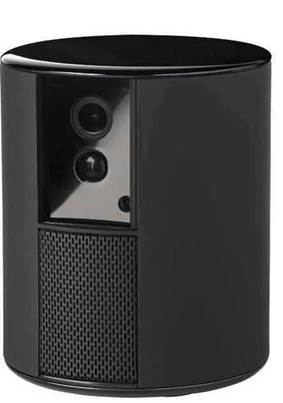 AT FIRST GLANCE, the Somfy One looks like a fairly standard indoor security camera. And, with a built-in camera, this is a fair assumption to make. However, it's not just a camera, but a complete integrated security system with a siren. You can expand your options further by adding Somfy's range of security accessories, including the IntelliTAG, which can detect someone trying to break in through a door or window, and the indoor motion sensor.
If you're looking to build a smart security system, then, this neat integrated package seems like a good way to get started.
I SPY
Setting up the Somfy One is simple using the Somfy Protect app. Once it's picked up your camera, you just need to connect it to your wireless network, and you're ready to go. The camera has an 802.11n Wi-Fi adaptor and can connect to 2.4GHz networks only.
At its most basic, the Somfy One is a standard security camera with a Full HD resolution and a wide-angle 130° lens. It sits neatly on a desk and can take in most of a room, and there's an optional wall-mount arm if you'd rather place the camera higher up.
7Review earns Amazon affiliate commissions from qualifying purchases. You can support the site directly via Paypal donations ☕. Thank you!
Once configured, the Somfy One acts much like other security cameras. From the app, you can monitor the live video feed, and open and close the physical security shutter, which uses a motor to move. Having a physical shutter is good, as you can see at a glance if the camera is recording or not, and ensure that you're keeping your privacy.
We found the video feed lagged about four seconds behind. That's not a huge problem when viewing remotely, but it's a little annoying when the same delay is applied to the chat option. Hitting the microphone button in the app lets you speak through the clear-sounding speaker, but there's a hefty delay between speaking and the audio being sent.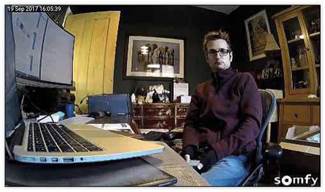 Video quality is good, both during the day and at night when the IR bulbs turn on. We could pick out fine details, and people were easy to recognise.
Video footage is automatically saved to the cloud, but the choices aren't particularly flexible. The Basic service keeps 10-second video clips, stored for 24 hours; you can upgrade to the Silver service for .99 a month, which adds one day of continuous video recording. It's a shame that there aren't longer plans available, such as Nest's 10-day plan, as Somfy's options don't give you a lot of time to save potential evidence.
Security events are tagged in the Media Library section of the app, so you can jump directly to an event. You can also scroll through the well-presented timeline to find any motion events. Clips can be downloaded to your phone and saved for evidence.
SOUND OFF
The Somfy One comes into its own with its built-in siren. With protection mode enabled, it turns into a complete security system.
The siren is operated by the camera's motion detection and you have three options: sound the siren after a warning (the One plays an annoying ditty first); immediately sound the siren; or warn you on your phone, so you can check the video feed and manually sound the alarm if you spot an intruder.
Additional motion sensors and IntelliTAGs expand the system and can be used to trigger the alarm, turning the Somfy One into something more akin to a traditional alarm.
When the alarm goes off, the 90+dB siren is piercing and certainly enough to put off an intruder and alert the neighbours. Coming from such a small box, the noise is impressive.
What's less impressive is that the Somfy One doesn't have a battery backup, so turning off the device also turns off the alarm. There's a tamper option, which sets off the alarm immediately if the One is picked up, but by that point, the thief can just yank out the power cable and stop the audio.
If you're worried about pets setting off motion detection, the One has a couple of tricks up its sleeve. First, you can adjust the motion sensitivity to stop the movement of pets setting it off. This works to a degree, but we found that placing the camera far away from where our cats normally were, so they didn't fill the frame, worked best. Second, you can define which parts of the screen you want to monitor, cutting out any potential problem areas.
YOU SAY GOODBYE
You can set the Somfy One to enter privacy mode automatically when the alarm is deactivated, which means you're not bugging your own home with a camera.
Somfy can use geolocation to detect where you are. When you leave home, the app can prompt you to enable the alarm, but can't turn it on automatically; it can automatically deactivate the alarm when you return home. This makes it easier to deal with multiple users, as the first one out doesn't trigger the alarm to come on automatically; the first person home turns the alarm off, though.
Alternatively, the system can be enabled and disabled through Alexa. There's also an optional keyfob if you want to do things the old-fashioned way.
Overall, the Somfy One is a neat system that can be expanded to include other sensors. However, the video-recording options are lacking compared to Nest and other rivals, and the fact that you can unplug the siren to stop it going off is a little disappointing. Knowing this, the Somfy One could be a good choice if you want a quick-and-easy alarm system with an integral camera; for proper, hard-to-tamper-with security, the more expensive Honeywell Evohome Security system (Shopper 354) is the best bet.
David Ludlow
VIDEO RESOLUTION 1080p recording • CLOUD STORAGE Yes (subscription required) • NETWORKING 802.11ac • SIREN 90dB • WARRANTY OneyearRTB
Somfy 2401493 - Somfy One+ | Alarm System with Integrated Full HD Surveillance Camera | 90dB Siren | 130° Wide Angle Viewing | Motion Detector | Deactivation Badge | Privacy Shutter
as of December 7, 2023 10:19 pm
Features
Ideal for an apartment, Somfy One+ has a camera with Full HD day/night vision and 130° wide angle, an animal-compatible motion detector (less than 25kg), and a 90dB siren
It has a backup battery with 6 hours of autonomy, and comes with 1 remote control badge and 1 IntelliTAG vibration detector
A deterrent, it alerts before an intrusion takes place by analysing vibrations on doors and windows using the patented technology of IntelliTAG opening detectors
With the integrated camera, you can always keep an eye on your home from your smartphone, wherever you are
When detected, the siren sounds and you immediately receive a 30-second video of the event, which can be downloaded for 7 days.