DETAILS
Manufacturer. AMD
Requirements: AM3+ motherboard, DDR3 RAM, 500W minimum
The AMD FX-4350 is a slightly newer processor than the FX-6300. Released in April 2013, this Piledriver micro architecture, Vishera core is a mid-class CPU using a 32nm manufacturing process.
This 4.2GHz AM3+ processor, with a turbo clock speed of 4.3GHz, features four cores, four threads, 4MB L2 cache and an 8MB L3 cache. The TDP is surprisingly high at 125W, but that isn't too much of a problem.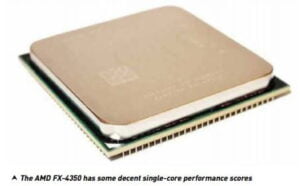 Overclocking the FX-4350 has in the past come up with some pretty impressive numbers. The average aircooled overclock speed is around 5GHz, with a liquid cooled overclock of 5.37GHz. We managed to push it to 5.01GHz with our Arctic Liquid Freezer 240, which we were quite impressed with.
7Review earns Amazon affiliate commissions from qualifying purchases. You can support the site directly via Paypal donations ☕. Thank you!
No matter how many cores or super-low manufacturing processes are involved, in most cases, gigahertz rule.
It's a surprisingly capable CPU, and although it lacks the extra cores that the FX-6300 has, it still does a really good job of being a budget gaming platform. What's more, the FX-4350 only costs more than the FX-6300. So in instances where more gigahertz count and for better single-core performance, the FX-4350 is a better buy than the FX-6300. However, if you require multi-core performance on a budget, the FX-6300 is where the smart money is at present.
As for benchmarks, the FX-4350 did reasonably well. The multi-core performance was always going to be less than the FX-6300 from the same price range, but its single-core scores were better. The Cinebench R15 singlecore score was a good 97, while the multi-core score of 392 could be better. The PassMark version 8 overall score was a reasonable 5,298 and the single-core score was 1,522. As before, we ran the benchmarks using the stock clock speeds of the processor.
Essentially, the FX-4350 is a faster and more power hungry version of the FX-4300, with it being at least 400MHz quicker. The slight refresh didn't radically improve things, unfortunately, so the
FX-4350's launch didn't have the impact AMD was hoping for. That said, it's a good processor and one that'll keep up with most users.
Higher-end gamers and those who demand better multi-core performance, for tasks such as virtualization and video editing, will need to look elsewhere. For the rest of us, though, is a good price for a processor we can safely clock up to 5GHz.
It's a good processor and one that'll keep up with most users