If you own an LG GX OLED TV, you'll swoon over this sleek dedicated soundbar, but it's not for performance hounds, cautions Steve May. Read our LG Sound Bar GX Review.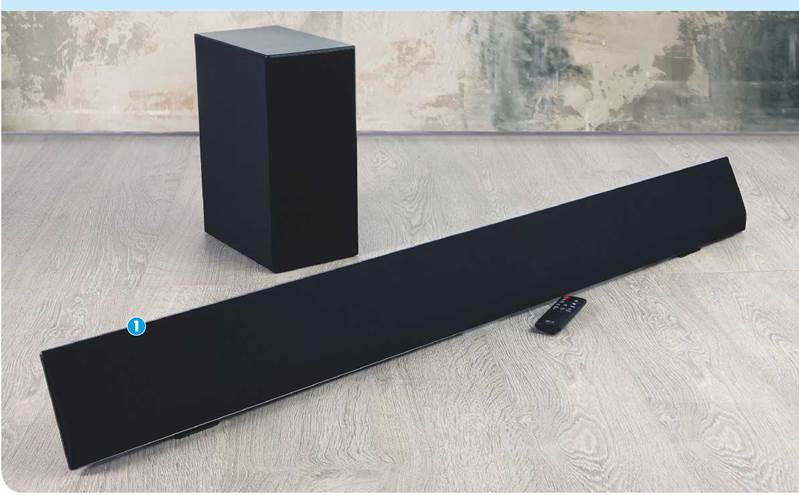 Details
3.1 soundbar system with Atmos/DTS:X
Sister model to LG's conventional 'bars, aimed at GX OLED owners
Peers
:
Bang & Olufsen Beosound Stage
; Samsung HW-Q900T
LG'S RANGE OF soundbar systems is so extensive it can be hard to keep track of them. But there's a clue in the name of the Sound Bar GX that isn't there with the likes of its SN11RG or SL8YG – this model is primarily designed as a partner for its GX OLED range.
Those TV models (see HCC #312 for our review of the 65in version) are intended for a wall-mount installation, to the point that they don't even come supplied with a traditional desktop stand. The thinking goes that if you want a complementary soundbar, this model should also be wall-mountable. And not just a typical design.
The GX Sound Bar, therefore, doesn't look like a typical soundbar. The length is not surprising – at over 1.4m long it challenges LG's monstrous SN11RG (see HCC #313), and is most obviously suited to the 65in and 77in GX screens – but its slender nature is. Stood upright, it's a shallow 32.5mm deep.
A black fabric grille adds an upmarket feel, while to the right-hand edge is a USB port, plus physical buttons for Volume, Input selection and Power.
The Sound Bar GX doesn't bother with an onscreen menu, instead there's a centralised text display visible through the grille. Rather annoyingly this can't be turned off, and soon becomes a mocking irritation when watching a movie in a darkened room.
7Review earns Amazon affiliate commissions from qualifying purchases. You can support the site directly via Paypal donations ☕. Thank you!
See also TOP 10 Soundbars & Soundbases
The driver array is where the Sound Bar GX also veers away from LG's playbook for a premium model. While the brand's mid/high-end soundbar systems deploy upfiring and side-firing units for Dolby Atmos/DTS:X immersion and surround sonics, here you get a somewhat basic 3.1-configuration. Left and right channels utilise 3in woofer pairings with a 0.75in tweeter, the bar's centre channel is handled by a single 2.3in full-range squawker, and extra bass comes from the wireless 6in subwoofer. While the 'bar doesn't sport any upfiring drivers, the whole unit does at least aim its units at a slight angle, inclining toward the listening position.
Considering the price tag, LG's design team works to make it feel like money well spent. The supplied feet, which allow the bar to be mounted on AV furniture (if you insist), are equally eye-catching. Yet the subwoofer is rather more basic-looking, and LG has missed the opportunity to rethink its remote control design for this catwalk contender.
'Performance is invariably better with the small stuff. Ambience and fine detail are painstakingly portrayed'
Connectivity is limited to two HDMIs, an input and an output with ARC/eARC and 4K HDR passthrough (Dolby Vision-enabled, but not HDR10+), plus an optical digital audio input and USB port. All things considered, this is fairly sparse pickings for a premium soundbar.
Naturally, there's also integrated Bluetooth and Wi-Fi, plus hi-res audio playback (to 192kHz) and upsampling to 96kHz, and a bevy of sound preset modes (AI Sound Pro, Movie, Music, Standard and Bass Blast). However, there's no sign of any collaboration with Meridian Audio on this 3.1 model, nor do you get LG's automatic room calibration system (which seems a bit odd, as the 'bar can be used with LG's optional SP8-KS wireless rears for a 5.1 system). This twinset is literally plug-and-play, bar the option of manually tweaking treble, bass and rear/centre/ subwoofer levels.
Wide thing, you make my heart sing
While the unit is Atmos-enabled, that alone is no guarantee of immersive audio. A run-through of classic Dolby Atmos demos quickly confirms that the Sound Bar GX presents with admirable width and – to a certain extent – height, but there's no overriding sense of sonic overhang.
The sheer size of this 'bar really aids that stereo spread. This gives it an edge when it comes to Bluetooth streaming. Any mid-range smart speaker will sound positively monophonic in comparison.
The subwoofer itself is able to drop low, but a lack of integration with the main unit means it draws attention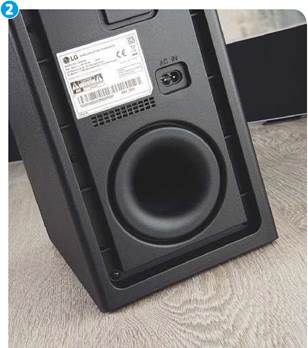 to itself. When Venom slugs it out with Riot on the Golden Gate Bridge (Venom, Blu-ray), the subwoofer booms and thumps with giddy abandon, and is almost distracting.
The performance here is invariably better with the small stuff, when the subwoofer has been side-lined. Ambience and fine detail are painstakingly portrayed. When Tom Hanks visits early on for a newspaper reading in Paul Greengrass's News of the World (Netflix, Dolby Atmos), the downpour on mud followed by the intimacy of the room in which he reads papers to locals is perfectly evocative.
Unfortunately, there's an issue with snappy dynamics, or rather the lack of them. Consider Jumanji: Welcome to the Jungle's rhino vs helicopter sequence (4K Blu-ray). It's surprising just how flat the chopper sounds as it ascends from the gorge; details stay locked to the centre of the bar.
On the plus side, it handles dialogue well, and benefits from a meaty mid-range that convincingly articulates the opening firefight in Outside the Wire (Netflix, Dolby Atmos).
Cosmetic companion
The Sound Bar GX is an artfully designed, bespoke audio solution for owners of LG's ultra-posh Gallery OLEDs. As a cosmetic match with that range, it's spot on, and the combo together will sound immeasurably better than the GX OLED TV relying on its own armoury. It images audio appropriately wide, with nice treble detailing and portly mids.
However, one suspects LG would like its Sound Bar GX to be compared to Bang & Olufsen's Beosound Stage; after all, that's near where it pegged its price early on, before recent reductions brought it down to the £ mark. But it's not in the same ballpark performance-wise, lacking the drama and the cinematic scale of its rival. As an audio upgrade for LG's designer TV, it sounds just fine, but LG's more conventional Atmos models are superior.
Verdict
LG Sound Bar GX www.lg.com/uk
LG Sound Bar GX Review
This highly stylised 3.1-channel Atmos soundbar is the perfect match for GX OLED owners, but unfortunately doesn't sound as good as it looks.
Add your review
Best LG Sound Bar GX prices in the US ?
Best LG Sound Bar GX prices ?
MORE DEALS

See also TOP 10 Soundbars & Soundbases
Specifications
| | |
| --- | --- |
| Product Name | LG GX 3.1 CH High Res Audio Sound Bar with Dolby Atmos |
| Dolby Atmos | Yes |
| Wireless Surround Sound Ready | Yes |
| High Resolution Audio | Up to 24bit/96kHz |
| 24-bit Upsampling | Yes |
| DTS:X | Yes |
| USB Playback | Yes |
| Bluetooth Streaming | Yes (4.0) |
| Dolby Vision & HDR10 Passthrough | Yes |
| HDMI eARC | Yes |
| 4K Passthrough | Yes (HDCP 2.3) |
| Remote Control | Yes |
| Batteries | AAA x 2 |
| Warranty Card | Yes |
| Optical Cable | Yes |
| Wall Mount Bracket | Yes |
| Dolby Digital | Yes |
| LPCM | Yes |
| DTS-HD Master Audio | Yes |
| Dolby Atmos | Yes |
| Dolby Digital Plus | Yes |
| Dolby TrueHD | Yes |
| DTS Digital Surround | Yes |
| DTS-HD High Resolution | Yes |
| DTS:X | Yes |
| AAC C4A / USB | Yes/Yes |
| FLAC (Up to 192kHz) C4A / USB | Yes/Yes |
| OGG (Up to 48kHz) C4A / USB | Yes/Yes |
| WAV C4A / USB | Yes/Yes |
| MP3 C4A / USB | Yes/Yes |
| TV Remote Compatibility | Yes |
| Night Mode | Yes |
| SIMPLINK | Yes |
| Dynamic Range Control | Yes (In App) |
| Auto Volume Leveler | Yes (In App) |
| Firmware Over-the-air (FOTA) | Yes |
| Smartphone Remote App (iOS/Android) | Android OS |
| LCD Display Auto-Dimmer | Yes |
| Easy Setup with BLE | Yes |
| Subwoofer Power Consumption | 33W |
| Subwoofer Standby Power Consumption | 0.5W u2193 |
| Soundbar Standby Power Consumption | 0.5W u2193 |
| Total Power | 420W |
| Channels | 3.1ch |
| 2020 Model | Yes |
| LG TV Sound Sync (Optical) | Yes |
| USB | Yes |
| Wireless Active Subwoofer | Yes |
| Optical Input | Yes |
| Bluetooth | 4.0 |
| HDMI (HDCP 2.3) Output | 1 |
| HDMI (HDCP 2.3) Input | 2 |
| Standard | Yes |
| Bass Blast | Yes |
| Bass Blast + | Yes |
| Music | Yes |
| DTS:X | Yes |
| Dolby Atmos | Yes |
| Movie (Dolby Surround) | Yes |
| AI Sound Pro | Yes |
| Front | 80W (40W+40W) x 2 |
| Subwoofer | 220W (Wireless) |
| Center | 40W |
| Rear Speaker Kit Compatible | Yes |
| TV Matching | 55 inch u2191 |
| Sound Bar (WxHxD) | 56.7" x 5.9" x 1.2" |
| Subwoofer (WxHxD) | 8.7" x 15.4" x 12.3" |
| Soundbar Net Weight | 9.3 lbs |
| Subwoofer Net Weight | 12.8 lbs |
| Shipping Size (WxHxD) | 60.7" x 10.6" x 17.2" |
| Shipping Weight | 30.5 lbs |
| Limited Warranty | 1 Year Parts & Labor |
| UPC | 719192641709 |
| Country of origin | China |
SPECIFICATIONS
DRIVERS: 4 x 3in woofers; 2 x 0.75in tweeters; 1 x 2.3in full-range driver ONBOARD POWER (CLAIMED): 3 x 40W plus 220W subwoofer CONNECTIONS; 1 x HDMI input; 1 x HDMI output with eARC; 1 x optical digital audio input; 1 x USB DOLBYATMOS/ DTS:X: Yes/Yes SEPARATE SUB: Yes. 6in driver REMOTE CONTROL: Yes DIMENSIONS (SOUNDBAR): 1,440(w) x 150(d) x 32.5(h)mm WEIGHT (SOUNDBAR): 5.8kg
FEATURES: Bluetooth v4.0; HDMI CEC control; 4K HDR passthrough with Dolby Vision; Alexa voice control; wireless subwoofer connection; compatible with SP8-KS surround speakers; hi-res file playback over USB (including 24-bit/192kHz FLAC); 0-300ms AV sync
TESTED WITH
JUMANJI: WELCOME TO THE JUNGLE:
It's easy to see why the 2017 Jumanji reboot starring Dwayne Johnson was a huge hit – action, comedy, slick SFX and a good-natured tone all come together. Nor is it just one for family night – Sony's 4K BD release carries a massively entertaining Dolby Atmos track that deserves to be played loud.