Sleeker than its predecessor and partnered with matching sub, this powerful system delivers virtual cinema theatrics, says Steve May Soundbar stunner. Read our SENNHEISER AMBEO SOUNDBAR PLUS Review.
Starships have never sounded quite so solid. Thudding in and out of warp, which happens a lot in season three of Star Trek: Picard, I feel as if my room is being dragged along in their wake. The Sennheiser Ambeo Plus system before me is to blame.
This soundbar/sub combi doesn't just drop deep, it slams so hard and fast bass becomes tangible. I sit on my sofa, like a Starfleet Captain commanding from the bridge, feeling suitably buffeted. Fears that the new, slimmer Ambeo Soundbar Plus would be a pale imitation of its bigger brother, now known as the Soundbar Max, are quickly dispelled.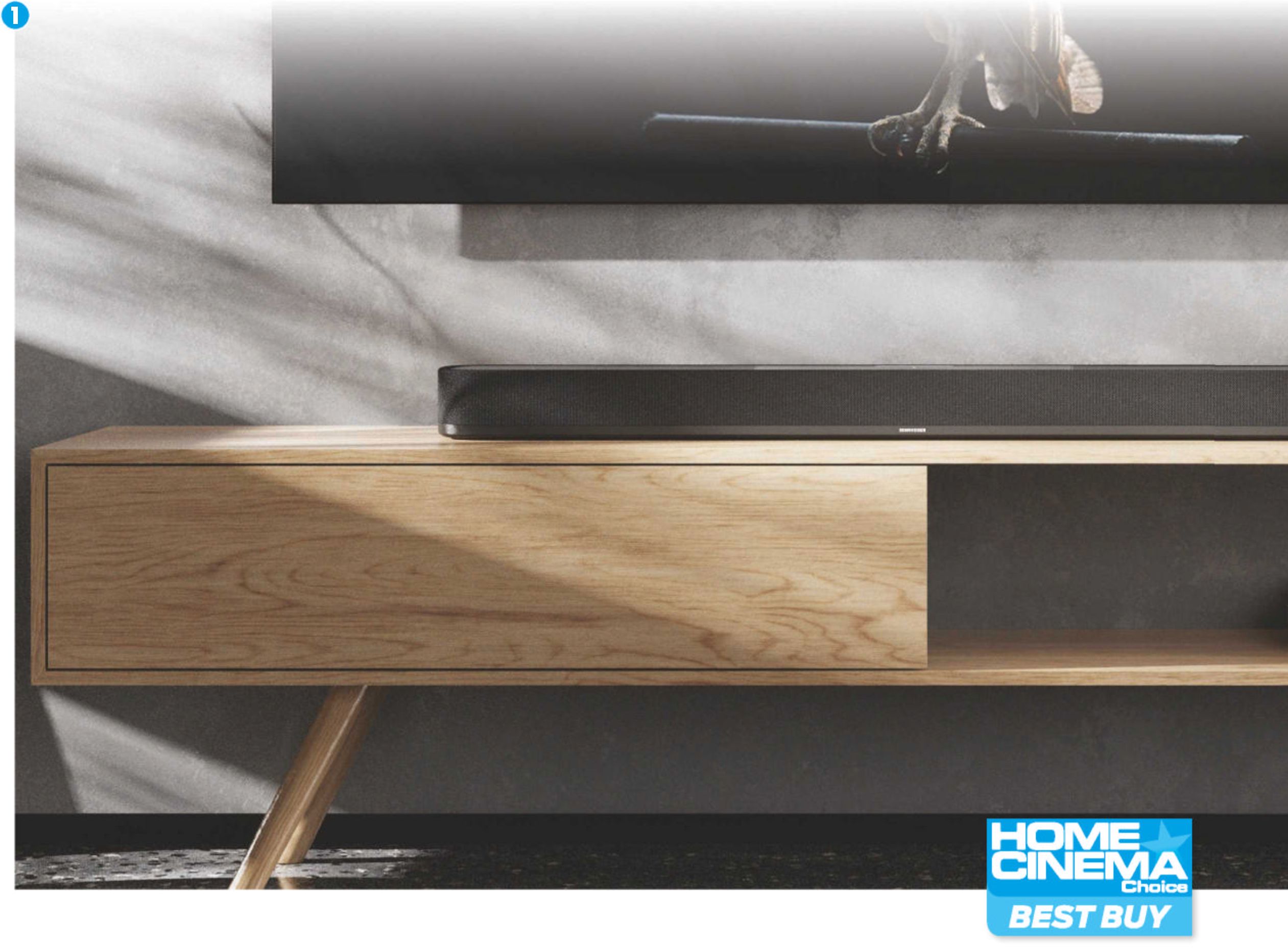 1. Around a metre wide, the soundbar is suited to use with large TVs
The original Ambeo Soundbar (reviewed HCC #302) still sets a high benchmark when it comes to replicating the home theatre experience from an all-in-one system, but it's not for everyone. It's expensive at around £, unfeasibly hefty at 18.5kg, and looks like something escaped from a science lab.
By comparison, this second-gen Ambeo model is beautifully finished, far easier to accommodate and a little cheaper (although certainly not 'budget'). You can pick up the Ambeo Soundbar Plus on its own for £, while the Ambeo Sub is a separate £ purchase. They've been supplied together for our review, and I can see why. The subwoofer, which seamlessly marries with the soundbar, adds formidable heft.
AV Info
| | |
| --- | --- |
| PRODUCT: | Premium immersive audio soundbar with optional subwoofer |
| POSITION: | New baby brother for the original Ambeo Soundbar |
| PEERS: | Devialet Dione; Samsung Q990C |
That said, in isolation the Soundbar Plus is no lightweight. A pair of integrated 4in subwoofers lend it appreciable low-end poise. But adding the Ambeo Sub is just so much fun, I think it's worth the extra expense.
7Review earns Amazon affiliate commissions from qualifying purchases. You can support the site directly via Paypal donations ☕. Thank you!
See also TOP 10 Soundbars & Soundbases
RECOMMENDED VIDEOS FOR YOU...
Print the legend
Designated a 7.1.4 system, the Ambeo Soundbar Plus is more compact than Sennheiser's Max model but still requires substantial AV furniture. At 1,051mm wide, it's best partnered with a 65in (or larger) screen.
The soundbar is encircled in black fabric, with an angled, perforated top plate that offers up little touch-sensitive controls for volume, Bluetooth pairing and input selection. It also lights up Dolby Atmos or DTS:X legends when content is played. This matches the illuminated Ambeo logo on the front-right of the chassis, and Sennheiser's glowing volume slider.
Under the Ambeo Soundbar Plus's bonnet are seven 50mm aluminium cone full-range drivers handling front, side and height channels. Add the soundbar's two subwoofer units and you get a nine-strong array powered by individual Class D amp modules, with the total power rating reaching 400W.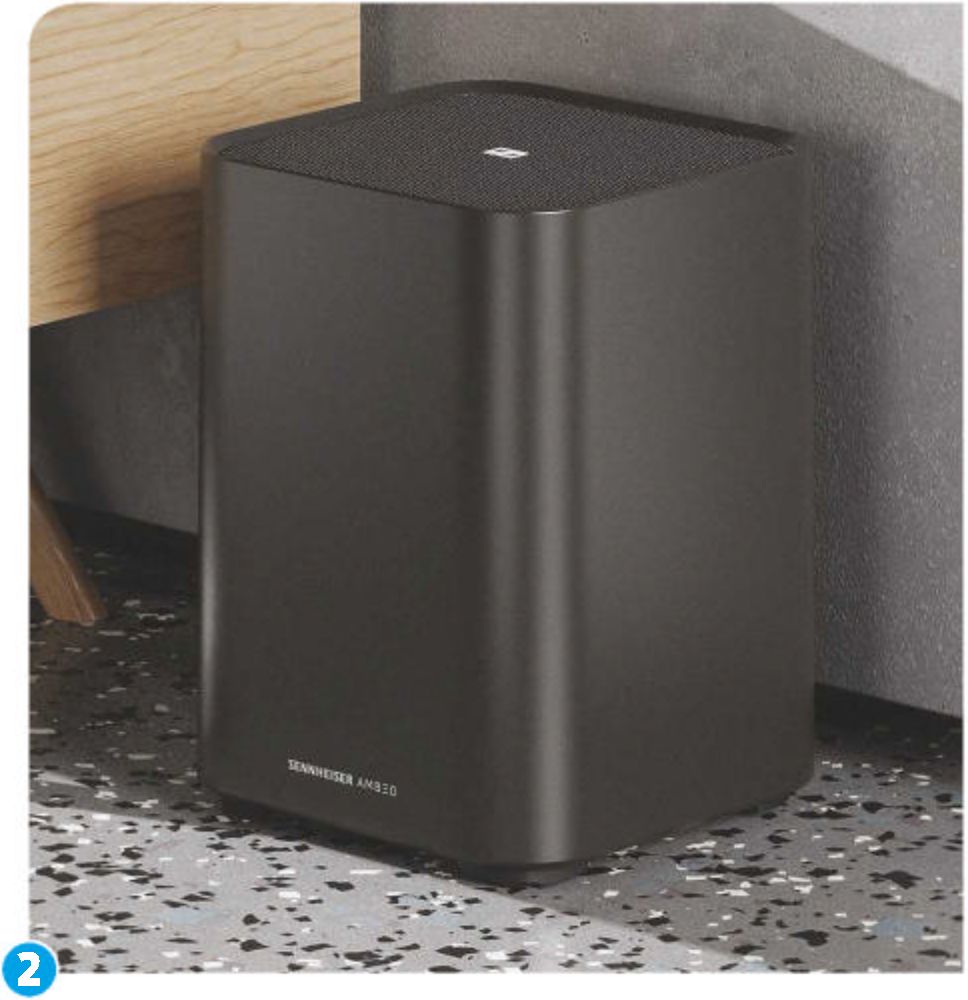 2. The wireless Ambeo Sub packs an 8in woofer and 350W-rated power plant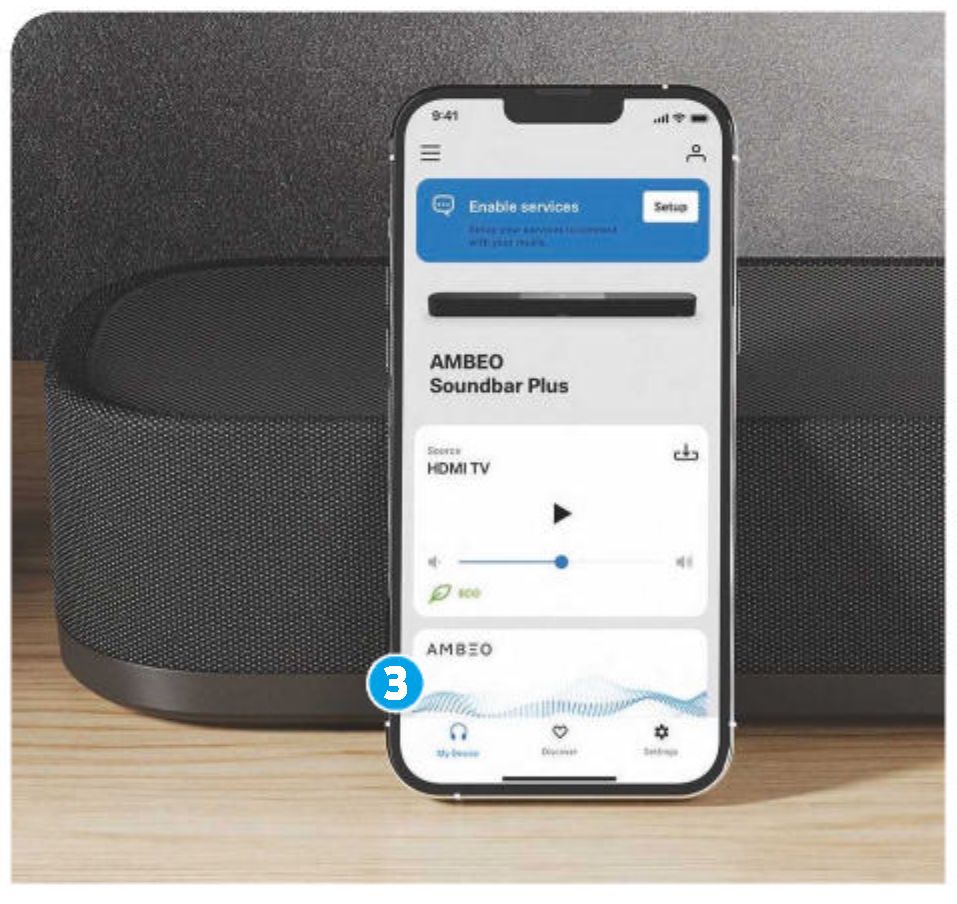 3. Sennheiser's app provides access to the bar's Ambeo processing settings
Connectivity is reasonably good. The soundbar has three HDMI connections, one of which is designated TV eARC, plus an optical digital audio input, USB port, Ethernet jack to support Wi-Fi, and a pair of stereo phonos. There's also a subwoofer pre-out, if required, although the obvious partner model – the Ambeo Sub – is a wireless design.
The styling here is a good match, with curved edges and a premium finish. It certainly doesn't look like the typical subwoofer box bundled with 2.1 systems. It features an 8in cellulose cone woofer, driven by a 350W Class D amp, and, says Sennheiser, plumbs the depths down to 27Hz. If you feel the need, you can actually chain four of these bad boys together.
While the form factor may be different, the core technology of the Ambeo Soundbar Plus remains unchanged from the original. Its Ambeo 3D processing is delivered by Sennheiser in partnership with science gurus at Germany's Fraunhofer IIS Institute.
Setup, which invariably involves updating firmware for both soundbar and subwoofer, comes via the partnering Sennheiser Smart Control app. There's no separate mic required for the self-calibration routine, as four far-field devices are built-in. In fact, the whole automated operation takes just a couple of minutes. A final, dramatic whoosh signals that the acoustic properties of your room have been read and those imaginary speakers positioned.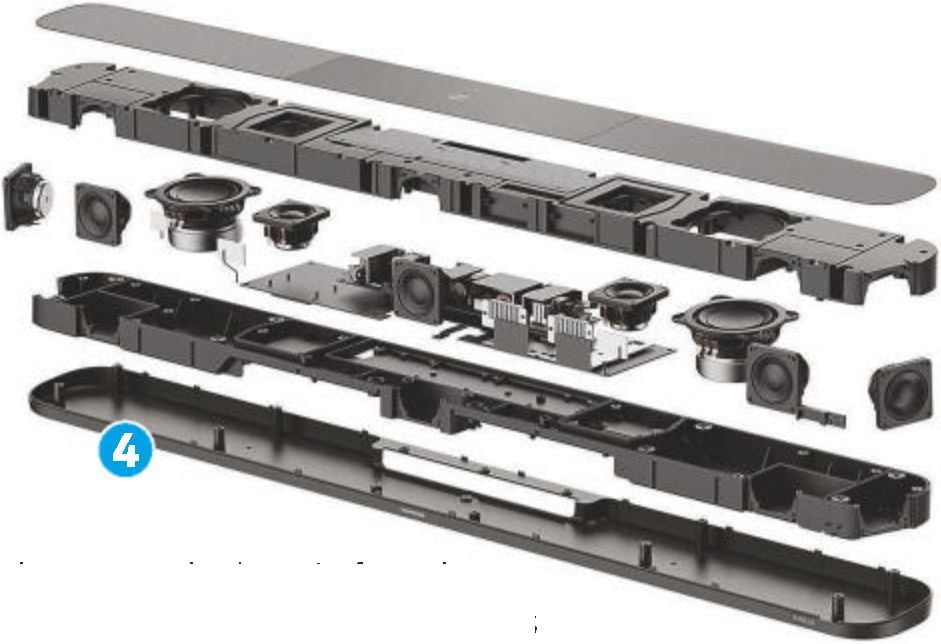 4. Exploded view shows the soundbar's nine-driver array
Full-frontal
So just how accurate is this interpolated soundfield? A Dolby 7.1.4 channel test confirms correctly placed L/C/R and front heights, but the remaining channels, rear surround and rear height, have been folded in.
'When Jennifer Lopez's makeshift bomb ignites, the sound licks around the phantom speaker layout'
This is replicated by the listening experience, which is wide and high, but quiet to the rear.
An audio-only demo of a 747 plane taking off doesn't so much fly front to back, as go up like a rocket, but a rainstorm demo provides a convincing, spatial downpour.
This translates well in the Spinosaurus river attack in Jurassic Park III (4K BD), which takes place in torrential rain. As Sam Neil takes a dunking, the deluge appears to spatter around my room and sounds authentically wet.
Codec cover is extensive. In addition to Dolby Atmos and DTS: X, there's support for 360 Reality Audio and MPEG-H. The system is also more than happy with flatbed 5.1 sources or stereo, applying various levels of upscaling. A Voice Enhancement toggle adds a subtle lift to dialogue if needed, without getting too thin.
There are also various flavours of the Ambeo processing on offer – Sennheiser's partnering app has selectable Adaptive, Music, Movie, News, Neutral or Sports modes. However, there's no Game preset, and when playing Overwatch (PS5) the subwoofer constantly overwhelmed the action, simply because it was in constant use. Sometimes you can have too much of a good thing.

5. Top side of the 'bar features touchsensitive volume, Bluetooth pairing and source controls
While 5.1 sources like Star Trek: Picard sound fine, there's a greater sense of dimensionality with 3D audio material. The Mother (Netflix) is a cookie-cutter actioner which benefits from the extra drama that the Sennheiser imparts. The opening attack on the safe house is packed with sonic detail, and the resulting gunfire is sudden and violent, with huge transients. When Jennifer Lopez's makeshift bathroom bomb ignites, the sound of the fire-flash licks around the phantom speaker layout.
The Soundbar Plus is also musically adept. It presents stereo music as if coming from a pair of bookshelf speakers, with plenty of detail, rich mid-range and unforced bass. The app accommodates Spotify Connect, Tidal Connect and Apple AirPlay 2 if you'd rather not use Bluetooth and your regular apps.
The real fun, though, is Dolby Atmos music. Using the Tidal app on an Android OS TV, and routing this bitstream over ARC to the Ambeo Soundbar Plus opens the door to some wonderfully immersive mixes. Sam Ryder's 'Mountain' has scale and appreciable front/side action, while the Dolby Atmos version of Motorhead's cover of Metallica classic 'Enter Sandman' (first released in 1998 as part of an ECW wrestling compilation!), comes across as a huge, growling Warpig. It's the next best thing to having Lemmy in your living room.
Verdict
Recommended
SENNHEISER AMBEO SOUNDBAR PLUS Review
Immersive and versatile, this more domesticated version of Sennheiser's Ambeo soundbar is a breath-taking performer, but gamers will be better served elsewhere.
Best SENNHEISER AMBEO SOUNDBAR PLUS prices in the US ?

$

1,499.95
1 used from $1,399.97
9 new from $1,363.95
in stock

Best SENNHEISER AMBEO SOUNDBAR PLUS prices in the UK ?

£

1,149.00

£1,299.00
1 new from £1,149.00
in stock


£

1,748.00

£1,948.00
1 new from £1,748.00
in stock

MORE DEALS

See also TOP 10 Soundbars & Soundbases
SPECIFICATIONS
| | |
| --- | --- |
| DRIVERS | 2 x 4in woofers; 7 x 50mm full-range drivers |
| ONBOARD POWER (CLAIMED) | 400W |
| CONNECTIONS | 2 x HDMI inputs; 1 x HDMI eARC; digital optical audio input; analogue stereo audio input; powered USB; subwoofer pre-out |
| DOLBYATMOS/ DTS:X | Yes/Yes |
| SEPARATE SUB | Optional Ambeo Sub (8in driver; 350W rated amp) |
| REMOTE CONTROL | Yes |
| DIMENSIONS | 1,051(w) x 77(h) x 121(d)mm |
| WEIGHT | 6.3kg |
| FEATURES | Ambeo processing modes (including Adaptive); optional wall-mounting; auto calibration setup; eARC support; Google Chromecast; Bluetooth 5.0; Wi-Fi; Ethernet; 360 Reality Audio and MPEG-H compatible; Alexa and Apple Siri compatible; app control (with streaming integration) |
TESTED WITH
STAR TREK: PICARD: A love letter to Star Trek: The Next Generation, this final adventure with Patrick Stewart's Picard is an audio visual delight. The mix is delivered in flatbed Dolby 5.1 by the Prime Video streams, but it's delightfully energetic with consistently impressive design. Starfleet has never sounded so good.