This well-specified Dolby Atmos soundbar may have a mid-range price tag, but you'll soon want to spend more, cautions Steve May. Read our SONY HT-A5000 Review.
People splurge on their TV sets to get the best picture in their living room but even the best TVs can't match the audio that a separate audio device can deliver. This is the reason soundbars have taken off in recent years and while we see a lot of affordable options in the market, premium soundbar choices are still sparse. Jumping into the fray this month is Sony's HT-A5000, which is a mid-tier offering under its A-series.

CONSCIENTIOUSLY SPECIFIED AND irresistibly upgradable, the Sony HT-A5000 is a next-generation soundbar with a deceptively attractive price.
Sporting three forward-facing X-Balanced (which is to say they're more bassy than you might expect) drivers, two side-firing beam tweeters, a pair of height speakers, and dual integrated woofers, it's classified as a 5.1.2 sound system. There's DTS:X support as well as de facto Dolby Atmos, a claimed 450W of amplification and a 4K/120Hz capable HDMI input. Not bad for the price. The thing is, if you buy one, you'll want to spend more. Much more…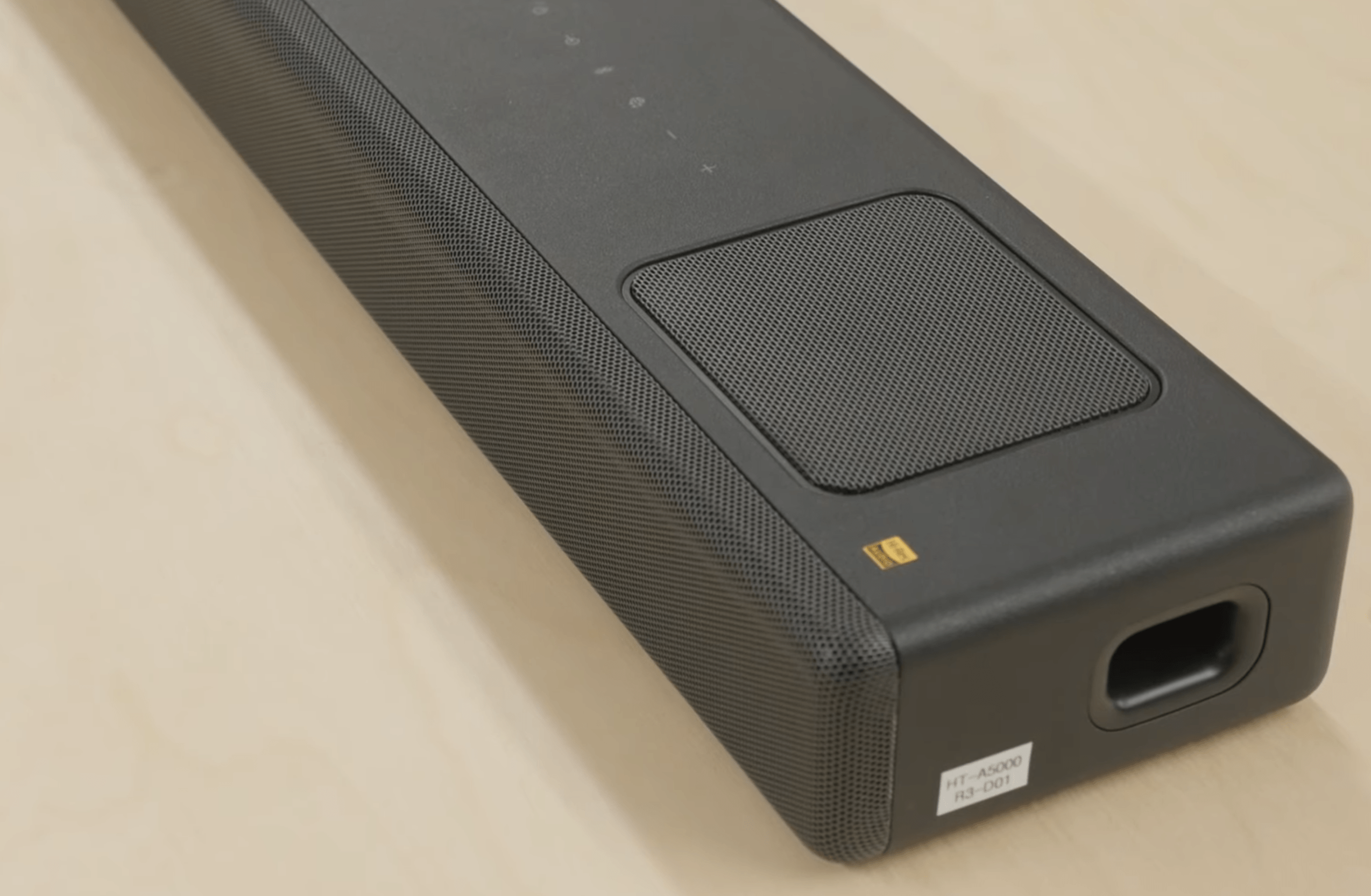 The HT-A5000 sits below the 500W Sony HT-A7000. That model is classified as a 7.1.2 system, thanks to its five front drivers and two side tweeters, but it has a comparable feature specification. This makes the more modest HT-A5000 look like a bit of a steal.

But I'm here to warn you that what appears to be a mid-priced soundbar is actually a high-end component in disguise. To unlock its full potential, you need only add 360 spatial sound rears and a partnering subwoofer. Of course, you may be able to resist, but I doubt it.
Well-connected
The HT-A5000 is rather big at 1,210mm wide, so best partnered with 55in-65in TVs. Build quality is superb, with a slick black-finished chassis and smart metallic grille to protect the driver complement. Touch-sensitive controls up top cover source selection, volume and Bluetooth pairing.
7Review earns Amazon affiliate commissions from qualifying purchases. You can support the site directly via Paypal donations ☕. Thank you!
See also TOP 10 Soundbars & Soundbases
RECOMMENDED VIDEOS FOR YOU...
Connectivity includes two HDMI ports, one with eARC for a TV connection. As mentioned, the HDMI in will pass 4K/120Hz gaming feeds, plus Dolby Vision HDR. There's also an S-Center Out minijack, allowing the soundbar to function as a centre speaker with compatible Sony TVs; a legacy optical digital audio input; and music-file friendly USB-A port.
On the wireless front, the A5000 comes with Bluetooth and Wi-Fi connectivity options with support for services like Spotify, Chromecast, Apple AirPlay 2, Amazon Alexa and Google Assistant.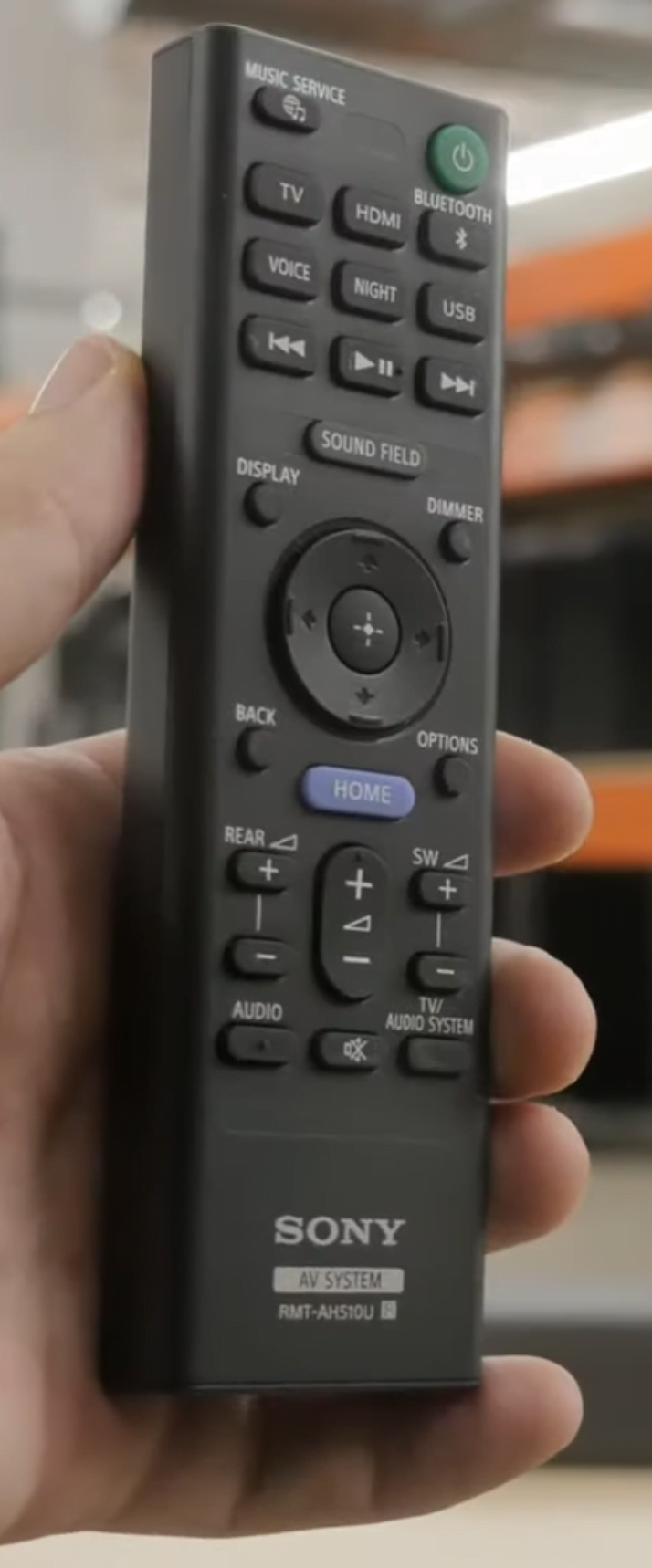 The supplied remote control is stubby and rather cheap-looking, but system usability overall is superior. The HT-A5000 has the good grace to conduct itself via an onscreen menu, and it's from here that you can select Google Assistant or Amazon Alexa, Apple AirPlay 2, Spotify Connect or stream using Chromecast built-in.

Av info
| | |
| --- | --- |
| Product | Single-box Dolby Atmos soundbar with expansion potential |
| Position | Mid-level in Sony's current lineup |
| Peers | JBL Bar 800; Samsung HW-Q800B |
| Website | www.sony.co.uk |
The initial setup is a non-complicated process. One can let the A5000 do it automatically or manoeuvre through the interface on the TV for finer control. This ease of use makes the A5000 up and running in no time. For the review, we paired the soundbar with Sony's SA-RS5 wireless rear speakers and SA-SW5 subwoofer and any changes to the audio setup, the A5000 prompts to redo audio optimisation, which is a nice touch.
Sound seasoning
What's immediately noticeable about the HT-A5000 is the width of its soundstage, thanks to those sidemounted tweeters. For a soundbar sold without a wireless subwoofer, it's not short of mid-bass either; Sony's dual built-in subwoofers have admirable slam.
Inevitably, the system is at its best with spatial audio, but lesser sources can be upscaled using Vertical Surround Engine, which works exceptionally well. There's also an S-Force PRO Front Surround mode, which works with the side-firing beam tweeters to emphasise the width of the front soundstage, plus DSEE Extreme, which uses AI algorithms to finesse compressed music files. The system sounds pretty good with music as well as movies, and vocal clarity is consistently excellent.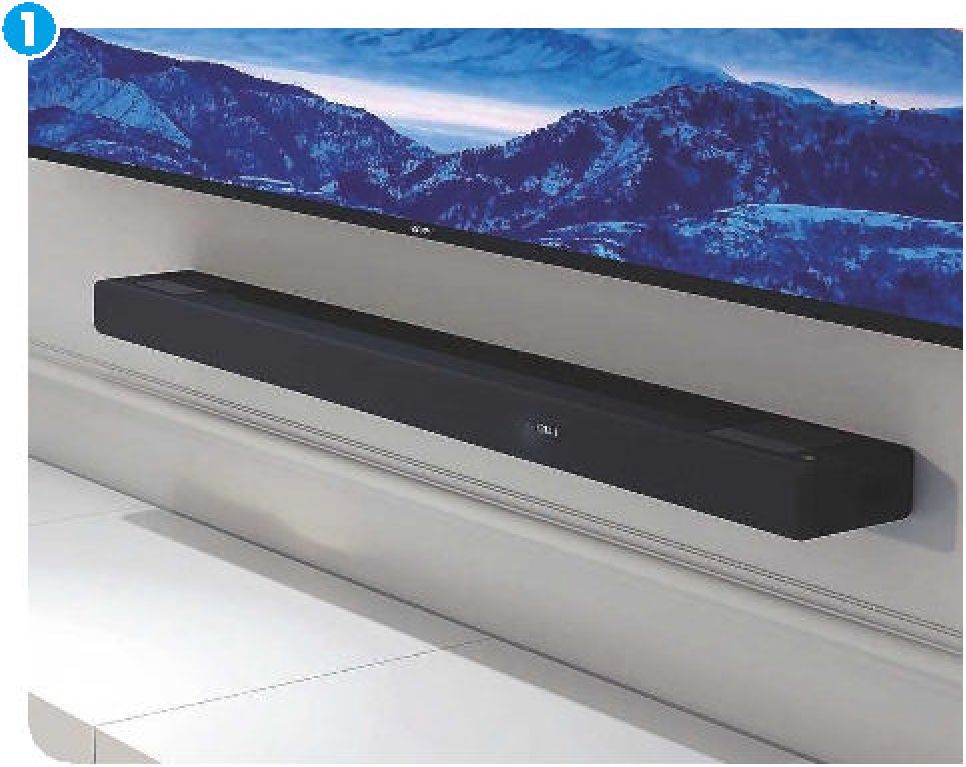 1. At 1.2m wide, the HT-A5000 is designed to partner 55in (and above) screens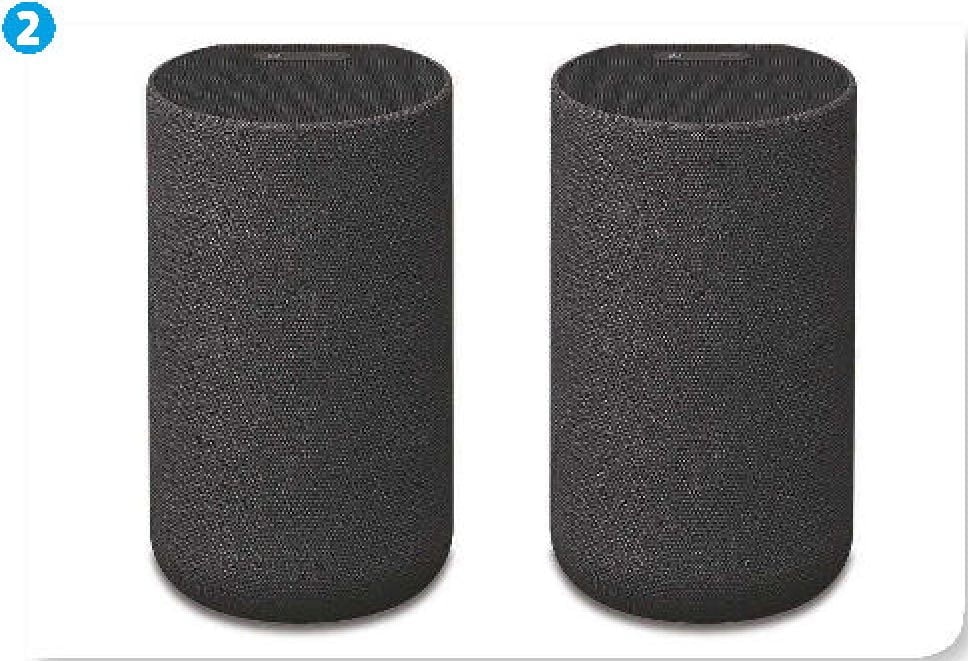 2. Sony's SA-RS5 wireless rears are a £ add-on, and introduce '360 Spatial Sound Mapping'
However, the HT-A5000 comes into its own when you unleash 360 Spatial Sound Mapping. This allows the soundbar, in conjunction with optional wireless rear speakers and a sub, to create a soundscape that's several magnitudes bigger than the HT-A5000 flying solo.
Spatial sound mapping uses a combination of two novel technologies: Sound Field Optimization, which maps the relative position and height of any physical speakers; and Monopole Synthesis, which places virtual speakers around the listening position. But to use it, you'll need to add those extra boxes.
'A high-performance Atmos soundbar with a futurefriendly spec and plenty of streaming audio talent'
There are two optional wireless subwoofers available: the SA-SW3 and the SA-SW5. I partnered the HT-A5000 with the latter, which has a 7in driver and 300W power plant. This sells for £ while the less powerful (200W, 6.25in) SA-SW3 is £
To complete the upgrade, I added a pair of Sony's SA-RS5 wireless rears. These incorporate both forwards and upfiring drivers for a more coherent surround soundstage, powered by 180W of rated amplification. These are £ per pair. See what I mean about a price jump?
The 360 calibration routine is fuss-free. Simply place the speakers, and then select 'Sound Field Optimization' from the menu. One cool benefit is the rears don't have to be symmetrically aligned, you can simply place them where you have appropriate space. There's a short calibration tone, and soon all the listening positions have been calculated and EQ'd and the process is complete. The end result is a genuinely convincing dimensional soundstage.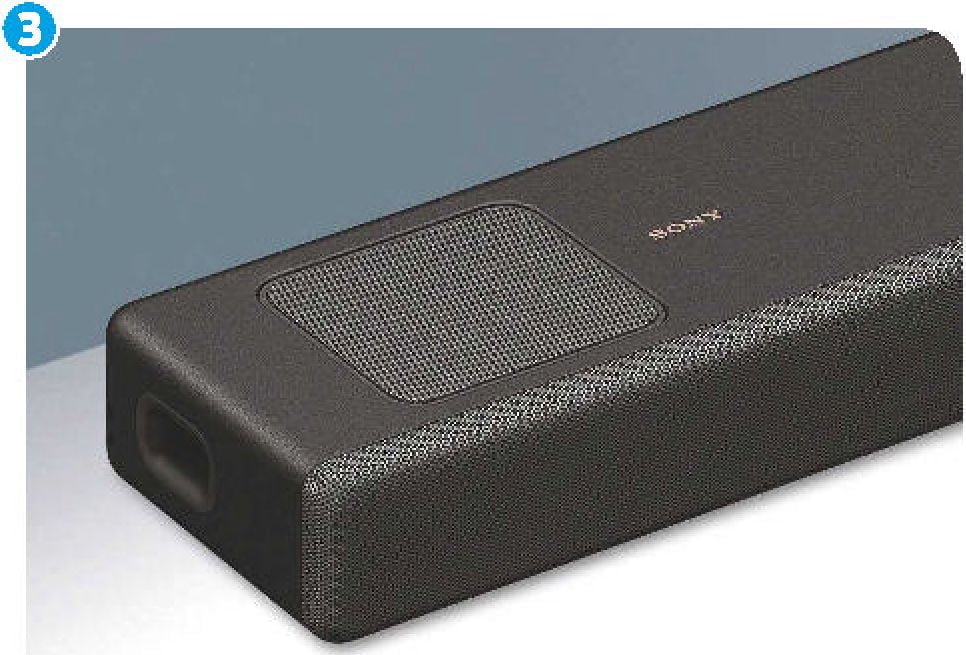 3. The soundbar's driver array includes dual Atmos upfirers and side-mounted beam tweeters
4. Hit the home key on the HT-A5000 remote to fire up the onscreen display
When we first meet Kevin (We Have a Ghost, Netflix), he's in a car listening to Alice Cooper's No More Mr Nice Guy on his headphones. The entire soundfield is filled with the rock classic, as we share his perspective. The moment he takes his buds out of his ears, we're back with the forwardfacing array and dialogue. It's dramatic and effective.
Similarly, as Kevin and family sit quietly surrounded by packing boxes on their first night under a new roof, there's a sudden, errant tinkle from somewhere rear right. The sound isn't locked to the rear speaker, but so distinct I wanted to turn my head to check all was well.
And the system's bass performance, now aided and abetted by the SA-SW5, becomes formidable. The family adventure flick Chupa (Netflix) opens with a subterranean beat that demonstrates just how low the woofer can go – the bass drop is profound. Later, as some dastardly hunters give chase to a cute wounded chupacabra, the orchestral score pounds. There's tangible weight here, as well as speed and poise.
Performance
When it comes to A5000's standalone performance, it does not disappoint. The soundbar delivers crisp and room-filling audio, making it a massive upgrade over TV speakers if you are watching a movie like Kantara that reels you in with its visual and audio spectacle. But it's the combo of the soundbar and optional subwoofer and wireless rear speakers that elevate the immersion with 360 Spatial Sound, which becomes evident when you're watching action-packed sequences of the latest season of Jack Ryan.
Using the soundbar with select Bravia TVs also has its advantages. Users can control soundbar settings from the TV with an integrated UI and the Acoustic Center Sync lets the soundbar and the TV speakers become the centre channel for a better surround sound experience.
The A5000 is more than capable on its own. It's priced on the higher side but it perfectly complements a high-end TV to improve the overall audio and visual performance. However, we recommend shelling a bit more and getting the subwoofer and rear speakers for the ultimate immersive experience.
One box, or four?
Sony's HT-A5000 is a well specified, high-performance soundbar with a future-friendly specification and plenty of streaming audio talent. For a single-box add-on to your TV, it's easy to recommend. But add wireless rears and an optional subwoofer, and the package becomes truly outstanding. Sony's 360 Spatial Sound Mapping technology is remarkably effective when it comes to creating an immersive soundfield
Test Results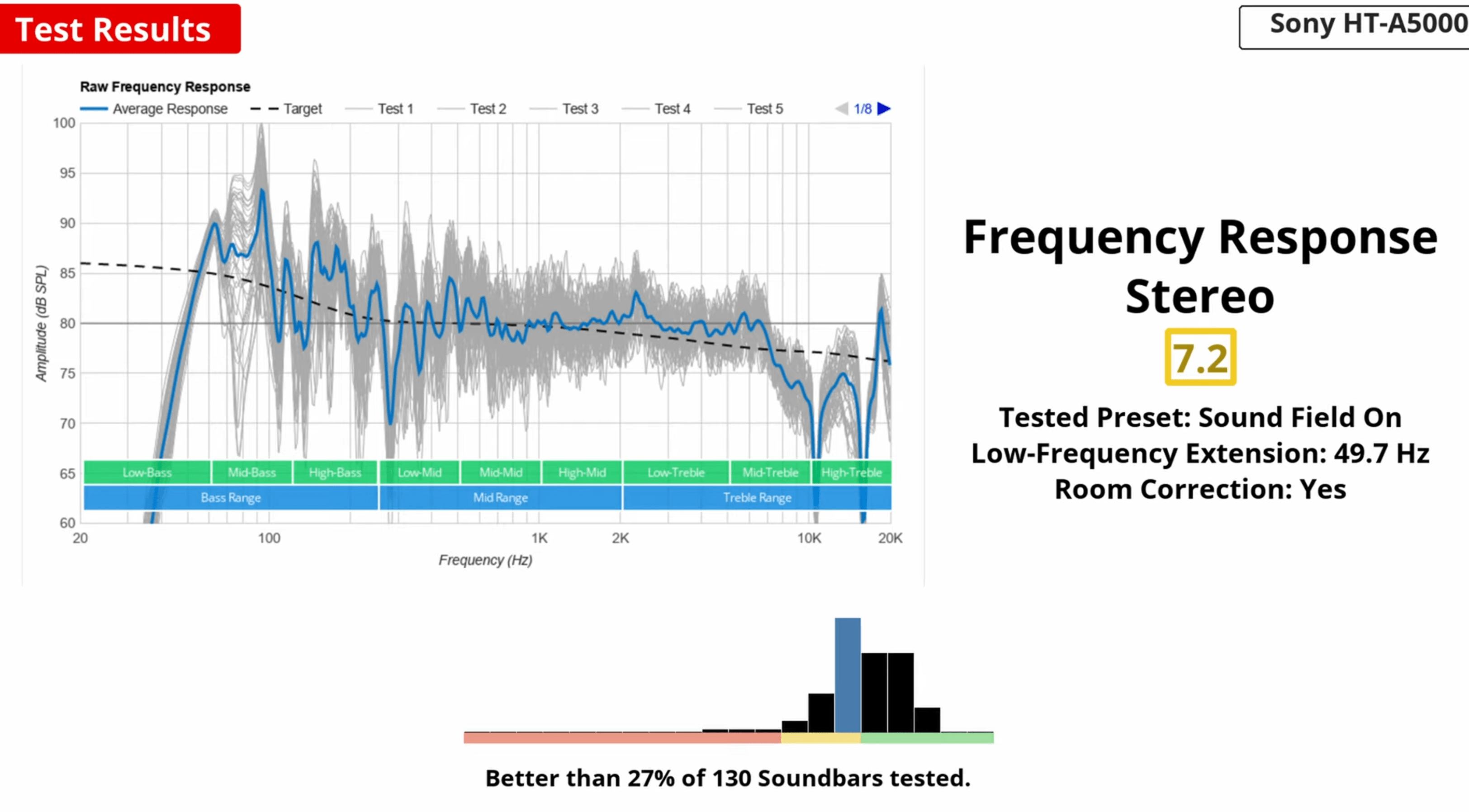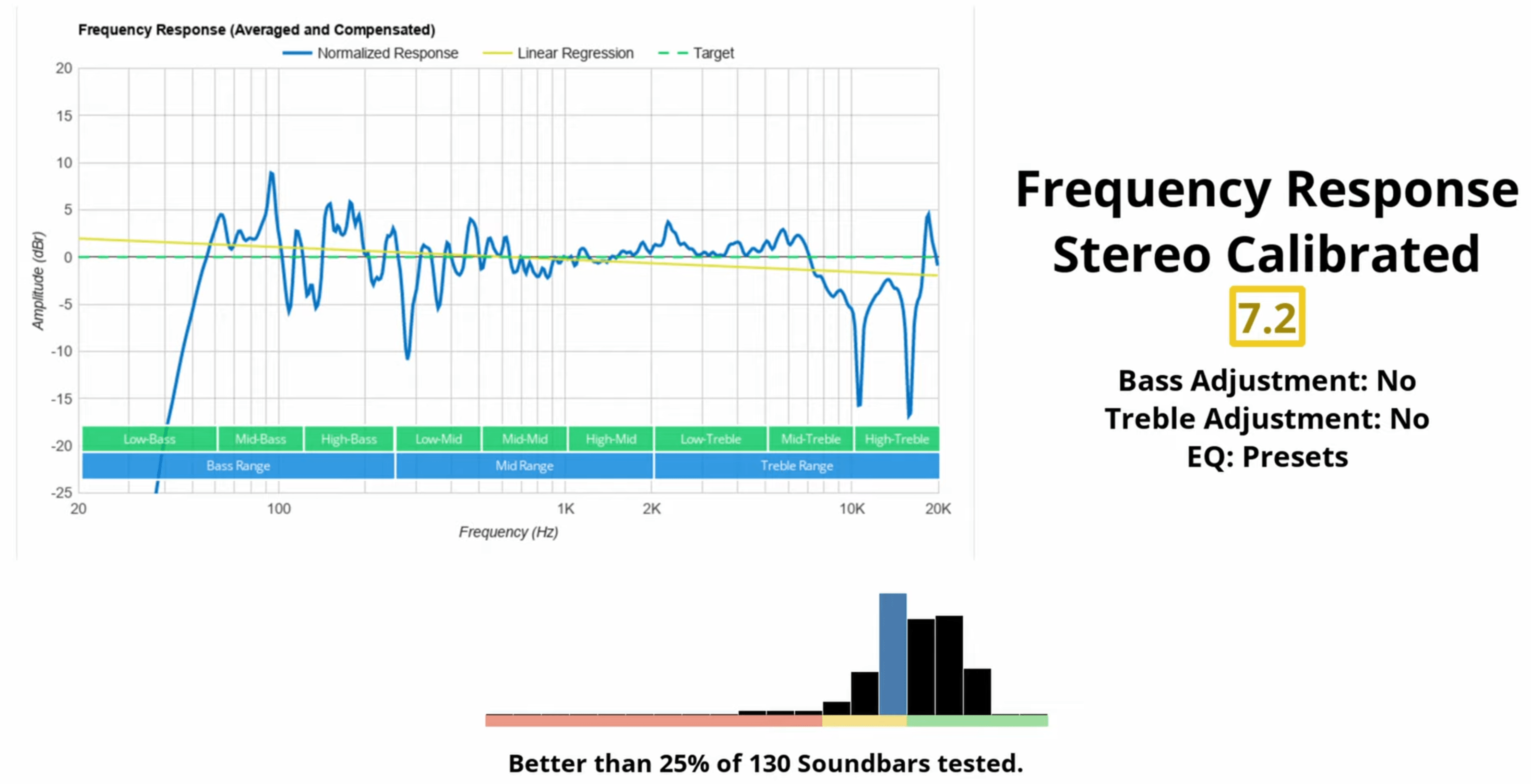 Verdict
Recommended
SONY HT-A5000 Review
A fine mid-range Dolby Atmos soundbar that offers a quantum leap in performance when joined by optional rears and a subwoofer, thanks to transformational processing. The HT-A5000 is an excellent soundbar that perfectly complements any high-end TV to deliver an immersive home theatre experience.
PROS
Ease of use
Audio quality
Add your review
Best SONY HT-A5000 prices in the US ?
Best SONY HT-A5000 prices in the UK ?

£

698.00

£899.00
3 used from £656.12
4 new from £698.00
in stock

MORE DEALS

See also TOP 10 Soundbars & Soundbases
Better Alternative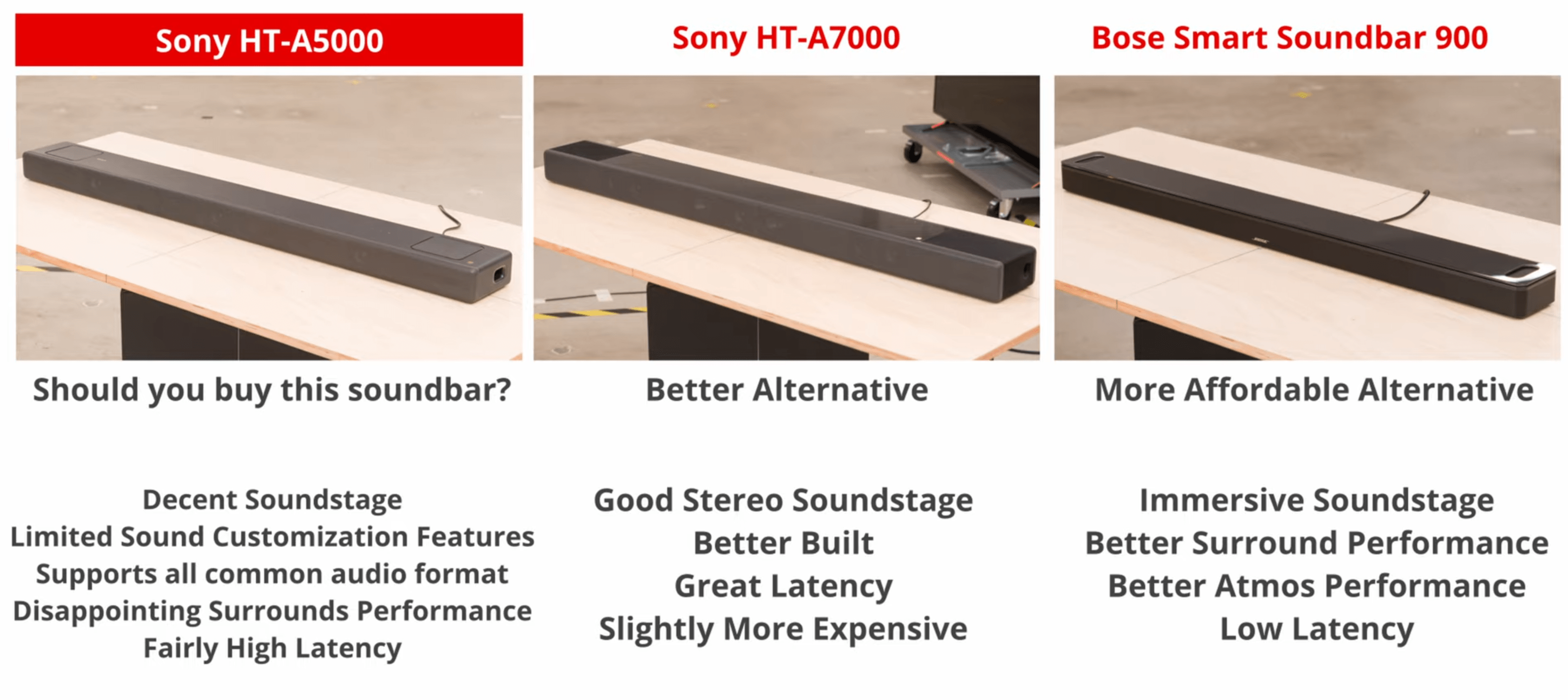 Last update on 2023-11-26 / Affiliate links / Images from Amazon Product Advertising API
SPECIFICATIONS
| | |
| --- | --- |
| DRIVERS: | 2 x beam tweeters, 3 x X-Balanced full-range; 2 x Dolby Atmos upfirers; dual integrated bass drivers |
| ONBOARD POWER (CLAIMED): | 450W |
| CONNECTIONS: | HDMI input; HDMI output (eARC); digital optical audio output; |
| USB DOLBY ATMOS/ DTS:X: | Yes/Yes |
| SEPARATE SUB: | No, but optional SA-SW3 or SA-SW5 |
| REMOTE CONTROL: | Yes |
| DIMENSIONS: | 1,210(w) x 67(h) x 140(d)mm |
| WEIGHT: | 6.1kg |
| FEATURES: | Vertical Surround Engine; S-Force PRO Front Surround; DSEE Extreme; 360 Reality Audio compatible; Bravia Acoustic Center Sync; 360 Spatial Mapping; Dolby Vision passthrough; Bluetooth; Chromecast built-in; Spotify Connect; Apple AirPlay 2; music playback from USB; Voice and Night modes; onscreen display |
TESTED WITH
WE HAVE A GHOST: Christopher Landon, Paranormal Activity series writer and director of Freaky and Happy Death Day 2U, goes horror-lite with this spirited Netflix-streaming spookfest about a house haunted by an unscary ghost (David Harbour). Presented in Dolby Vision and Dolby Atmos, it's rife with clever audio design.