With its battery-powered surrounds, 10in subwoofer and quartet of Atmos drivers, this upper-tier JBL soundbar system makes Mark Craven's movie nights something special. Read our JBL Bar 1000 Review.
THERE'S WIRELESS, AND then there's wireless. JBL's Bar 1000, one model below its flagship Bar 1300 system, continues the brand's trend of going the extra mile regards cable-clutter by featuring battery-powered surround speakers, rather than the more widespread wireless-but-needs-a-mains-plug approach. So it's off to a good start if your cable hiding skills aren't up to scratch.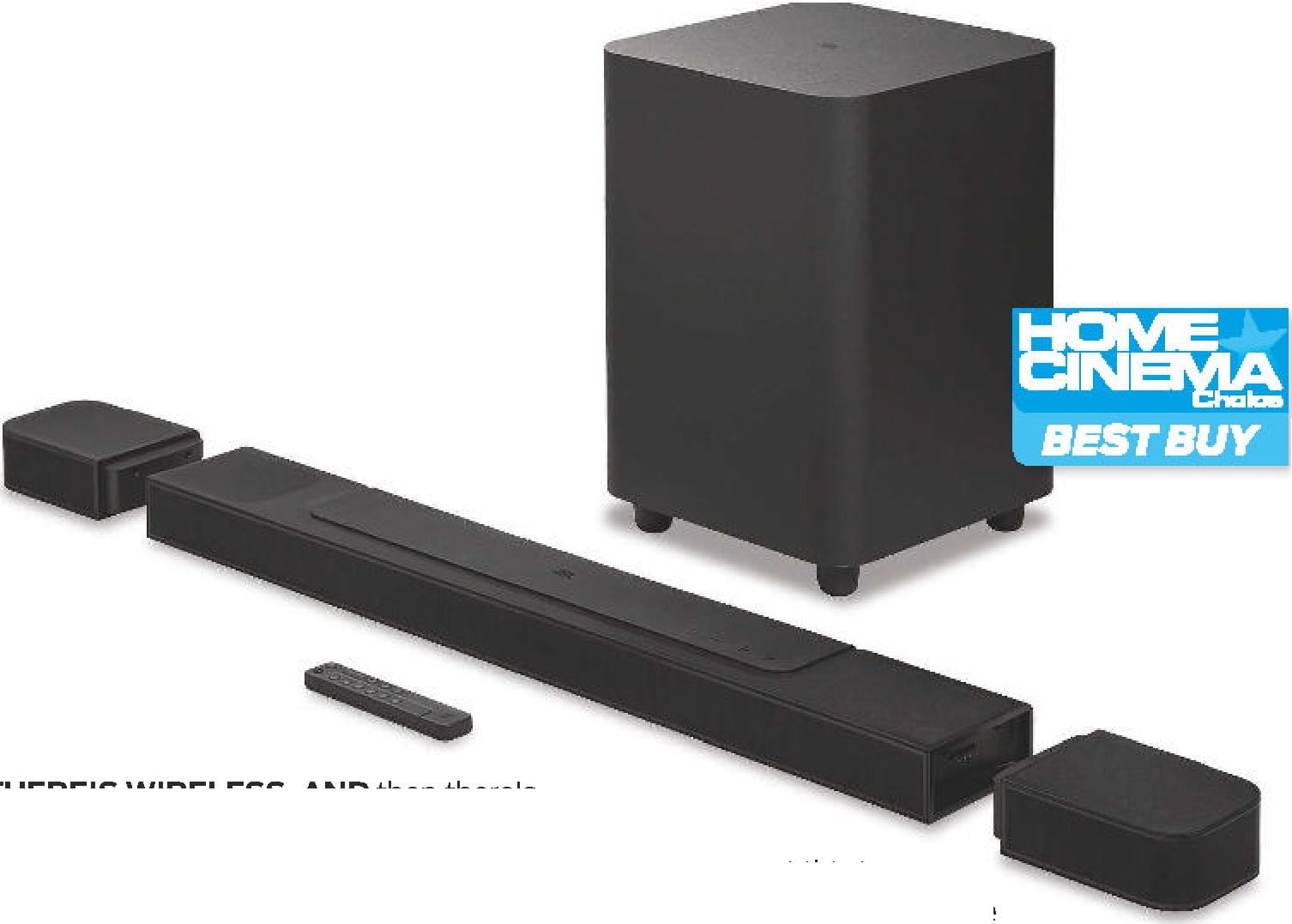 JBL's wireless surrounds recharge their in-built batteries when docked to the main enclosure
The Bar 1000 is designated a 7.14 system, with those aforementioned surround modules including both front-firing and upfiring drivers. These slot onto the ends of the main enclosure to recharge their internal batteries (rated at 10 hours), during which time the soundbar is still usable, although no buyer would deliberately run it in this configuration – not least because JBL sells plenty of standard soundbars for less than the £ demanded here.
The main enclosure itself houses the front Atmos pair, plus an array of racetrack drivers and tweeters for the L/C/R channels and surrounds. JBL's proprietary MultiBeam DSP, in conjunction with a rapid-fire auto calibration routine, aims to get surround info spread wide and accurately positioned.
AV Info
| | |
| --- | --- |
| PRODUCT | Soundbar/subwoofer system with wireless rear surrounds |
| POSITION | Below JBL's flagship Bar 1300 model |
| PEERS | Sony HT-A7000; Samsung HW-Q930B |
| WEBSITE | uk.jbl.com |
The subwoofer has a smart, curved-edge cabinet that partly hides the fact it's rather large (44cm high, 30cm wide and deep), but this is because it rocks a sizable (10in) downfiring driver.
Connections are on the money, with JBL covering nearly all bases – there's 3-in, 1-out HDMI switching (with Dolby Vision passthrough); an optical input; Bluetooth; and dual-band Wi-Fi enabling Chromecast and Apple AirPlay. Once again the USB port is for service only in the UK, but does play audio files on US models. Why? Beats me.
7Review earns Amazon affiliate commissions from qualifying purchases. You can support the site directly via Paypal donations ☕. Thank you!
See also TOP 10 Soundbars & Soundbases
RECOMMENDED VIDEOS FOR YOU...
The Bar 1000 is a pleasure to use, as it benefits from the same updates to the system remote, and the new JBL One app (with EQ tweaks), as the affordable JBL 300 reviewed in HCC #340. Just remember to dock the surrounds overnight, as nothing puts a dampener on a movie like having to pause it to juice your speakers.
Beastly behaviour
There's roughly a £ price gap between the Bar 1000 and the 5.0-channel Bar 300, and there's a commensurate increase in sonic ability too. Making its presence felt, literally, is that 10in subwoofer, which adds a deep and forceful layer to the system soundfield, ensuring Atmos and DTS:X movies have cinematic slam. Crucially, however, the subwoofer's output isn't ponderous or indistinct – there's a good sense of LF detail and subtlety to the way it augments the Dolby Atmos soundtrack of the Idris Elba killer lion flick Beast (Blu-ray).
Dialogue presentation is strong and well positioned, thanks to the Bar 1000's dedicated centre channel array, even if JBL's racetrack/tweeter combi misses out on some low-mid body. This isn't a deal-breaker, particularly as the system is having so much fun with other soundfield elements.
When Beast's hungry (CG) feline attacks Elba as he hides beneath the truck, the Bar 1000 serves up a barrage of snappy, attacking effects, from the big cat's snarl and scratching claws, to the clanking metal of the vehicle and Steven Price's urgent orchestral score. There's also a decent handling of the overhead effect when the lion leaps onto the truck above, although as usual with an Atmos soundbar the experience is more one of general 'verticality' and not precise placement.
JBL's surround enclosures are great. A compact chassis makes them easy to place, as does the lack of a mains cable, and the expansion they bring to the soundstage is palpable. Front-to-rear pans, frequently employed in the Michael Bay actioner Ambulance (4K BD), are delivered in style. At time during this flick, I felt almost overloaded with soundtrack info.
What's next?
Coupled to its neat styling, ease of use and generous connectivity, this blockbuster, cinematic performance makes JBL's Bar 1000 easy to recommend. It also makes me wonder how the step-up Bar 1300, which has the same general form factor but squeezes extra drivers into the main soundbar (for an 11.1.4 count) can improve upon it…
Verdict
Best buy
JBL Bar 1000 Review
An excellent all-round soundbar system where deep bass, clear dialogue and immersive effects are joined by a rich feature set.
Add your review
Best JBL Bar 1000 prices in the US ?

$

899.95

$1,199.95
2 used from $824.77
13 new from $899.95
in stock

Best JBL Bar 1000 prices in the UK ?

£

1,324.00

£1,443.11
3 new from £1,324.00
in stock

MORE DEALS

See also TOP 10 Soundbars & Soundbases
SPECIFICATIONS
| | |
| --- | --- |
| DRIVERS | 5 x 46mm x 90mm racetrack bass/ mid, 3 x 20mm tweeters and 2 x 70mm full-range height (soundbar); 1 x 20mm tweeter and 1 x 70mm full-range height (per surround) |
| ONBOARD POWER (CLAIMED) | 880W total |
| CONNECTIONS | 3 x HDMI inputs; 1 x HDMI output/eARC; optical digital audio input; USB (service only) |
| DOLBY ATMOS/ DTS-X | Yes/Yes |
| SEPARATE SUB | Yes. 10in driver |
| REMOTE CONTROL | Yes |
| DIMENSIONS (MAIN ENCLOSURE, EXCL. SURROUNDS) | 884(w) x 56(h) x 125(d)mm |
| WEIGHT | 3.7kg |
| FEATURES | Bluetooth 5.0; dual-band Wi-Fi; JBL MultiBeam processing; Apple AirPlay, Alexa MRM and Chromecast; PureVoice technology; auto-calibration; HDR passthrough; JBL One app with EQ; detachable battery-powered surrounds |