The soundbar whizz has brought welcome usability improvements to a new compact, £ model, but how does it perform? Mark Craven listens in. Read our JBL Bar 300 Review.
JBL Bar 300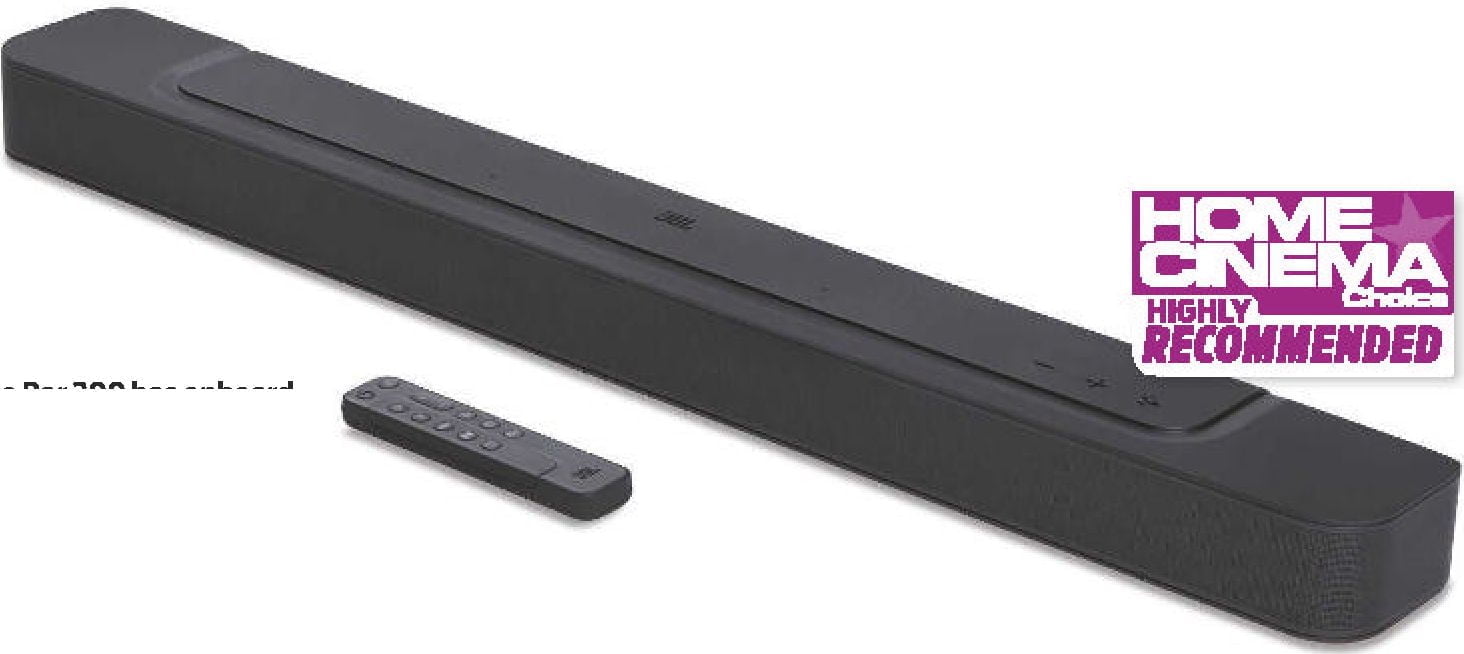 The Bar 300 has onboard Dolby Atmos decoding but maps sound mixes to a 5.0 driver array with no physical up fires
AV INFO
PRODUCT
Single-box 5.0-channel soundbar with Atmos processing
POSITION
Near entry-level in JBL's wide range
7Review earns Amazon affiliate commissions from qualifying purchases. You can support the site directly via Paypal donations ☕. Thank you!
See also TOP 10 Subwoofers
RECOMMENDED VIDEOS FOR YOU...
PEERS:
Sony HT-X8500; Samsung HW-S60B
JBL ALMOST HAS a very handy model name/ pricing thing going on with its soundbars this season, as the top-of-the-pile Bar 1300 sells for approximately £, the step-down Bar 1000 sells for £, and so on. Admittedly, the Bar 300 reviewed here is actually £ and the Bar 2.0 Mk2 doesn't sell for two quid, but at least it helps you navigate through what is an extensive soundbar range.
As the price tag implies, the Bar 300 is towards the bottom of the JBL ladder, although it shares many similarities with higher-priced models, not least the overall styling. This new lineup riffs on the brand's designs of yore, with tidy but slightly nondescript dark-grey enclosures, topped by a logo and smattering of buttons. Parked under a 55in TV, the 82cm-wide, 5.6cm-high Bar 300 doesn't draw much attention to itself.
There are seven soundbars in the new JBL stable, and with some hitting very similar price points it can be confusing; this option is priced very close to the £ Bar 2.1 Deep Bass Mk2. That comes with a subwoofer, while the Bar 300 doesn't. But what you get instead is a 5.0-channel speaker config and Dolby Atmos processing.
This 3D sound skill isn't native, however, with six drivers facing front and side. JBL's MultiBeam signal processing is on hand to manage sound dispersion, coupled with an auto-calibration routine to best fit the output to your listening environment. This process is activated by a button on the bundled remote marked 'Calibration', whereas, on previous JBL soundbars, it was practically a hidden feature, involving a convoluted series of key presses. Finally, common sense has reigned, although some features (PureVoice tech for boosted dialogue clarity, and switching from Smart to Standard modes to kill surround processing) still require some finger-mashing on the zapper or use of the partnering JBL One app.
Another new feature of the improved remote control, however, is a button for bass level adjustment, while the One App brings more flexibility regards sound, with treble, mid, and bass EQ tweaks.
Connections are HDMI in and HDMI out/ eARC, with HDR passthrough including Dolby Vision but not HDR10+. Optical audio is provided for legacy TVs, but the USB port is, as before, service-only in the UK while supporting MP3 playback in the US. Pah.
Processing power
As a compact soundbar without an external subwoofer, the Bar 300 naturally has its limitations regards low-end reach and soundstage scale, but for the money, it can be considered a classy, enjoyable performer. Particularly impressive is how easy it is to live with, and the potency of JBL's processing. Disengage the Smart Mode (which is on by default) and you'll notice how much expansion and projection you're losing.
With Michael Mann's The Last of the Mohicans (Sky Cinema), the Bar 300 paints a nicely immersive picture, with atmospheric details, such as twittering insects at night in the forest, spread across its front-heavy soundstage. Bass delivery is equally impressive. The out-of-the-box 'Level 3′ setting is punchy with Foley effects and adds genuine body to Trevor Jones' A-grade musical score, and adjustments up and down are well-judged. The bar is rear-ported, though, so you'll want to avoid sitting it directly against a wall.
SPECIFICATIONS
DRIVERS; 4 x 46mm x 90mm racetrack bass/ mid; 2 x 20mm tweeters ONBOARD POWER (CLAIMED); 260W CONNECTIONS; 1 x HDMI input; 1 x HDMI output/eARC; optical digital audio input; USB (service only) DOLBY ATMOS/DTS-X; Yes/No SEPARATE SUB: No REMOTE CONTROL; Yes DIMENSIONS: 820(w) x 56(h) x 103.5(d)mm WEIGHT: 2.5kg
FEATURES; Bluetooth 5.0; dual-band Wi-Fi; Dolby Atmos processing and JBL MultiBeam; 50Hz-20kHz claimed frequency response; Apple AirPlay, Alexa MRM, and Chromecast; PureVoice technology; front-panel display; wall-mount kit supplied; auto-calibration; HDR passthrough; JBL One app with EQ
There was an even greater feeling of low-end drama with the Atmos soundtracks of The Last of Us (Sky Atlantic), as the Bar 300 unleashed meaty, attacking bass blows during the fight with the clickers in Episode 2. Effects higher up the range are also pointy and distinct. Add in the sense of a fluid sound field with Atmos material (as opposed to genuine overhead immersion) and you arrive at a sound that's inviting, one that draws you into what you're watching. As Ellie, Joel and Tess navigate their way through Boston's abandoned buildings, the acoustics of the locations are presented, even with some quite head-turning expansions far left and right.
JBL's One App, which I haven't used before, is as slick as an otter in a toboggan. It offers a clean, modern-looking interface, found the soundbar in double-quick time, and acts as a gateway to third-party streamers, including Spotify. Best of all is the touch control of its three-band EQ, which rewards instantaneous changes to the bar's output. This came in handy to add a bit more brightness to the overall sound, reducing a slightly chesty delivery of voices.
Compact conjurer
Overall, the Bar 300 is a rock-solid, easy-to-accommodate soundbar that extracts a lot from a seemingly simple spec. It's well-connected, smart where it needs to be, and conjures soundscapes bigger than you'd imagine. It should be auditioned if you have a TV in need of a serious sonic boost
Verdict
Recommended
JBL Bar 300 Review
Helped by a swish app and improved ease-of-use, this new JBL 'bar is a brilliant single-box option. Your TV will thank you.
Add your review
Best JBL Bar 300 prices in the US ?

$

249.95

$399.95
1 used from $239.95
13 new from $249.95
in stock

Best JBL Bar 300 prices in the UK ?

£

279.99

£349.99
1 used from £272.79
2 new from £279.99
in stock

MORE DEALS

See also TOP 10 Subwoofers