JBL's latest soundbar takes object-based audio to another level with 16 channels and detachable rears. Steve Withers is impressed. Read our JBL BAR 1300 Review.
Let's be honest, we often don't use our surround sound systems. If you're watching Bake Off or the news, it's unlikely you'll want to immerse yourself in spatial audio. Of course, with other content the ability to enjoy immersive sonics completely changes your viewing experience.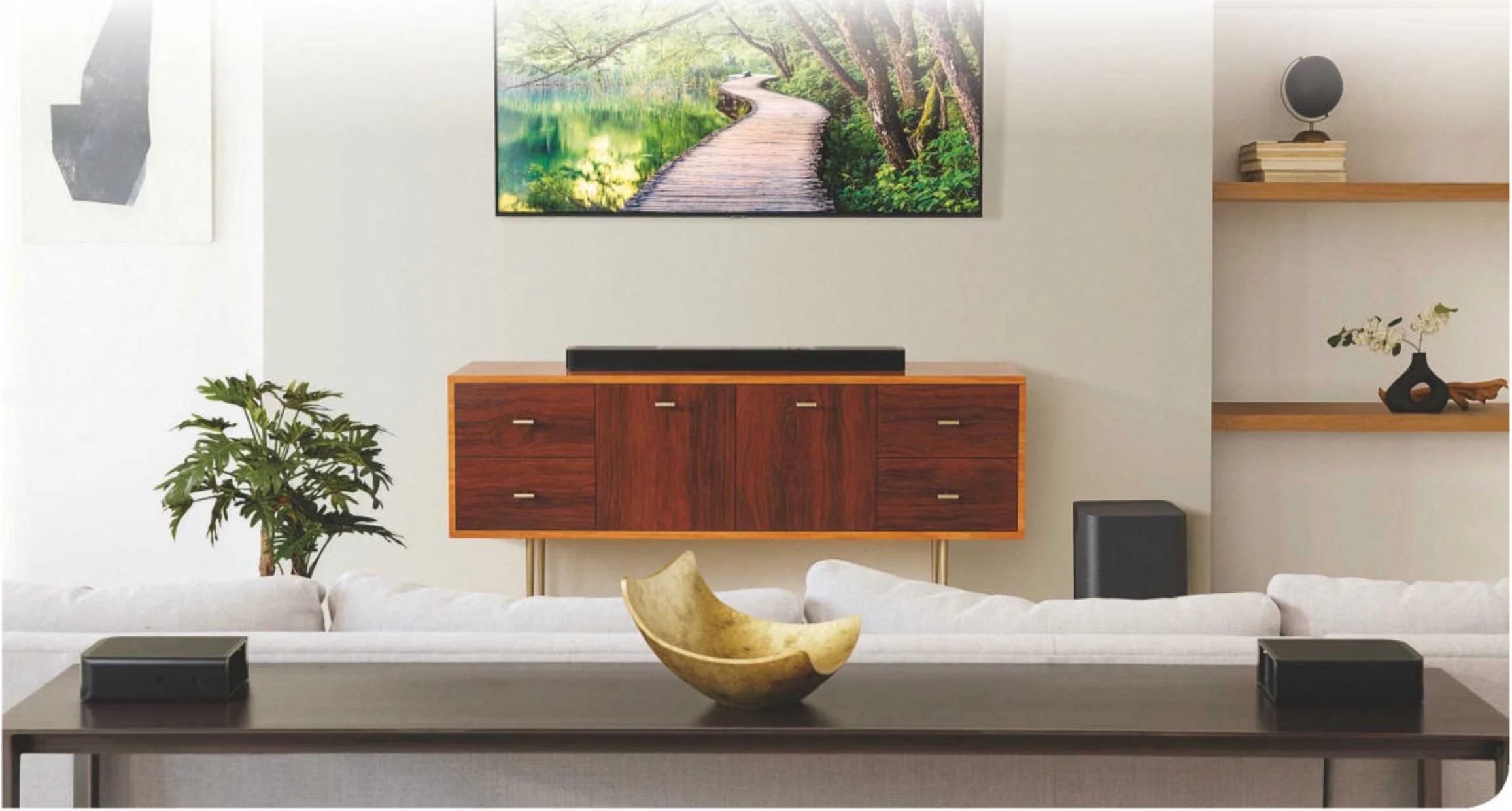 1. Pictured here with its rear speakers attached, JBL's Bar 1300 is its flagship system for 2023
JBL's Bar 1300 might be the best of both worlds, thanks to ingenious detachable/rechargeable rear speakers. When you're just looking for cake recipes or catching up on Prime Minister's Questions, simply leave the surrounds attached to the main soundbar. Then, when you fancy watching the latest Hollywood blockbuster, detach the rears, place them behind you, and you're good to go.
It's a clever idea that eliminates speaker cables, plus the need to plug the rears into power sockets. JBL has taken this approach before with the Bar 9.1, but the Bar 1300 ups the ante. This range-topping model clearly has its sights on flagship options from LG and Samsung. The story here isn't just the battery-powered rears: there's Dolby Atmos and DTS:X playback through a genuine 15.1-channel system, a new, more powerful subwoofer, increased amplification and extensive features.
AV Info
| | |
| --- | --- |
| PRODUCT | Premium 11.1.4-channel Dolby Atmos soundbar |
| POSITION | JBL's flagship model |
| PEERS | Philips Fidelio B97; LG S95QR; Samsung HW-Q990C |
| WEBSITE | uk.jbl.com |

2. Each surround/rear enclosure features an upfiring and front-firing driver
3. The system sub is a down-firing design, with 10in driver and 300W-rated amp
7Review earns Amazon affiliate commissions from qualifying purchases. You can support the site directly via Paypal donations ☕. Thank you!
See also TOP 10 Soundbars & Soundbases
RECOMMENDED VIDEOS FOR YOU...
By adding six more channels, including rear heights, to the spec of the Bar 9.1, the channel count is comparable to Samsung's HW-Q990C and LG's S95QR – but JBL's model claims significantly more onboard power and a subwoofer with a 10in driver, as opposed to 8in.
In terms of other features, the Bar 1300 is again an upgrade on the earlier Bar 9.1, which was limited to Wi-Fi, Bluetooth, Chromecast and AirPlay. The newer model works with Alexa Multi-Room and a hat-trick of voice assistants (Alexa, Siri and Google Assistant). There's also PureVoice processing to enhance dialogue clarity and stop it getting lost in today's frenetic surround mixes.
On the charge
While the Bar 9.1 sported detachable rears, the Bar 1300 also allows you to pair one of them with Bluetooth devices as a standalone speaker, or even pair both for a stereo setup. When fully charged the rears have a claimed maximum play time of 12 hours.
The final, and very cool, new addition is the JBL One control app (iOS and Android). This well-designed and intuitive interface not only offers an exact facsimile of the actual remote control, but a host of other functions for setting up the Wi-Fi, integrating music streamers, personalising the audio features, and managing the soundbar settings. There's also an auto-calibration feature that you can run using the app or zapper.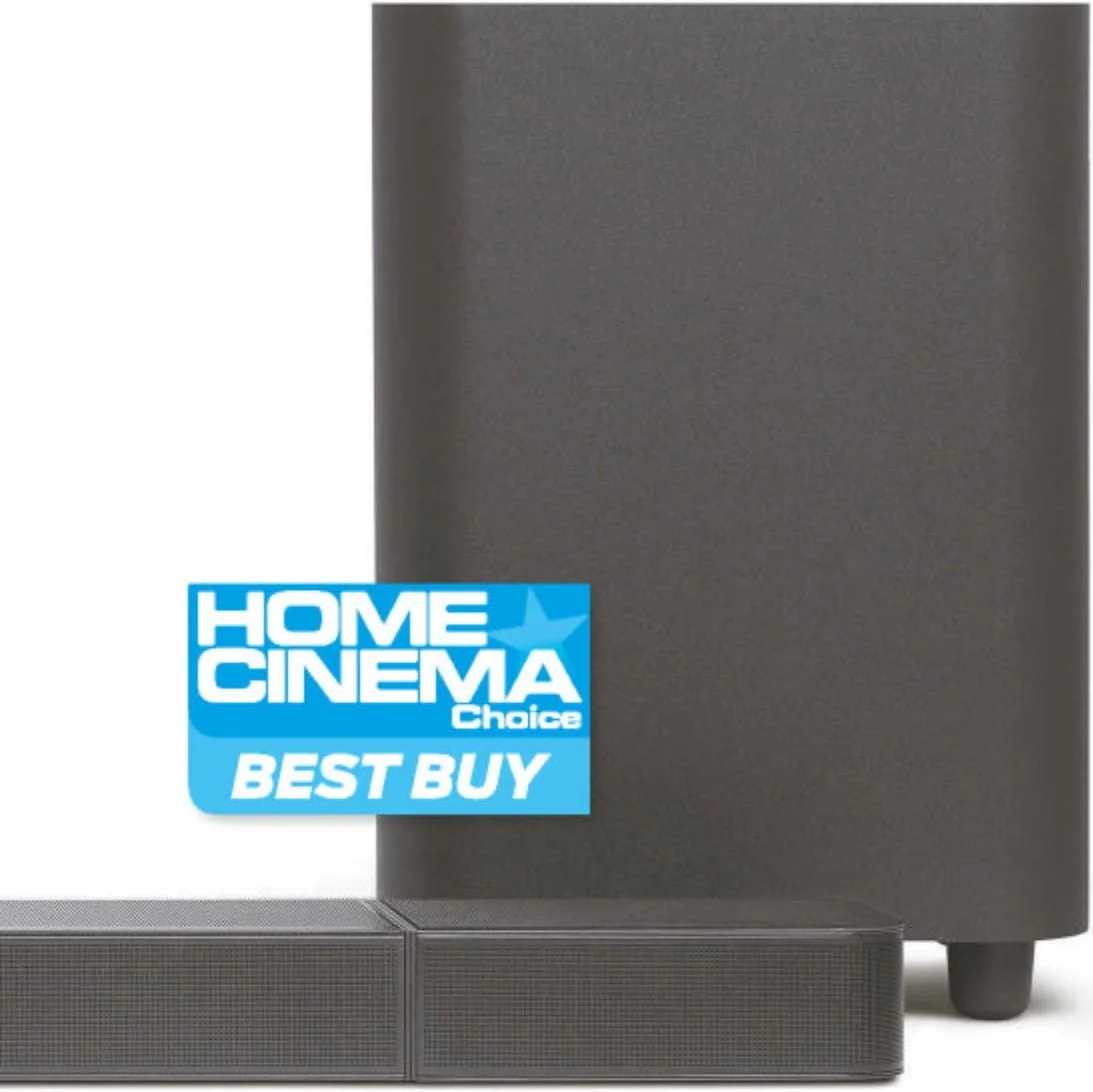 4. JBL has improved the remote for its new soundbar generation, and added app control
The Bar 1300's design is minimalist, with curved edges, mesh grilles, and a black finish. At only 60mm high the soundbar should be able to sit in front of a TV without blocking the screen. Along with the included wand, there are basic controls on the top, and a simple display to the front-right. The detachable rears match the styling of the main unit, while the wireless subwoofer is finished in a simple matt black.
JBL includes L-shaped brackets for wall-mounting the soundbar enclosure, and there are smaller U-shaped brackets for permanently installing the surrounds at the back of the room. If you do this, there are side caps for covering where the rear speakers normally dock, and instead you recharge them using their USB-C ports.
Connectivity is a mixed bag. On the plus side there are three HDMI inputs, and an HDMI output with eARC, and these all pass HDR10 and Dolby Vision. But there's no support for HDR10+, 4K/120Hz or VRR, although this also applies to LG, and the latter two in the case of Samsung.
Power performer
There are no fewer than six racetrack drivers, five tweeters, and four full-range up-firing drivers in the soundbar alone. The rears each have a racetrack driver, an upfiring driver, and a passive radiator, while the rear-ported subwoofer has its 10in downward-firing woofer. All this helps to justify the Bar 1300's premium price, but more importantly it coalesces into a coherent and powerful soundstage, where the combination of identical drivers and auto-calibration produces a balanced delivery and slick transition of effects.
If you feel you need to tweak the levels of the rears or sub there are dedicated controls on the remote and in the app. The muscular nature of the sub means it may require some taming, depending on where you position it, and the effectiveness of the upfirers will also vary depending on your room environment. Although, if necessary, you can boost the Atmos/DTS:X effect.
The powerful nature of this system is very apparent during the prologue in The Fellowship of the Ring on Blu-ray. Galadriel's whispered voiceover is clear and focused at the front, and Howard Shore's unforgettable music washes around you. It's during the battle at the base of Mount Doom where this system's scale is best exemplified, however. As the One Ring is cut from Sauron's hand, a wave extends out through the room and the ring hits the ground with a thump, followed by a titanic low-end crunch as Sauron's empty helmet crashes down.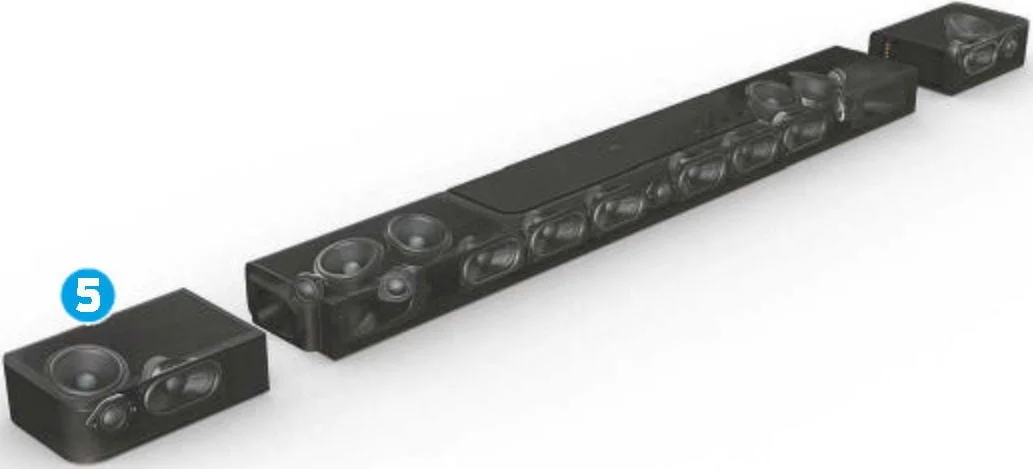 5. Transparent render shows the Bar 1300's array of drivers
I used the Blu-ray rather than the 4K disc of Fellowship… because the bass on the latter's Atmos mix is somewhat anaemic, but this certainly isn't the case with Bumblebee on 4K BD. The opening battle on Cybertron has Transformers and Decepticons careering all around the room, often overhead. The rears are free of delay or dropouts, ensuring a consistent sound bubble, and the LFE is massive during explosions. JBL's sub has good extension and isn't afraid to throw its weight around.
The Bar 1300 is also capable of rendering smaller details. When Bumblebee clumsily moves around Charlie's house, the whirr of his motors is subtly layered under the sound of breaking furniture, and the sub gives each footstep added weight. Elsewhere in the movie, the overhead channels are
'The Bar 1300 is appreciably powerful and its sub digs deep, but there's plenty of fine detail and precision too' extensively used to place the taller Decepticons' voices above you, and this system's four upfirers at the front, and two at the rear, help sell the illusion.
The Atmos track of All Quiet on the Western Front (4K Blu-ray) deliberately juxtaposes the delicate sounds of nature with the horrifying cacophony of the carnage of war. When in the peaceful woods, the sounds of birds in trees are clearly delineated above. There's impressive dynamic range too, as exploding shells suddenly rip through the tranquillity.
Once down in the trenches the sense of claustrophobic terror is palpable, and the 15 channels immerse you in the horror. Rumbling tank tracks rattle the room thanks to deep and controlled bass, and the tweeters on the soundbar pick out the high-frequency ricochet of bullets against armour. Strong dialogue reproduction through the 'bar's centre channel array keeps things coherent despite the fog of war.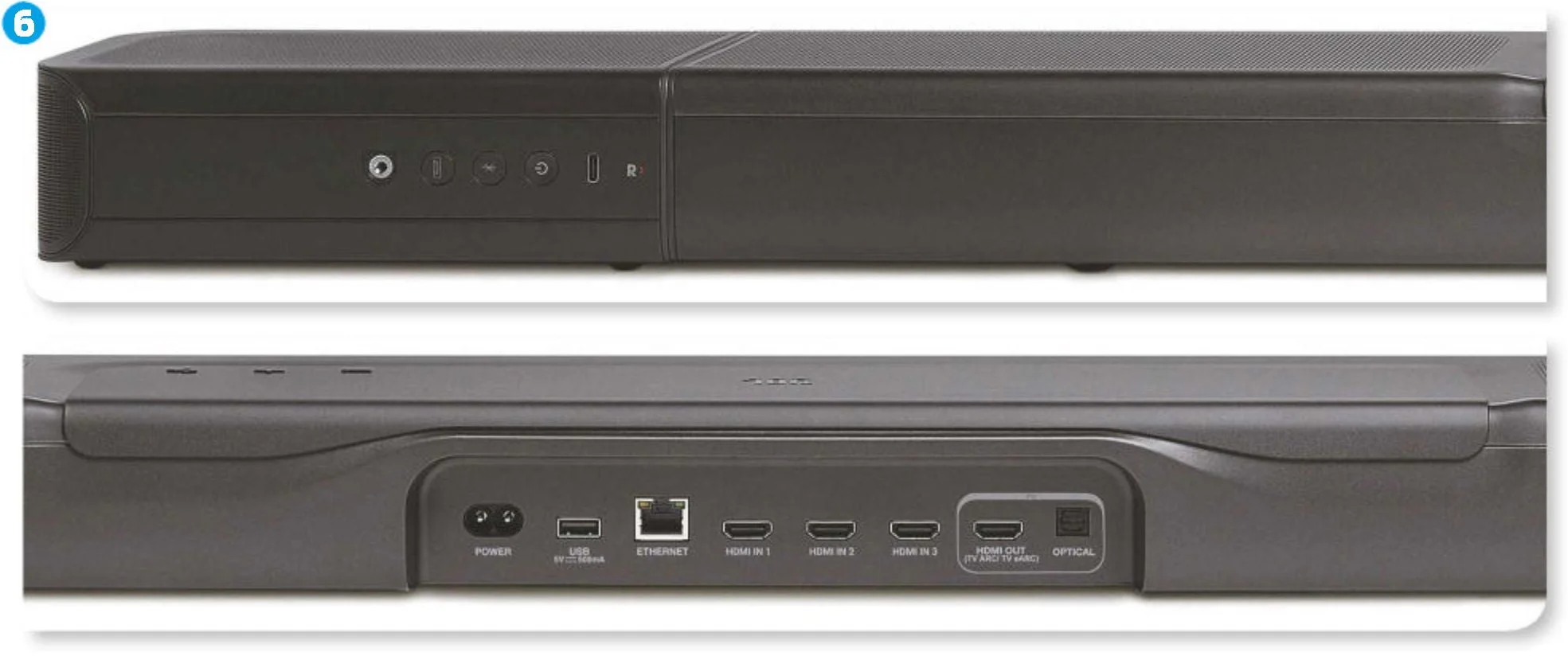 6. Rear enclosure (top pic) has a USB-C input for charging when not connected to the main bar
Up for the fight
The Bar 1300 is an impressive statement of intent from JBL. It takes the fight to rivals when it comes to fully immersive wireless soundbar systems, while features like the detachable rears and slick remote app even give it an edge. It's appreciably powerful and its subwoofer digs deep, resulting in a largescale performance, but there's plenty of fine detail and precision too.
Overall, if you're shopping for a high-quality and flexible surround sound solution, this premium soundbar has you covered front and back
Verdict
JBL BAR 1300 Review
JBL's fantastic soundbar system delivers detailed Atmos sonics and deep bass thanks to ingenious detachable rears and a powerful subwoofer. Seriously impressive.
Add your review
Best JBL BAR 1300 prices in the US ?

$

1,299.95

$1,699.95
13 new from $1,299.95
in stock

Best JBL BAR 1300 prices in the UK ?
MORE DEALS

See also TOP 10 Soundbars & Soundbases
SPECIFICATIONS
| | |
| --- | --- |
| DRIVERS: | 22 including Atmos heights on main enclosure and rears |
| ONBOARD POWER (CLAIMED): | 1,170W total |
| CONNECTIONS: | 3 x HDMI inputs, 1 x HDMI output with eARC; optical digital audio input; USB; Ethernet |
| DOLBY ATMOS/DTS:X: | Yes/Yes |
| SEPARATE SUB: | Yes. 10in driver |
| REMOTE CONTROL: | Yes |
| DIMENSIONS: | 1,000(w) x 139(d) x 60(h)mm (soundbar); 305(w) x 305(d) x 440(h)mm (sub); 202(w) x 139(d) x 60(h)mm (rears) |
| WEIGHT: | 4.3kg (soundbar); 10kg (sub); 1.25kg (rears) |
| FEATURES: | Detachable/rechargeable rears; MultiBeam DSP; dual-band Wi-Fi with AirPlay, Alexa Multi-Room and Chromecast; Bluetooth 5.2; PureVoice Dialogue Enhancement; JBL One app; auto-calibration; rears can be used as standalone Bluetooth speakers; Alexa, Siri, Google Assistant voice; Dolby Vision passthrough |
TESTED WITH
ALL QUIET ON THE WESTERN FRONT:
This award-winning 2022 German adaptation of the famous anti-war novel delivers a brutally realistic portrayal of trench combat during the First World War. Whether streamed on Netflix or played from 4K disc, the visceral Atmos soundtrack immerses you in the horror.