Philips1 transforming Fidelio soundbar offers old-school home cinema thrills, says Steve May. Read our PHILIPS FIDELIO B97 Review.
The Philips Fidelio B97 soundbar drops deeper than James Cameron chasing the Titanic. You might think the fancy detachable speaker modules that double as wireless rears would be the star of this high-end soundbar, but it's actually the subwoofer in this twin set that's the pearl. It delivers profound, subterranean bass, the kind that slams you in the chest. Even The Rock would stagger under the weight of its output.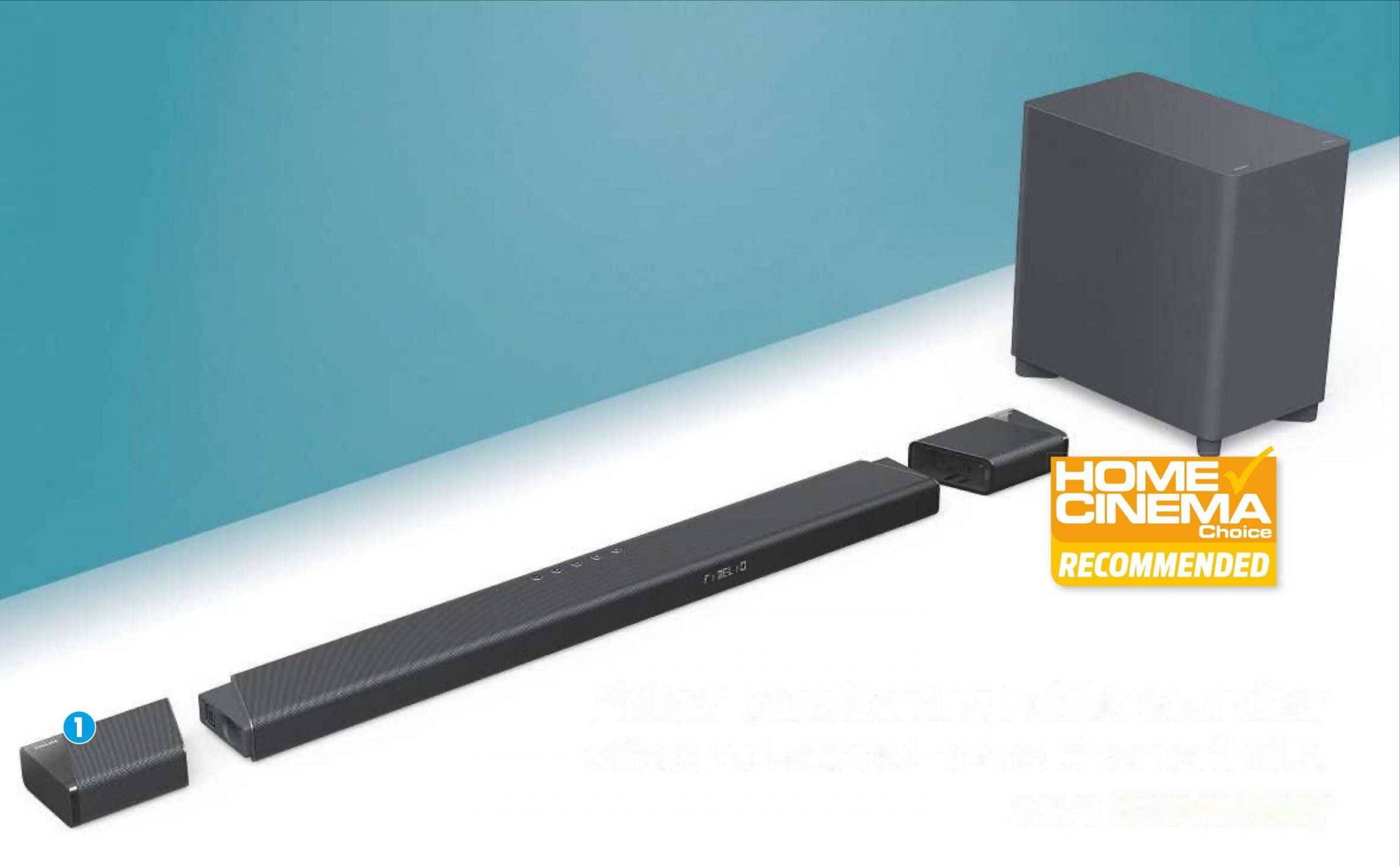 In the Love, Death & Robots episode 'Automated Customer Service' (Netflix, Dolby Atmos), a robot vacuum decides to purge a house of all living things, including its elderly resident. The animation style may be goofy, but the deep thrum the Vacubot makes as it hunts its prey is chilling; I began to fear this smart bar might have similarly malicious intent. Death by infrasonics? I can think of worse ways to go.
The B97 is the new king of Philips' soundbar range, and the first to carry 'Fidelio' branding since that premium product class was resurrected in 2020.
It's a 7.1.2 design with category redefining functionality. Philips calls its detachable speaker enclosures 'surround sound on demand', and that's precisely what they offer. A light tug removes them from the main 'bar, so you can position them to the side of, or behind, your hot seat.
When set free, these enclosures pair with the soundbar automatically over Wi-Fi. They'll run for upwards of ten hours, and recharge their batteries when reconnected to the main hardware (there's also a USB-C option if you need it).
7Review earns Amazon affiliate commissions from qualifying purchases. You can support the site directly via Paypal donations ☕. Thank you!
See also TOP 10 Soundbars & Soundbases
With the surrounds and 'bar combined, the complete chassis measures a substantial 1.3m, and is best partnered with 65in screens – you can wall mount if you don't want to park the thing in front of your screen. It looks decidedly premium too, with a nice smoky mirrored finish to the endcaps and the top and front wrapped in a metal mesh driver grille that's apparently tuned for transparent transmission of mid-to-high frequencies. The partnering subwoofer is equally well dressed, although the matte grey finish isn't quite an aesthetic match. It's a rear-ported design, with an 8in down-firing woofer.
Status info is relayed via a bright and legible LED text display on the soundbar. Control is via a simplified remote, but there are also on-body buttons for volume, input selection and power.
The B97's overall specification is impressive, with no obvious missed opportunity. For example, not only is it Dolby Atmos and DTS:X compliant, it's also DTS Play-Fi- enabled and IMAX Enhanced certified.
Play-Fi is an interoperable wireless standard supported by a variety of (primarily North American) hi-fi brands. Once networked, Play-Fi speakers link to create a whole home or specified zone playback. It's similar to – but offers a bigger ecosystem than – Yamaha's MusicCast and Denon's HEOS systems.
There's wide-ranging codec support, including AIFF, FLAC, MP3, WAV, MPEG-4 and AAC in addition to various DTS flavours, and Play-Fi does high-resolution audio too. You can opt for higher quality streams from a connected smartphone, using the Philips Sound app, but you do sacrifice the option of multiroom audio.
The B97 has Chromecast built-in and comes with Google Assistant; there's also Amazon Alexa and Siri onboard, with Apple AirPlay 2 support for iOS enthusiasts.
Rightly for a premium soundbar, there's more than just the minimum when it comes to connectivity. In addition to an HDMI output with eARC, you get two HDMI inputs, useful for quickly connecting source gear. Compatibility covers Dolby Vision, HDR10+ and HLG, but all HDMIs are v2.0 so don't try to run your 4K/120Hz games console through them. The soundbar also has digital optical audio and 3.5mm analogue line inputs, plus Wi-Fi and Bluetooth (v4.2) wireless options.
I suspect most buyers will plan to run the B97 in both of its configurations, detaching the wings only for multichannel movies or sports, even though upmixing is available.
In full surround mode, it offers three channels across the front (in a standard LCR arrangement), delivered by a mix of 3.5in racetrack drivers and 19mm soft dome tweeters, while height is proffered by two angled 2.5in drivers. Adding spatial air are single soft dome tweeters located at either end of the bar. These emphasise width and create a more expansive stereo spread.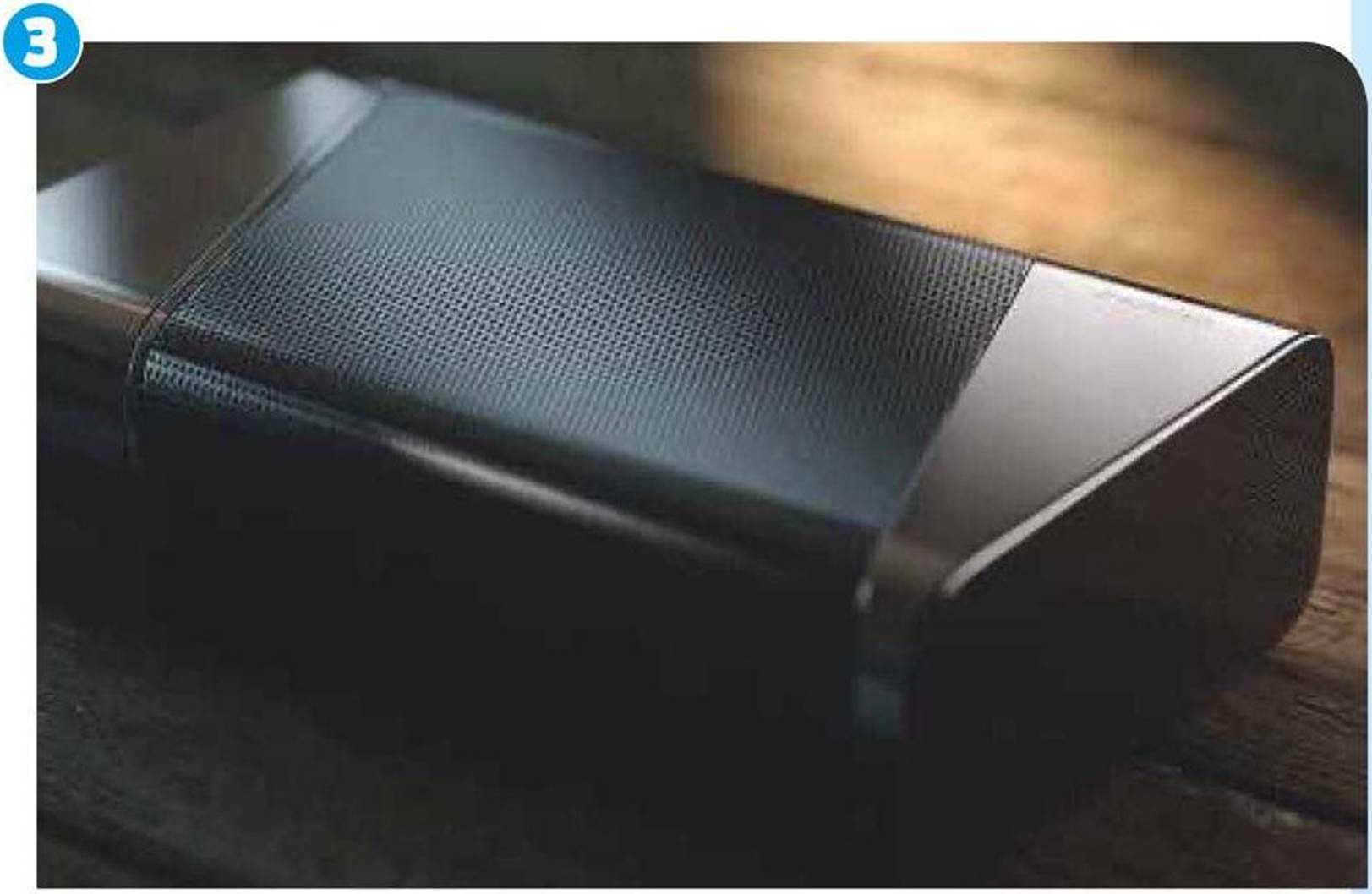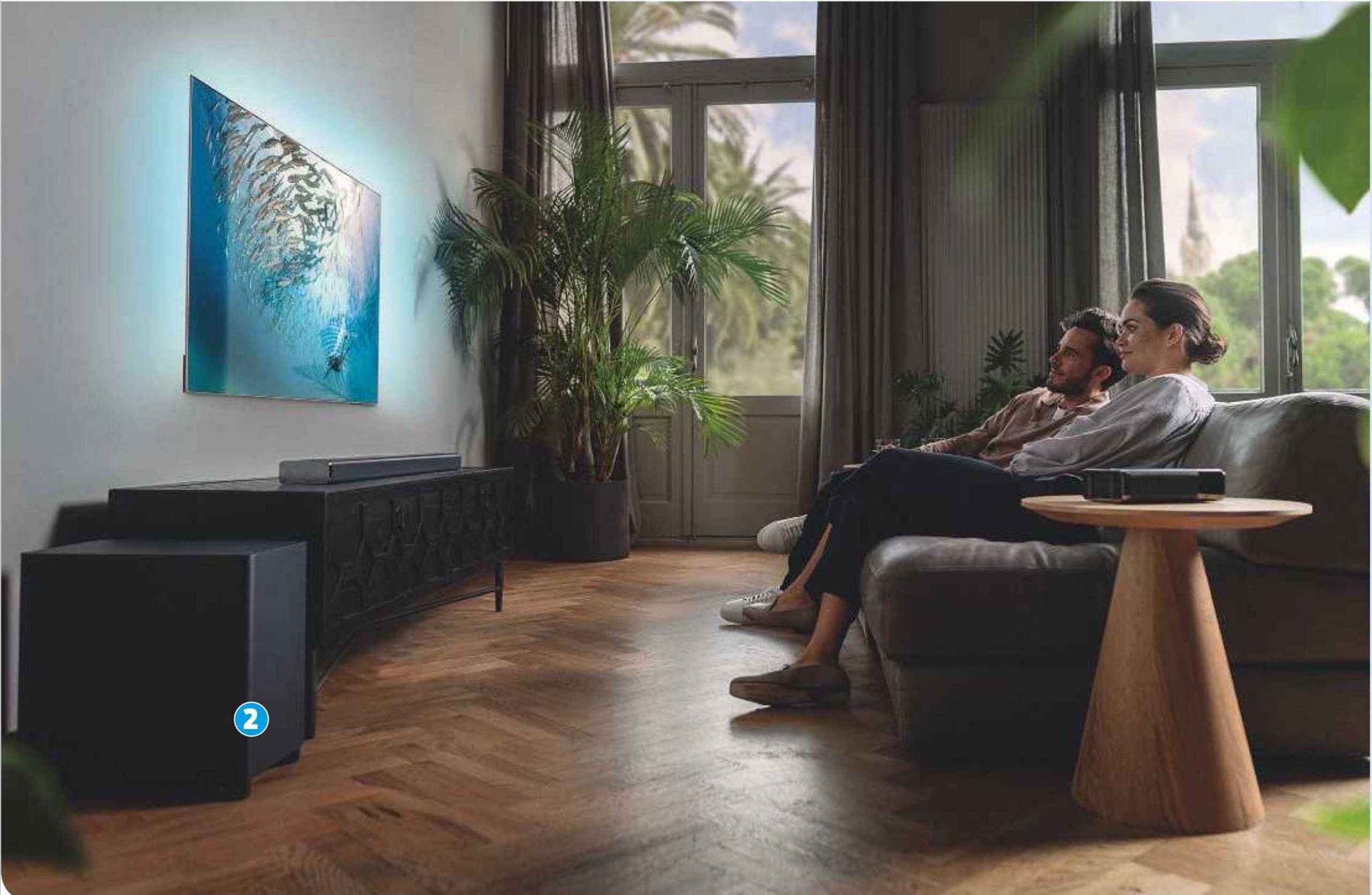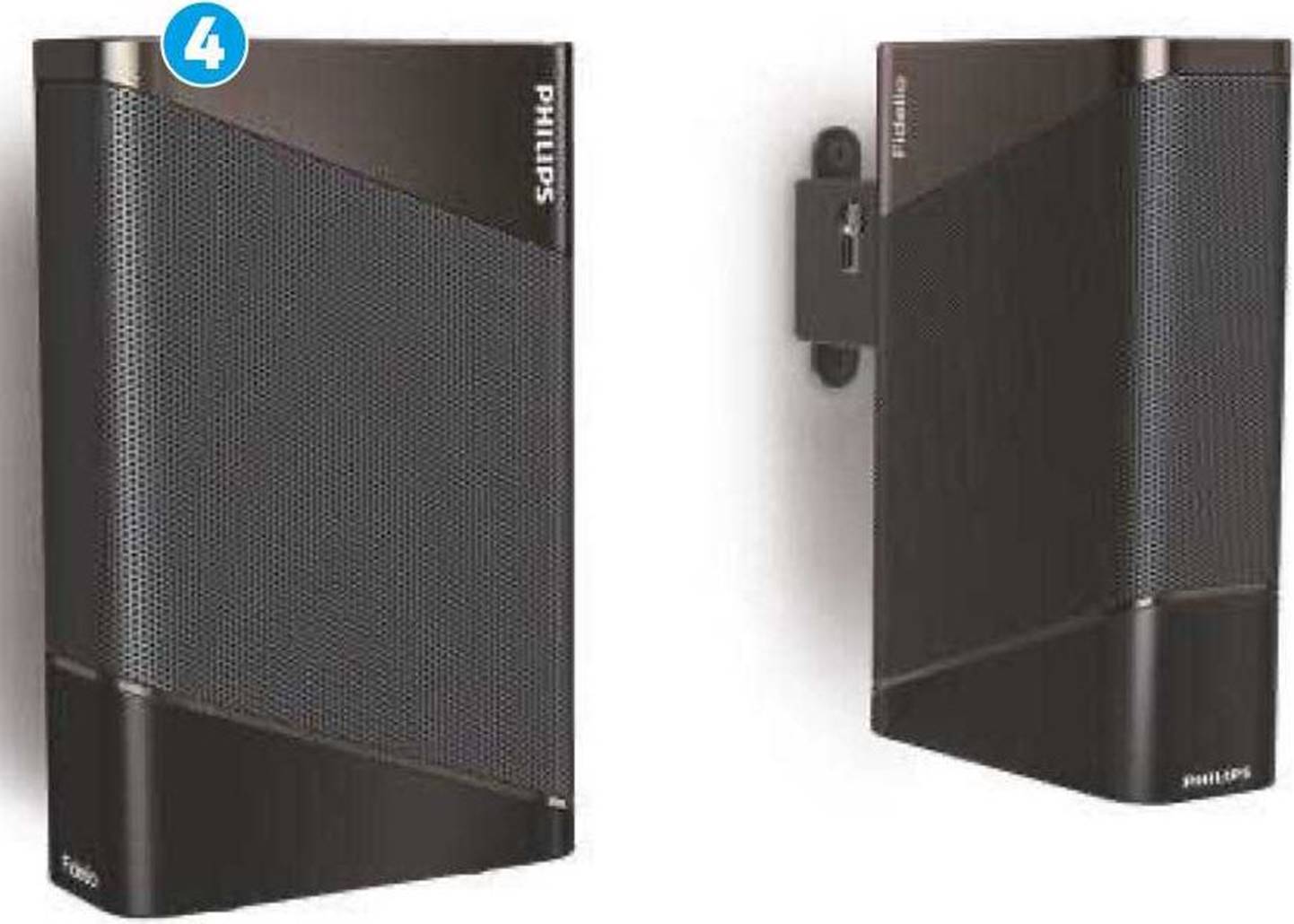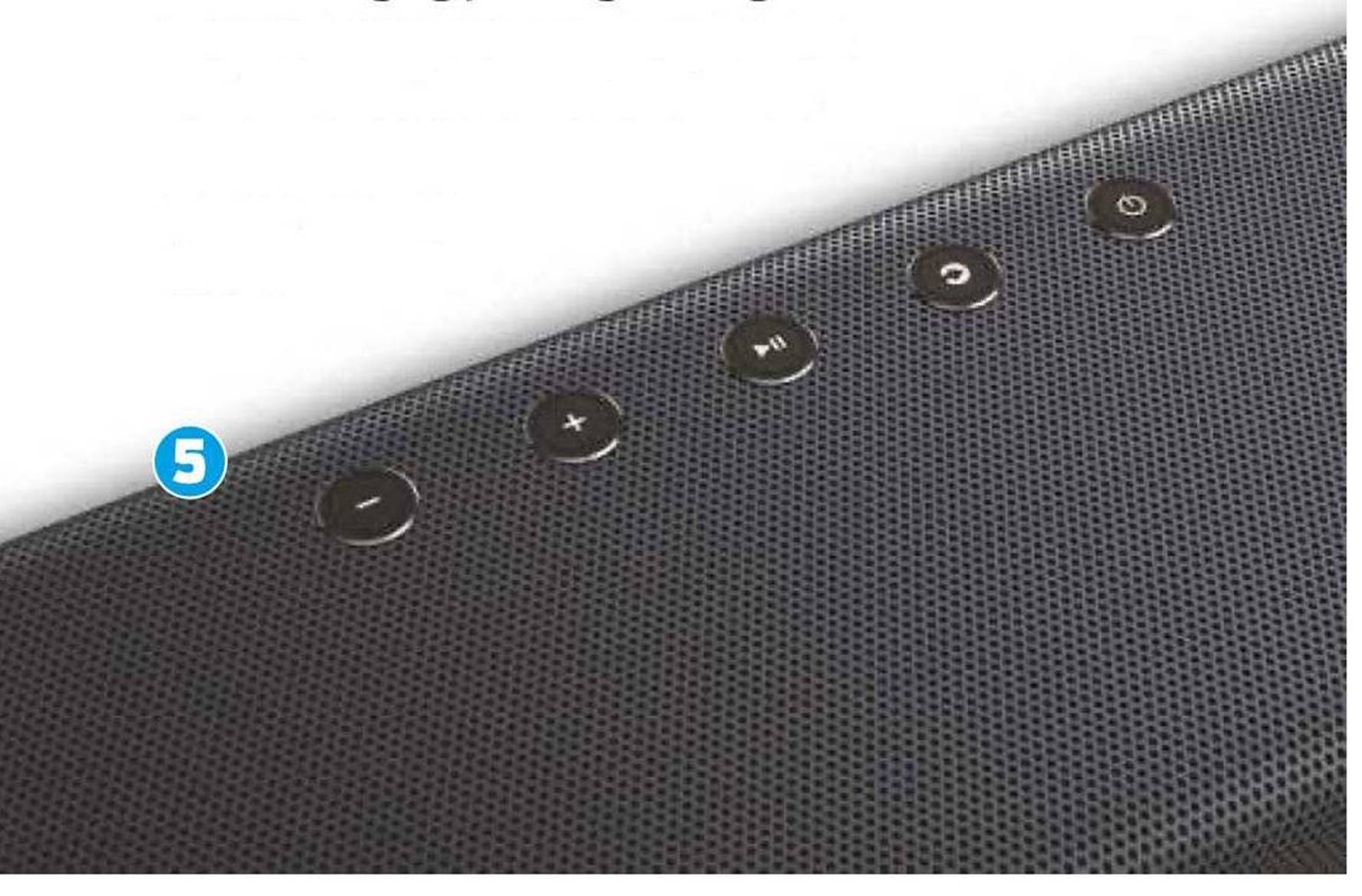 As befits its transforming nature, driver usage changes depending on whether the surround speakers are attached. When they're docked with the main 'bar, the modules utilise a front-mounted, single race-track driver, timbre-matched to the main left and right. They also have tweeters to replace the drivers they're covering. When removed from the 'bar, these side-mounted tweeters are no longer active.
Incidentally, be careful you don't accidentally turn off the rears when placing them in position, as the power button falls all too readily to hand.
The width offered by the B97 is brought home during Spider-Man: Homecoming's Staten Island Ferry sequence (4K BD). When the transport is literally ripped apart by
'The B97's soundstage is fittingly huge, and that glorious subwoofer puts in a seismic performance'
The Vulture, the ship rents left and right while the villain's blasts scorch in from the rear. The B97 excites with authority across the front soundstage.
Officially rated at a cumulative 450W, with 240W going to the wireless sub, this system isn't short of power. I'd rate it more than suitable for larger rooms.
As a two-piece, the B97 behaves much like any other aspirational soundbar. It's particularly good when it comes to mid-range and dialogue clarity, and the crossover with the sub is more seamless than most 2.1 packages.
It offers copious volume and width, but strangely for a soundbar with dedicated height drivers, doesn't really throw sound up. There's extra ambience, but not the exaggerated vertical staging you might imagine. When the surround speakers are detached its performance becomes a lot more dramatic. A run of system-testing demos confirms the wraparound effect. Dolby's Atmos Amaze clip steers objects a full 360 degrees.
However this is actually quite an old-school home theatre performance, with a very flatbed sound.
The classic Mad Max: Fury Road opener (4K BD) has Max's pursuers fly reassuringly in from the rear, giving chase across the sand dunes before the Road Warrior's car flips with a stonking LFE thump.
This is the first soundbar we've seen to boast IMAX Enhanced status. For a soundbar to get the certification, we're told it should be at least one metre wide, which the B97 achieves with its two rear speakers detached. Bass response is also expected to reach down to at least 35Hz.
Jumanji: Welcome to the Jungle (IMAX Enhanced DTS:X), in which rhinos batter Dwayne Johnson's helicopter as it tries to escape the valley floor, is a dizzying soup of sound. The soundstage is large and complicated. A stampeding low-end underscores the clatter of damage. Does it sound any different to Dolby Atmos? On this system (where discs are correctly flagged as IMAX DTS:X), not really.
Thanks to the provision of detachable surrounds, the Philips Fidelio B97 is one of the most convincingly cinematic soundbars we've heard for less than a grand. The soundstage is fittingly huge, and that glorious subwoofer puts in a seismic performance.
That said, as a Dolby Atmos solution it really doesn't hit the heights many cinephiles will be expecting, and usability could be slicker. Play-Fi control is offered via the Philips Sound and DTS Play-Fi apps, but you'll need a separate PS Fine Tune app to further fettle performance.
Still, it looks and sounds premium, and Play-Fi could be a big bonus if you invest in other compatible speakers.
Recommended
PHILIPS FIDELIO B97 Review
With detachable rear speakers, this premium soundbar offers a genuinely cinematic surround sound experience, but don't expect high Atmos...
Add your review
Best PHILIPS FIDELIO B97 prices in the UK ?

£

699.97

£1,249.99
1 used from £650.97
4 new from £699.97
in stock

MORE DEALS

See also TOP 10 Soundbars & Soundbases
DRIVEUNITS (SOUNDBAR): 2 x full-range (centre); 4 x full-range plus 2 x tweeters (left & right); 2 x full-range upfirers; 2 x side-firing tweeters
DRIVEUNITS (SURROUNDS): 2 full-range plus 2 x tweeters
ONBOARD POWER (CLAIMED): 450W total (240W subwoofer)
CONNECTIONS: 2 x HDMI inputs; 1 x HDMI output with eARC; digital optical audio input; 3.5mm analogue input
DOLBY ATMOS/DTS:X: Yes/ Yes
SEPARATESUB: Yes. Sin driver
REMOTE CONTROL: Yes
DIMENSIONS (SURROUNDS ATTACHED): 1,312(w) x 55.6(h) x 120(d)mm
WEIGHT: 6kg
FEATURES: Chromecast built-in, Bluetooth v4.2; wall-mounting option; rechargable wireless rear speakers; HDR passthrough (HDR10, Dolby Vision, HLG); IMAX Enhanced; DTS Play-Fi; PS Fine Tune app; Works with Alexa; Apple AirPlay
MAD MAX: FURYROAD: George Millers astonishing franchise reboot was released in the first wave of 4K Blu-rays in 2016, and we've had it close to hand ever since – not just to sample its stylistic visuals, but to have our heads hammered by its Atmos soundtrack (also found on the previous year's Full HD BD outing).
www.philips.co.uk