The debut Dolby Atmos soundbar from French manufacturer Devialet is a sensational performer, says Steve May
1. When wallmounted, the Dione's Orb driver can be rotated to still fire forwards
French hi-fi auteur Devialet has a knack for delivering seismic bass from compact boxes, as seen in its celebrated Phantom speakers that rock like enclosures three times the size. Now comes the Dione, the brand's first Dolby Atmos soundbar, and it punches even lower.
When Elsa Pataky, as Captain J. J. Collins in Netflix actioner Interceptor, unloads her sidearm into a hulking terrorist early into the attack on her isolated marine station, the gun sounds like a cannon going off. Yummy.
This is because the Dione has no fewer than eight SAM-powered (Speaker Active Matching) bass drivers onboard, which allow it to drop down to a claimed 24Hz. For the end user, this results in a soundbar that lands its low blows with homogeneous, gut-punching skill. Nor does it take long to realise that Devialet's Dione is a devastating Dolby Atmos debut by the brand.
Enter the Orb
Wide at 1.2m (and reassuringly hefty at 12kg), this soundbar is best matched to screens 55in and up, and it promises a 5.1.2-channel performance, courtesy of 17 drivers in total – nine 1.6in diameter fullrange aluminium units, plus those eight aluminium woofers, which adopt a 5.25in racetrack driver design.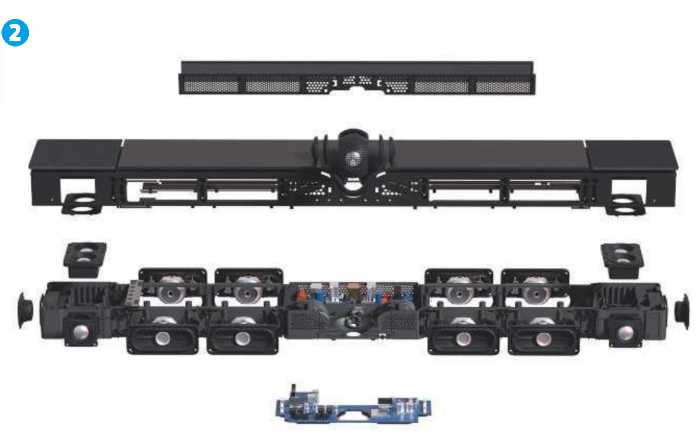 2. Devialet's exploded view of the soundbar shows the configuration of its 17 drivers, including side-facing units at each end
The Dione's forward-facing array is fabric cloaked, the end modules having Dolby Enabled height drivers similarly clad. The real eye-catcher, though, is the spherical centre channel, named the Orb.
3. Amplifier power is rated at 950W via Devialet's custom ADH technology
This comes in a default position for horizontal use. However, if you choose to wall mount the 'bar, the Orb can be re-orientated and locked into an alternate forward-facing orientation. An internal gyroscope tells the soundbar how it's been positioned, also resulting in the Atmos drivers becoming front firers, and the front L/R becoming heights. Clever.
Fit and finish is excellent, as it should be at the Dione's premium price. The soundbar has a sleek, classy feel to it – even the on-body controls, over to its left-hand side, look smart. There's no dedicated remote control though -instead you have to perform in-depth operation via an app. This is fine as long as the wielder of the smartphone or tablet is in the room, but isn't convenient for others who might want control when the smart device owner is absent. A usability fail in my book.
The Dione is compatible with Devialet's Phantom remote, but that's a very expensive extra.
Connections, compared to some soundbars selling for even a quarter of the price, are minimal. There's just a single HDMI which is eARC/ARC enabled, plus a digital optical audio input, and Ethernet. With no HDMI switching, you'll need to ensure all your sources come via your TV. Wireless connectivity is more accommodating, comprising AirPlay 2, Spotify Connect, Bluetooth 5.0 and UPnP. At the heart of the soundbar is an SoC (System on a Chip) with a 24-bit/96kHz DAC embedded alongside Devialet's analogue digital hybrid (ADH) amplification and SAM technology.
'Appy families
Setup via the app is slick and intuitive. The software quickly recognises the Dione over Bluetooth, and connects it to your network. A short calibration routine then tailors the output of the soundbar to your room's acoustics, using a quartet of in-built mics. These can be disabled once the calibration is complete, as they're not used for anything else – this soundbar isn't smart, and doesn't support voice assistants of any persuasion.
The app, which is nicely designed, confirms the source format (be it Dolby Atmos, multichannel or stereo) and offers audio presets: Movie/ Spatial, Music and Voice, plus a dynamically compressed Night mode.
Movie is best thought of as the standard option for most material. When there's no Dolby Atmos or core multichannel stream, it'll upscale any two-channel source to 5.1.2, using Devialet's proprietary 'SPACE' upmixing algorithm. With wireless two-channel sources (Bluetooth, Spotify etc), the 'Spatial' upscaling mode is used.
Use the Music preset, and the Dione reverts to a stereo configuration, with only the left and right drivers in use. Voice, as expected, is designed to enhance vocal clarity for TV, news and podcasts. This is a good deal more subtle than some rival interpretations, so credit should be given to Devialet for improving speech clarity without sacrificing overall fidelity.
There's no DTS:X support on this 'bar, but that's no biggie. Most TVs can't pass it through anyway, and it's not used by streaming services.
Stern test
Devialet's Dione makes everything sound great. Even the simplest mix – David Letterman interviewing Howard Stern (My Next Guest, Netflix) – is buttery smooth. The soundbar's central Orb unit comprises one active driver, plus two passive radiators, which goes some way to explaining its rich timbre.
In particular, the Dione is superb when it comes to ambience and mood. In Moon Knight (Disney+, Dolby Atmos) when Mark Spector makes a break for it in the mental institution, unsteady on his feet and struggling to comprehend what's going on, his every stumble is distinguished by deep, bassy thumps. As the score swells around him, the presentation becomes symphonic.
av info
PRODUCT: Premium singleenclosure Dolby Atmos soundbar
POSITION: Devialet's only soundbar model
PEERS: Sennheiser Ambeo; Bowers & Wilkins Panorama 3; Bang & Olufsen Beosound Stage
4. Volume, source, power and Bluetooth controls are located on the top of the chassis
5. Physical inputs are Ethernet, optical and HDMI eARC
As I've come to expect from most single-piece soundbars, the sense of surround is left wanting. For all its reflective beam-forming and high-end processing, the Dione can't create the illusion of sounds to the rear. But it does at least deliver surround mixes with a pronounced width, plus smooth panning of effects across the front soundstage.
'The Dione is a thrilling all-in-one Dolby Atmos model, notable for its rich tonality and best-in-class bass'
Meanwhile, back with Interceptor (Netflix, Dolby Atmos), the honking Michael Lira score, deep 'thwupping' chopper blades, and clanking bombastic action, are sounding joyfully dramatic and largescale. The movie's sound design is visceral, and that's largely what's delivered by the Dione. The 'SBX-1 Interceptor' base, centre of the action, reverberates to an ominous LFE rhythm, and when the shooting starts, the mix is immense.
One proprietary Devialet technology in use here is Adaptive Volume Level (AVL), which adjusts sound levels in real-time to minimise the too quiet/too loud listening syndrome (we first saw this on the Sky Soundbox, HCC #280). I suspect this is slightly cramping dynamics -Interceptor tends to play at a constant volume. It does make dialogue easier to follow though, which could be seen by many users as a positive, and the influence of AVL isn't as obvious as it was on the Sky speaker.
That distinctive deep bass doesn't dissipate when listening in two-channel music mode. Car Crash, by Idles, is a thumping, bulldozer of a track, and the Dione doesn't flinch. Its performance is muscular without sounding over-bearing.
Similarly, Kagutsuchi, by Ibaraki, is wildly percussive, but the soundbar still manages to handle it with the discipline of two discrete stereo speakers. Channel separation is pronounced, in the best way.
Still, I often found myself hankering for the soundbar's upscaling talents. Belle & Sebastian's Talk to Me Talk to Me gains welcome spatial depth when upmixed to 5.1.2 by Devialet's Spatial mode. The vocals float, the band has more space.
Inevitably, the best option of all is Dolby Atmos music, delivered in my case by the Tidal TV app. Foreigner's Feels Like the First Time enjoys stadium-style scale. Shut your eyes and you're there.
Blockbuster 'bar
The Dione might be Devialet's first ever soundbar, but it performs as if the brand has been making movie machines for years. It's a thrilling all-in-one Dolby Atmos model, notable for its rich tonality and best-in-class bass. It sounds glorious with movies, is tailor-made for action blockbusters, but is no slouch with music either.
The price tag is obviously a bit rich, eclipsing the Bowers & Wilkins Panorama 3 (HCC #332) and Bang & Olufsen Beosound Stage (HCC #310) by quite a few quid, but style, bass profundity and musicality are jaw droppingly fine.
At retail you'll find it squaring up alongside Sennheiser's venerable Ambeo (HCC #302), which in terms of immersive performance has the edge, but it can't match Devialet's Dione for elegance
Verdict
DEVIALET DIONE Review
Devialet brings home the box office with a blockbuster 'bar offering smooth and syrupy sound - it's a sumptuous listen, and stylish too. A remote control would be nice, though.
Add your review
---
Where to buy devialet dione ?
devialet dione price


1 new from $2,400.00
in stock
& Free shipping


Last Amazon price update was: August 10, 2022 12:31 am
×
Product prices and availability are accurate as of the date/time indicated and are subject to change. Any price and availability information displayed on Amazon.com (Amazon.in, Amazon.co.uk, Amazon.de, etc) at the time of purchase will apply to the purchase of this product.
MORE DEALS

www.devialet.com
SPECIFICATIONS
DRIVE UNITS: 9 x 1.6in diameter full-range aluminium drivers; 8 x 5.25in-wide aluminium long-throw bass drivers in push-push pairs ONBOARD POWER (CLAIMED): 950W, via analogue digital hybrid (ADH) technology CONNECTIONS: HDMI eARC connection; optical digital audio input; Ethernet DOLBY ATMOS/DTS:X: Yes/No SEPARATE SUBWOOFER: No REMOTE CONTROL: No. Devialet app instead, or optional Devialet Phantom controller DIMENSIONS: 1,200(w) x 88(h) x 165(d)mm WEIGHT: 12kg
FEATURES: Dolby Atmos/Dolby Digital Plus decoding; wall-mounting; rotatable Orb centre driver; Apple AirPlay 2; Spotify Connect; UPnP; Bluetooth v5.0; Movie/ Spatial, Music, Voice and Night listening modes; SPACE upmixing; Adaptive Volume Level (AVL); Speaker Active Matching (SAM); 'Advanced Dimensional Experience' beam-forming; 24Hz-21kHz claimed frequency response; 24-bit/96kHz DAC; app control; room calibration
TESTED WITH
INTERCEPTOR: An unapologetically generic Netflix actioner with a fine Atmos soundmix. It's big on bombast, with an insistent, driving score – just the ticket to test out low-frequency effects and directional steering. Listen out also for more subtle reflective ambience as our heroes scarper about their beleaguered marine base.