WITH THE U5120GW, Hisense is upping its soundbar game. Previously, the Chinese company's soundbars (the ones sold in the UK, at least) have been budget affairs – just £ would get you its most expensive 2021 model. This new arrival sells for £. Read our Hisense U5120GW Review.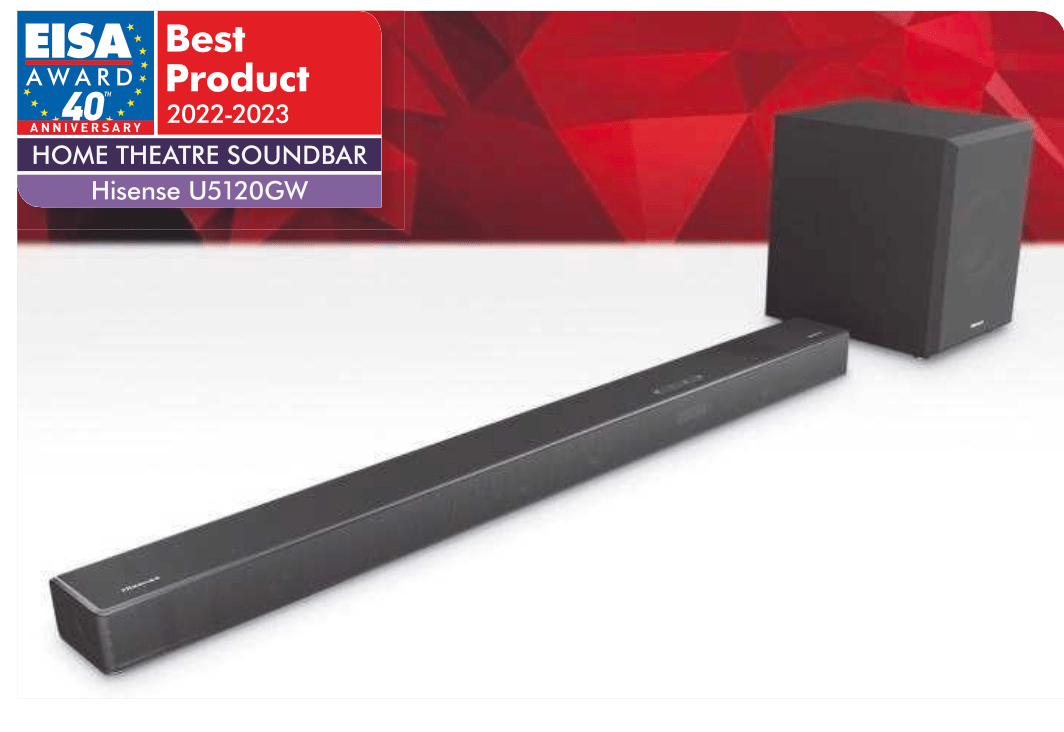 A few things explain this. Firstly, it's a Dolby Atmos soundbar with physical upfiring drivers rather than the more affordable (and usually less impressive) virtual alternative. There's even decoding of DTS:X soundtracks.
Secondly, it's big at around 1.2m wide, suited to TVs 55in and up. The accompanying wireless subwoofer is also moderately large.
And then there's the rest of the spec, which includes seven sound presets, and a connections bank that is comprehensive for this day and age, even including both coaxial and optical digital ins.
These are likely to be left unused by many, so it's perhaps a bit of overkill from Hisense, but the fact the U5120GW also features two HDMI inputs, to go with its third HDMI (eARC) connection, is superb. This means external hardware (the TV) isn't going to add another layer of confusion to the process of getting sound. During my audition, being able to run a 4K deck and Sky Q box direct into the 'bar was useful, not lease because I could always know exactly what audio format I was feeding it.
As the name alludes, this soundbar claims a 5.1.2 channel count. Visible through the grilles are dual-driver arrays for left, centre and right, single units aimed sidewards, and the aforementioned upfiring pair.
A large text display shines through the front. This can show volume level, input and what sound preset you're using, and be completely dimmed if you wish via Hisense's supplied remote. This slim zapper also lets you flit between the Music, Movie, News, Sport, Night, Game and AI EQ settings, and adjust bass and treble levels. Of these, I never felt any need to tweak the latter, but bass management was occasionally useful.
7Review earns Amazon affiliate commissions from qualifying purchases. You can support the site directly via Paypal donations ☕. Thank you!
See also TOP 10 Soundbars & Soundbases
RECOMMENDED VIDEOS FOR YOU...
Sky's murder mystery The Rising has some impressively creepy Dolby Atmos design, and it revealed that the U5120GW can at least get something out of it. In the first episode, shortly after our dead heroine emerges from the lake, she treks through an eerie forest. The audio team have a field day here, peppering the soundstage with far-off tweeted bird song, some ghostly creaking sounds, and a flock of cawing crows. It's not possible to really pinpoint the positions of these elements in the mix, as you'd hope from a full Atmos system, but there's height and expansion here, and a sense that what you're hearing isn't coming from the slim box in front of you.
The music that swells during the credits appeared to find the edge of the bar's limits at the relatively high level I was listening, a touch of harshness creeping in. Yet, later on, the discovery of Neve's body is accompanied by insistent synths, and the way these mid-range elements and the sub dovetailed together to form a rich whole was more than pleasant.
Dialogue is helped by the dedicated centre array, although there's no option of rasing its level independently. The News preset, however, is a quite effective cure for when you might find dialogue quiet, while actually keeping the rest of the soundmix listenable.
Hisense's subwoofer puts in a game performance but is the least impressive part of the package, something of a flip on the soundbar system norm. During the bus fight scene in Nobody (Sky Cinema) it works great, punches and kicks landing with a deliciously painful-sounding short thud. But higher up the bass range, particularly when it's required to bounce away rhythmically to music, it begins to sound a bit flabby. It also pays dividends to keep it at the front of your room, as it can sound quite directional.
Counting against the U5120GW is its lack of any wireless skills beyond Bluetooth – multi-room and voice control don't get a look in. Counting in its favour is the size of its soundstage, the tangible impact those height drivers bring, and its flexible HDMI connection. Overall, this is a welcome addition to the Hisense portfolio
| | |
| --- | --- |
| DRIVERS | 2 x Dolby Atmos upfirers; 2 x side-firers; 3 x two-way arrays for L/C/R |
| ONBOARD POWER (CLAIMED) | 510W (incl. sub) |
| CONNECTIONS | 2 x HDMI inputs; 1 x HDMI output (eARC/ARC); optical digital audio input; coaxial digital input; USB (service only) |
| DOLBY ATMOS/DTS:X | Yes/Yes |
| SEPARATE SUB | Yes. 8in |
| REMOTE CONTROL | Yes |
| DIMENSIONS | 1,200(w) x 73(d) x 113(d) mm |
| WEIGHT | 5kg |
| FEATURES | Bluetooth 4.2; Movie/Music/News/Night/Sport/Game/AI EQ sound modes; bass/treble adjust; surround bypass mode; wall-mount brackets supplied |
EISA HOME THEATRE SOUNDBAR2022-2023 HISENSE U5120GW Give Hisense's top-of-the-range soundbar a Dolby Atmos or DTS:X mix and right away its talents are thrillingly apparent. Courtesy of a 5.1.2 channel configuration that includes two-way arrays for left, centre and right, plus wireless subwoofer with a potent 8in driver, it easily conveys the dynamics, weight and enveloping nature of movie soundtracks the U5120GW creates a largescale listening experience that belies its slim, easy-toaccommodate hardware. This cinematic performance can be tuned via listening modes and EQ adjustment, and is backed up by a comprehensive range of connections, including 4K HDR-capable HDMI inputs for disc players and consoles, eARC for TV hook-up, and Bluetooth for music streaming.
Hisense U5120GW Review
Some might expect more feature bells and whistles at this price, but the expansive sound of this Hisense 'bar is commendable.
Add your review
Best Hisense U5120GW prices in the US ?

$

449.99

$599.99
1 new from $449.99
in stock

Best Hisense U5120GW prices ?
MORE DEALS

See also TOP 10 Soundbars & Soundbases