JBL continues to keep it simple with this five-channel soundbar/sub combi. Mark Craven investigates. Read our JBL BAR 5.1 Review.
This soundbar's predecessor, the JBL Bar 5.1 [see HCC #283], partnered a three-channel enclosure with wireless rears and subwoofer for a native 5.1 presentation. JBL's new and confusingly named Bar 5.1 Surround ships without those additional surround boxes, but still claims a 5.1 performance…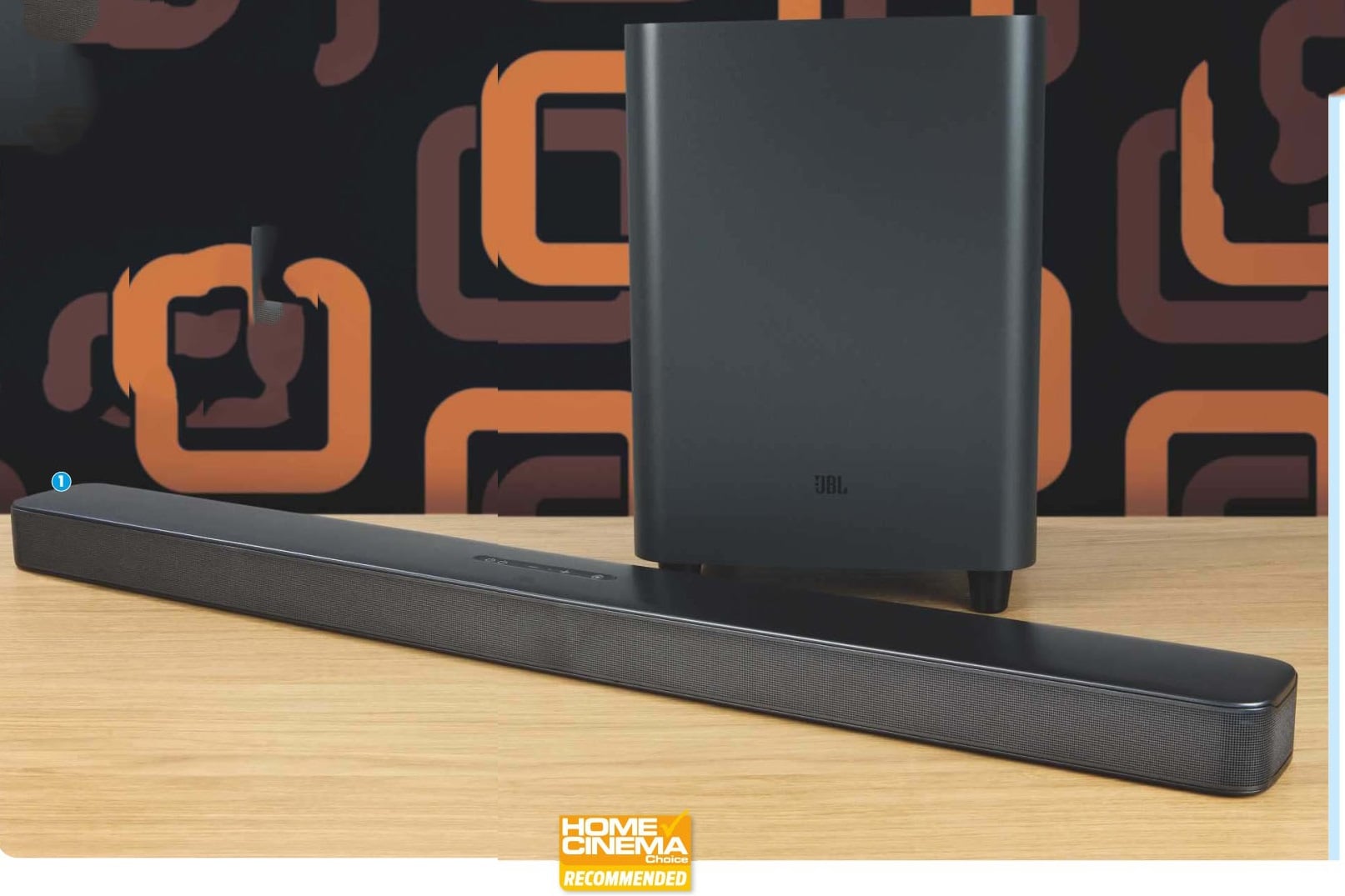 One one level, this is a bit of a shame, as the battery- powered surround cabinets on the Bar 5.1 worked well at delivering multichannel immersion, provided you could place them accurately and remembered to recharge them. But here JBL is making a play for 'the ultimate cinematic experience… no extra speakers or wires are needed'
– suggesting that the previous model perhaps didn't set the buying public's imagination alight. It will, however, be returning to the concept with its imminent Bar 9.1, although as a Dolby Atmos/DTS:X model (with four upfiring drivers in total) those 'extra speakers' are more to be expected.
What we have here, then, is a standard soundbar/ subwoofer combi system, but with onboard Dolby Digital 5.1 decoding and a driver array (and processing) designed to create a multichannel experience.
The soundbar uses five full-range racetrack drivers for its L/C/R channels, and adds side-firing tweeters. These combine with JBL's MultiBeam technology to shape-shift your source to its five-channel output.
7Review earns Amazon affiliate commissions from qualifying purchases. You can support the site directly via Paypal donations ☕. Thank you!
See also TOP 10 Soundbars & Soundbases

Don't look now
Styling is fine and the build quality solid. In truth, there's not much need for eye-catching aesthetics from a device that wants to sit below a TV (or be wall-mounted) and not distract from the onscreen action, but with its full-wrap perforated grille, round edges and 5.8cm height, the Bar 5.1 is agreeable enough. Buttons on the top panel cover power, volume and source, while a scrolling LED display provides all the info you'll need.
The soundbar is joined by a sizeable wireless subwoofer, styled to match in nondescript grey. It's a rear-ported, downfiring design, with a 10in woofer and claimed 300W amp that, on paper, raises it above much of the competition.
On the face of it there's not much in the way of listening options. The Bar 5.1 Surround ignores the current trend for EQ presets such as Voice, Sports, Movies and Music. Aside from a three-level Bass adjustment, you're stuck with what the soundbar gives you.
Well, not quite. Read the full manual online, rather than the supplied Quick Start Guide, and you'll discover there's an auto calibration routine, accessed by holding down the HDMI button on the handset until 'Calibration' is displayed on the soundbar. A series of beeps measures your room characteristics.
A further trick, kickstarted by holding the Mute key for more than three seconds, lets you both turn off the bar's 'Smart Mode', plus instigate a 'Night Mode'. The former is the most interesting as it deactivates surround post­processing, which, personally, I found a boon when listening to music. Yet as these features are hidden away,
Soundbar/sub combi with 5.1 decoding
POSITION: Below Bar 5.1 model (wireless rears) and incoming 9.1 Atmos  flagship
Samsung HW-N650; Yamaha MusicCast Bar 400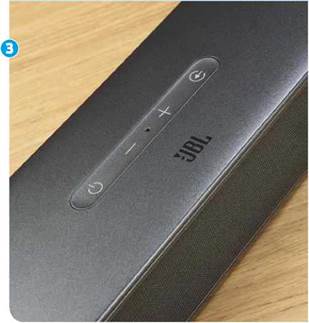 and using them is a faff (and could be solved by a dedicated button on the handset), I'll wager the majority of buyers will never touch them.
Connectivity is standard for the price point, comprising a digital optical audio input, HDMI input and HDMI output with ARC, with 4K HDR passthrough on tap. There's also a USB port (for service only in the UK) and Ethernet.
Bluetooth streaming is another source option; some will prefer to use Chromecast (setup through the Google Home app) or AirPlay.
Mr. Big
Ignore this soundbar's 'Surround' appellation, as no matter how much it tries it doesn't approach the discrete delivery of its predecessor, and you'll find it rather impressive. It's physically wide enough (over a metre) to create a soundstage to match your flatscreen, and its side/front speakers latch on to effect pans/placement to deliver something that feels bigger and more immersive than stereo. The dedicated centre channel, meanwhile, makes it strong with dialogue and vocals.
To get the most out of the Bar 5.1 Surround, you'll want to crank up the volume. It sounds entirely competent at low levels, but a little uninterested; go above '20' on JBL's volume scale (which equated to around 80dB at my sofa), and its sound duly grows in scale and sense of attack.
The London street race in Fast & Furious 6 (Blu-ray) – MC'd, implausibly, by pop star Rita Ora – is conveyed by the Bar 5.1 Surround as a lively mix of thumping electronic score, roaring engines and clunking gear sticks, a fullscale and fullrange sonic assault on your living room that's massively enjoyable. Vin Diesel's automotive acrobatics, and the sirens of chasing cop cars, swerve and surge across the front of the room.
What's missing here, though is a sense of vertical expansion, an increasingly common feature on soundbars that carry DTS Virtual:X processing or their own vertical substitute. That's not to say it sounds overtly flat or constrained, and the side-firing tweeters definitely help with off-axis listening.
That 10in driver affords this system a decent low-end reach, and it avoids the trap of sounding unrefined and isolated from the rest of the soundfield. It brings subtle depth to all material, and hammers home LFE effects with gusto.
You'll need to mange the bass level, but this isn't exactly arduous. My advice is not to bother with 'Low', as this reduces the sub's output to a relative whimper, and choose Mid or High based on content/personal preference. Its max strength setting is arguably the most fun, but you'll find it overbearing at times.
At the other end of the frequency range, isolated effects (a click of a turbocharger, for instance) are reasonably distinct, and the shattering glass of a car-crash is suitably wince-inducing. But the voicing here overall is more cloying warmth than icy precision.
It's not all about bombast, either. The opening scene in A Quiet Place (Sky Cinema), as the protagonists peruse an abandoned shop, requires little more than light-touch Foley and the sound of whistling wind. The Bar 5.1 Surround proves capable of crafting the required tension, its subwoofer quietly toiling away to give the sequence scale and delineate the shift in tone when we move to the point of view of deaf girl Regan. Later on in the movie, the piano-heavy score projects well from the JBL enclosure.
For music replay in general, the Bar 5.1 Surround's warm sound and energy makes it a good choice for party night, but the multi-layered nature of Madness by Muse (Tidal) found it struggling to properly dig in and separate vocals/instrumentation.
Call Me the Breeze
Smart Mode aside, the Bar 5.1 Surround is a breeze operationally, and sonically it's big-hearted, expansive and never feels short of power.
Chromecast is a welcome tick in the feature column, while the absence of genre-specific DSP modes isn't a concern. Yet models offering Dolby Atmos and DTS:X (albeit, at this price, without physical upfiring drivers), provide stiff competition
Verdict
Recommended
JBL BAR 5.1 Review
A more streamlined offering than JBL's previous '5.1.' soundbar, this impresses with its bass energy, scale and connectivity. Recommended for action flick fans.
Add your review
Best JBL BAR 5.1 prices in the US ?

$

499.95

$599.95
1 used from $587.95
11 new from $499.95
in stock


$

849.00
1 new from $849.00
in stock


$

899.95
1 used from $787.77
14 new from $899.95
in stock

Best JBL BAR 5.1 prices in the UK ?

£

1,196.21
4 new from £1,151.21
in stock

MORE DEALS

See also TOP 10 Soundbars & Soundbases
SPECIFICATIONS
DRIVERS: 5 x racetrack drivers (size unspecified); 2 x 1.25in side-firing tweeters ONBOARD POWER (CLAIMED): 5 x 50W (soundbar); 300W (subwoofer)
CONNECTIONS: 1 x HDMI input; 1 x HDMI output with ARC; 1 x optical digital audio input DOLBY ATMOS/DTS:X: No/No SEPARATE SUB: Yes. 10in woofer REMOTE CONTROL: Yes DIMENSIONS (SOUNDBAR): 1,018(w) x 58(h) x 100(d)mm WEIGHT (SOUNDBAR): 2.85kg
FEATURES: Bluetooth v4.2; dual-band Wi-Fi; HDCP 2.3; 4K HDR passthrough (including Dolby Vision); wireless subwoofer; Chromecast Built-in; Apple Airplay 2; JBL MultiBeam technology; Dolby Digital 5.1 decoding
PARTNER WITH
PHILIPS 55PUS6814: Philips' budget 55in 4K HDR LCD (with multi-HDR support) is a genuine bargain – at around £ – but its onboard sound system won't set pulses racing. Add JBL's soundbar for some all-round AV thrills.
3. The soundbar sports the subtlest of JBL branding