Yamaha's entry-level YAS soundbar replaces an outboard sub with integrated woofers, and lays on Alexa and DTS Virtual:X skills. Mark Craven considers it good value for money. Read our YAMAHA YAS-109 Review.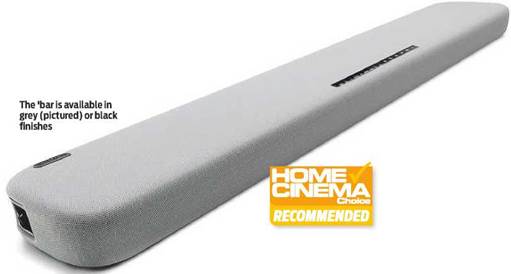 2.1-channel soundbar with DTS Virtual:X
Position: Below the YAS-209 and Yamaha's MusicCast models
JBL Bar 2.1; Sonos Beam; LG SL7Y
EARLIER THIS YEAR [see HCC #308] we looked at Yamaha's YAS-209, a (or thereabouts) soundbar/subwoofer combi with Alexa integration.
Below it in the range sits the YAS-109, which does away with an external subwoofer, and in doing so shaves a chunk off the asking price. And does that make it better all-round value for money?
7Review earns Amazon affiliate commissions from qualifying purchases. You can support the site directly via Paypal donations ☕. Thank you!
See also TOP 10 Soundbars & Soundbases
Not only has the woofer the gone, the styling is also different. While the YAS-209 has a two-tone approach with cloth grille giving way to a cabinet top-plate, this more affordable model is pretty much entirely dressed in fabric, save for a thin strip of touch controls. While these are useful, you'll likely use the supplied remote, or Yamaha's app, for day-to-day control. And in a welcome move for households with small kids, a child-lock function can be used that disables the 'bar's touch-sensitive buttons.
No sub doesn't mean you're being short­changed on bass, of course; the YAS-109 sports a different driver arrangement and amp provision than the soundbar element of its pricier stablemate. Joining its pairs of midbass and tweeter units are two onboard woofers. Power rating across this stereo six-pack is 120W.
Feature-wise, the YAS-109 is pretty appetizing for a lower-mid-range 'bar. It has two particular skills that elevate it above many competitors: Amazon Alexa integration and DTS Virtual:X processing.
The former means the YAS-109 is a fully-fledged Alexa speaker, with all the cool/irritating (delete as appropriate) functionality that entails. Some might not get much mileage out of the voice interaction, but others may consider it a bargain compared to a standard Alexa squawker.
DTS Virtual:X, meanwhile, is a post­processing wheeze that aims to add height ambience to regular 'flat' content.
Not blinded by the lights
The supplied handset is lightweight, with soft buttons that can make you wonder if you've pressed them hard enough – a situation not helped by the soundbar's tiny status lights denoting volume, preset and source changes. At least the YAS-109 makes up for this operational difficulty by sounding rather good.
Connected via its HDMI ARC output to a TV, and its single HDMI input used for my 4K BD player, I eased it in with Knives Out (UHD Blu-ray), a movie that's heavy on dialogue and interior ambience. The soundtrack kicks off with a string quartet, and straightaway the YAS-109 shows its strengths, separating cello from violin, conveying the dynamic nature of the piece, and projecting its sound well. It sounds fluid, lively and not at all constrained. As the action (well, drama) saunters around the rooms of the Thrombey
SPECIFICATIONS
DRIVERS: 2 x 2.1in midbass drivers; 2 x 1in tweeters; 2 x 3in woofers AMPLIFICATION (CLAIMED): 120W CONNECTIONS: 1 x HDMI input; 1 x HDMI ARC output; optical digital audio input; subwoofer output; Ethernet DOLBY ATMOS/DTS:X: No/No
SEPARATE SUB: No REMOTE CONTROL: Yes DIMENSIONS: 890(w) x 53(h) x 131(d)mm WEIGHT: 3.4kg
FEATURES: Bluetooth (4.2); Wi-Fi; DTS Virtual:X processing; Soundbar Controller app; Amazon Alexa voice interaction; Music, TV, Movie, Sports and Game surround listening presets; Stereo mode; 4K HDR passthrough; auto lip-sync; subwoofer level control; child lock
mansion, dialogue legibility is uniformly excellent, and Foley effects crisp but not aggressively so.
Surround processing is on by default, and you can choose between Movie, Music, TV, Sports and Game modes. The TV option exaggerates dialogue and is a bit disconcerting – stick to Movie and you'll be fine. Music has an echoey, resonant vibe, so for two-channel sources I'd advise the Stereo option. In fact, this is a good bet for all content if you don't want to have to repeatedly switch modes.
Tap the 3D Surround key and DTS Virtual: X comes into play. Somewhat surprisingly, I found this less effective here than on the YAS-209. In striving for vertical immersion, it has a negative impact on the bar's otherwise strong dialogue reproduction, muddying the monologues in Rian Johnson's movie.
An external active subwoofer can be added via the YAS-109's pre-out, but I doubt many will bother. Its bass output, while not in anyway sub-sonic, is pleasingly robust and adds scale to the soundfield. In football- focused Die Hard wannabe Final Score (Blu-ray), when the villains take over the control tower at the old West Ham stadium, the generic action movie score has sufficient weight to quicken the pulse, and gunshots pack a nice punch. The later fight scene in the kitchen is a riot of meaty thuds, and the 'bar here shows off its zippy delivery as the action gets frenetic. Want more bass? Activate the Bass Extension mode for an extra helping.
All told, this is very impressive, especially considering its easy-to-accommodate design and price. There's enough about its performance to make it an obvious step up from budget 'bars
Verdict
uk.yamaha.com
Recommended
YAMAHA YAS-109 Review
Alexa functionality is a welcome addition to this energetic and expressive one-piece. Solid feature and connections spec, too.
Add your review
Best YAMAHA YAS-109 prices in the US ?

$

219.94
3 new from $219.94
in stock

Best YAMAHA YAS-109 prices in the UK ?
MORE DEALS

See also TOP 10 Soundbars & Soundbases