RECOMMENDED
Sonos Arc Review – Beam me up
It took a few years, but Sonos has met the challenge of squeezing Atmos into a slimline soundbar. Cliff Joseph is suitably impressed. Read our Sonos Arc Review.
When HFC reviewed the Sonos Beam soundbar in 2018 (HFC 441), Sonos' engineers confessed that they hadn't yet figured out how to squeeze the 'spatial sound' of Dolby Atmos into a soundbar – especially one with the compact design of the Beam. It's taken a couple of years, but the company has finally solved that problem with its new Arc.

It's twice the size and price of the Beam, but its sound quality and Atmos support make it an attractive option. And, like all Sonos products, it works as part of a multi-room system, adding an extra level of versatility that few rivals can match.
Ditching the compact design of the Beam, this is a full-size soundbar, available in black or white. It'll still fit easily in front of the TV – so that the upward-firing drivers required for Atmos have room to breathe. Sonos has a wall-mount kit for an extra £.
The slimline design houses 11 drivers: eight mid/bass drivers and three tweeters. There's a mid/bass driver facing sideways on each end of the unit, firing sound to the left and right. Immediately adjacent to these on the front panel are angled tweeters to project sound towards the corners of the room, with each of these backed up by an additional mid/bass driver. The centre-front channel is handled by a tight group of two drivers and a tweeter, while the last two drivers are on the top of the unit to add the third dimension of height.
The Arc doesn't include a remote control, but the Sonos app can pair your TV remote with the soundbar if required, as well as providing its own playback controls and access to a wide range of streaming services and online radio stations.
There's a crisp snap to the slap-bass and a tumbling, boisterous energy to the drums
Sonos says it has tried to keep the Arc as simple as possible, so there's only a single HDMI input, which supports ARC and eARC, and needs to be connected to an HDMI-ARC output on your TV. Sonos does include an optical adapter for older screens that don't support ARC, but Atmos sound isn't available via an optical input.
The single connector is a limitation, but where the Arc does score is with
DETAILS
PRODUCT Sonos Arc
ORIGIN US/China
TYPE
Soundbar
WEIGHT 6.25kg
DIMENSIONS (WxHxD) 1,142 x 87 x116mm
FEATURES
•  Inputs: 1x HDMI (ARC/eARC); Ethernet; wi-fi
•   Multi-room compatibility: Sonos; Apple AirPlay 2
DISTRIBUTOR Sonos
TELEPHONE 0800 0265565
WEBSITE sonos.com
its ability to act as part of a multi­room system along with other Sonos speakers. It also supports Apple's AirPlay 2. Wi-fi and Ethernet networking are onhand for streaming and the app can connect to an impressive selection of online services. But, as always, Sonos tends to ignore other audio connectivity options, such as Bluetooth, USB or even a simple 3.5mm connector. That limited connectivity – along with the single HDMI input – means that the Arc simply may not be suitable for use with some music systems or older, pre-ARC televisions.
Sound Quality
I kick off proceedings with Tim Burton's Batman from 1989, with its terrifically atmospheric Danny Elfman score. The Arc creates an attractive sense of space right from the opening notes of the title sequence, as the gentle chimes drift lightly through the air, underscored by the deep, slow drumbeat that builds to a rumbling crescendo. The slimline soundbar produces an admirably robust sound as the Bat-theme hits its stride, propelled by crisp, martial drumming and crashing cymbals. There's a nice sense of space, too.
But it's the appearance of the Bat-plane towards the end of the film that really shows the Arc at its best. The top-mounted drivers help to create a convincing sense of motion as the plane soars and swoops through the sky. The sense of forward and backward motion for objects moving towards me out of the screen isn't quite as precisely placed as I've heard from larger soundbars such as the Sennheiser Ambeo (HFC 453) bolt of lightning. The Arc is powerful enough to make my floorboards rumble as well, but the Sonos app has a 'night mode' that can tone louder sounds down a little as well as a speech enhancement option to boost dialogue.
The trump card is its ability to work as either a standalone speaker or as – which, is almost three times as expensive – but I'm impressed by the sense of space and movement the Arc is able to create at this mid-range price point.
Despite the lack of a subwoofer, the Arc also handles the bass on the film soundtrack very well too, adding impact to explosions and a nice touch of drama to the flaming jets of the Batmobile as it roars off into the night. The battle scenes in Avengers: Infinity War have a suitably epic sweep too, as the battling armies charge across the plains of Wakanda, interrupted by the thunderclap arrival of Thor in a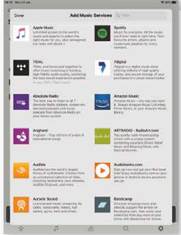 THe app offers a wide selection of streaming services and radio stations
back to menu ↑
CONNECTIONS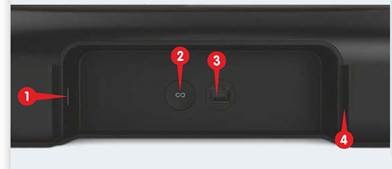 1) HDMI input
2)  Pairing button
3)  Ethernet port
4) AC mains power input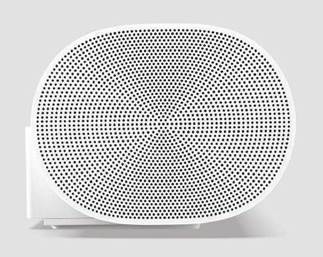 falling piano to set the scene. The Arc captures the delicate shimmering cymbal perfectly and allows the wordless, hummed chorus to drift effortlessly through the air.
And it doesn't falter as Bush launches into the percussive wall of sound of The Big Sky. There's a crisp snap to the slap-bass that comes in at the halfway mark, and a tumbling, boisterous energy to the cascade of drums that follows. The final chanted
part of a multi-room system, using the Sonos app to stream music from a wide range of computers, mobile devices, and online sources – including the MQA Master format from Tidal.
The 2018 remaster of Moments Of Pleasure by Kate Bush reveals precision and warm tones, filling the room with sound and allowing the gently
chorus is clear and precise, but amid this densely layered sound the Arc never loses sight of the gentle shake of the tambourine. And, switching to the dance sounds of Billie Eilish, it shows it can handle deep bass when it needs to. The pulsating Bad Guy bounces around the room with infectious rhythm, and the slow, rumbling bass that closes the track is impressively taut for a slimline speaker less than 5in thick.
back to menu ↑
Conclusion
The Arc isn't perfect – its single HDMI port limits its use to fairly modern TVs and the lack of audio connections is a major setback. But Sonos' reputation rests on a combination of sound quality and ease of use, and on these points it can't be faulted. It's an impressive Atmos soundbar for your TV that can also double up as an excellent speaker for streaming services, either on its own or as part of a multi-room system. And, it's one of the very best soundbars we've seen at the price.
back to menu ↑
OUR VERDICT
Sonos Arc Review
Competitively priced, high-quality soundbar despite limited connectivity
PROS
Attractive sound
Dolby Atmos
multi­room compatibility
CONS
Single HDMI input requires TV with ARC
there aren't any physical audio inputs
Add your review
|
Read reviews and comments
All-new Sonos Arc - Bring all your entertainment to life with the brilliantly realistic sound of Arc, featuring Dolby Atmos. Enjoy control with your TV remote, voice, the Sonos app, Apple AirPlay 2, and more.
& Free shipping
Last update was on: September 1, 2020 6:54 pm
All-new Sonos Arc - Bring all your entertainment to life with the brilliantly realistic sound of Arc, featuring Dolby Atmos. Enjoy control with your TV remote, voice, the Sonos app, Apple AirPlay 2, and more.
3D sound with Dolby Atmos - Experience shows, movies, and games with the precise and immersive sound of Dolby Atmos.
Tuned to perfection - Enhanced Trueplay tuning technology optimizes the sound for the unique acoustics of the room.
Immerse yourself in the music - Stream music, radio, podcasts, and more from your favorite services with the Sonos app or Apple AirPlay 2 when the TV is off.
A truly powerful soundbar - Eleven high-performance drivers produce vivid detail and impressive bass.
Blends in beautifully - With its elongated shape, soft profile, and seamless facade, Arc discreetly mounts to the wall or sits beneath the TV without pulling focus.
Voice control - Amazon Alexa is built right in, so you can play music, check news, set alarms, get your questions answered, and more, completely hands free.
Hear every word - Arc was specially tuned with the help of Oscar-winning sound engineers to emphasize the human voice. Turn on Speech Enhancement in the app to clarify dialogue.
Build out your home theater - Wirelessly connect Sub and a pair of One SL rears for an even more immersive listening experience.
Compatible with the new generation of the Sonos app, Sonos S2.
The premium smart soundbar for TV, movies, music, gaming, and more.
3D sound with Dolby Atmos plus rich bass and clear dialogue
Voice control with the Google Assistant and Amazon Alexa
Simple setup with HDMI eARC and automatic remote sync
& Free shipping
Last update was on: September 1, 2020 6:54 pm
The premium smart soundbar for TV, movies, music, gaming, and more.
3D sound with Dolby Atmos plus rich bass and clear dialogue
Voice control with the Google Assistant and Amazon Alexa
Simple setup with HDMI eARC and automatic remote sync
Stream music and more when the TV is off
Last update was on: September 1, 2020 6:54 pm