TCL's quirkily named soundbar aims to bring Dolby Atmos thrills to your living room without the need for upfiring drivers. Mark Craven puts it through its paces. Read our TCL TS9030 RAY-DANZ Review.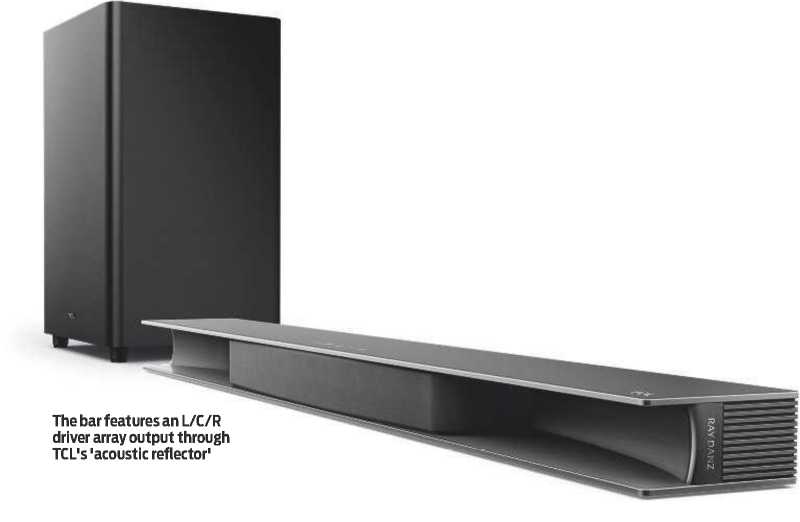 I SOMETIMES FIND it quite hard to get a handle on TCL. The company is a major player in the global flatscreen market, but remains shy about bringing its high-spec TVs to the UK, instead aiming for budget buyers. Now it's launched a range of affordable soundbars in Blighty; I wouldn't be surprised to discover it sells 7.1.4 setups in its native China.
Anyway, of TCL's UK range of TV audio boosters, the TS9030 Ray-Danz is the top dog. It's a 3.1-channel soundbar/ sub combi with Dolby Atmos decoding, and connected smarts.
Atmos without dedicated upfiring drivers isn't a totally new idea. Sony's HT-X8500 [see HCC #308] goes down the same path. TCL also makes the lack of upfiring drivers here a positive, noting that it means the 'bar is more suited to wall-mounting or placement in a cabinet under a TV.
What you do get are two midbass drivers for L/R delivery, and a further midbass joined by a tweeter for a two-way centre channel. An 'acoustic reflector' – which gives the TS9030 its unusual styling –
Av Info
PRODUCT: 3.1-channel Dolby Atmos soundbar system
Position: Commander-in-chief of TCL's TS soundbar series
PEERS: Sony HT-X8500; JBL Bar 2.0 All-in-one
7Review earns Amazon affiliate commissions from qualifying purchases. You can support the site directly via Paypal donations ☕. Thank you!
Should not buy anything from AudioAffair.
See also TOP 10 Soundbars & Soundbases
is then deployed to create a wide soundstage, while virtual DSP handles the creation of height and verticality. And it's this approach that results in the 'Ray-Danz' name.
Connectivity is a strong suit, particularly given the price and weak efforts of some rivals. There's a single HDMI input for your lossless audio sources; HDMI ARC (not eARC) and optical digital audio for TV connection; a USB input for music file playback (MP3, WAV and FLAC); and a 3.5mm aux in. That last one probably won't get used much as the TS9030 features Bluetooth 5.0 and Wi-Fi, with both Chromecast and Apple AirPlay 2 supported for easy source streaming and multiroom interoperability.
The wireless subwoofer is less visually striking than the 'bar, and marries a modest 6.5in woofer with a claimed 150W of grunt.
Missing from the TS9030's feature list is DTS:X decoding. If you view this system as something most likely to be fed a diet of TV and VOD sources (including Netflix's Atmos streams), that's not a serious omission. But it might annoy Blu-ray collectors, even if the soundbar's 3D audio delivery is far from full-fat.
Operationally, this soundbar is a doddle to use, with a well-laid out remote and few features to wrestle with, beyond bass/treble adjustment and the option of turning TCL's vertical surround mode off. This is something I'd probably recommend when using the TS9030 for music listening.
Setting the stage
There will always be limits to what can be accomplished by digital signal processing, especially with a limited channel count, and it's not harsh to say this soundbar doesn't drop jaws with its playback of Dolby Atmos sources. In my standard-sized living room, with Aquaman (4K BD) fed via HDMI input, no matter where I positioned the 'bar I never felt drowned by overhead audio.
What the TS9030 does do, however, is offer a wide soundstage with a sense of verticality that works well for movies. Panned effects are well presented. It's far more theatric than a budget stereo 'bar, giving scenes such as Aquaman's trident duel with Orm an exciting, immersive quality.
The dedicated centre channel is key to its performance charms. Dialogue is always strong, and the soundbar's mid-range is robust enough to bring weight to voices, without being over-dominant. Treble details are crisp, and you can push the Ray-Danz's volume to movie-night level without the system's overall balance falling apart.
TCL's 6.5in subwoofer doesn't hammer home LFE moments with stomach-churning depth or slam, but arguably more importantly for an affordable soundbar it's pretty tight and responsive. The frequent booms and bangs in Aquaman are conveyed well, but again the rest of the frequency band doesn't suffer.
Overall, this is a solid soundbar option with comprehensive connectivity and a well-balanced soundstage
TCL TS9030 RAY-DANZ Review
Easy to use and neatly styled soundbar never quite hits the highs with Atmos content, but overall spec and performance are solid.
Add your review
Best TCL TS9030 RAY-DANZ prices in the UK ?
MORE DEALS

See also TOP 10 Soundbars & Soundbases
SPECIFICATIONS
DRIVE UNITS: 3 x 2in x 3in racetrack midbass; 1 x 1.2in tweeter ONBOARD POWER (CLAIMED): 4 x 30W CONNECTIONS: 1 x HDMI input; 1 x HDMI output (with ARC); optical digital audio input; 3.5mm aux input;
USB input DOLBY ATMOS/DTS:X: Yes/No SEPARATE SUB: Yes. Wireless, 150W (claimed) with 6.5in woofer REMOTE CONTROL:Yes DIMENSIONS: 1050(w) x 58(h) x 110(d)mm WEIGHT: N/A
FEATURES: Bluetooth 5.0; dual-band Wi-Fi; Chromecast; Apple AirPlay 2; MP3, WAV, FLAC playback via USB; treble/bass adjust; wall-mount kit supplied; Movie, Music, TV and Boost presets; Dolby Vision/HDR10+