Cliff'Joseph is impressed by just how much versatile connectivity this compact soundbar packs for both audio and video. Read our Harman kardon citation multibeam 700 review.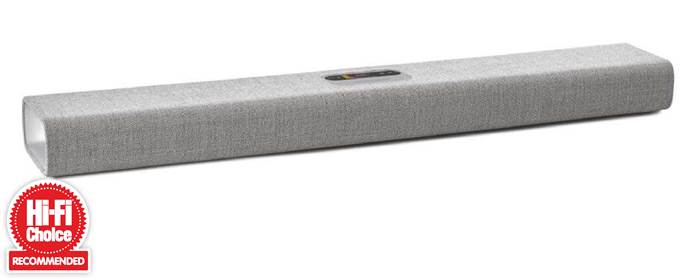 Harman's Citation range primarily focuses on stylishly designed speakers with multi-room features for listening all around the home. However, it has a number of soundbars and the Citation MultiBeam 700 is the baby of the range, with a compact design that is about half the size and price of its big brother, the imposing 13-channel Enchant 1300.
It's attractively designed, available in either black or grey and finished off with a smart Kvadrat woollen cover claimed to be both dirt repellent and fire retardant. Considerably lighter and more compact than many of its rivals, you won't need to reorganise the furniture to make room for it – but Harman includes a wall-mount kit if you don't have the shelf space.
The compact chassis houses five bass drivers, all mounted on the front and facing forward. There's a single tweeter on each end, facing out to the sides and slightly angled forward, and a passive bass port on the rear. It punches above its weight with a healthy claimed 210W output.
Harman's MultiBeam technology calibrates the soundbar during setup, by emitting a series of tones in different directions to tailor it to the dimensions of your room. It's also possible to connect the MultiBeam to other Citation speakers to create a true multi-channel surround sound system, or simply to add Harman's Citation S subwoofer for 2.1 sound. There's no support for Dolby Atmos true spatial audio, but that's a lot to ask from a speaker of this size and price, and I'm still impressed by the smart design and comprehensive features that it does provide.
Tucked around the back of the soundbar you'll find an HDMI (ARC) interface for connecting to your TV, as well as an optical connector for older sets as well (with HDMI and optical
7Review earns Amazon affiliate commissions from qualifying purchases. You can support the site directly via Paypal donations ☕. Thank you!
See also TOP 10 Soundbars & Soundbases
MultiBeam opens up the soundstage to make room for all of the instruments
cables both included in the box). For other audio sources, there's a 3.5mm Aux-in and Bluetooth,while Google Chromecast and Apple AirPlay 2 streaming are on hand. It even supports Google Assistant for voice control, should you wish to use your voice to control proceedings.
Despite all the different connectivity options, I'm impressed by Harman's straightforward set-up process. The soundbar turns itself on as soon as it's connected to mains power, and the screen on the control panel asks if you
DETAILS
PRODUCT Harman Kardon Citation MultiBeam 700
ORIGIN US/China
TYPE Soundbar
WEIGHT 3.7kg
DIMENSIONS (WxHxD) 790 x 65 x 130mm
FEATURES
• 2x 25mm tweeters; 5x 50 mm bass drivers;
•Connectivity: 1x optical in; 1x 3.5mm Aux input; 1x HDMI (ARC) out; Bluetooth; Google Chromecast; Apple AirPlay 2
DISTRIBUTOR Harmon Kardon
TELEPHONE 0161 2223325
WEBSITE harmankardon.co.uk
want to use the Google app to set everything up or if you prefer to use AirPlay instead. I opt for AirPlay on my iPad and the soundbar is paired with my Apple HomePod speaker in no time. It also detects my TV as soon as I connect the HDMI cable, and both TV and multi-room music setup take about five minutes. Once done, you can use either the handheld remote control or the panel on the top of the soundbar to quickly switch between sources and adjust settings.
There are several preset listening modes, including movies and music with the MultiBeam effect turned on or off, plus a news mode that focuses on voices. The control panel also displays album artwork and credits when I switch to Tidal streaming.
Sound Quality
The primary focus for any soundbar, of course, is its performance when watching films and video, so I begin listening with the Dolby Atmos version of Blade Runner. Initially, listening with the MultiBeam effect turned off, the sound is clear and detailed but is rather thin and constrained – as you might expect from compact dimensions such as these. However, a quick press of a button on the remote control makes a dramatic difference. MultiBeam really opens up the sound to create a greater sense of space, while adding extra depth to the sound too. The 'dark satanic mills' of 21st-century Los Angeles sound genuinely harsh and threatening as they spew forth vents of steam and flame in the opening sequence. There's a sharp clarity to the percussion, while the Vangelis synth tones feel light and expansive. The MultiBeam effect can't match the true spatial audio of Dolby Atmos – the flying car that zooms over the city
IN SIGHT
1) Touchscreen control panel
2) Digital optical input
3) HDMI (ARC) output
4) 3.5mm Aux input
towards the viewer gets louder and then fades away, but I don't get the full sense of directional movement I'd expect from Atmos or additional rear speakers. Even so, the effect creates a dramatic and effective sense of space. It's nicely detailed too, picking out the Hari Krishna chanting and police sirens in the later scenes as Deckard chases a replicant through the city.
The MultiBeam similarly does a good job with the epic battles of Avengers: Infinity War. There's a satisfyingly deep rumble to the
Tones are emitted in different directions to calibrate the speaker to your room
endless stream of explosions, despite the lack of a dedicated subwoofer, and a stirring sense of drama as the orchestral score strikes up in the final battle between the two mighty armies. The sound is well balanced too, picking out the metallic clunk of Iron Man's armour as he flies into action and the dialogue in the midst of battle as Thor and Captain America swap hammers. It's an impressive performance for such a compact soundbar.
The Chromecast and AirPlay support means the MultiBeam can handle music from lots of other sources, including MQA files from my Tidal account. It switches to AirPlay input automatically as I fire up the Tidal app on my iPad, but while the sound is clear and detailed as I select Enya's The Humming, it once again sounds a little confined, and there's a very definite sweet spot just a couple of feet in front of the speaker. But, as with movie mode, turning on the MultiBeam effect opens up the sound, allowing the slow thud of the drums to anchor the music, while the typically ethereal Enya harmonies float up and fill the air. Enya's a little too tasteful, though, so I turn to the swagger of Junkie Walk from the latest Pretenders album, Hate For Sale. Again, the firm bass drum sets the pace, but this time it's swathed in distorted guitars and Chrissie Hynde's distinctive sneer.
The MultiBeam effect works exceptionally well here, opening up the soundstage and making room for the fuzzy guitar, crashing cymbals and chanted chorus to remain clear and distinct. And, with that 210W output at its disposal, I find that I can barely nudge the volume past 50 percent before I'm having to worry about upsetting the neighbours.
Conclusion
Ultimately, it's the versatility that is the real strength of the MultiBeam 700. Home cinema buffs may want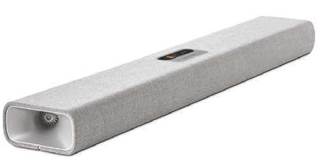 25mm tweeters are angled towards the listener at either end of the MultiBeam
to look elsewhere for Dolby Atmos support, but the clear, spacious sound works well for both music and movies. And, with connectivity that puts many of its soundbar rivals to shame, the Citation MultiBeam 700 provides an excellent all-purpose speaker system for well under £
OUR VERDICT
Best Harman kardon citation multibeam 700 prices ?
See also TOP 10 Soundbars & Soundbases