John Archer samples the 9.1.4-channel theatrics of Samsung's flagship soundbar. Read our Samsung hw-q950t review.
While I love most things about Samsung's HW-Q950T soundbar, there is one thing about it that's so incredibly dumb I have to get it off my chest right away: its LED display is on its top edge.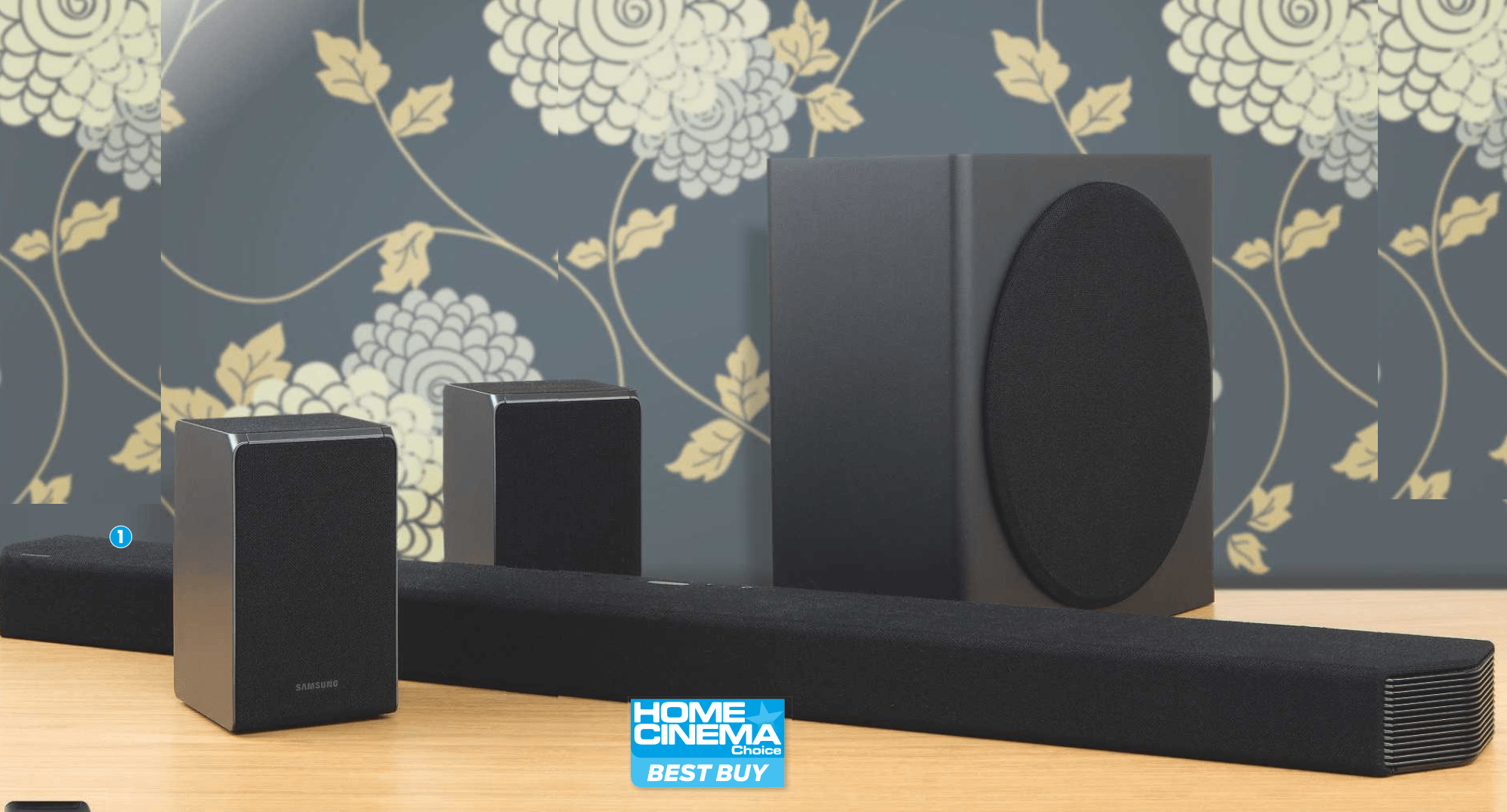 This might sound a trivial way to start a review of a soundbar, but trust me: only being able to see the reams of useful information the readout can share if you stand up from your sofa and lean over the soundbar's top is annoying.
Presumably the 'logic' behind putting the display there has something to do with Samsung placing an on/off button for the soundbar's built-in far-field mic (which supports Alexa voice control) on the Q950T's top edge. Or, perhaps, the soundbar's support for Tap Connect, where Samsung phones running Android 8.1 can be connected to the 'bar for Bluetooth music streaming just by tapping them against its bodywork.
Yet neither of these explanations for the display trump the overwhelming logic of being able to see from your seating position such key information as input, volume level, incoming sound format, and sound mode.
Couch potato rant over, let's move on to the many things the Samsung Q950T does right. Starting with most of the rest of its design.
7Review earns Amazon affiliate commissions from qualifying purchases. You can support the site directly via Paypal donations ☕. Thank you!
See also TOP 10 Soundbars & Soundbases
Slimmed down
This 'bar is slightly smaller than its HW-Q90R predecessor, with a 14mm reduction in height to slide comfortably under a wider range of TVs. Samsung has also shifted from a full plastic finish to a Kvadrat fabric cover on the Q950T's top and front sides. This is rather prone to collecting dust, but creates a more opulent feel.
The best thing about the Q950T's design, of course, is that it manages to fit a potent combination of front LCR, surround left, surround right, rear left, rear right and two upfiring drivers into its relatively compact form. Samsung is a little reticent to talk driver technology, but we do know the 'bar uses full-range units for the height channels and packs 'wide-range' tweeters.
Couple this plethora of main soundbar channels with the wireless units that ship with the Q950T (a subwoofer

with an 8in driver, and two rears that also each carry upfiring drivers) and you end up with a full channel count of 9.1.4, driven by a suggested 546W of grunt.
This naturally makes the Q950T well positioned for playing Dolby Atmos and DTS:X soundtracks. Both formats are supported, via either direct HDMI connection, or over eARC via eARC-capable TVs.
The soundbar's two HDMI inputs and one HDMI output handle 4K at 60Hz, HDR10, HDR10+, and Dolby Vision (the latter somewhat ironic given that Samsung's TVs don't). There's no support for the 4K/120 HDR streams provided by new consoles and PCs, but no other soundbar I can think of supports that either. For such sources, you'll have to connect them to a sufficiently capable TV and use eARC to pass the sound on to the 'bar. The only other connection is an optical digital audio port. There's no USB, nor Ethernet (use Wi-Fi instead).
While the Q950T is predominantly a movie machine (and over-engineered daytime TV audio booster) it also supports a wide range of music services (including Spotify,
Details
Product: Premium Dolby Atmos soundbar system with wireless surrounds/sub
POSITION: Samsung's most expensive model
LG SN11RG; Sennheiser Ambeo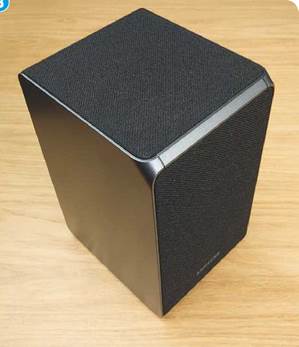 Amazon Music, and Apple Music) via Samsung's SmartThings app, as well as audio file formats, including hi-res FLAC, ALAC and AIFF options.
Raw power
For the last five years, via its R&D 'Audio Lab' in California, Samsung has been crafting some of the best all-round soundbar solutions in town. The Q950T continues that theme. The mix of raw power, sound projection and dynamic range it achieves is truly explosive.
This multichannel system fills a room with a fantastically full-blooded and immersive soundstage. What's more, there are no obvious gaps in the remarkably three-dimensional 'dome' of sound it creates. I don't think I've heard any other soundbar that's been able to create such a fully realised Dolby Atmos/DTS:X bubble.
This is a key point when it comes to justifying the Q950T's price. Go down the traditional home cinema route of AVR and speakers, and the cost of building a 7.14 or 9.1.4 setup will start to bite. This Samsung is a
1. The Q950T soundbar measures approx 1.2m wide, so is suited to 55in and above TVs
2. The remote has separate controls for main volume and subwoofer level
3. Samsung's wireless surround speakers feature front-facing and upfiring drivers
tempting alternative, and does minimal damage to your room decor too.
Try as I might, I couldn't really find any movie soundtrack content that caused the Q950T to struggle. Its 8in subwoofer, for example, tracked the massive bass drops at the start of Blade Runner 2049 (4K Blu-ray) without them sounding boxed in or distorted, suggesting some smart DSP behind-the-scenes. And despite the depths it
'The Q950T avoids all the common soundbar pitfalls, leaving you free to become lost in what you're watching' can plumb, the sub is nimble enough to attach itself cleanly and effectively to the bottom end of the Q950T's mid­range, becoming part of a wider, full-range sound.
Dialogue, delivered via the 'bar's dedicated centre channel, is clear and effectively contextualised, no matter the racket elsewhere. Even the infamously subdued chatter in the opening scene of Tenet (4K Blu-ray) becomes tantalisingly close to full comprehensibility.
The soundbar also slightly elevates vocals, so there's more of a sense of them emerging from your screen rather than somewhere below. This will be especially true if you have an upper-tier Samsung TV with the brand's Q Symphony feature, where the TV's speakers combine with the soundbar, rather than being replaced by it.
The cohesion of the soundstage is startlingly good despite the dependence on reflected sound for some channels. There's also impressive precision in the Q950T's presentation of subtle and/or specifically placed effects in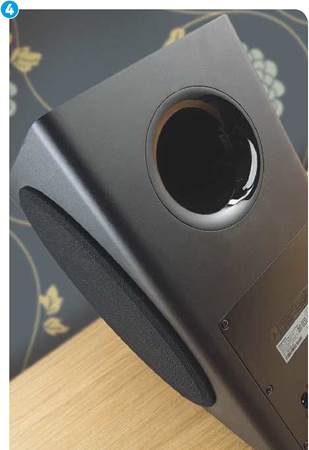 the 3D field. So, for instance, during the sprint across the battlefield in 1917 (4K Blu-ray) each explosion feels perfectly placed as it lands.
This 1917 sequence and the excellently subtle, creepy mix of The Invisible Man's opening scene (4K Blu-ray) also reveal more willingness to get involved from the Q950T's wireless rears than those of its predecessor.
In fact, the Q950T avoids all the common soundbar pitfalls, leaving you free to become lost in what you're watching. One rider I'd add to this effusive praise is that the success of the system depends to some extent on being able to place the soundbar in a position where its reflective speaker channels are able to work well. Vaulted or heavily beamed ceilings would be a problem, and it's helpful if the left and right side-firing drivers are aimed at roughly equidistant walls. It's also a pity that a system of this ambition isn't equipped with an automated calibration tool to help it optimise itself.
The Q950T can upscale non-Atmos/DTS:X soundmixes to fill its 9.1.4-speaker count, and with movies especially this is a lot of fun. There's also a Game Pro mode designed to remap non-object based game soundtracks into a 3D space. Again, this is worthwhile, and can help your console sessions feel more intense and enveloping.
Made for movies
Any system with this many channels is unashamedly designed for movies, so it's not surprising that its muscular and aggressive nature doesn't seem quite so suited to music replay. It's certainly not a bad option for listening sessions, but there are more 'hi-fi' soundbars around.
But this is a trait that can be overlooked. When it comes to home cinema, the Q950T's precise soundstaging, detail, dynamism and full-range impact is as good as soundbars get at this price. Five stars, despite that LED display…
Verdict: Samsung HW-Q950T
www.samsung.com/uk
Highly Recommended
Samsung hw-q950t review
While expensive by soundbar standards, the 9.1.4-channel Q950T has the performance prowess to match. An excellent all-in-one home cinema solution.
Add your review
Best Samsung hw-q950t prices in the US ?
Best Samsung hw-q950t prices in the UK ?
MORE DEALS

See also TOP 10 Soundbars & Soundbases
SPECIFICATIONS
DRIVERS: 20 in total across Left/Centre/Right, Surround, Rear, Atmos and wireless surround speakers ONBOARD POWER (CLAIMED): 546W (total, inc. subwoofer) CONNECTIONS: 2 x HDMI inputs; 1 x HDMI eARC output; optical digital audio input DOLBY ATMOS/DTS:X: Yes/Yes SEPARATE SUB: Yes. 8in driver REMOTE CONTROL: Yes DIMENSIONS (SOUNDBAR): 1,232(w) x 69.5(h) x 138(d)mm WEIGHT (SOUNDBAR): 7.1kg
FEATURES: Apple Music, Amazon Music, Samsung Music, Spotify, Tuneln and Deezer support; Bluetooth; Wi-Fi; Game Pro mode; AAC, MP3, OGG, FlAc, ALAC and AIFF file playback; HDR10+ and Dolby Vision passthrough; Adaptive Sound; Tap connect; Alexa voice control
PARTNER WITH
SAMSUNG QE65Q95T: This top-of-the-range 4K QLED TV for 2020 now sells for around £ – a decent price for Samsung's high- performance, well-featured set. Use the Q Symphony feature to dovetail its audio with the Q950T soundbar.
4. Samsung's wireless, ported subwoofer uses an 8in bass driver